Michigan All-Small Team
Last offseason I was making these Michigan All-____ Teams and I didn't get around to all of the ideas. So let's.
Previously:
Today's Rules: You must be in the bottom quartile of height for your position and get extra points for being shorter than that. Weight doesn't matter as much as height (because most of these guys had to add a lot of it). Also this has to be relative to the players of your era—with a heavy recency bias—because there was a time when a six-foot offensive tackle was considered huge. For example, here's 5'11" Anthony Carter with some of the other 1979 offensive starters (via a Dr. Sap article on MVictors):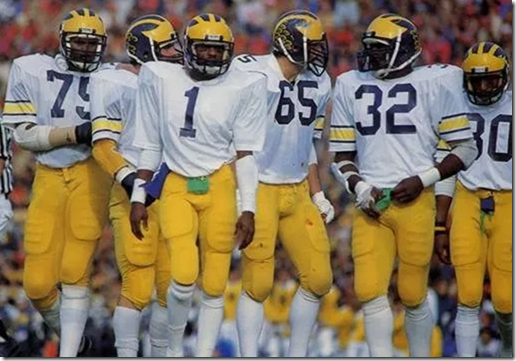 I'm going to use my discretion as we go, but if a player wasn't remarkably tiny for his era, even if he would be in ours, he doesn't count.
The problem: Rosters lie, especially regarding these players, because listing a short guy at his real height could depress his pro future. Where I have knowledge of a guy's actual height I'll use that, and beyond that I'm just going to do my best.
Quarterback: Denard Robinson
Last listed size: 6'0"/197 (2012)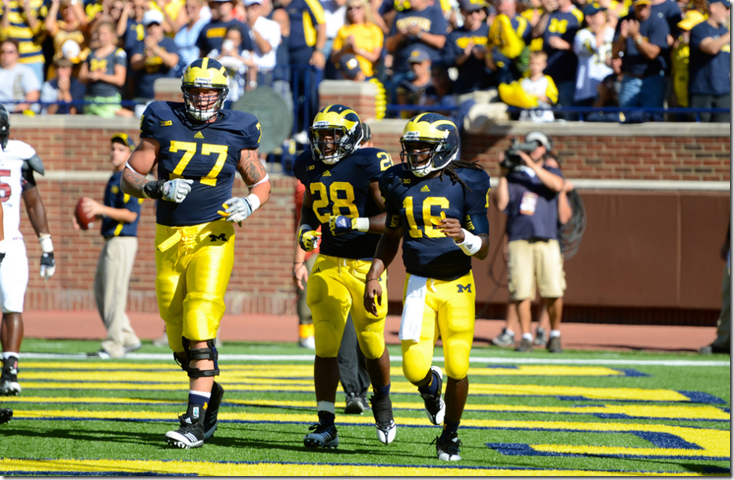 [Brian Fuller]
Strangely, 2019 recruit Cade McNamara, at 6'1", is the third-shortest Michigan scholarship quarterback since Bo, with Denard and 2008 proto-Denard Justin Feagin both listed at a straight six. Or maybe that's not so strange because height in a quarterback is so highly valued. In my opinion it's highly overrated; the last two Heisman winners were Oklahoma quarterbacks listed at 6'0" and 5'11", QED. Notably, despite Michigan's clear preference for tall guys, some of their best were all on the shorter side, including Chad Henne and Shea Patterson, both just 6'2". Anyway, the rosters lied about Denard's height, which was probably 5'11" or just under it. I should mention the 2011 roster lists Denard as 5'9", which is wrong but feels right. His height led to a few batted balls, but since his center also appears later on this list (and Ricky Barnum wasn't very tall either), and because defenders in space had to approach warily lest Denard escape the pocket, the % of batted balls from Denard in the UFRs is lower than that for Henne.
Honorable Mention: Dennis Brown (5'10"/175), Tate Forcier (6'1"/190), Harry Newman (5'7"/174), Boss Weeks (5'7"/161) lots of other old dudes. Michigan's first great quarterback (and college athletics' first great athletic director) Charles Baird was listed at 5'6". Michigan's shortest QB on the Bentley database was 1914-'16 bencher Harold Zeiger, at 5'4".
[After THE JUMP: Not who you think]
-------------------------------------
Running Back: Jamie M—

Okay FINE, people.
Running Back: Mike Hart & Jamie Morris
Last listed: Hart: 5'9"/202 (2007), Morris 5'7"/183 (1987)
Mike Hart was really more like 5'7" or less—photos of 5'9" Kevin Grady next to Hart made the lie apparent at the time—and while there have been good RBs who were shorter, leaving Hart off an all-small Michigan football lineup isn't the sort of thing this blog can do without some very nice kickbacks from Ann Arbor Torch & Pitchfork.
Hart also seized the starting job after more than a decade (Wheatley-> Biakabutuka-> Howard-> A-Train-> Perry) of mostly big feature backs at Michigan (though 5'9" C-Will carved out a career's worth of carries in there). While Hart was decidedly un-fast, he had that little guy juke and the no-quit churn at the end of his runs that earned him twice as much fan appreciation as yards. Hart also matched the pass blocking effectiveness of the guys above by squaring up and taking out attackers' knees.
The correct answer however, is Jamie Morris, who was smaller than Hart and at least equally productive.
As a recruit, Jamie was convinced Bo wouldn't want him as more than a kick returner because the average Michigan back was half a foot taller. But Bo promised him a chance to work with the running backs first, and the little guy immediately impressed with his vision and burst. Morris set Michigan rushing records and still holds the all-purpose yardage record.
The thing about Morris is small running backs in his day were a lot less common than they are in our modern #SpeedInSpace era. The rest of the Big Ten at the time were guys like Darrell Thompson at Minnesota, MSU's Lorenzo White, Rick Bayless at Iowa, and Vince Workman of Ohio State. Unless somebody can think of somebody else from that time I think the league's next-smallest feature back was Wisconsin's Larry Emery, whom the internet says was 5'9"/195. Teams might have a "change of pace back" but the consensus of the time was your running back should be able to take a pounding and stay on the field. That Jamie could take a pounding from Chris Speilman et al. and get back up was as remarkable as his ability to dust those dudes. It would be two more decades before Darren "Lightning Bug" Sproles, who was born Jamie's senior year, ushered in the era of the uncatchable tiny dude.
Honorable Mention: Gordie Bell (5'9"/178), Vincent Smith (5'6"/180), Clarence Williams (5'9"/196), Jesse Johnson (5'9"/200)
-------------------------------------
Fullback: Leroy Hoard
Last listed: 6'0"/220 (1989)
Fullback was difficult because there have been a bunch of them listed at six feet but nobody less than that since the olden days. Fullback way back in the day used to be a primary ballcarrier, passer, and punter, and even into the 1970s a fullback looked more like a north-south running back than a thumpin' lead blocker.
Hoard sticks out because he was a throwback to that time but still as effective as the neck-rolled 250-pounders who took over in the 1980s. Hoard's listed weight was 215 during his time at Michigan, a good 30 pounds smaller than more recent guys his height. For Hoard the lost weight was in the waist—his thighs and shoulders were as big as a lineman's. It was weird shape that forever ever stuck in my head as ideally fullbackian, an hourglass spring that could absorb a defender coming from any direction while giving would-be tacklers nothing to tackle.
Michigan has found that shape again by converting running backs, but those guys were usually a good three inches and 30 pounds larger, and of them only B.J. Askew ever embraced the role. Even the great Rob Lytle was 6'1"/195 (and still primarily a runner). I generally discount all "In my day..."-type statements--it's a cheap way to feel superior for something you had no agency in--but given what we now understand about what modern fullbackism does to a body, I doubt we'll ever see a guy like Lytle or Hoard again.
Honorable Mention: Rob Lytle (6'1/195) because he was a little too average sized for his era to qualify for a small guy roster, Sione Houma (6'0"/243), Joe Kerridge (6'0"/249), Obi Oluigbo (6'0"/229), and Kevin Dudley, who was listed at 6'2"/208 as a freshman and then lost an inch by having his head repeatedly plowed back into his shoulders.
-------------------------------------
Wide Receiver: Desmond Howard & Jeremy Gallon
Last listed: Howard: 5'9"/176 (1991), Gallon: 5'8"/184 (2013)
Receiver is one of those positions where height really does make a difference. To make this list for a lot of programs you probably have to pull out a bunch of slots and wingbacks. At Michigan, the littlest guys were also candidates for best-ever.
And speaking of that, Hello Heisman. Desmond Howard, listed at 5'9"/176, of course did much of his damage as a returner. He's also responsible for the receiver play that's literally called "The Catch".
Sure, Desmond's stature is a big part of the reason The Catch had to be an inch-perfect layout as opposed to a high-pointed fade. Desmond was shorter than a lot of the running backs he played with, and while he could leap for the occasional insane grab (see the catch vs. OSU above), Howard's greatest skill was the ability to accelerate past anybody else on the field. For that reason, cornerbacks would necessarily play off, and Desmond accrued a lot of his receiving yards by coming back underneath them, then burning the poor sucker on an orbital move (see 8:18 on the video above). Dez was also a vastly underrated slant target, with his ridiculous acceleration and coordination in the air.
And Jeremy Gallon was the subject some great headline jokes—ours was "Pint a Minute"—for being the oddest excellent fade target in Michigan history. Besides his rocket boots that allowed allowed Gallon to high-point lofts, Gallon's Inspector Gadgetry included a cloaking device (Indiana-based teams were particularly susceptible to this) and a Bluetooth connection to Devin Gardner's mind. He also looked like Snoop from the Wire.
Honorable Mention: Mercury Hayes (5'11"/195),  Martavious Odoms (5'8"/173), Walter Smith (5'11"/192)
-------------------------------------
Tight End: Derrick Walker
Last listed: 6'2"/249 (1989)
He's #89 here
Walker was not 6'2"—the NFL would put him at 6'0"—and I can confirm he's probably on the upper side of that or 6'1" (he lives in my brother's neighborhood). Small enough to play split end or tight end, Walker willed himself into becoming a fantastic blocker for the Late Bo return to option football. He still managed to catch 33 passes for 446 yards and 5 TDs, and had a long NFL career. A first-team all-conference selection, Walker was best known as a smaller dude who would sacrifice his head to make a block. Walker has more recently been one of the leaders in pushing the NFL to take concussions more seriously.
Honorable Mention: Paul Schmerge (6'2"/232), Khalid Hill (6'2"/270 before he was converted to fullback), Bob Cernak (6'2"/235), Mike Hankwitz (6'1"/203) (yes the Northwestern DC).
-------------------------------------
NOTE: Offensive linemen are going to be relative to the rest of their rosters, since they've grown exponentially since Bo.
Center: David Molk
Last listed: 6'2"/286 (2011)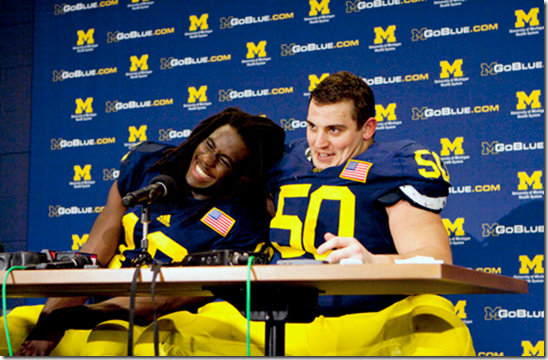 How do we not have a highlight reel for the great Neckless One? According to his coaches David Molk was the best player on the team...in 2008. When he was 250 pounds and getting tossed into the backfield by some DTs. Somebody cross-reference the word "Reach Block" in UFRs with game video from 2008-2011 and get on this. Molk also deserves as much credit as anybody for the team sticking together to produce that marvelously fun 2011. It was he who worked Denard to stick around, and he who led his teammates to embrace the new coaches. This despite literally having a front row seat to the most severe one-season drop-off in position coaching quality in Michigan football history, as the guy at the whiteboard went from Greg Frey to Darrell Funk. Still, that's not the reason we at MGoBlog are still unreasonably enamored with Molk. And it's not because he was small, or because he was too real to have a microphone nearby. It's the reach blocks.
Honorable Mention: Marc Milia (6'3"/272), Andy Christopfel (6'3"/296), Matt Eliott (6'3"/269), John Vitale (6'1"/273)
-------------------------------------
Guard: Damon Denson and Dave Pearson
Last listed: Denson: 6'0"/285 (1996), Pearson: 6'3"/287 (2003)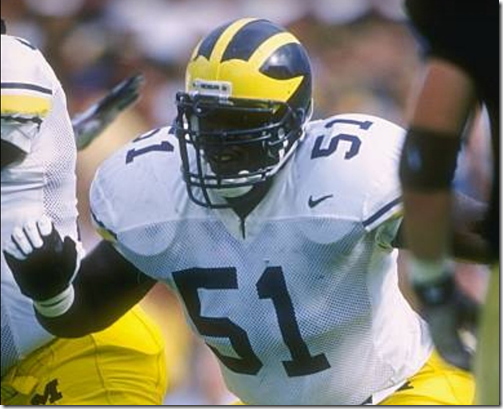 Both of these guards were converted from defensive line because neither was expected to be big enough to play offensive line. Once converted, however, they were both pretty darn good. Damon Denson is the greater extreme, built low and reaching his reported "285" with the help of a pair of wet socks, according to an interview with the Daily. By then the great Rod Payne was at center so Denson played right guard, his head famously coming up to about the shoulders of RT Thomas Guynes. Damon was also a five-star prospect when that concept was rather new, and lived up to that potential, if not at the position he was supposed to be at.
Dave Pearson, who played guard before centering The Daves, is the Denson story lite. Pearson was constantly trying to bulk up after arriving as a weakside defensive end prospect. Bentley falsely lists 299 for his senior year weight but I have a book that reports the 287 we remarked in the Daily at the time, and he was at 270 the spring before he became a starter, so just trust me Dave Pearson was not big—FWIW he measured 6'3"/287 on the Rams roster in 2007.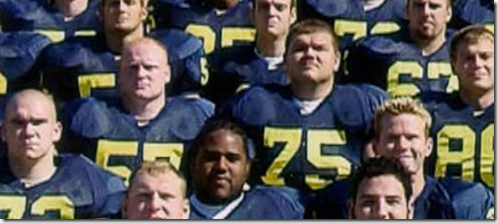 Here's Pearson (#57) next to Baas (#75) if that helps
Honorable Mention: Seriously thought of having the Mike Dames (6'2"/268)/Dave Chester (6'2"/267)year be one spot. Joey Burzynski (6'1"/290), Kurt Anderson (6'4"/"299"), Steve Frazier (6'4"/288)
-------------------------------------
Offensive Tackle: Mike Husar and Mason Cole
Last listed: Husar: 6'3"/287 (1988), Cole: 6'5"/297 (2017)
These days 6'5" for an OT is small, and for good reason: the longer your tackle can reach, the further an outside pass rusher has to go in order to threaten the quarterback. The era of the mega-OT at Michigan began in the late '70s with Bubba Paris and Ed Muransky and just about every regular starter since was at least 6'5" (thanks to better recruiting, Michigan's OTs in the '80s and '90s were taller than more recent guys). But among the "Tree"zelles, Big Skreps, and Jumbos, is on season with the little Mike Husar, a guard who moved over to start 11 games at left tackle in 1986 while filling in for 6'7" Jerry Quaerna. Husar would move back inside for '87 and '88 but if we're not counting a 6'3" guy who protected Jim Harbaugh's blindside for a year what are we doing here? Appropriately, Husar's son Mike Jr. played OT for Air Force.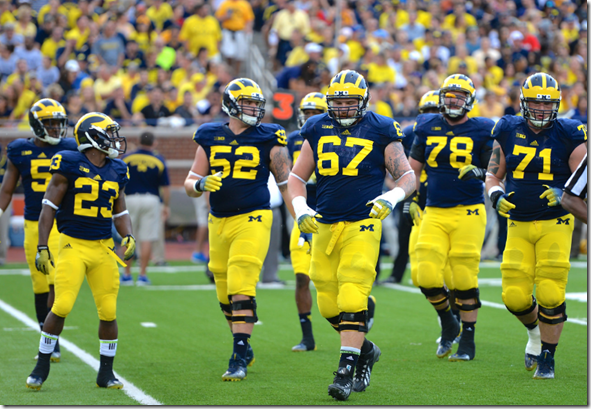 Guess the left tackle [Bryan Fuller]
Of course Mason Cole always projected to center, and even got to play there one year, but imagine 2014, 2015, and 2017 without him on the blindside. My other choice is Mo Williams, but one good year from Maurice versus equally sized Mason Cole is a no-brainer. I do admit that Runyan is shorter (he may even be 6'3") and it would be fun when we compare the bigs vs smalls to have a father-son comp, but I'm not ready to defend "Runyan is good" right now after doing so much of the season on FFFF charts. Mason Cole is the pick.
Honorable Mention: Jon Runyan Jr. (6'4"/310), Adam Stenavich (6'5"/294), Maurice Williams (6'5"/297)
-------------------------------------
Nose Tackle: Rob Renes
Last listed: 6'1"/288 (1999)
Bo liked to use smaller nose guards—the planetary space-eating type was after his time—so there are a lot of good ones to choose from, but even those guys are larger than the All-American nose tackle from the mid-'90s. Will Carr was listed at 269 but we don't believe it.
We also had trouble believing Rob Renes was his listed 279 pounds when the redshirt sophomore inherited the NT job from Will Carr in 1997, but it didn't take long to convince us he could play anyway. The former wrestler from Holland (MI) was a fan-favorite for burrowing under double-teams and popping clean into the backfield, to the hilarious horror of a quarterback in a pocket already collapsing from the combined pressure of Steele and Swett, and Woodsons—goddamn Woodsons—everywhere he wanted to throw. Little 58 finished his career with 23 TFLs, and still nowhere close to 300.
Honorable Mention: Donnie Warner (5'11/195), the walk-on NT  who's basically the Rudy story if Rudy was any good at football instead of a sleazy loser. I mean, the center here is a 1970s-sized center; the guy across from him that Bo is using to demonstrate proper nose guard technique is Donnie Warner:
-------------------------------------
Defensive Tackle/3-Tech: Mo Hurst
Last listed: 6'2"/282 (2017)
The problem here is that "DT" used to mean what today we'd call a defensive end. Chris Hutchinson, who was 6'2"/249 as a senior in 1992, was called a DT on the roster while playing a position identical to his son's:
That would be easily explained except this quirk in Michigan's nomenclature was quite remarked in its day. See: the bazillion claims that Mark Messner is "too small to play DT in the NFL." I'm going to count these guys as DEs. Also DTs were smaller until the 1990s—Mike Hammerstein, who did play inside, was listed at 6'4"/240 his senior year, but for that time that was called "big."
So: Hurst, who arrived as a quick burst in search of a position who became an Aaron Donaldian disruptive force on Michigan's defensive line despite still being too small to stand up to doubles by his third year on campus and not technically starting until his 5th year. He would have been a first round draft pick if NFL GMs weren't the kind of people who'd believe a Facebook post by their cousin's mother-in-law over a signed note from a team of world class doctors. Instead, at least for the moment, his value is known only to readers of this site, Pro Football Focus, and monotone NFL youtubers.
Honorable Mention: Jibreel Black (6'2"/278), Buster Stanley (6'2"/273)
-------------------------------------
Defensive Ends: Mark Messner and LaMarr Woodley
Last listed: Messner: 6'3"/244 (1988), Woodley: 6'2"/269 (2006)
Building a five-star linebacker into a terrifying edge rusher is no new thing in football, and I had the hardest time choosing between a pair of them: LaMarr Woodley and Brandon Graham. I ultimately went with Woodley because he was out there starting at 245 pounds at the point of his career that Graham was ballooning into a DT (and because Graham won out in the position-switcher team). BG was eventually Barwicized back down to his final 6'2"/263, and played strongside DE, so he's got a case. Except there's already a more obvious pick for 5-tech.
I'm talking of course about Mark Messner, who couldn't make a play in college without an announcer talking about how undersized our guy was for defensive tackle. Here's where Bo's old 5-2 Oklahoma position nomenclature burns us because the position Messner played was most like Rashan Gary's, i.e. a defensive end who lines up on the short side and often ducks into B gaps and takes on doubles from a tackle and tight end. The thing is Messner played like a guy over 270. He was too strong to double-team, too agile to juke, too low to clear, and too damn responsible to edge, amounting 70 TFLs over his career.
Honorable Mentions: Brandon Graham (6'2"/263), Dick Katcher Award winner Shantee Orr, who was 6'1"/246 when measured for the roster but more like 5'10" when standing in line at the Union for Wendy's, Chase Winovich (6'3"/255), Chris Hutchinson (6'2"/249), James Hall (6'3"/257), Kwity Paye (6'4"/241)
-------------------------------------
Outside Linebacker/Hybrid: Jabrill Peppers
Last listed: 6'1"/205 (2016)
Sure it's cheating to use the fact that the modern Viper is more of a hybrid safety. Even on that scale the 6'1"/205 (ahem, 5'11"/190) Peppers was tiny for a linebacker, and it really was linebacker that he played his junior year. The converted cornerback remained one of the fastest players on the team while using his quickness and strength to set the edge of an elite defense. He was also a Heisman candidate. The canonical Kollman video above does a great job of explaining how Peppers was able to fulfill the same role as Clint Copenhaver and Rob Swett on the '97 defense despite playing at the same size as Andre Weathers.
Honorable Mention: Stevie Brown (6'0"/211), Khaleke Hudson (6'0"/220), Shawn Crable (6'5"/243), Josh Uche (6'3"/238)
-------------------------------------
Inside Linebackers: Devin Bush Jr. and Ian Gold
Last listed: Bush: 5'11"/233 (2018), Gold: 6'0"/213 (1999)
Ahhhhhhh squirrel!!! [Eric Upchurch]
I've written too many times about how Devin Bush Jr. was pursued by Michigan like a future All-American despite one of the smallest statures in his class. We also made too many references to "Rabid Squirrel" and Kim Jong Un. I'm going to be a little disappointed when our next linebacker isn't tiny.
And weirdly as I write this I just got off the phone after recording a podcast with Ian Gold. I didn't ask him his real height, but Gold, like Bush, was notably running back-sized in an era when "linebacker-sized" meant 6'3"/240—in fact Gold was literally a running back until he showed up to fall practice and found his binder with the defense. He replaced the rather large shoes of Sam Sword in 1999—Dhani Jones moved to Sword's MLB position and Gold took over at WLB—adding speed to a linebacker unit that had been torched by options the year before. Not so much in '99.
Honorable Mention: Chris Graham (5'11"/225), Eric Mayes (5'11"/220), Larry Foote (6'1"/228)
-------------------------------------
Safeties: Tony Jackson and Evan Cooper
Last listed: Jackson: 5'10"/174 (1981), Cooper: 5'11"/185 (1983)
Here's one time where being from a different age actually makes the little guys stand out more. Michigan safeties under Bo were no different than your average NFL safety today, if not a big bigger. The list (because I have it in front of me): Tom Curtis (6'1"/188), Tom Darden (6'2"/195), Jim Betts (6'4"/185), Randy Logan (6'2"/201), Bob Thornbladh (6'2"/220), Roy Burks (6'2"/190), Dave Brown (6'1"/188), Don Dufek (6'0"/195), Dwight Hicks (6'1"/180), Jerry Zuver (6'2"/195), Jim Pickens (6'2"/188), Gene Bell (6'2"/199), Mike Harden (6'1"/189), Stu Harris (6'2"/196), and Keith Bostic (6'1"/205).
That is until 1980, when DBs coach Jack Harbaugh left for the Stanford DC job. New Michigan secondary coach Lloyd Carr found a mostly empty cupboard at the very moment that shotgun passing was taking Michigan's schedule by storm. Look what happened to the Big Ten passer leaderboards in just three years:
 
1978
 
1979
 
1980
Rk
Quarterback
Yds
Quarterback
Yds
Quarterback
Yds
1
Ed Smith (MSU)
2226
Mark Herrmann (PU)
2377
Mark Herrmann (PU)
3212
2
Mark Herrmann (PU)
1904
Mark Carlson (MN)
2188
Dave Wilson (UI)
3154
3
Kevin Strasser (NW)
1526
Tim Clifford (IU)
2078
Art Schlichter (OSU)
1930
4
Mike Kalasmiki (UW)
1378
Art Schlichter (OSU)
1816
Mike Kerrigan (NW)
1816
5
Rick Leach (UM)
1283
John Wangler (UM)
1431
John Leister (MSU)
1559
6
Art Schlichter (OSU)
1250
Lawrence McCullough (UI)
1254
John Wangler (UM)
1522
7
Mark Carlson (MN)
736
Phil Suess (IA)
1165
Tim Clifford (IU)
1391
8
Tim Clifford (IU)
726
Mike Kalasmiki (UW)
1082
Phil Suess (IA)
1031
9
Rich Weiss (UI)
665
Mike Kerrigan (NW)
961
Tim Salem (MN)
887
10
Wendell Avery (MN)
663
Bryan Clark (MSU)
800
Pete Gales (IA)
882
Going into 1980 Purdue's Mark Hermann, was already the career NCAA passing leader, and Herrmann and Wilson would finish 2nd and 3rd that year in the NCAA behind BYU's Jim McMahon. Michigan also had to face Cal's Rich Campbell (15th) and ultimately Washington's Tom Flick (11th). So Carr waited until a particularly run-heavy practice, then raided the wide receiver room, recruiting Tony Jackson and changing up to a base quarters coverage scheme. Jackson was a natural, covering a ton of ground to make up for the distinct lack of air he could displace.
However when it was time to face Purdue's shotgun spread, defensive coordinator Bill McCartney invented the dime defense, replacing a DT and ILB with a nickel CB and an extra deep safety. Thus the first dimeback in the history of football would be true freshman Evan Cooper, then about 5'11"/160. Cooper would remain the smallest dude in the secondary for his whole career, over which he started at cornerback, then free safety, and finally strong safety his senior year in 1983, when he was all-conference.
Honorable Mention: Brandon Harrison (5'8"/206), Tyree Kinnel: (5'11"/215), Brandent Englemon (5'11/206)
-------------------------------------
Cornerbacks: Jourdan Lewis and Todd Howard
Last listed: Lewis: 5'10"/176, Howard: 5'10"/178
Michigan has historically been known for bigger cornerbacks. I discounted guys from pre-Bo because 5'9"/188 was a perfectly average size for a football player up until the 1960s (sorry Fred Julian). There have also been plenty of tiny-ass cornerbacks who didn't contribute much, including a string of them from Cass Tech. I even had a mantle for them:
Prior to Lewis, however, the value of Tiny Cass Corners at Michigan ranging from a peak of "ENTERTAINING TWITTER FOLLOW" to a floor of "completely nonfunctional headcase slash symbol of Rich Rod's defensive ineptitude whose entire contribution to Michigan was running around aimlessly in the secondary against Notre Dame and getting his roommate Kenny Demens suspended for not paying rent." Thanks to Cissoko, Cass's contributions to the secondary up to that point had been a net negative.
Then came Jourdan Lewis (and Delano Hill). At first glance we took Jourdan's "five-eleven" to mean the same thing as all the "five-elevens" before him. But Lewis really was at least 5'10", and at some point during his sophomore year he transformed himself into one of the best competitors at Michigan since Woodson. Jourdan was never close to any of the various pre-Woodsons or next-Woodsons—let alone Don Brown's giant DB bonanza of 2018—but his name belongs up there with Leon Hall, Marlin Jackson, et al. among the Michigan greats, and redefined our expectations for Detroit cornerbacks hereafter.
Speaking of the next-Woodson era, while original next-Woodsons James Whitley and Jeremy LeSeuer were giving that term a derogatory flavor, Todd Howard debuted as a decidedly solid—though certainly not massive—contributor on the opposite island. Fan memory is less forgiving than the tape, which shows Howard actually played well in some of the more infamous (MSU '99, NW '00) defensive breakdowns of his era, and very well (Purdue '99, PSU '01) in some of the greater defensive games in that time. In the latter part of Howard's career Marlin Jackson emerged to bring the big corner back in vogue. It would be another decade, with Blake Countess, that Michigan fans would again learn to appreciate a sub-6'0" guy.
Honorable Mention: Blake Countess (5'10"/170), Raymon Taylor (5'10"/169), Woody Hankins (5'9"/197), Fred Julian (5'9"/188), Ra-Mon Watkins (5'8"/180), Terry Richardson (5'9"/176), DELONTE HOLLOWELL (5'9"/176), Boubacar Cissoko (5'9"/177), and when I was in school we were got really excited about the aptly named Brian Smalls (5'6"/159) and David Downs (5'6"/162)
-------------------------------------
Special Teams: Bob Bergeron
Last listed: 5'8"/160 (1984)
Bob Bergeron wasn't 160 pounds, though the caption above is probably a lie. The origin of the story above is Bob, one of the first wind-up kickers at Michigan, nailed the winning field goal to beat one of Hayden Fry's best teams and someone remarked the walk-on didn't even get a pizza (a reference to the pizza store Bo received in lieu of a $1 million+ offer to go to Texas A&M).
So SI bought little Bob a pizza and they had this famous photo shoot, which was actually in the basketball locker room because the football one was being worked on at the time. There have been some other smallish kickers but nowhere as small as Bergeron. Until recently, Bob's 13/16 still ranked 1st in all-time Michigan FG% (for guys with >1 attempts). However Kenny Allen (37/45 for 82%) edged Bergeron in 2016, and Jake Moody (10/11) is now the current leader.
Honorable Mentions: Garrett Rivas (5'9"/211), Gulam Khan (5'8"/154), Robert Wood (5'8"/170), Josh Wuerfel (5'6"/148)
-------------------------------------
The Final Michigan All-Small Team:
OFFENSE
 
DEFENSE
Pos
Player
Ht/Wt
Active
Pos
Player
Ht/Wt
Active
QB
Denard Robinson
5'11/197
2009-'12
NT
Rob Renes
6'1/288
1995-'99
RB
Jamie Morris
5'7/183
1984-'87
DT
Mo Hurst
6'2/282
2013-'17
RB
Mike Hart
5'9/202
2004-'07
SDE
Mark Messner
6'3/244
1984-'88
FB
Leroy Hoard
6'0/220
1986-'89
WDE
LaMarr Woodley
6'2/269
2003-'06
WR
Desmond Howard
5'9/176
1988-'91
MLB
Devin Bush
5'11/233
2016-'18
WR
Jeremy Gallon
5'8/184
2009-'13
WLB
Ian Gold
6'0/213
1996-'99
TE
Derrick Walker
6'2/249
1986-'89
SLB
Jabrill Peppers
6'1/205
2014-'16
LT
Mike Husar
6'3/287
1984-'88
SS
Evan Cooper
5'11/185
1980-'83
LG
Dave Pearson
6'3/297
1999-'03
FS
Tony Jackson
5'10/174
1978-'81
C
David Molk
6'2/286
2007-'11
CB
Jourdan Lewis
5'10/176
2013-'16
RG
Damon Denson
6'0/285
1993-'96
CB
Todd Howard
5'10/178
1998-'01
RT
Mason Cole
6'5/297
2014-'17
K
Bob Bergeron
5'8/160
1981-'84