Michigan All-Ancient History Team (1879-1968)
Big return vs Ohio State: check. Benny wins. [UM Bentley Library]
You know those "make your all-time" lists that circulate in the offseason? Suddenly they got serious. Also UPDATE: I made some changes to correct some gross oversights.
Previously:
This week: I've been leaving out pre-Nineties players because I didn't gain consciousness until well into the Eighties. We'll leave the Best of Bo for Sap. These are Pre-Bo. Also this one's going to be long because a lot of these guys are probably unfamiliar to you. 
I did not run any of this past Greg Dooley, who studies this stuff, or the UM Bentley Library guys who curate it, or Craig Ross, who was alive for all of it, and I reserve the right to edit based on anything they might choose to add because they know this stuff way better than I do.
----------------------------------
Rules: Players are considered for how they compared to other players of their own time—a 180-pound center from a Point-a-Minute team wouldn't survive a series versus one of Woody Hayes's defensive lines; on the other hand Bump's players didn't have to worry about cholera. Pre-platooning players can be eligible for both sides of the ball.
Cutoff Point: To avoid overlap the majority of his playing time had to come before 1969. Just give Bump some credit for recruiting the excellent 1968 class.
Foul Language Warning: The faint at heart might want to skip tight end.
----------------------------------
Quarterback: Benny Friedman

Kinda tough to throw a spiral with that [The Michigan History Project]
Michigan's greatest quarterback ever is debatable, but this much is not: He was certainly Jewish.
I'm going with Benny Friedman over Harry Newman. Friedman was the game's first great passer, but still more Denard Robinson than Tom Brady. Back in the day freshmen were still not allowed to play varsity, so in 1923 the Glenville (yes, a powerhouse even then) product had to resign himself to embarrassing his classmates. In 1924 Yost was Barry Alvarez-ing over his handpicked successor George Little, and Little refused to put Benny, already a campus legend, on the field. Until, that is, Michigan lost to Red Grange's Illinois, and a furious Yost joined the campus chorus to play Friedman. The result was immediate and spectacular. After '24 Yost sent Little packing, inserted Friedman as his starting QB, and in concert with a certain future Michigan head coach, outscored opponents 227 to 3*. The following year they lost only to eventual national champion Navy (a team Benny and Bennie handled 54-0 at home in '25). Friedman also kicked every field goal and extra point, led the team in rushing, returned a kickoff 85 yards, threw more TD passes than the rest of the Big Ten combined, and called every play.
* [As luck would have it the 3 went to Northwestern in a ridiculous 3-2 mudfest that got the safety rule changed and convinced Northwestern students to set their campus ablaze. Craig Ross wrote about it in 2015 HTTV.]
Honorable Mention: Harry Newman, who went 24-1-2 as a starter and should be counted among Heisman winners except they called it the Fairbanks Trophy back then. Big Bob Timberlake, Howard Yerges, James Baird
[After THE JUMP: Icons and Legends]
----------------------------------
Halfback: Tom Harmon, Bob Chappuis, Willie Heston
Every young Wolverines fan will eventually declare someone the "Greatest player in Michigan history" until some older fan corrects him: It's Tom Harmon. It'll always be Harmon. Somebody did a video analysis when I was in college that showed Harmon's speed and moves in 1940 were equivalent to those of a blue chip 2000s receiver. Releasing that on 1940s players resulted in the above (watch the one at 4:30).
Michigan fans of the early '40s had it so good they got the two best backs in history (and had to live through the Depression and WWII, but running back-wise they were set I mean). As halfback was a passing position, a lot of Bob Chappuis's damage was done through the air, and as his career was interrupted by the War, much of that aerial damage was done as a radio operator of a B-25 bomber. After 21 missions  Chappuis's plane went down in Italy, and he hid from the Axis for the last three months of WWII before coming back to Michigan. Now 23, Chappuis proceeded to set the conference rushing record in '46 (despite a broken wrist the whole time). He broke his own record again in '47, leading the Mad Magicians to a national championship, and coming in 2nd in the Heisman voting to Notre Dame quarterback Johnny Lujack because votes by the writers who actually knew anything about football were split between him, Chuck Bednarik, Bobby Layne, and Doak Walker.
And I'm throwing in a third here because the only thing that could ever seem to stop the leading generator of points for the Point-a-Minute teams was the end zone, which capped 72 of Willie Heston's rushes. Heston was, by contemporary accounts, an even better defender, but 72 career touchdowns, man. 72. Seventy-two. And don't tell me about your NCAA Dynasty created player because in Heston's time the clock kept running after he scored. Michigan went 43-0-1 (the Brown Jug game) with Heston as their main offensive weapon, and his 170 yards in the (first half of the) first Rose Bowl stood as the game's record for two generations.
Honorable Mention: James Craig, John Maultbetsch, Ron Johnson, Elroy "Crazy Legs" Hirsch, George Jewitt, Jim Pace
----------------------------------
Fullback: Bob Westfall, Bill Daley

In true fullbackian fashion Westfall is listed at 5'9"  on his freshman roster and 5'8" as a senior. via Wikipedia
If you watched the Harmon video above you might have thought a few times "Man, if only guys blocked like that today." You'd be surprised, but shouldn't be, at how many of those blocks were Bob Westfall. A dangerous (4.36 YPC, 12 TDs in the early '40s) runner in his own right, Westfall was the starting fullback for every game from 1939-'41. Remember when we all went to see Paramus vs IMG in the Big House to get a glimpse of Rashan Gary and instead came away talking about Drew Singleton? That sort of thing happened all the time in 1940, when fans paid for the Harmon experience and came away going on about Westfall.
Westfall was also—albeit very technically—the first Michigan player to leave early for the NFL. After '41 he enlisted in the Army Air Corps (after the Army turned him down for a perforated ear drum), and still had a year of eligibility when he was discharged in '44, despite the Lions drafting him in the 1st round of '42. As the NFL season didn't begin until a month after Michigan's, Westfall thought of playing for Michigan for a few weeks, but the conference decided this wouldn't look good and disallowed it.
Bill Daley was the NCAA all-time rushing leader for a good decade, but a rental for Michigan. Daley was a star at Minnesota until WWII. Michigan cleverly hosted several officer training schools—in Daley's case, a Navy one—and decreed that officers training in Ann Arbor had to stay in shape either through a fitness program or working out with the football team. Well, duh. Crisler didn't waste the gift, drafting Daley (and Wisconsin star Elroy Hirsch) into the Lend Lease Backfield. Daley couldn't finish the 1943 season before he was called up, else that record might have stood longer.
Honorable Mention: Neil Snow, Jack Weisenburger, Elton Wieman pre-WWI, Mel Anthony because my dad used to say he was good
----------------------------------
Wide Receiver: Jack Clancy, Bennie Oosterbaan, Dick Rifenberg

In that order. [UM Bentley Library]
You really can't distinguish wide receivers from tight ends because for most of this period there were no "wide" receivers except as an occasional gimmick. So I've placed the great receivers here and the great blocker/receivers from those years in the tight end category.
That "gimmick" by the way, came early to Ann Arbor because in the mid-1920s Michigan realized they could line up their ludicrously tall and supremely athletic end Bennie Oosterbaan against any player in the world and just lob the oblong spheroid in his direction. Benny and Bennie were the game's first real passing duo, and considering the shape of the ball and the way the game was played at the time, probably should be listed among the greatest even now. Bennie is the far-and-away pick for most accomplished individual in Michigan Athletics History, and that description starts with his three All-American selections for Yost and Little.
Michigan's official stats only start counting in 1949 which is unfortunate because Dick Rifenberg, who played as a freshman before getting called off to the War, came back as the first end you could really call a "receiver." Rifenberg had reason to believe he should win the Heisman but Michigan was a long-integrated team and Southern schools at the time refused to vote for players from any school that wasn't all-white (hence the string of ND Heismans, e.g. Johnny Lujack over Bob Chappuis).
Lowell Perry (more on him further down) played in 1946 then came back from his own service to break Rifenberg's career receiving record in the early 1950s. The guy who set the receiving pace for the rest of the century however was Jack Clancy. He came in as a running back, and would have been the starter for the 1964 Rose Bowl season, but he lost the year to injury. Clancy came back as a split end in '65 and started putting up crazy receiving totals for his time and place. In 1966 he had 197 yards against Oregon State, a Michigan record that wasn't broken until Roy Roundtree in that Illinois game, which Clancy heard about from Norway. I made a fancy Clancy chart to show you just how outta whack his stats were compared to the natural progression of top receivers: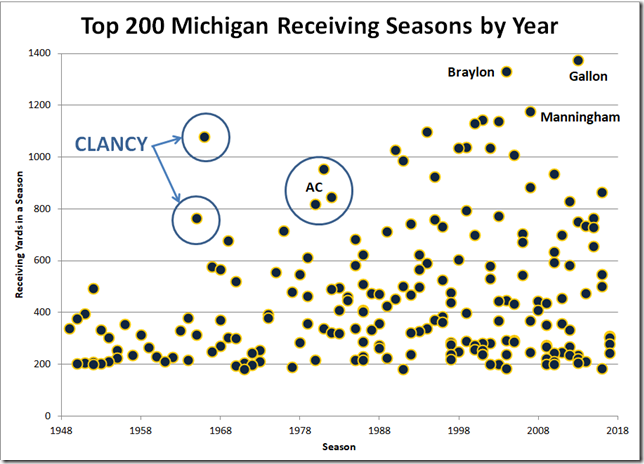 Honorable Mention: Lowell Perry, Ted Petoskey
----------------------------------
Tight End: Ron Kramer, Paul Goebel
"Old 87 had nine letters at the University of Michigan, just three of which were from the Dean of Students."
Before he was the force of nature caving in the edges for Vince Lombardi's Packers, Ron Kramer was Bennie Oosterbaan's problem, and dream. Kramer led both the basketball team and the football team in scoring for two years in the mid-'50s. He also kicked and punted and ran track. He was at once one of the most beloved and most feared competitors in Michigan history. It's over an hour and I recommend all of it to take in one of the most astounding players, greatest humanitarians, and perhaps the loudest character to ever come through here (plus a baby Brandstatter story at 8:30)
And then there's Paul Goebel—Tall Paul Goebel—known these days as the grandfather of the Ruth's Chris owner who unwisely offered Points Against Rutgers off everybody's steaks.
In his day Tall Paul was the guy known as the reason Ohio Stadium has maize and blue flowers painted on their portico, because Goebel on one leg was far better than anyone else in the building on two. In between he was known as one of the most well-respected political figures in state history. For some reason he's never mentioned when great #1-wearing Michigan receivers are listed. An oversight, or a remark about his vicious blocking?
Honorable Mention: Edward Frutig, Elmer Madar
----------------------------------
Offensive Line: Albert Wistert (LT), Albert Benbrook (LG), Charles Bernard (C), Julius Franks (RG), Otto Pommerening (RT), Merv Pregulman (6th)
We're going to have a lot of Wisterts in here, and more than one of the "Seven Oaks Posts" line of 1942. Albert Wistert, nicknamed Ox, was the MVP of that year's epic victory at Notre Dame, team MVP, and All-American, and later played in the first Pro Bowl.
I'm going to skip to other Oaks Post on my list, right guard Julius Franks, another All-American that year, and the guy the unbalanced Fritz Crisler offense pivoted around. Franks lost his senior year (and another year, and his chance to serve his country in WWII) to tuberculosis but fought his way back and became an important civic leader in Grand Rapids.
Albert Benbrook was a two-time All-American for Yost in 1910 and '11. The first great pulling guard, Benbrook's 240 pounds qualified him as a veritable Onwenu in an age when 140 wasn't unusual, though his contemporaries noted he "moved with cat-like quickness and was faster than most backs."
For center we're going with another two-time All-American, Charles Bernard, who came right after strong candidate Maynard Morrison then pivoted Michigan to three straight conference titles. The coaches in 1933 voted him the best player in the country—oh if only Heismans existed back then what a case we'd have.
Finally Otto Pommerening makes all these lists so I'm going with it. He was 5'11/178, which was considered big in his day, and stood out especially because the rest of the 1928 line did not. Proving that NCAA types have always been arbitrary and capricious, Otto was ruled ineligible for his senior season because he played 5 minutes for Oklahoma State in 1926.
And I'm giving us a 6th man because third Oaks Post (that was a good O-Line, Mr. Crisler) Merv Pregulman starred at center and guard before becoming an All-American tackle in 1943.
Honorable mention: Bill Cunningham was Michigan's first All American and MVP of the game that inspired "The Victors."  Two-time AA tackle (and boxing champ) Robert Wahl
----------------------------------
Defensive Tackle: Bill Yearby, Alvin Wistert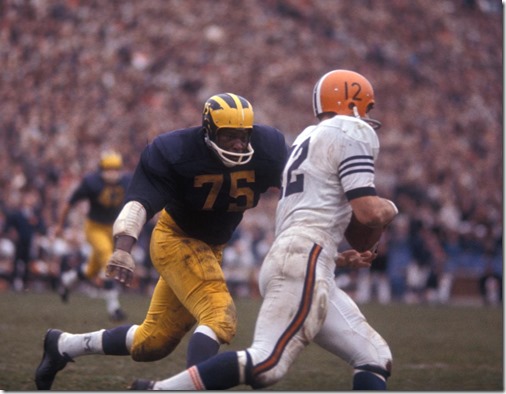 Yearby was up the gut so fast, and lethal in pursuit [UM Bentley]
If you ask why the 1964 team came out of nowhere you get a bunch of stuff about the locker room and the banner and stuff, but from a football perspective it was really  because that year Bill Yearby was simply unblockable. Yearby was a Mo Hurst-like force on the line, a calm and quiet leader off the field, and an All-American in '64 and '65, by which season Michigan's opponents had learned to run outside. Yearby also played basketball as a freshman with Oliver Darden and Cazzie Russell.
And I've grabbed Alvin Wistert, the middle brother, but third to play for Michigan, for nose, in part because his story is so cool. He was also one of the oldest men to play college football. He didn't play in high school, instead working at a factory to help pay younger brother Albert's tuition. Alvin then served four years in the Marines, and enrolled at Michigan (after a season at BU) in 1947. He was then an All-American in 1948 and '49, by which point he was 33 years old!
Honorable mention: Francis Wistert, Miller "Brute" Pontius, Art Walker, Merv Pregulman again, and by internet request, eight-time letterman Horace G. Prettyman
----------------------------------
Defensive End: Bennie Oosterbaan, Len Ford, Paul Goebel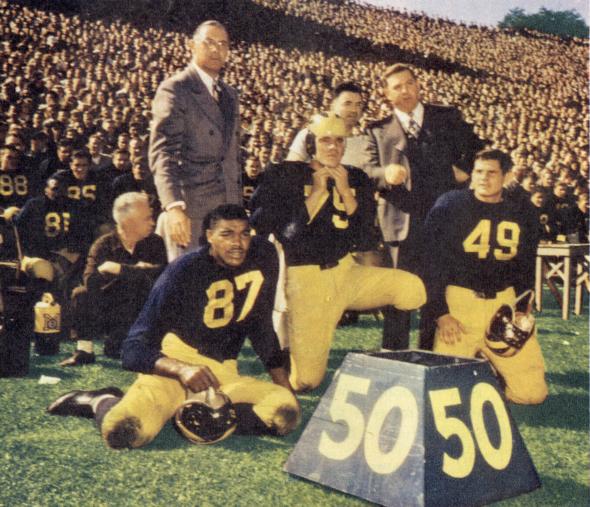 old old 87 should have been on here all along
Craig Ross chimed in with a gross oversight:
The most obvious omission I see is Len Ford, who was a main cog in the Mad Magicians and is in the UM and NFL HOFs. He was the best defender on the Browns/Rams great championship teams.
Like his circuitous trip to get on this list, Ford had a strange path to Michigan, graduating from Morgan State, enlisting in the Navy, then joining Michigan after the War for three seasons. Then he had to prove himself all over again to the NFL.

A hell of a tribute [via 11w]
Yes I'm going with a rotation here because all four deserve it. While Oosterbaan is mostly mentioned for his offense, his defensive play is a modern oversight. Take for example when they shut out Illinois in 1925 when the Illini had Red Grange, the most dangerous outside rusher of the era. Or when Bennie caused, recovered, and ran back a fumble against Minnesota to put a 7-6 win on the Jug.
And I'm throwing in co-starter Goebel, a ferocious edge defender who used his great long arms to dominate blocks, and destroyed Ohio State on a destroyed knee.
Super Honorable Mention because even Greg Mattison would be like "Whoa that's a deep line": Two-time All-American Ted Petoskey was the Oosterbaan to Newman's Friedman. Neil Snow was named one of the three top all-around athletes with Jim Thorpe and Elmer Oliphant in 1901 by Grantland Rice.
Normal Honorable Mention: Stanfield Wells.
----------------------------------
Linebacker (or "Lineplunger" as they called them): Germany Schulz, Maynard Morisson, Bo Molenda

Center on the roster sure, but those are the crazy eyes of an MLB or I never Mike'd before I hiked. [UM Bentley]
We need to do a little bit of position history because this position evolved several decades before the terminology caught up. Here's how they used to line up after the wedge was outlawed by requiring seven men on the line of scrimmage:
The game's origins in a rugby-like game are apparent in the middle, where the "center" was a smallish muck-a-muck and the "guards" were two big guys trying to protect him. What's not apparent is which side is offense (bottom) and which is defense (on top), though the names of the positions start to make more sense. But as offense evolved to get more speed running outside with the Wing-T, Michigan (yes we invented linebacking) started backing off their center, letting the guards take the brunt of the attack so the center could go hunt, and using one of their backs as a "safety" to clean up anything that came through.
Germany Schulz was the first great "roving center" who backed off the line, and had to take on releasing linemen, dodge blocks, and get to the ball, basically a middle linebacker (I had to explain this a lot to people when Desmond Morgan was given Gerald Ford's number). Like Devin Bush Jr., he was known for sticking his nose into crowded places and blowing up the play. That position evolved into the middle linebacker and the job was largely similar to what you expect from a run-stuffing Mike these days. And Schulz was such a bad-ass at it that even if some other players probably did that before, every gives Germany credit as the first. He was also probably the toughest mofo to ever play here.
If Germany defined the position, Maynard Morrison mastered it. I'll quote the Bentley here because I can't do better:
Ranked by his coach, Harry Kipke, as the finest linebacker he ever saw, the stocky 212 pound Morrison stood head and shoulders above all other centers in the nation in 1931, playing on a Conference championship team. "No one ever got past him," Kipke said of the player who was selected by Grantland Rice for his All-American team.
It was common, of course, for guys to swap positions on offense or defense. One of the benefits of platoon football in the 1940s was it got one of those guards off the field for another read-and-react player to cover the space opened up by the Wing-T and "split" ends. Now there were five backs (counting the safety) on the field for the defense, with the two faster, more agile ones on the "corners" (heeey) and two huskier ones behind the "line" (ooooh!).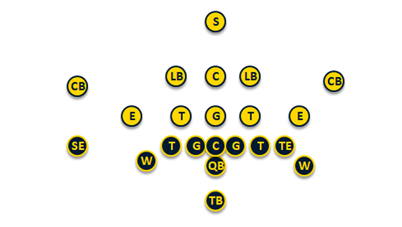 So yeah, that's what Gerald Ford was at Michigan: a middle linebacker. But again I'm giving poor Harry Newman's teammate (sorry POTUS) the shoulder to honor a better player from the Benny and Bennie era: Bo Molenda.
Molenda never made All-American as a "fullback" because he was merely "good" at offense, but Molenda was a nightmare to play against on defense. More even than Bennie, Bo was responsible for shadowing and shutting down Red Grange. He was also a basketball star, however Molenda had grades issues and left Michigan with eligibility remaining.
Honorable Mention: Charles Bernard, Gerald Ford, Ralph Heikkinen, Robert Judson Brown,father of 1962 captain Robert Monroe Brown, and thank you Rob Havey for the correction, Hugh White
----------------------------------
Safety: Lowell Perry and Jimmy Craig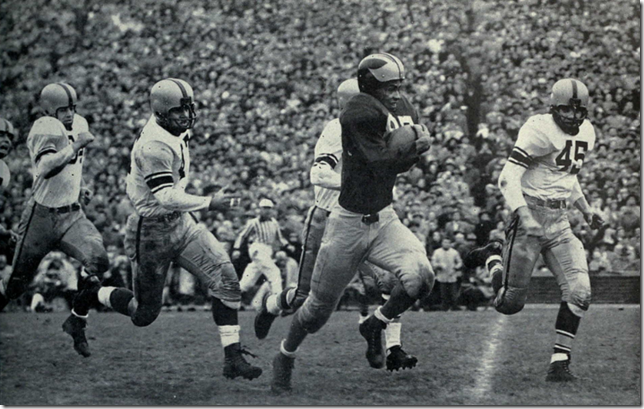 The best part of this photo is I'm pretty sure the guy huffing it on the far left is Minnesota's quarterback. [UM Bentley Library]
Yeah, almost a decade after platooning originated at Michigan there were still guys who starred on offense and defense, and afore mentioned Lowell Perry was one of the best, winning the equivalent of the Thorpe Award in 1951 on top of setting Michigan receiving yardage records. He was also Michigan's punt returner.
Jimmy Craig was one of the fastest, if not the fastest, player of the Yost era. The Old Man's own description of his most productive running back since Willie Heston tells you something about Craig's defense:
"Craig hits his man as hard as any player in the country and is one of the surest tacklers I have ever seen. When he hits a runner around the knees he throws him with such a jar that it usually takes all the spice out of him for the rest of the afternoon. Craig, although he weighs but 160 pounds, is also a better blocker than Brickley. In intercepting forward passes I have never seen his equal, and what he can do in shooting through quick openings in the line and circling ends need not be dwelt upon.
----------------------------------
Cornerback: Bennie Friedman, Tom Harmon, Willie Heston

That time The Matrix produced The One but he just wanted to play football
We've covered them all already so this can be short. Throwing the ball was a dangerous prospect for the first half a century after it was legalized, in part because the ball began way less aerodynamic than today's, and ended games resembling nothing so much as an overgrown potato. The other reason was Michigan's stars on offense were usually just as good, if not better, on defense.
That Harmon was also the best defensive player in the country of 1940 was part of his Heisman campaign and part of his eulogy, and the end of the argument for greatest athletes of all time:
For all his marvelous skills, Bo Jackson will never play defense."
And for the other spot we're going back to that ridiculous 1925 team because the engine scoring all those points, Benny Friedman, was also the reason opponents had to stop throwing the ball against Michigan—he knew their playbooks better than they did, and routinely beat their guys to the ball. There's a reason it took an insane mud hell at Solider Field for anyone to score on Michigan that year, and here's the account of that score:
Seeking to take advantage of the weather conditions, Leland "Tiny" Lewis of Northwestern punted on the first play from scrimmage. Benny Friedman tried to scoop up the ball, but he fumbled it and Northwestern recovered on Michigan's three-yard line. Michigan's defense held on three straight runs by Northwestern. On fourth down, Lewis kicked a field goal from the 18-yard line with the ball having "barely enough power" to go over the crossbar.
The only three points scored on them all year! 
(I was going to make Benny the kick and punt returner too but that's rough.)
Yost never compared anybody to anybody on either side of the ball without letting you know Willie Heston was the best player to ever play the game for him. So there.
Kicker/Punter: Frank Steketee

How to beat Illinois 3-0 [UM Bentley]
Kickers today are weird. Kickers back in the day were weird AND they didn't run up before kicking the ball, so they sucked. Except for a rare handful, and during the dead ball years that was quite a weapon. Frank Steketee came back from WWI in 1920 to win three games with his boot. Also Frank once punted a ball 100 yards: endzone to endzone.
HM: Harry Kipke, Tom Harmon, Bump Elliott