The Michigan All-Numbers Team: Offense
[Danny Moloshok/Stringer]
EVENT ANNOUNCEMENT:
FOOTBALL EVE 2018, hosted by Matt Demorest of HomeSure Lending, will be at 6:00 PM on Thursday, August 30, at 327 E. Hoover, Ann Arbor—the same place as last year.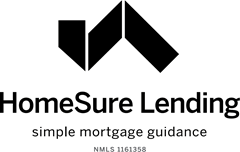 Also the same food as last year—Scratch BBQ and Catering—since Adam and David didn't get to try it.
We won't do the podcast live this time since it felt a bit awkward. Just a Q&A, possibly trivia, and also possibly some historic videogaming and actual, real, live, college football. We'll have beer as well—gotta set that up still.
What's FOOTBALL EVE? An annual MGoBlog get-together right before the season. It started in 2015 when Demorest and I were both asked to leave our respective houses before the Utah game because residential zones are not capable of handing that much nervous energy. Brian ghosts in with zero sleep because he's always behind on the previews. We have beer. It's not complicated. We're doing it Thursday night instead of Friday because so many people are going to Notre Dame. Matt buys everyone beer and afterwards everyone who comes by remembers that if they're buying or refinancing a home he's the guy to talk to.
-----------------------------------------
In honor of the freshman getting their numbers, this week we're not picking a single player for each position but choosing the number that has been best represented for each position.
Previously:
This week: Here's the snap from #(59? 50? 60?), #(16? 7?) drops back, fakes to #(yeah it's 33), looks downfield for #(86 right? j/k), now checks down to #(80-something); #(70-something) is giving him all sorts of time...he dumps it off to #(23 perhaps? 20? do we remember a better one?), and #(who remembers guard numbers?) is there to escort...he's gonna score!!!
Rules: Not judging on peak performance here. It's more about how many games they started, how much hardware they took home, and the total sum contributions of all players playing that position while wearing that number. You can count for multiple numbers but your work at another number doesn't count. For example Devin Gardner's contribution to #7 is mostly running around like a headless chicken. His 2012 work counts toward #12 at WR and QB. And his 2013-'14 seasons (starting at ND '13) are counted toward 98.
All photos from priceless resource UM Bentley Library unless stated otherwise. All-Americans highlighted.
Quarterback #7
Rick Leach, Drew Henson, Chad Henne, et al.
Center & Right from MGoBlue.com
Harry Kohl was no slouch in the late '30s but it's Rick Leach who made the #7 special for Michigan quarterbacks by starring in the latter half of the 1970s. Because of Leach a number of five-star prospects chose to honor him. That's how you add Drew Henson and Chad Henne, plus Shane Morris, Spencer Brinton, Devin Gardner for his first two years, Demetrius Brown when he was a senior, and early 1980s QB David Hall.
Other contenders:
#16: Denard Robinson, John Navarre, Steve Smith, Jay Riemersma, Mark Elzinga, Scott Crawford
#27: Bennie Friedman, Don Moorhead, Dick Vidmer, Stan Noskin
#10: Tom Brady, Todd Collins, Bill Dickey, Clayton Richard, Steven Threet, Dylan McCaffrey, and my doc Kyle Anderson hi doc!
Enough of these:
#8: John O'Korn, Nick Sheridan, Jim Breaugh, Russell Bellomy
Bring it back:
#46: Harry Newman is one of the greatest players in college football history
-----------------------------------------------
[Hit THE JUMP for the controversial pick, and a controversial pick that you probably didn't realize was one]
Running Back #42
Tony Boles, Billy Taylor, Wally Teninga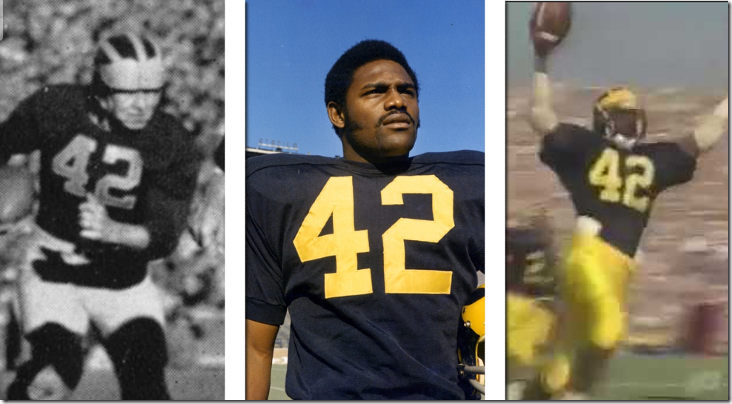 [Right: via Sap's archives because no mere camera shutter will ever catch Tony Boles]
I had a hard time with this one because Michigan has had a lot of great backs (many before guys got permanent numbers) but they tend to spread out so much that it's hard to find more than two guys from the all-time rushing leaders at any one given number. Ultimately we had to old school for the tiebreaker. Wally Teninga was the third wheel of the Chappuis/Bump Elliott (who also wore 42 for a year) backfield that helped Michigan win their 1947 and 1948 national championships. Tony Boles was lightning in a bottle. Billy Taylor was Bo's first great back. Other 42s of note at running back were RB/WR Rickey Davis of the early 1980s, 1970s wingback Glenn Franklin, and Jack Strobel.
Other contenders:
#23: Chris Perry, Jamie Morris, Carlos Brown
#32: Anthony Thomas, Stan Edwards, Jarrod Bunch
#40: Ron Johnson, Crazy Legs Hirsch, Chuck Lentz, and a year of Kolesar
Enough of these:
#10: Kelly Baraka, Mike Gorte, Bill Luther, and Frank Day
Bring it back:
#42: It's been so long most readers don't remember any of these guys.
-----------------------------------------------
Fullback #33
Don Lund, Tom Peterson, Russell Davis, Bob Hurley, Wayne Sparkman, James Byers, Dave Fisher, Che Foster, Warren Sipp, and oh yeah, Leroy Hoard

It's not close. In fact as much as we make a deal about #1 receivers here at Michigan there's a good case to be made that #33 for fullbacks should at least get equal footing. Just about every fullback except Wyatt Shallman (who wouldn't accept that he was one) to wear #33 for Michigan turned out to be either good, very good, or All-American good….or a really good baseball player.
1940s star Don Lund was a 1st round draft pick of the Chicago Bears but chose the LA Dodgers, and later came back to coach UM baseball; I have a book about him on my shelf somewhere. Tom Peterson took Lund's job and number when he followed him to star on those Chappuis/Elliott teams. Bob Hurley was a solid runny-blocky fullback in the 1950s, and Jim Byers, then Wayne Sparkman followed him in the late '50s and early '60s, respectively.
Dave Fisher was a first-team all-conference fullback in 1965 and '66. His backup was Warren Sipp, who became the first strength coach for the Pittsburgh Pirates. 1970s star Russell Davis counts even though fullback was a running back position and Ufer couldn't tell him apart from Roosevelt Smith. Che Foster gets underrated because he was a big-time recruit, but he played at 260, features in more than a few Wheatley highlights, and had a short NFL career.
And oh yeah, Leroy Hoard, a popular Halloween costume in the late-'80s.
Other contenders:
#32: Jarrod Bunch, Fritz Seyferth, Kevin Dudley, Stan Edwards
#35: B.J. Askew, Jerald Ingram, Ray Jackson, Eugene Sisinyak, Brian Thompson
Enough of these:
#34: Sean Sanderson, Will Paul, John Anes, Greg Armstrong
Bring it back:
#8: Frank W. "Stek" Steketee was an All-American in 1918, went to WWI, came back in '20 as #6, then went back to #8 and was nearly All-American again. Just sayin'.
-----------------------------------------------
Tight End #88
Jake Butt, Jim Mandich, Tony McGee, Bill Freehan, Harry Allis, Tim Massaquoi, Craig Dunaway, Elmer Madar, Jack Petoskey, Mark Campbell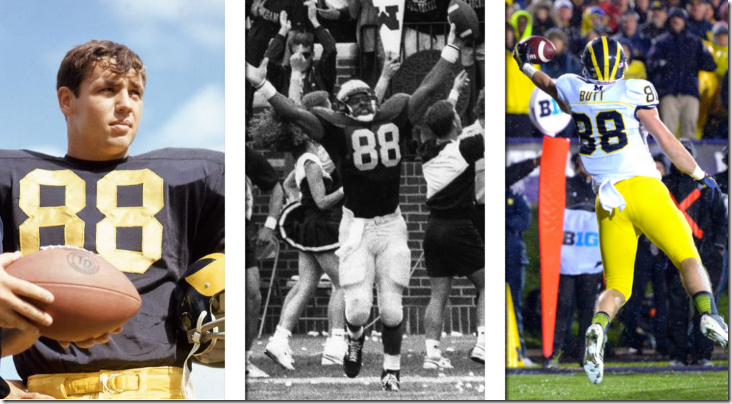 [Right: Bryan Fuller]
This one got closer than I thought it would. I mean: Jake Butt and Jim Mandich are the best two tight ends (not including old school "ends") in Michigan history and wore the same number, but Michigan has had a lot of good tight ends over the years, and most were crammed into the 80s. Let's go chronologically again because we have a lot to cover here.
Jack Petoskey was not as good as Fred, but Jack had to give up his senior year to fight in WWII; later he became WMU's head coach. Bob Rennebohm was borrowed from Wisconsin during the war and played for the Packers. After the War 88 was assumed by Elmer Madar, a converted QB who had been the edge of the famous Seven Oaks Posts before a hiatus to serve in the Air Corps. The late '40s then featured star Harry Allis, who led the Big Ten in scoring (he was the kicker and punter too) their 1948 championship year, and the star of the 1950 Snow Bowl.
Bill Freehan, the Tigers catching great, only played his sophomore year but in that one season he unseated Michigan captain George Mans (and hit .585 for the baseball team). Jim Mandich took over in 1967 and produced 1,489 yards, with 51 catches in his All-American 1969 season. Gene Johnson started from '76 through 1978, mostly as a blocker. Craig Dunaway played plenty from 1980-'82, and saved his best for last: 5 catches for 110 yards against UCLA in the '82 Cotton Bowl. His son Jack currently wears #88 as he works his way up the SAM depth chart. Tony McGee, the other star of the '93 Rose Bowl, broke out his senior year for Moeller and went in the 2nd round of '93 draft.
At 6-6/260 Mark Campbell looked more like an offensive tackle, and lined up all over the place—fullback, flanker, TE—from '94 to '98. Tim Massaquoi, not Braylon Edwards, was the five-star receiver of the 2001 class, but grew into a very effective tight end and a locker room leader when the skill positions were filled with younger guys. Brandon Moore was poised for a breakout senior year after biding his time behind Koger and Webb but was injured.
And, oh yeah, Jake Butt.
Other contenders:
#80: Jerame Tuman, Martell Webb, Marc Burkholder, Khalid Hill, Doug Marsh, Jeffrey Brown, Ben Farabee, and not kidding we had a guy named Frederick Krueger.
#82: Norm Betts, the Schmerges, Bob Cernak, Jim Conley, Mark Campbell (before he was 88), Nick Eubanks
#89: Rick Rifenberg, Bob Johnson, Derrick Walker, Chip Pederson, Tyler Ecker, Ian Bunting
#87: Ron Kramer, Len Ford, Ed Frutig (for one year), Devin Funchess (for one year), Brandon Moore (for one year)
Enough of these:
#94: Vincent Shaw, Michael Kovac, Matt Studenski, Jordan Paskorz, Ian Bunting for a year.
Bring it back:
#17: They did! This was the Petoskeys' number but an end hadn't worn it since Jack switched to 88 until Ty Wheatley took it.
-----------------------------------------------
Wide Receiver #1
Anthony Carter, Derrick Alexander, David Terrell, Braylon Edwards, Greg McMurtry, Paul Goebel, and a year of Funchess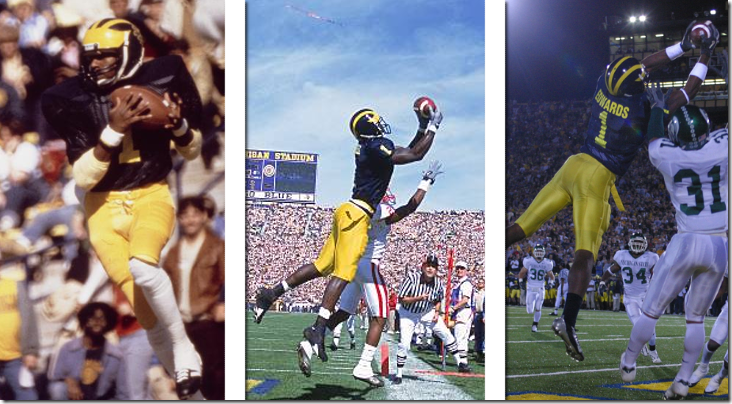 ​
Yes, and Tyrone Butterfield, and more recently Kekoa Crawford. The 1 jersey at Michigan is such a big deal most of college football knows about it, and most of Michigan blew a fit when Rich Rodriguez apparently didn't. Braylon and AC are 1 and 2 on Michigan's all-time receiving list, and Terrell is 5th.
It was that all-time playmaker AC who made it iconic, but Paul Goebel wore it (and several other numbers) back in early 1920s when he was Oosterbaan'ing it before Oosterbaan. While we're on Tall Paul, I should note that his grandson is the Ruth's Chris owner who gave everyone 78% off their steaks when Michigan 78-0'd Rutgers.
After Carter came a string of great receivers—plus little ol' Butterfield—who tried to emulate him. Greg McMurtry was a much-needed second target opposite Kolesar (and Desmond Howard). Derrick Alexander took over from Desmond as the big play receiver of the early '90s. David Terrell was the nation's top receiver recruit and lived up to both that hype and the number he demanded. Braylon Edwards began his career as #80, asked Carr what he had to do to get the #1, and did all of it. Devin Funchess wore 1 for his final year after Michigan finally admitted he's a receiver.
Other contenders:
86: Mario Manningham, Tai Streets, Seth Smith, Jehu Chesson
21: Desmond Howard, Junior Hemingway, plus a year each of Gallon and Roundtree
9: Mercury Hayes, DiAllo Johnson, Drew Dileo, Martavious Odoms, Grant Perry, Donovan Peoples-Jones
Enough of these:
17: Freddy Canteen, Jeremy Jackson, Simeon Smith, Toney Clemons…Carl Tabb was alright.
Bring it back:
24: Jack Clancy had more yards in 1965 and 1966 than Devin Funchess had 2012-'14.
-----------------------------------------------
Offensive Tackle #77
Jake Long, Taylor Lewan, Jon Jansen, Art Walker, Trezelle Jenkins, Tony Pape, Grant Newsome, Milan Lazetich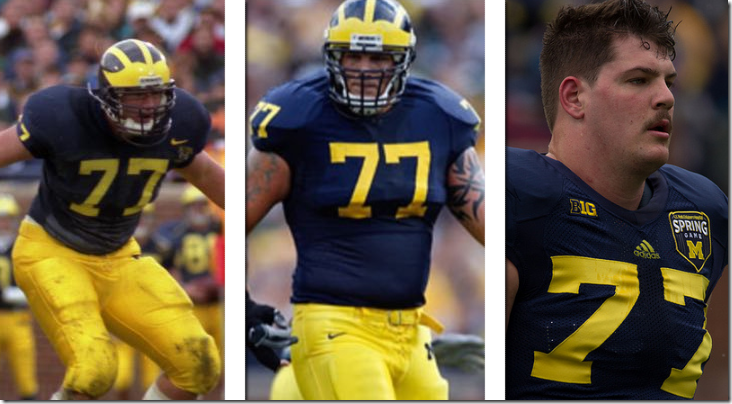 ​
[Center: MGoBlue.com, Right: Upchurch]
Really up until recently the OT number at Michigan was 72 and there's a good argument that 77 still has more work to do. They both boast four All-Americans, and excellent depth, and this year it could flip again depending on what happens with Grant Newsome and Juwann Bushell-Beatty. Ultimately it came down to Jake Long going 1st overall, the fact that he and Taylor Lewan were both two-time All-Americans, and I think Tony Pape was underrated as the reason Navarre and Henne could stand around forever.
Art Walker was an All-American wearing #77 in the early 1954. He was also 5-11/218 that year and as appreciated for his ferocious defense. Trezelle Jenkins really set the new standard for 77 as a 6-7 behemoth—it was in the early '90s that Moeller started really focusing on that type. That led to Jon Jansen, a skinny kid out of Clawson, who gained 40 pounds in two years and then mauled people. The same trick was repeated for Pape, and then Long, and then of course Lewan. Grant Newsome might have been the best of them, starring as a true sophomore (Long hung out at right tackle and was more mistake prone as a RS freshman) and passed Troy Woolfolk for most devastating injury in Michigan history. We can add some old guys too: two-way Wisconsin lender Robert Hanzlik in 1943, and James Gray, and Guy Curtis from the '50s and early '60s.
The other old dude who really puts this over the top is Milan "Sherriff" Lazetich, a second-team All-American in 1944, though he was best known for defense.
Still, check out the other contenders here. I mean…Yearby and Skrep and Alvin Wistert were two-time AA's too.
Other contenders:
#72: Robert Allen Wahl, Dan Dierdorf, Ed Muransky, Jumbo Elliott, Doug Skene, John Partchenko, Rueben Riley, Mark Huyge, JBB
#75: Bubba Paris, Greg Skrepenak, Jerry Quaerna, Thomas Guynes, Michael Schofield, and Bill Yearby but he was mostly defense.
#11: All the Wisterts
Enough of these:
#70: Since 1995 it's been Dan Simelis, Bryant Nowicki, Kristian Mateus, Nolan Ulizio
Bring it back:
#69: But he has to be 6-8 like Jon Runyan and Erik Gunderson
-----------------------------------------------
Offensive Guard #65
Kurt Becker, Reggie McKenzie, Patrick Omameh, Leo Henige, Ted Cachey, David Metz, Benjamin "Lee" Hall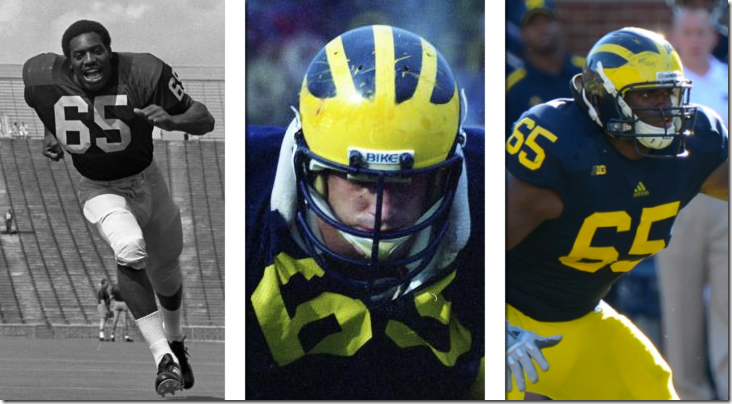 ​
[Right: Upchurch]
The great old ones weren't able to contribute much because they used to take numbers all over the roster and no one digit managed to accumulate more than one starter. That mostly limits us to the 50-79 range that offensive linemen have taken since the 1950s.
Still we've got star power and depth at 65, even without including two traitors who nonetheless contributed early and starred elsewhere in Justin Boren and Kyle Bosch. Kurt Becker and Reggie McKenzie were All-Americans in 1981 and 1971, respectively. Omameh and Henige are extremes of two different types of guards—Omameh was killer in space while Henige was a powerful short-range attacker and sixth man—but both were effective over long careers. Ted Cachey was the captain of the '54 team and the victim of a legendary ref screw job when he landed two yards in the end zone with the ball on his back and the ref called Michigan short on two plays in a row. Dave Metz was one of a rotation of guards in the early '70s for Bo and helped lead Michigan to an incredible 30-2-1 record in games he participated in. Lee Hall was a two-year starter in the early 1960s and later built Alpena's high school program.
Other contenders:
#60: Mark Donahue, John Powers, Bob Popowski, Tom Coyle, Robert Baumgartner, David Moosman
#76: Steve Hutchinson, Stefan Humphries, Mike Dames, David Butler, Dave Petruziello
#67: Merv Pregulman, John Vitale, Dick Yanz, Kyle Kalis, Matt Lentz, Tom DeMassa, John J. Powers (David Brandt counts as a center)
Enough of these:
#62: Jon Saigh, Courtney Morgan, Tim McAvoy, Blake Bars, Ante Skorput, Ed Baldwin, the Freihofer brothers, Quentin Sickels, Dan Yarano
Bring it back:
#58: John Ghindia then only Christian Bryant and walk-ons in the last 35 years.
-----------------------------------------------
Center #59
George Lilja, Dan Dworsky, Anton Momsen, Art Balourdos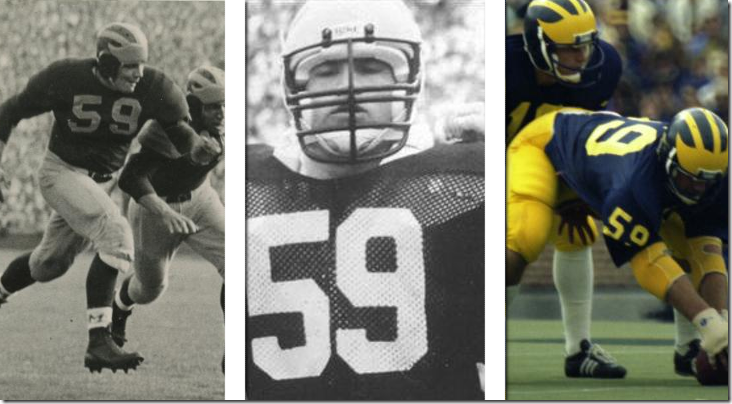 There are a lot of good numbers for center but it's hard to choose one—if Cesar Ruiz has the kind of career at Michigan we think he's capable of this could be #51 in posterity. For now it's very tenuously 59, mostly thanks to the depth created in the wake of Dan Dworsky, starting center for the championship '47 and '48 teams. Dworsky's number was given to his replacement Anton Momsen for '49 and '50 with little drop-off, but the rest of the '50s and '60s were dark for 59s, with only a few starts by John Peckham in '54 and Todd Grant in '61. Frank Hembre "Fudge Hammer" Nunley was mostly a linebacker but played a bunch of center in the mid-1960s. Peter Sarantos was a rotational backup in the late 1960s—his son Joey (who dated one of my closest friends all through high school) would also wear #59 at Michigan.
Of course George Lilja was the starting center for the 1979-1980 teams, the latter an All-American season. A few years later our friend Art Balourdos took all the snaps for 1984.
Other contenders:
#51: Steve Everitt, Cesar Ruiz, Brian Patchen, Fred Negus, Tom Jensen, Gerald Smith
#67: John Vitale, Merv Pregulman, David Brandt, Marc Milia
#52: Rod Payne, Mason Cole, Jim Czirr, Dave Denzin
#58: Jim Bates, Joe Dayton, Bill Muir, Gene Snider, Harold Watts
#69: Tom Dixon and Matt Elliott
#57: Maynard Morrison, Dave Pearson, Jim Dickey, Patrick Kugler
Enough of these:
#54: Michigan has just 17 starts—four by Gene Snider in 1954 and the rest from Mark Bihl in 2006—to show for the 15 times they put a scholarship center in this number. It's not working.
Bring it back:
#69: Tom Dixon was an All-American in 1983 and Matt Elliott was in 1991 though he was honored as a guard, starting 4 games at center that year and 8 games at center the season prior. And that's it for centers wearing #69.
-----------------------------------------------
This got really long and is taking a TON of research to get right, so let's do defense another day.