Michigan All-Name Team
Lead image from here.
Previously:
This week: I went through the entire Bentley database.
Rules: He has to be in the Bentley database, and I can only use a guy once, preferably where he played most.
-----------------------------------------------------
QUARTERBACK: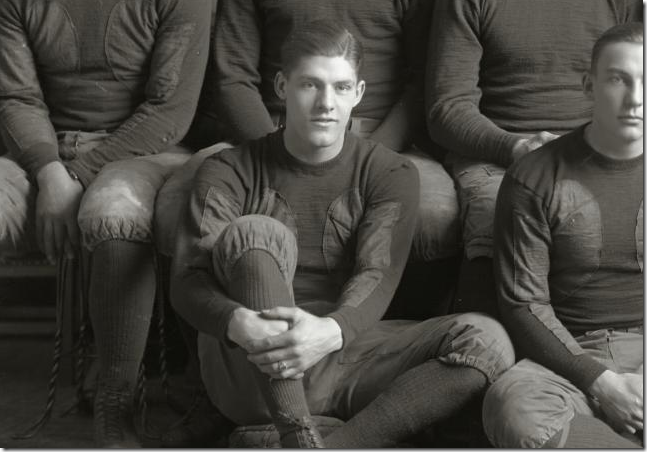 Puckelwartz was unfortunate to have played at the same time as M's greatest ever QB
Giggle giggle I'm a 12-year-old: Bill Puckelwartz (HM Don Moorhead, Irv Uteritz)
Most esteemed member of an extremely exclusive Ann Arbor men's sitting club: Louis A. Brunsting Jr. or Ignatius M. Duffy
Best Nickname: John "Piggy" Pighee
Rolls off that tongue: Jim Breaugh
The ability to destroy a planet is insignificant next to the power of the: Tate Forcier
I could listen to Keith Jackson say this all day: DiAllo Johnson
Most literal: Matt Wilde
In the mystical and mysterious land of: Forrest Evashevski
Most presidential: Jack Kennedy
Best galactic overlord: Chris Zurbrugg
Good luck Ace: Harry Stuhldreher, Jr.
[After THE JUMP: Butt, Jokisch, Furbush, and some names you haven't heard]
-----------------------------------------------------
RUNNING BACK: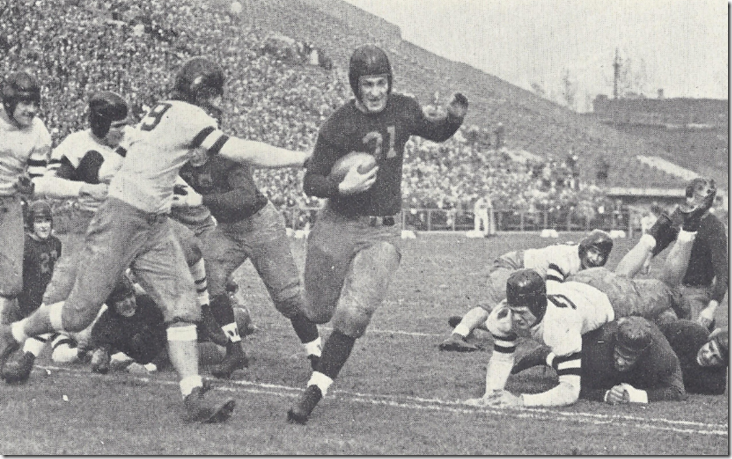 His performance against Chicago in 1933 is not the reason Everhardus edges out Mike Cox
Giggle giggle I'm a 12-year-old: Herman Everhardus (HM Mike Cox, Michael Shatusky, Paul Gannatal)
Most esteemed member of an extremely exclusive Ann Arbor men's sitting club: Norman B. Purucker (HM Fitzgerald Toussaint)
Best Nickname: Elroy "Crazy Legs" Hirsch (HM: Chalmers W. "Bump" Elliott)
Favorite Author: Ralph Waldo Beymer
Best reason: John Batsakes
Best MGoBlog handle: J. Paul Raeder
Best at keeping rosterizers on their toes: Ross Taylor-Douglas
Your first name is more last name than your last name: O'Neil Swanson
I could listen to Keith Jackson say this all day: Harlan Huckleby
Best movie star: Willie Heston
Favorite traveling baseball team: Stanley Knickerbocker
Most literal: Ricky Powers (HM Tony Boles, Walter Cross, Mike Hart, Harry Workman, Kareem Walker)
Good luck Ace: Tshimanga Biakabutuka
-----------------------------------------------------
FULLBACK:
(Ace)
Giggle giggle I'm a 12-year-old: Dick Balzhiser (HM Roderick Cox, Ralph Chubb, Spencer Dickow)
Most esteemed member of an extremely exclusive Ann Arbor men's sitting club: Wallace M. Frankowski
Best Nickname: Khalid "Hammerin' Panda" Hill
Your first name is more last name than your last name: Cyril Quinn
I could listen to Keith Jackson say this all day: Leroy Hoard
Most literal: Burnie Legette
Most yep you're definitely a fullback: David G. Mongeau, Leroy Hoard, Jarrod Bunch, Bob Thornbladh
Good luck Ace: Fritz Seyferth
-----------------------------------------------------
TIGHT END: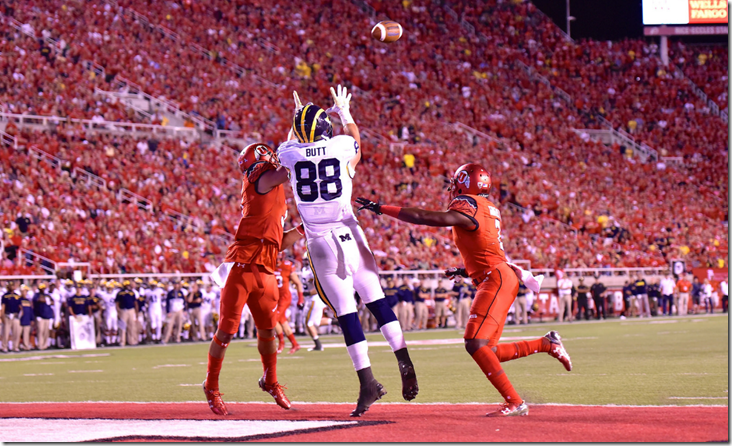 Butt. [Fuller]
Giggle giggle I'm a 12-year-old: Jake Butt (HM Jon Heffelfinger)
Most esteemed member of an extremely exclusive Ann Arbor men's sitting club: August Henry Oversmith
Best Nickname: Zentry
Most 1930s comics villain: Solomon Sobsey
That sounds healthy and delicious: Ed Frutig, Gustave Fervert, George Greenleaf, Donovan P. Hershberger
Most likely to star in a horror franchise: Frederick Krueger
I could listen to Keith Jackson say this all day: Mustapha Muhammad
I felt bad listening to Keith Jackson having to say this all day: Paul and Mark Schmerge
Best use of postwar overabundance of vowels: Bennie Oosterbaan
Best dinosaur: Richard U. Rex
No, he's not related: Jack Harbaugh
Most literal: Paul Seal (HM Michael Jocz, Karl Staatz, Tom Stincic, Matt Studenski)
Probably why Jon Falk retired: Alex Mitropoulos-Rundus
Good luck Ace: John K. Galarneault
-----------------------------------------------------
WIDE RECEIVER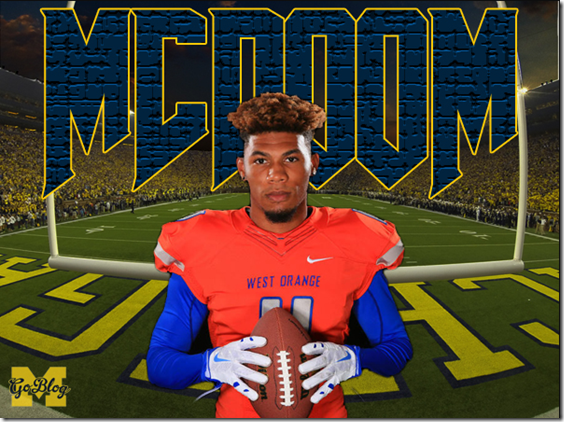 (Ace)
Giggle giggle I'm a 12-year-old: Dan and Paul Jokisch (HM Unwana Ubom, Derek Woodmore)
Most esteemed member of an extremely exclusive Ann Arbor men's sitting club: Yale VanDyne
Best name of all time for fan participation: Eddie McDooooooooooom
Best videogame hero: Mario Manningham
Best Harry Potter villain: Felman Malveaux
Best Star Wars character: Triando Markray
Best Game of Thrones character: LaTerryal Savoy
Best wrestling move, The: Donovan Peoples-Jones
Most likely to accidentally come up in Michigan Daily Archives searches: Bo Rather
Most likely to accidentally come up in a Google.fr search: Jason Avant
Best Intergalactic Overlord: Zion Babb
Best Mythological Deity/Car: Mercury Hayes
Best Invention as Seen on HSN/Your local Bed Bath & Beyond: Zia Combs
Best app: Mo Ways
Best 11th Century Norman Nickname: Matt DeYoung
I could listen to Keith Jackson say this all day: Amani Toomer
Punning Headline Writers' Challenge of the Century: Jeremy Gallon
Most likely to confuse a tired history major on a Late Antiquity bluebook exam: Livetius Johnson
Punning Michigan Engineering Alumni Magazine Headline Writers' Challenge of the Century: Julian Searengin
Worst thing to ever happen to tables on MGoBlog since Juwann Bushell-Beatty: Donovan Peoples-Jones
Good luck Ace: Olatide Ogunfiditimi
-----------------------------------------------------
OFFENSIVE GUARD: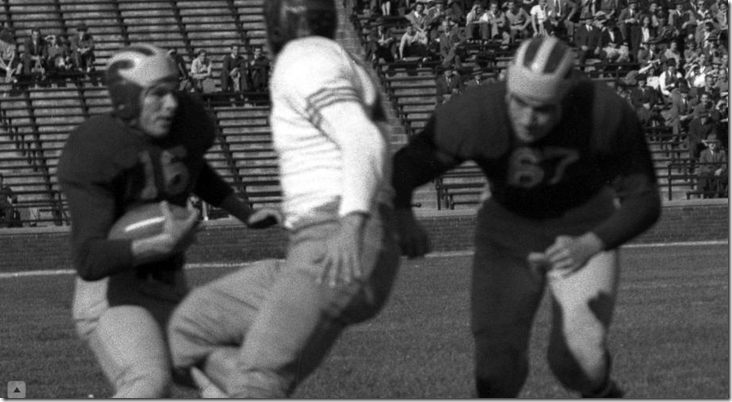 Linemen of the '40s knew to fear the name Merv Pregulman [UM Bentley]
Giggle giggle I'm a 12-year-old: Ernest J. Allmendinger
Most esteemed member of an extremely exclusive Ann Arbor men's sitting club: William J. Van Orden
Coaches' favorite: Milo F. Sukup
Best tincture: A. Burgess Vial
Most likely to stump your mom in a game of "One of the greatest DTs in the game's history, or pharmacist?": Mervin Pregulman
Most literal: John J. Powers
Most likely to be mistaken for Jeremy Ciulla: Zac Ciullo
Most first names: James Edward Johns Junior
I could listen to Keith Jackson say this all day: John Arbeznik
Drink some water: John Mihic
Biggest nose: Stanley Broadnax
Most Amazing: Greg Wonderli
Obviously squatting: Thomas Landsittel
Good luck Ace: Tom Wansdersleben
-----------------------------------------------------
OFFENSIVE TACKLE:
Prettyman began as a Rusher then played four seasons at forward . He returned after taking the '87 season off to play center then finally grew into a tackle his final two years[UM Bentley]
Giggle giggle I'm a 12-year-old: Stanley Muirhead
President of the Ann Arbor men's sitting club: Horace G. Prettyman
Best Nickname: John Stuart "Jumbo" Elliott
Best Coffee: Rostom Tandourjian
Best Internet Service Provider: James K. VanBlaricom
Most impossible Google: Steven King
Whatever Angus G. Wants: Angus G. Goetz
Name that's too obviously a pseudonym that famous hobbits use at hotels Barvey Underhill
Your first name is more last name than your last name: Guy Curtis
I could listen to Keith Jackson say this all day: Greg Skrepanek
Best 1960s cartoon character: Rocko Khoury
Most literal: Bob Wahl (HM Mark Huyge, Rock Lindsay, Kenneth Shields)
Most fictional: James T. Balog
Won't have to change your name when you open a private physical training center: Victor Method
Employee of the Month at Victor Method: Dave Trainer
Good luck Ace: Pat Olszeweski (HM: Thomas Guynes)
-----------------------------------------------------
CENTER
Unlike Jack Kennedy and Ben Harrison, 1930s Michigan center Gerald Ford had a U.S. President's name before the guy became president [UM Bentley]
Giggle giggle I'm a 12-year-old: Jim Dickey
Giggle giggle I'm a 2-year-old: Virgil R. Pampu
Most esteemed member of an extremely exclusive Ann Arbor men's sitting club: Raymond Vanderzeyde
Tastiest pasta dish: Rolie Zagnoli
Worst nickname: Eric "Matt" Elliott
Most honest: William Eschtruth (HM Richard D. Farrer)
Most presidential: Gerald Ford
Least presidential: Ted Kennedy
Fairly presidential: Benjamin Harrison Southworth
I could listen to Keith Jackson say this all day: George Zuganellis
Your first name is more last name than your last name: Coleman Wallace (HM Robert F. Timm)
Best film noir detective: Guy Murdock (HM Floyd Morse)
Best film noir director: Bill Muir
Most literal: Rod Payne
Biggest mystery though we have his height to half an inch: "?? Yale", who's 5'11-1/2/184 lbs on the 1895 team
Favorite character in Chrono Trigger: Wayne F. Melchiori
Good luck Ace: Richard Szymanski (HM Dwight R. Tousignaut. Jim Czirr)
-----------------------------------------------------
DEFENSIVE TACKLE
"Will Carr" nets 5,490 results in the Daily database, 20 of which refer to the player [UM Bentley]
Giggle giggle I'm a 12-year-old: Freddie Kountz
Least likely name to belong to a 280-pound nose guard: Claire Purdum
Most esteemed member of an extremely exclusive Ann Arbor men's sitting club: Cloyce E. Hanshue
Mo' Hurts: Mo Hurst
Most likely to accidentally come up in Michigan Daily Archives searches: Will Carr
Best Nickname: Sylvester "Buster" Stanley
Most literal: Carl M. Savage
Parents couldn't agree on a spelling: Elisha Elijah Sayad
Pay the players already: Edward Poorman
Count de: Bryan Mone
Uses own name for D&D character: Cecil Freihofer
Let's count: Michael Dwumfour, Ninef Aghakhan
Holy: Paul Flajole
True name of the ring-poisoned wretch following you around: Joseph Schmiegel
I could listen to Keith Jackson say this all day: Steve Rekowski
Metal or things made from metal: Mike Hammerstein, Will Carr, Jason Horn
Good luck Ace: Roger Szafranski
-----------------------------------------------------
DEFENSIVE END
Glenn Steele is one of the main reasons Michigan's defense was so metal in the '90s [UM Bentley]
Giggle giggle I'm a 12-year-old: Russell Damn (HM: Clinton Spearman, Gerrit J. Diekema)
Most esteemed member of an extremely exclusive Ann Arbor men's sitting club: Richard VanTongeren
That sounds unhealthy and delicious: Taco Charlton, Jake Frysinger, Wesley Dierberger
"Shibboleth" for Michigan fans: Juaquin Feazell
Best nickname: Roger "Rocky" Rosema
Metal or something made of metal: Glen Steele, Shantee Orr
I could listen to Keith Jackson say this all day: Mario Ojemudia
Impossible to Google, we've tried: Chris Rock
Name your dog can pronounce: Craig Roh
Most literal: Chase Winovich
Good luck Ace: Carl Cmejrek
-----------------------------------------------------
LINEBACKER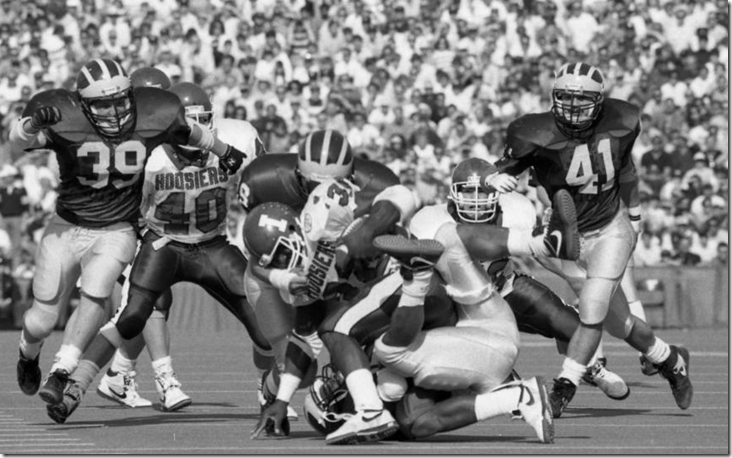 I was just the right age to think "Rusty Fichtner" was a hilarious name. Now I don't remember what I thought a Fichtner was. [UM Bentley]
Giggle giggle I'm a 12-year-old: Noah Furbush (HM Adam Fakih, Rusty Fichtner)
Most esteemed member of an extremely exclusive Ann Arbor men's sitting club: Prescott Burgess
Best 11th Century Frisian Nickname: David Devich
Worst Marvel Cinematic Universe character: Randy Stark
Best 5th Century BCE Harbinger of Destruction: Paul Girgash
Best Holiday: Michael J. Day
Best Mood: Marty Huff
Best body part: Ed Wojtys
Best consulting firm: Kerwin Waldroup
Your first name is more last name than your last name: Anthony Jordan, (HM Jordan Anthony)
Who? Mike Jones
Tastiest BBQ: Jeff Smokevitch
Tastiest tailgate snack: Carlitos Bostic
Tastiest beverage: Mike Lemirande
Tastiest dinner: Jamie Mignon
The reason we can all pronounce the 'H' in "White": Dhani Jones
Best tractor: John Duerr
Best vacuum: Matt Dyson
Best game on after 8pm Eastern: Sanford Washington
Favorite character from Final Fantasy II or IV or whatever it was II when I played it: Cecil Pryor
Least likely to belong to an athletically limited white guy from Holland, Michigan: Desmond Morgan
Best rapper: Jay Rau
I could listen to Keith Jackson say this all day: Clint Copenhaver
Metal or made of metal: Sam Sword, Ian Gold, Jarrett Irons
Most metal: Rob Swett
Good luck Ace: P.J. Cwayna
-----------------------------------------------------
SAFETY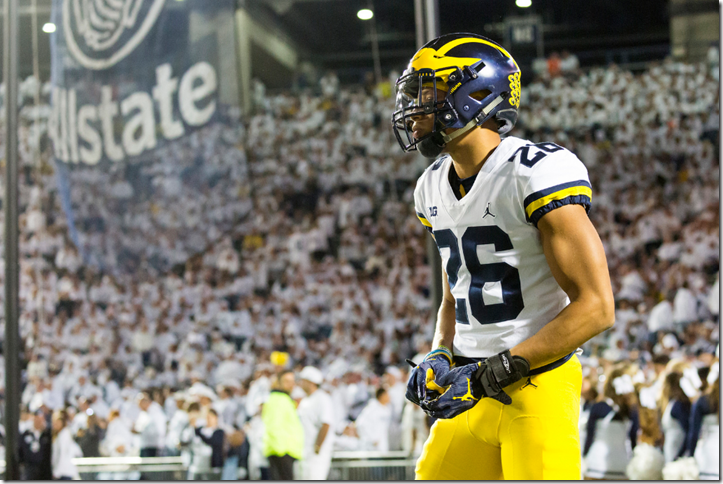 The current staff's sole contribution to the MGoBlog prospector naming convention is to call J'Marick Woods "Woods" because he brings the Woods. [Patrick Barron]
Giggle giggle I'm a 12-year-old: Woody Brown
Most esteemed member of an extremely exclusive Ann Arbor men's sitting club: Horace T. VanDeventer (HM: Willis Barringer, William B. Calvert)
Metal or made of metal: Josh Metellus
Best nickname: Thomas "Prison Abs" Gordon
Wood, made of wood, or lays the wood: J'Marick Woods
Favorite place to read a book on a warm summer day: Garland Rivers
Favorite figure from Roman history: Cato June
Least googleable: Steven L. King
I could listen to Keith Jackson say this all day: DeWayne Patmon
Favorite Sci-Fi Hero: Ernest Shazor
Most literal: Tony Blankenship
Best imaginary compatriot: Raynor Freund
Good luck, Ace: George Ceithaml
-----------------------------------------------------
CORNERBACK
Sure he was mostly a safety but it was funnier here. [Eric Upchurch]
Giggle giggle I'm a 12-year-old: Woody Hankins (HM Boubacar Cissoko, Dieter Haren)
Most esteemed member of an extremely exclusive Ann Arbor men's sitting club: Channing Stribling (HM Tad Van Pelt)
Favorite character from a Steven King novel: Linwood Harden
Best nickname: Myles "Spider" Sims
Biggest catch: Marlin Jackson
Most beloved television character from the 1950s: Alfie Burch
OMG Shirtless: Marion Body
Favorite character from Wheel of Time: Thom Darden
Greatest King: Kurt Kampe III
Favorite Egyptian deity: Ra-Mon Watkins
Most likely to confuse a tired history major on a French Revolution bluebook exam: Jean-Agnus Charles (HM Francois Montbrun)
Delicious and spicy: Markus Curry
Thanks for shortening: Tajuan "Ty" Law
I could listen to Keith Jackson say this all day: Charles Woodson
Evil alternative dimension Jim Harbaugh: P.J. Brumbaugh
Your first name is more last name than your last name: Donovan Warren
Most likely to sell you this whirdingiest doohicky to ever zerp: Donald M. Zanfagna
I still can't spell this: Jeremy LeSueeur…Leseuer, LeSueur…
Mainstream media still can't spell this: Troy Woolfolk..Worflolk, Woolfork, Willflrok?
Not Tloy Wilfork either, MSM: Travis Wooley
Good luck Ace: Robert Krejsa
SPECIAL TEAMS
Dick Sygar (18) and Dick Vidmer (27) in 1966 [UM Bentley]
Giggle giggle I'm a 12-year-old: Dick Sygar (HM: Steve Breaston)
Most esteemed member of an extremely exclusive Ann Arbor men's sitting club: Dammond R "Monte" Robbins
Best Intergalactic Overlord: Zoltan Mesko
Worst name for a kicker: Todd Schlopy
Ever worse name for a kicker who came right after Schlopy: Rick Sutkiewicz
Favorite 1980s Saturday morning PBS science show host: Karl Tech
Best bourbon: Pap Sanneh
Worst thing to contract: Paul Peristeris
Favorite streetmarket hawker: Camaron Cheeseman
Good luck, Ace: Ankit Kachhal