The Michigan All-Numbers Team: Defense
Previously:
This week: We continue picking the best number for each position with the defensive side. Offense is here.
Rules: It's what you wore when you contributed there. Starts, stats, big plays, etc.
All photos from priceless resource UM Bentley Library unless stated otherwise. All-Americans highlighted.
-----------------------------------------
A Short History of Defensive Positions
My goal so this wouldn't just be some useless offseason #content was to include all players since they started having numbers in the '20s. That way it's not just "here's the guys we remember from the last 10 years."
That makes defense WAY harder to do this (correctly) than for offense. Great two-way players are best known for their offensive feats and were typically listed with their offensive positions, for example Benny Friedman played quarterback on offense but halfback (cornerback) on defense. Defensive positions have changed dramatically over the years, and what you call a thing often takes another generation to change after the job has changed (for a taste, watch this 1940s defensive tutorial).
From the '30s to the '60s centers, fullbacks and one of the guards played linebacker. One safety played in the parking lot to deter quick punts because offenses would take a 50-yard field position swing over possession any day.
Transition periods are good for new position names and player nicknames—we're going through one now with Viper—but tough on roster data. Exempli gratia: the starter data list Dominic Tedesco and John Anderson as defensive ends in 1976. In 1977 they were both starters again but now at "outside linebacker."
No, Michigan didn't "switch" that year from a 5-2 defense to a 3-4. They just fixed the glitch. This gets especially troublesome when you consider how often shifts put 3-4 "tackles" on the edge. I mean, they called Mark Messner a tackle his whole career, even though he spent that career aligned up like so:
Since the jobs haven't changed nearly as much as the names, I'm going to do defense by job description.
[After THE JUMP: The numbers.]
------------------------------------------------------
Nose Tackle (Down Guard, Middle Guard, Nose Guard) #96
Will Carr, Ryan Glasgow, Bob Kolesar as an underclassman

[Right: Upchurch]
My new rules made this hard: a lot of HM options and no clear winner. The top three were especially close: Martin and Glasgow were very similar players, and Carr was better than Bo's early '70s starter Greg Ellis, but #68 has (the better years of) a Seven-Oaks post, and 96 includes a guy from when I was at school that we try not to talk about. And I wanted to go with 54 because one should take every opportunity to mention Donnie Warner, since Michigan had a non-scumbag, non-loser, non-bench player who was the same size as Rudy with a tougher life story starting on a better defense because Warner was friggin' Sherlock Holmes at knowing offensive linemen tells.
Ultimately I nodded toward the more recent two because we can still talk about the 1940s star who wore this number as a sophomore. Bob "The Maulin' Medical Man" Kolesar was the backside guard (with Julius Franks the frontside) and played on or off the line depending of if Michigan was in its 6-2 or 5-3 alignment. However he only did that for a few games in 1940 before switching to #68. He would later try to stay in med school while enlisted in the U.S. Army and technically on the Detroit Lions. He also kicked off a legacy: Bob's distant cousin Bill played tackle for Michigan in the '50s, Bill's son John Kolesar, a receiver, played with Harbaugh. John's son Caden is a 2019 DB/ATH at St. Ed's with mostly MAC offers who might end up at Northwestern.
Nex let's talk about Will Carr, an All-American in 1996 who can only be googled by including the words "Jason Horn." Carr can take credit for some of that, as Horn wracked up 11 sacks and 18 TFLs in '95 with Carr sucking up doubles. He also lined up at fullback some, though he tended to fumble when he had the ball. Fortunately he lost control after he broke the plane on this one.
And Ryan Glasgow was the best of the Glasgows. Remember when about this time one year there were practice reports that Glasgow was ahead of Ondre Pipkins? Larry Harrison was a planetoid starter until he was kicked off the team for creepiness.
#68: Mike Martin (2009-'11), Greg Ellis (1971-'72), and Robert Kolesar (1941-'42). FYI 1947-'48 star OG Stu Wilkins played linebacker on defense when Crisler wasn't inventing the platoon system to get him off the field)
#54: Steve Graves (1976-'77), Donnie Warner (1973), Ernest Pederson Jr. (1936)
All backups no starters number:
#61: Alex Callahan (1957-'58), (Donald Dugger 1951, '53), Lloyd Henevald (1948-'49), John Gallagher (1943), Stanley Broadnax (1965), Nate Rodgers (1983-'84)
Enough of these:
#93 is the jersey they give planetoids who don't pan out: Alex Ofili, Jason Kates, Marques Slocum, Ray Edmonds, Erik Knuth, Jason Ptak, and Ron Kocan—they all share Ofili's single start.
Bring it back:
#65: It had a great run after Dominic Tomasi then went to backups in the '70s and disappeared thereafter.
Defensive Tackle (DT, 3T, 3-4 DE, 4-3 under 5T) #11
Francis Wistert, Albert Wistert, Alvin Wistert
So 60 has Messner, and Buster Stanley. 97 has Hutch and a pair of decent early 2000s DTs. 77 has two All-Americans, one of whom goes by "Sheriff" because prior to playing for Michigan Milan Lazetich was the sheriff of his Montana town.
But we have to talk about the Wisterts, who mic-dropped their retired number for this position before we even got to the second half of the 20th century. The Wisterts would be the Hughes family if all three played for Michigan (Jack after 10 years of doing manual labor). Except it was football, and they all played both ways in three different eras: Francis for Kipke, Albert for Crisler, and Alvin for Oosterbaan. All three were All-Americans. All three are members of the College Football Hall of Fame. Between them they have four national championships.
Francis "Whitey" Wistert was the eldest of five children of Lithuanian immigrants—their father was a police officer killed in the line of duty when Whitey was 15. At 6'2"/210 he was big for his era, a star on the offensive line. In an era of misdirection on misdirection Whitey defensively was particularly hard to fool. Third brother Albert "Ox" Wistert was the most talented and second to play for Michigan. His line play was cited as the reason Michigan beat Notre Dame in '42, a game that was only slightly less important than the War. Second bro Alvin "Moose" Wistert was the third to come to Michigan, the largest of the three, and the least likely to end up a Michigan football star. Moose dropped out of high school worked in a factory until WWII, when he served in the Marines. He took the GI bill to Boston University at Age 30 then transferred to Michigan. He was the defensive star of the championship '47 and '48 teams, and captain of the '49 team, at 33.
Other contenders:
#72 Robert Wahl, Jim Orwing (1955-'57), Bill Pritula ('46-'48), James Balog (1952-'53), Clement Bauman (1944), John Yanz (1963-'64)
#60: Mark Messner, Buster Stanley, Grant Bowman
#97 Chris Hutchinson, Shawn Lazarus, Will Johnson, Jeff Perlinger, Chris Ziemann
#68: Albert Wistert for a year, Stu Wilkins, Gregory Ellis
#75 : Bill Yearby, Bruce Hilkene, Richard Williams, Ralph Stribe, Doug Troszak, William Kolesar
#76: Trent Zenkewicz, Tom Johnson, Ed Meads, Jon Schopf, Mike Leoni, Ralph Kohl, Charles Ruzicka
#61: Alex Callahan, Don Dugger, John Marcum, John Gallagher, Lloyd Heneveld, Nate Rogers
#90: Ninef Aghakhan, Norman Heuer, Michael Keller, Juaquin Feazell, Chris Godfrey, Vinny DeFelice
Enough of these:
So much of recent history had Greg Mattison or Brady Hoke coaching the DL and they're really good at finding and developing this kind of guy. Plus, like, do you want a number nobody's worn since 1969 (74?). All numbers are open for DTs.
Bring it back:
#91: Josh Williams had 34 starts, only two other tackles have worn it.
#39: Henry Hill, Edwin Poorman Will Heininger. Everyone who wore it started.
#80: Alan Branch is all alone.
#11: Surely we can find a dollop of Wistertian blood today to be worthy of unretiring this. Cross with some Glasgow genes and let's goooooo!
-----------------------------------------------
Defensive End/Edge: #56
LaMarr Woodley (2003-'06), James Hall (1997-'99), Bill Hewitt (1929-'31), Edgar Madsen (1924)
This is a weird position grouping: I included all work done as a 4-3 defensive end (4-3 under 5-techs went with the DTs) all the way out to 3-4 OLBs, so we're including weakside ends, SAMs, and all of those 5-2 Oklahoma ends from the '60s and '70s. Basically guys expected to pass rush and hold the edge of the line.
I think when I announced I was doing this people figured #56 would take this position because of Woodley and Hall. Once glance below at the competition should tell you that wouldn't have cut it. The number nearly disappeared when budding star sophomore end Edgar Madsen suddenly died of pneumonia in 1924:
…and the Daily suggested his number be retired.
What did put them over the top was Bill Hewitt, an NFL hall of famer, whose number 56 was retired by the Chicago Bears when he left as the last NFL player to refuse to wear a helmet. He played end and fullback for Michigan and was the MVP of the '31 team that had Maynard Morrison, Charles Bernard, Harry Newman, Ted Petoskey, and a Wistert on it.
After Hewitt, reserve end Chester Stabovitz (name team!) then 1937-'38 starter Vincent Valek wore it.
James Hall burst into opponents' backfields by earning a starting job as a true sophomore in 1997. As with Woodley, they'd call Hall an "RLB" as the weakside end of Michigan's base 4-3 Under; Hall went on to a productive NFL career as an undersized yet unblockable edge rusher. As for Woodley, here's an insane and grainy video that includes videogame clips until Wolverine Historian makes us a better one:
Other contenders:
#86 John Anderson (1975-'77), Martin Davis (1990-'92), Gene Knutson (1952-'53), Gary Prahst (1957-'58), Oswald Clark (1948-'50), Bob Brown (1962), Steve Thibert (1985-'87) Donald Eeaton (1972-'73)
#47: Bennie Oosterbaan, Jake Ryan
#81: Glen Steele (1994-'97) the half of the time they weren't in an under, Dan Jilek (1974-'75), Mike Rotunno (1954-'55), John Halstead (1958-'59), Gene Topp (1951-'53), John Henderson (1963), Bob Boshoven (1957)
#99: Robert Thompson (1979-'82), Dominic Tedesco (1975-'77), Pierre Woods (2002-'05), Jake Frysinger (2001)
#88: Elmer Madar (1942-'46), Craig Roh (2009-'12), Harry Allis (1948-'50) Ron Kocan (1962), Bill Freehan (1960), Bob Rennebohm (1943)
#91: Matt Dyson (1991-'93), Tom Seabron (1976-'78), Walt Williamson (1971-'73), Rondell Biggs (2004-'06), Phil Seymour (1970), David Ray (1950-'51)
#55: Brandon Graham (2006-'09), Dale Keitz (1977-'78), Jibreel Black (2010-'11), Rasheed Simmons (1994-'96), and bits from Gannon Dudlar, Dhani Jones and Cecil Pryor
#90: Tim Jamison (2007-'08), Jake Ryan (2011), Michael Keller (1969), Juaquin Feazell (1996-'98)
#6: Paul Goebel as a junior (1921—he wore #1 in his All-American year), Victor Hobson (1999-2002), David Bowens (1995-'96), Prescott Burgess (played SAM in 2005)
Enough of these:
#95: That one Alain Kashama game is carrying this alone. Whiffs including Patrick Kratus, Chris Rock and Bob Rosema
#93: Three starts by soph and jr Mike Lemirade in the '80s are the contributions from 20 seasons of edge guys wearing this, most recently Chris Rodgers and Lawrence Marshall (who'll contribute at DT this year if he ever does)
Bring it back:
#6: The four guys above are the only edge players to wear it, and single digits are cool.
-----------------------------------------------
Middle Linebacker: #37
Jarrett Irons (1993-'96), Erick Anderson (1988-'91), Tony Rio (1957-'59), Tom Kee (1972), Chris Graham (2005-'07), Zach Kaufman (2000-'03), Mel Anthony (1963), and Jake Ryan as a redshirting freshman
I'm sorry, but if you were expecting another number to stand for Michigan middle linebackers you shouldn't have sent a guy born in 1979 to make the picks. I'm all about the doom squirrel archetype that Larry Foote and Ian Gold pioneered after, but there was something about a thumpin' neck-rolled bad-ass screaming up the middle and ending a guy that shaped my early understanding for good defense, and that's all thanks to Mr. Anderson and Mr. Irons. Anderson doesn't have a highlight reel but start The Game of 1991 at 12:00 and start counting how often 37 is around the ball.
With Anderson still fresh in memory, Irons came up, and starting tackling everything in sight. He was named captain his junior year in 1995 and by the end of 1996 he led Michigan in career tackles. I might have written in my high school paper that Sam Sword should switch to 37 in '97 since 93 is a weird number for a linebacker.
Here are all the MLBs, WLBs, plus fullbacks (the original linebackers), centers (the original middle linebackers), and a handful of 5-3 era right guards. Tony Rio, who also played some offense but let Gene Sisinyak take most of those snaps, lost most of his junior year in '58 for leading gambling ring. Rio pled to a misdemeanor and came back to captain the '59 team, when his famous luck led to a nine fumble recoveries.
Mel Anthony switched to full-time offense in 1963 when the NCAA eased the 1952 platooning restrictions but he was a good linebacker before that. Tom Kee was a 2nd team All-American to both the AP and UPI in 1972 playing weakside linebacker in Bo's 5-2 defense that gave up just 57 points all year and would have finished unbeaten but for a legendary referee jobbing in Columbus.
More recently we've had Chris Graham, who is not related to Brandon and should definitely not be lined up on a slot receiver, but was a decent and longtime starter. Zach Kaufman too was rather unheralded for mostly okay play, but his reputation was salvaged by the drop-off in WLB play after he was injured in 2002.
Other contenders:
#48: President Gerald R. Ford (1932-'34), Desmond Morgan (2012-'14), Jack Weisenburger (1946-'47), Dave Dobreff (1990-'93)
#33 Mike Taylor (1970-'71), Don Lund (1942-'44), Carl Russ (1973-'74), Wayne Sparkman (1962-'63), Tom Peterson (1947-'48), James Byers (1957), Marrell Evans (2008)
#57: Maynard Morrison (1929-'31), Tim Anderson (1983-'84), James Dickey (1958), Chris Singletary (1997-'98)
#53: Dick O'Shaughnessy (1951-'53), Jerry Goebel (1955-'57), Mel Owens (1977-'79), Thomas Cecchini (1963-'65), Robert Erben (1948-'49)
#2: Jack Blott (1923), Ernie Vick (1921), Cedric Smith (1915-'16), and future M coach Elton Wieman (1917)
Enough of these:
#51: With respect to Jerry Smith, lately this has been Eric Brackins, Max Pollack, Michael Ferns, and walk-ons. Shoulda stopped at John Duerr
Bring it back:
#93. The other positions aren't doing anything with it, and Sword!
-----------------------------------------------
Safeties & Hybrids: #25
Tom Curtis (1967-'69), Ernest Shazor (2002-'04), Dymonte Thomas (2014-'16)
[Right: Fuller]
This position has given me trouble every edition of this series because of the long safety drought in the 2000s. The great old ones weren't a lot of help either because they often stashed some fast guy who couldn't hit back there to prevent the offense from punting when it wasn't their turn (this was a problem until the 1960s). Around the time Bo arrived teams began moving their fullback into a position very similar to the Viper in Don Brown's defense, and Bo changed the term to "Wolfman". Eventually the wolfman or whatever other cool name you could come up with became the strong safety. I counted those and modern Vipers.
Choosing a number was tough: the leaders all have two All-American seasons plus a decent player then a drop-off. For #3 I told myself I would count Marlin's cornerback work there—his year at safety was good but injured after six games. But Tripp Welborne had two A-A seasons in A-squared and Stevie Brown was good as a senior at Spur—Shonte Peoples played on some good defenses but I mostly recall him getting beat. I had another out with #35, with two great safeties from Bo's early years. But Chuck Winters as 3rd guy over Dymonte or even Stevie? Nuh.
So let's finally acknowledge Mr. Ernest Shazor's Thorpe season, which gets dogged for being too hitty and not enough coveragey but it was majorly hitty. And 'twas that hitty that saved the season:
Let's also acknowledge that Tom Curtis is probably the best safety in Michigan history (Dave Brown '72-'74 is the competition). Arriving as a quarterback Curtis moved to safety before his sophomore season and started 8 games as a sophomore, setting Michigan's single-game INT record with three against Illinois—he had 7 that year. He wasn't done, picking off 10 balls in '68, and 8 more in 1969. Never actually that fast, Curtis nevertheless dominated by reading the offense. His 25 interceptions in the pre-let's-pass-a-lot era remain a school record.
Dymonte Thomas was good, never exceptional, splitting time at strong safety with Delano Hill in 2015 then starting at free safety for the even better 2016 defense after a few underclass years when we wondered if he might be moved to receiver. Dymonte was the best at corralling slippery dudes in open space, a useful skill in a Big Ten era with Saquon Barkley, Ezekiel Elliott, J.T. Barrett, Curtis Samuel, Akrum Wadley, Lorenzo Harrison and Ty Johnson in it.
Other contenders:
#3: Tripp Welborne (1988-'90), Marlin Jackson (part of 2003), Shonte Peoples (1992-'93), Stevie Brown (2007-'09), Marvin Robinson (2010-'12)
#35: Don Dufek (1973-'75), Tom Darden (1969-'71), Chuck Winters (1993-'95), Dieter Haren (1984)
#17: Dwight (1975-'77) and Ivan (1984-'86) Hicks, Otis Williams (1990-'91), Clarence Thompson (1993), Deollo Anderson (1992)
#14: Tony Gant (1983-'86), Frank Gusich (1970-'71), Josh Metellus (2017), Josh Furman (2013)
#41: Randy Logan (1971-'72) and Tommy Hendricks (1997-'99)
#49: Rich Volk (1964-'66), Chuch Ortmann (1950), Bob Ptaceck (1958)
Enough of these:
#19: Willis Barringer is the only 19 to start, and he only started so much (17 games!) because of Angry Michigan Safety-Hating God.
Bring it back:
#85: Michigan was later than most schools to go to a pair of safeties after offenses began using split ends as receivers in the early 1950s because Lowell Perry, one of those fancy new receivers himself, could cover ground like a modern NFL free safety.
-----------------------------------------------
Cornerback: #3
Marlin Jackson (2002, '04), John Maulbetsch (1915-'16), Todd Howard (1999-'02), Marion Body (1980-'82)
The other reason I didn't use 3 above because we've got three All-American seasons from two guys, and a lot of starts from the backup cast. Historically halfbacks played something closer to what a safety does today—it wasn't until the 1960s that platoon football created a need for guys who can cover a crazy receiving target on his own.
We'll start with the guy you haven't met a bunch of times, because he's more local. John "Maulie" Maulbetsch grew up in Ann Arbor (Pioneer), but transferred to Michigan at 21 after a year at Adrian College, where Maulie beat up on Yost's freshman squad. Yost called him "Another Willie Heston" which would be like someone using the Barry Sanders tag today. In his first year playing for Michigan Malbetsch was nicknamed the "German Bullet" or the "Human Bullet" because dude was known to scream down from his halfback (think of a Cover 2 safety) position into whatever gap was being tried. He won national notoriety by nearly beating Harvard singlehandedly in 1914 (his All-American season), and was blamed for Harvard canceling the rematch in Ann Arbor in 1915. They needn't have bothered: Maulbetsch was out with appendicitis that year and came back not quite himself. But he recovered to captain the 1916 team. Tiny even for his day he was nicknamed the "Featherweight Fullback" as a pro, and is a member of the College Football Hall of Fame. Michigan gives out the John Maulbetsch Award to their favorite freshman every year. That has a nickname too.
The 2002 recipient of the Maulbetsch Award was Marlin Jackson, who switched to Maulie the Human Bullet German Bullet Featherweight Fullback Another Willie Heston's number after his (Marlin's) freshman season. That freshman season was promising but didn't say anything about an All-American sophomore performance, when he wracked up PBUs and tackles. In 2003 Marlin tried to solve that nagging free safety problem himself, then turned down the NFL for another All-American senior season when he did as much as Braylon to send a freshman-quarterbacked team to the Rose Bowl. Marlin's 2002 game against Washington star receiver Reggie Williams is one of the greatest single-game performances in Michigan history. Marlin is also well known to this here site because he went on to found the Fight For Life Foundation, a super-modern, model youth services charity that we'd believe in strongly even if it wasn't created by one of the greatest players in Michigan football history.
I didn't leave much room to talk about Todd Howard, who's joined us for a number of events, mostly in Chicago, since he now coaches in his native(ish*) Bolingbrook. In his playing days Todd was the short cornerback we complained about less because James Whitley was a bigger issue, but spoiled as we were by Woodson, we couldn't appreciate a solid undersized guy who could tackle. Howard would start 34 games for Michigan from 1999-'01, when he played opposite Mr. Jackson above.
* (Todd grew in Southfield, same grade, different elementaries, just across Telegraph from me, but we both moved away before middle school)
We were too young to remember Marion Body who was recruited by Jack Harbaugh and ended up being coached by Harbaugh's replacement Lloyd Carr. Body was inserted as the fist dimeback in the history of football in 1980 as part of Michigan's plan to stop Purdue's potent shotgun passing attack; Body collected one of four interceptions thrown that day by up-to-then Heisman frontrunner Mark Herrmann. Body also picked off two against Notre Dame that year, but is best known for getting called for pass interference to set up ND's winning kick. He started most of '81 and '82 at cornerback, but they learned to stay away from Body's field side after '80. Or the dance he did after they stuffed Illinois:
Other contenders:
#18: Bump Elliott (1947), Jim Pickens (1975-'76), Blake Countess (2011-'13), Leo Koceski (1948-'49), Ralph Chubb (1946), James Rogers (2010)
#16: Mike Jolly (1977-'79), Paul White (1941-'43, '46), Fred Julian (1957-'59), Ed Shannon (1954-'56), Ralph Chubb (1944), Willie Heston, Jr. (1930)
#22: Ty Law (1992-'94), Lance Dottin (1989-'91), Jim Bolden (1975-'76), Glenn Doughty (1969-'70), David Long (2017-?), Gerald White (1984)
#30: Bradley Cochran (1983-'85), Andre Weathers (1997-'98), Markus Curry (2002-'04)
#14: Morgan Trent (2005-'08), Harry Kipke (1921), Dick Sygar (1963-' 64), Don Oldham (1951-'52), Mike Shatusky (1957), Gary McNitt (1960), and Dick "Pick" Vick …sorry, sorry, growing up now (1923)
Enough of these:
#5: James "Future Star of the XFL" Whitley, Courtney Avery, Coleman Wallace who played as turned around as his name, and Charles Stewart. As long as we count Peppers at safety (I do).
Bring it back:
#46: Used to be a big number for Michigan halfbacks.
-----------------------------------------------
Special Teams: #19
Remy Hamilton Mike Gillette, Bob Bergeron, Carl Ward, Ronald Bellamy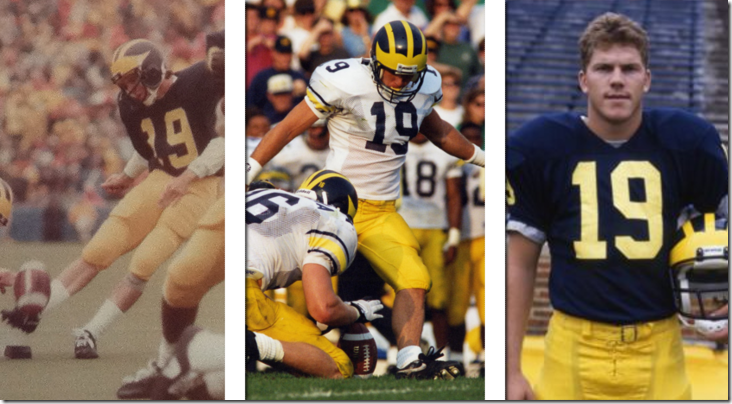 Three of Michigan's greatest kickers all wore the same number so I had to go with this one over 6, but check out 6 after.
Bob Bergeron was the tiny guy with a huge leg. A walk-on, Bergeron held plackekicking duties for 1983 and '84, going 28/32, earning one all-conference decision and, that Iowa game, and a pizza. After Bergeron Mike Gilette, an all-state quarterback with MAC offers to play under center, took the same number and became the leading scorer in Michigan history thanks to 53 FGs, 130 XPs, and that touchdown—also his 56-yarder is the longest by a Michigan kicker. Gillette was also a strong punter, averaging 40 yards as the team's punter in 1988. Remy Hamilton, who kicked from 1993 to 1996, holds most of the volume Michigan records: five in game, 30 in a season, 63 in a career, 82 attempts. His 4-4 performance vs Notre Dame in 1994 is among the best outings for a Michigan kicker, even if he couldn't tackle Mike Miller.
Carl Ward was a backup running back and all-around offensive weapon who helped Michigan get back to the Rose Bowl in 1964. Naturally he was the kick returner for 1964-'66 (more on the punt returner in a moment). Ron Bellamy was Michigan's primary punt returner in 2000, averaging 11 yards per return though he only ever broke one long (against Rice). He was also a fixture on kickoff and punt units since he got down the field faster than anyone else on the team.
Other contenders:
#6: KR Tyrone Wheatley, PK Ali Haji-Sheikh, PR David Brown (3 punt return TDs from 1972-'74), PK Peter Elezovic, KOS Troy Nienberg (2001-'02, also wore 10)
#3: Ross Ryan, Robert Wood (1973-'76), Brandon Kornblue (1996-'97), Marlin Jackson (his only punt return was the Wisconsin TD), Tripp Welbourne, Quinn Nordin, Brad Robbins
#1: Six return TDs between Derrick Alexander (4) and Anthony Carter (2)
#38: Garrett Rivas (2003-'06), JD Carlson (1989-'91), Erik Lovell (1993-'94), Jason Vinson (1995-'98)
Enough of these:
#34: Since Brabbs it's been Gingell, the scholarship guy who was so bad it doomed the Rodriguez years to walk-ons, and Gibbons, who was a good kicker who should have been removed from the team his redshirt season. There's also Justin Fargas who couldn't catch a kickoff. Retire it for Brabbs.
Bring it back:
#12: For now (Chris Evans be comin'), the last player to wear #12 at Michigan for an entire career remains cornerback/gunner Brandon Williams (1999-'02), who collected that muffed punt return against Wisconsin and delightfully didn't know he couldn't run it in. B-Will, one of the fastest players in Michigan history, is probably the best gunner we've ever had. George Hoey wore it in the mid-'60s and averaged 17 yards per punt return in 31 returns, with 1 TD. Peppers, for reference, averaged 13.1 yards, and Derrick Alexander was at 12.7 despite 4 TDs. Blake O'Neill had that bad thing but until then it was the best game by a punter in Michigan history. Also in '89 there was a kicker named Gulam Khan, which is just a perfect setup for a kicker at a nerd school. More 12's on special teams.
The All-Numbers Team
QB: #7, for Leach, Henson, Henne
RB: #42, Boles, Billy Taylor, Wally Teninga
FB: #33, Hoard, Don Lund, Peterson, Russ Davis, Hurley, Sparkman Byers, Dave Fisher, et al
TE: #88, Butt, Mandich, McGee, Freehan, Harry Allis, Massaquoi, Dunaway, Madar, Campbell, others
WR: #1, Duh. If anything I underrated McMurtry and I'm sorry.
OT: #77, Not as duh as you might think but Long, Lewan, Jansen, Art Walker, Lazetich, Trezelle, Pape, & Newsome
OG: #65, Kurt Becker, Reggie McKenzie, Omameh, Henige, others
C: #59: Lilja plus Dworsky, Momsen, Balourdos
NT: #96: Will Carr, Ryan Glasgow
DT: #11: The Wisterts
DE/Edge: #56: Woodley, Hall, Hewitt, Madsen
LB: #37: Irons, Anderson, Rio, Kee, others
S: #25: Tom Curtis, Shazor, Dymonte
CB: #3: Marlin, Maultbetsch, Howard, Body
STs: #19: Remy, Gillette, Bergeron