Michigan All-Three-Star Team
[Lead image: Bryan Fuller]
REMINDER: Hail to the Victors 2018 is nearly done. Get your orders in! Also of extremely less significance: don't forget your daily CFB Risk marching orders—daily MVPs still get 200 MGoPoints you can spend everywhere MGoPoints are accepted.
Previously:
This week: Previously we did the five-stars so "Only recruiting rankings matter!" guy can send that to his three-star-loving pal. Now it's "Recruiting rankings don't matter!" guy's turn to forward a link that proves nothing except we're short on #content in the offseason. Also it's badly named because I'm including 2-stars. Also also it's going to be more focused on their recruiting stories since you probably know enough about their Michigan careers.
----------------------------------
Rules: There are two ways to make an all-under-recruited list: a) the best of all those who qualified, or b) performance relative to recruiting rankings. I think b) is more fun, but you end up leaving off too-obvious candidates. I'm going with a combination of both: best eligible player for how I construct my team, but if it's close the lower-ranked recruit gets in.
Also it's by college production, not NFL.
Cutoff Point: Had to be less than a 3.9-star based on my composite recruiting database—which goes back to 1990—who earned a scholarship. For reference that means Carlo Kemp is eligible and Jibreel Black is not. To avoid guys that one scouting service just ignored we're leaving out anyone who made a top-250 list for two or more services or anyone's top-100 (which means Mike Hart is disqualified because HE WASN'T A THREE-STAR except to the two services that left online databases.) Also not doing special teams because they're always rated 3-stars.
Preemptive Shut Up, Stars Don't Matter Guy: There were 278 players who fit the criteria in my database, compared to 97 who got any kind of fifth star, so if you're comparing this team to the team of blue chips remember you have to sign about three times as many players to get this level of quality. For reference here are the fates of Michigan recruits 1990-2018 by recruiting ranking:
| Rating as Recruit | Drafted | UDFA | No NFL | MLB | Still playing |
| --- | --- | --- | --- | --- | --- |
| 2- or 3-star | 9% | 5% | 66% | 0% | 19% |
| 4-star | 20% | 9% | 51% | 0% | 20% |
| 5-star | 35% | 18% | 25% | 1% | 21% |
Conclusion: Recruiting rankings matter, but they're just a guideline
----------------------------------
Quarterback: Tom Brady
Yes I did say this is only based on college production. I admit to being a "Put in Henson" guy, right up until a few games into 1999. Michigan that year had OL problems due to injury and Tom Brady was surviving while Henson was constantly getting driven from the pocket. The MSU game—a loss—sealed it as Brady nearly brought Michigan back from a massive deficit.
As a recruit he was on the borderline between three and four stars. His video is out there too if you want to see what the scouts did, which was a crisp passer with a great feel for the game and tiny chicken legs you're afraid will snap the first time he's sacked. USC had first pick of Cali QBs, could get five-star Quincy Woods, and over the strong objections of OC Mike Riley, took local boy John Fox as their second dude even though then-USC head coach was, like Brady, a Serra alum. UCLA took Cade McNown so Brady's second option was out. Stanford was in the area but chose Chad Hutchinson and Tim Smith, whom Lemming rated just behind Brady.
By then however Brady was a senior and Michigan had had him on campus and made him their first target for 1995 QB. Moeller (Excalibur was a few months in the future) and QB coach Kit Cartright already had a stocked QB room between Scot Loeffler, Jay Riemersma, Brian Griese, and Scott Dreisbach, so they were staying out of the crazy battles over Dan Kendra and Bobby Sablehaus, the #1 and 2 overall players in the class.
Honorable Mention: John Navarre, Brian Griese (who technically walked on but only because his dad offered to pay), Wilton Speight, Scott Dreisbach, Jake Rudock
[After THE JUMP: I post the 313 video again, twice]
---------------------------------
Running Back: Karan Higdon, Tshimanga Biakabutuka
You know what's coming. Y'all down with the 3-1-3 put a Buck on the ground and come dance with me:
Touchdown Tim Biakabutuka did plenty more than 313 yards against No. 2 Ohio State, which is funny because 313 yards against No. 2 Ohio State and did you kn…okay nobody's arguing Michigan struck gold with the kid with the weird name from deep into Canada. I scoured magazines from the era to make sure and I couldn't find evidence that a single scout went up there before he came here.
I had a tougher decision with the second back since Fitz Toussaint made 31 starts for Michigan and put up decent career numbers despite epic use of the "poor damn" site tag for all of it. Karan Higdon is still > for reasons apparent in HTTV. To spoiler that, Higdon was set on going to Iowa, but Michigan RB coach Ty Wheatley was asking around for a physical back with good vision and a friend suggested Higdon. They didn't plan it this way but Higdon kept his commitment a secret until signing day, and that tipped Cass Tech high four-star Mike Weber into signing with Ohio State to ensure there would always be a comparison. >.
Honorable Mention: Fitzgerald Toussaint, Chris Evans, Vincent Smith, Ed Davis, Drake Johnson, Thomas Rawls
---------------------------------
Fullback: B.J. Askew, Khalid Hill
Before there was Chris Perry carries the ball 52 times against MSU there was B.J. Askew carries the ball 32 times against MSU and to be honest it was the more enjoyable (part 1 is here):
I've already covered both of these guys in the Position-Switchers review since fullbacks tend to come from other spots on the roster as often as the dedicated ones. B.J. Askew was Michigan's best do-everything fullback since No. 41 himself. He was the pitch back in a triple-option offense at Colerain, and put up big rushing numbers in a 10-0 season, but he seemed too stiff to be an every down back and got passed over by Ohio State. Michigan, fresh off Chris Howard and thriving with A-Train, liked the idea of a big 6'3" back who could pass protect, and Askew was game to gain some weight and play fullback if needed.
Hammerin' Panda will always be a favorite around these parts as a talented receiver, decent blocker, purloiner of touchdowns, and appreciator of apropos self-appellation. The Detroiter showed up at SMSB and didn't really fit what anyone but a few offenses were looking for in those spread-happy days: Brian described him as 250-pound Drew Dileo. That was exactly the kind of thing Borges wanted as he built his swiss army blocky-catchy set. These days the H-back is making a comeback as spread teams like Ohio State use a Y-off formation where the TE is a quasi-fullback—Brian used Auburn TE Phil Lutzenkirchen as the YMRMFSPA, since Malzahn (then OC) was ahead of the curve. At the time the sites labeled Hill a lowly three-star and only CMU was in the running.
Honorable Mention: Stephen Hopkins, Sione Houma, Ray Jackson
---------------------------------
Wide Receiver: Braylon Edwards, Roy Roundtree
Somehow at a position that's heavily reliant on pure talent two Michigan receiving record-holders made the cut. To be fair the list drops off rather precipitously after these two, whereas I was making deep cuts just to get the five-stars down to three.
Braylon Edwards was raised on football from the time he was two, had a productive high school career, was a star track athlete who came in 2nd in the state in high jump, and was the son of a Michigan and NFL star, so you'd think Stan's boy would have seen more offers. But Braylon had a later growth spurt (he was listed at 5'8" in a junior year program I saw) and at the time recruiting rankings were shaking out MLK was a Bo-level running team. According to that linked article, Braylon transferred to Bishop-Gallagher, which had a big-armed QB, and things went boom:
Stan went and as he walked down a hallway, one of the assistants, Jim Herrmann, pushed him against the wall and yelled: "What the heck are you trying to pull? Why didn't you tell us he was this good?"

Stan said, "I told you guys!"
But the QB got hurt and Braylon spent the rest of the year at quarterback. Michigan did their homework and offered, and nobody else got wise.
Roy Roundtree of course was the origin of "Wizard Hat and Snake Oil," along with classmate Michael Shaw, as Rich Rodriguez poached the two spread weapons from fellow Big Ten classes. Roundtree was ranked in Purdue territory because he was skinny, and a redshirt year didn't change that. However he possessed excellent body control, and is one of the smartest players to come through Michigan at that position as well as one of the most productive. He's also my second-favorite maize rager of all time, after the guy next to him.
Honorable Mention: Tae Odoms, Jehu Chesson, Russell Shaw, Walter Smith
---------------------------------
Tight End: Sean McKeon, Jay Riemersma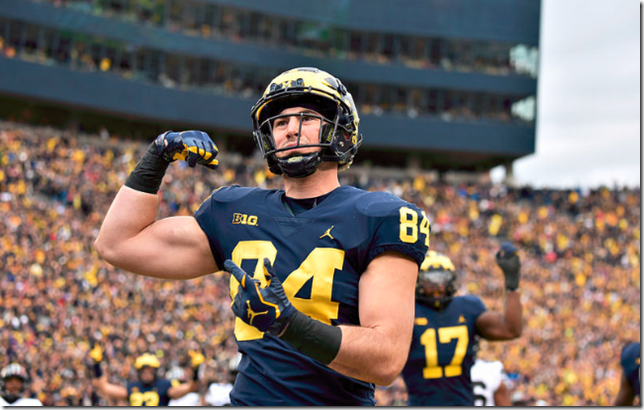 Mr "doesn't possess ideal hands" would like a word with you, sir. [Bryan Fuller]
If the Harbaugh era gets to last a decade it probably won't be an issue, but to date Michigan's best tight ends came with the scouts' seals of approval
I gave one spot to Sean McKeon since he's already Michigan's #1 tight end and was only a redshirt freshman last year after coming from the obscurity of New England—his 3.49 composite is very three-starry. He's on pace to be a four-year starter if the NFL doesn't intervene.
Jay Riemersma gets the other nod for 706 yards and 3 TDs in his two years as Michigan's starting tight end. He was just the 36th (of 40) pro-style quarterbacks to Lemming, and ignored by everyone else, but climbed the depth chart to 2nd behind Todd Collins before a rotator cuff injury ended his passing career. He had a long and productive NFL career as a tight end after that.
Honorable Mention: Martell Webb, Billy Seymour, Carson Butler, A.J. Williams, Shawn Thompson
---------------------------------
Offensive Line: LT Jon Runyan Sr., LG Jonathan Goodwin, C David Molk, RG Joe Marinaro, RT Jon Jansen
Throwback Thursday! My freshman year at Michigan, with my grandma who we lost to Alzheimer's pic.twitter.com/vb0IIMUF5u

— Jon Runyan (@RepJonRunyan) August 7, 2014
Offensive line is one of the hardest positions to project so it shouldn't come as a surprise that it's one of the strongest position groups for three-stars. I also don't think there's much of an argument against any of these guys unless you're bored with the names.
Jon Runyan the Elder didn't make football radars in high school because people thought the 6'8" shot-put star was going to play center for Michigan State…'s basketball team. Runyan flipped to football after he began to fill out, but that hoops athleticism and Spartan relationship with the rulebook both served him well as an All-American blindside protector. One of the (self-described) dirtiest players in Michigan history, Runyan ironically became a U.S. Congressman after his football career. Or maybe not so ironic.
Jonathan Goodwin's older brother Harold was already a star at Michigan and had recruiters lined up around the block in his day, so it's not like nobody knew there was another Goodwin. But Jon suffered injuries as a junior and senior, and his only D-I offer was to run triple-options for Jim Grobe at Ohio. After a year of that Harold had retired from football and was on the Michigan staff, and Jon was more than ready to play at a higher profile school. Though Harold took an EMU job shortly after, the brothers shared an apartment in Ypsilanti while Jon surpassed Harold's accomplishments on the Michigan line. Jon played center all through college and didn't switch to guard until the NFL but he's at guard here because…
David Molk was the perfect man for Rich Rodriguez's spread outfit, and was already on hand thanks to Mike DeBord's year-prior switch to a base outside zone. Scout loved him, calling him "Car-like quick off the ball" [sic]. Rivals didn't like that he was so tiny, or that he gave them such an awful photo. When healthy Molk was a Riminington-caliber fulcrum, regularly executing the golden egg of blocks: the reach block. When he was injured Michigan's offense was unwatchable.
Joe Marinaro was unscouted because like McKeon he played in the football backwater of Massachusetts. He also played next to Rod Payne, who had a tendency to make guys look good. Wanna see great right guard play? Watch 73.
Jon Jansen was near the cut-off point—he was a standout tight end for Clawson who grew into an All-American right tackle for Michigan.
Honorable Mention: I had a hard time choosing between Marinaro, Dave Pearson and Patrick Omameh—I guess it depends how much you blame Hoke for trying to run power with him versus how much you blame Omameh for being atrocious at it. Matt Lentz was another consideration inside. And Ben Braden.
At tackle it's a steep drop to Mark Huyge and after him it's Reuben Riley, Mark Ortmann, Perry Dorrestein, and Mike Sullivan. At center Mark Bihl.
---------------------------------
Defensive Tackle: Rob Renes, Willie Henry
If UFRs existed back then Renes would have challenged Ryan Glasgow's best game with this gem
Here's where I remind you I'm building the best team I can out of these guys, which helped me settle on the disparate skills of Renes at nose and Henry at 3-tech while Renes-lite Grant Bowman and steady Shawn Lazarus are relegated to the rotation.
Rob Renes was virtually unknown beyond West Michigan, unless you count being the state's top wrestler. Legend goes Michigan DC Greg Mattison and his new DL coach Brady Hoke accidentally caught the second half of a West Ottawa game when they (got drunk and) showed up at the wrong time for a state playoff game, and when Carr heard Renes was also a valedictorian candidate he approved the offer sight-unseen. Renes says that's bullshit and his recruitment was his coach knew some Michigan people from when they worked together at WMU and sent his tape in. Renes was pretty good at Michigan too. Wrestlers for nose tackle: always!
Willie Henry was another Hoke-Mattison pull but there the comparisons end. Henry was at Glenville, the #1 producer of Ohio State Buckeyes. Henry had a late growth spurt and had no idea how to use his suddenly monstrous strength. When Michigan got toward Signing Day 2012 and found they were going to miss on some of their top candidates they had a scholarship available for Henry. Willie never did master technique at Michigan before leaving early for the NFL (with Mo Hurst already usurping snaps), but with that strength he hardly needed to.
Honorable Mention: Grant Bowman, Shawn Lazarus, Matt Godin, Ben Huff, Kerwin Waldroup
---------------------------------
Defensive End: Glen Steele, Chase Winovich
Glen Steele was Chris Wormley before it was cool, or rather Wormley was Steele after it wasn't as cool anymore but there were nerds and professional outlets who watched and counted every play. Because you can watch entire Michigan games from the mid-'90s without seeing one mistake by the DT-ish Steele, who never met a tight end, your honor, unless the prosecution can prove it.
The best part of the Amazon documentary of 2017 Michigan—by far—was Chase Winovich mic'd up and taunting the offensive linemen who didn't block him. Winovich is Lassiter from The Program except instead of taking steroids he raises money for kids with brain cancer. He's a controversial inclusion here because the Pittsburgh-area product got four stars from three services and Ohio State wanted a Jake Ryan clone just as badly as Michigan. I kept him in because he's one of my favorite players, and an excellent and hilarious person, and honestly I didn't want to honor the next guy.
Honorable Mention: Frank Clark, Shantee Orr, Rondell Biggs, Kwity Paye, and one day perhaps Taylor Upshaw and Julius Welschof
---------------------------------
Linebacker: MLB David Harris, WLB Dhani Jones, SAM Jake Ryan

Sample UFR from September 2005
Oh man this one was hard. Wait'll you see the honorable mentions! Ultimately I had to fall back on all my rules: least recruited, best way to fit everybody's talents to different roles, etc. I invite you to scroll down and see the first name off the list though, and if you think I should lose my Generation X Michigan Man card I understand.
I stand by these though. Because I can only have one middle linebacker and that middle linebacker is the first hero of the UFR era, and he looked like Worf, and because David Harris was more important to the 2006 defense than any Woodley or Hall. Harris was a two-star for most of his commitment to Michigan as a skinny track star who put up crazy tackle numbers in Grand Rapids. The recruitniks of the era—this comes during the short time of my life I was really into that—were convinced Harris would be a fullback at Michigan. Several springs came and went with tons of Harris hype followed by an injury and then he'd disappear come fall. Then 2005 arrived, and a spot with little to cheer about since Larry Foote had a guy the smart kids were calling the best player on the team.
My college career caught the back end of Dhani Jones so I'm pretty solid footing when I put him out there as the ideal WLB for a read-and-react scheme. The 2000 Orange Bowl was [kiss fingers]. His star fell as a senior when he missed his senior season with a ruptured disc but Michigan never cut off pursuit. Jones was forced on the field as a sophomore because of an injury to '97 captain Eric Mayes, and all due respect to Mayes that worked out in Michigan's favor.
SAM is a bit more straightforward, since there's no obvious competition for Jake M-F Ryan. You want to talk about stars coming out nowhere, how about the fact that the best part of an otherwise disastrous 2010 defensive class got a YMRMFSPA on this site of—and I kid you not—Obi Ezeh. The good part of that was St. Ignatius had Ryan playing the Furbush role in a 3-3-5.
Honorable Mention: Jarrett Irons (ducks), Steve Mor—(ducks again)—rison, Roy Manning, Desmond Morgan, Kenny Demens, Lawrence Reid, who was underrated before he had to give up football for injury, Chris Graham when not being used as a hybrid space player, Marcus Walker, Zach Kaufman, Noah Furbush, Josh Uche, Evan Coleman, and I guess Obi Ezeh (HA HA YOU'RE OUT OF SHOES TO THROW!), who did start 37 games for Michigan.
---------------------------------
Safety: FS Jamar Adams, SS Marcus Ray, HSP Khaleke Hudson
For once this position can go smoothly. Jamar Adams was juuuust outside four stars to every site, except ESPN finally gave him one when they expanded their range past 300. That meant people could talk about him as a recruit like he was a 3-star steal instead of a safety with straight B's in the attribute boxes, straight A's in school, and a Virginia Tech offer. He was also inadvertently thrown (by Michigan fans, mostly) into the middle of that silly flap between Harbaugh and Hart over General Studies Majors, since Adams was a) a General Studies Major, and b) a seriously smart individual who had investment firms trying to recruit him out of the NFL and was at the time working directly for Stephen Ross.
Despite the Barles Charkleyian on-air personality he's worked to cultivate Marcus Ray is actually as intelligent as he's convinced his viewers aren't, i.e. quite smart. He grew up in the shadow of Ohio State and was of course recruited by both, and Marcus likes to tell the story of Ohio State's #1 goal—beating Michigan—convincing him to give Blue a shot. The more likely version is Ohio State thought the local 3-star was in the bag and were focused on bigger fish—Ray was Superprep's #77 player in the Midwest (on par with John Thompson), and Tom Lemming's 14th safety, and Ohio State was on its way to reeling in #1 safety prospect Che Bryant. Ray's athleticism was okay—the reason it seemed like he could break on a ball faster than twitchier athletes was he understood the defense, thoroughly studied this opponents, and often baited quarterbacks into throwing what he wanted them to.
The Khaleke Hudson story gets lost with so many other productive players on this defense. The Pennsylvania product was ready to commit to Penn State but they told him to hold off. Meanwhile Michigan's position coaches were hammering at D.J. Durkin to offer. You know the rest: Michigan did offer, and Don Brown came along with the perfect position for the crazy quasi-linebacker safety running back returner thing who loved to hit, and somewhere in there MGoBloggers got our hands on his film and started to write about how the next Peppers wasn't Peppers but was basically Peppers. And that was correct.
Honorable Mention: Josh Metellus, Thomas Gordon, Brandent Englemon, DeWayne Patmon
---------------------------------
Cornerback: Andre Weathers, Channing Stribling, Jeremy Clark
Stribling was a legit 6'1", Clark was huge. [Fuller]
The flipside of offensive line is cornerback, where technique isn't nothing, but the shortest path to being between the ball and the guy under it is natural ability. I had 27 three-star cornerbacks come up and only five or six of them wound up being guys you want on the field. But before you rip up your 2018 recruiting profiles and scream you should know the good 'uns were all really tall.
Flint product Andre Weathers, aka the other cornerback in '97, was a first chair saxophonist from Flint, and legit 6'2". He was also close to a four-star: National Recruiting Advisor had him a 5.8 (rivals uses their scale) and their #20 cornerback, which even considering the smaller field in those days was still four-star territory. Lemming had him the #32 cornerback, and out of the top 100 players of the Midwest. The scouting would be familiar to anyone reading the 2018 profiles, and proved about right: Weathers was always effective, never dominant. He was a 6th round pick and made the Giants, but an injury ended his career the following year.
Channing Stribling and Jeremy Clark were somewhat different players but shared a roster spot and will forever share a breath. Stribling was fluid* (despite his length), possessed "quickness that belies his size" and had "good football speed." Clark originally accepted a grayshirt offer until a growth spurt and an extra boost of athleticism (and the course of 2013 recruiting at the end) earned him a scholarship before the rest of the nation caught the scent. He was a middling safety but his move to cornerback was quite successful—Richard Sherman-esque, even.
* [Little did we know at the time they meant this not as a metaphor for limber hips or something but that Stribling's matter was quite literally not in a solid state]
Honorable mention: J.T. Floyd, Grant Mason, Brandon Williams, Troy Woolfolk, Raymon Taylor, Courtney Avery, Woody Hankins, Zia Combs, Will Peterson, Brandon Watson, James Rogers
---------------------------------
THE TEAMS THE TEAMS THE TEAMS
Pos
The Five Stars
The Three Stars
Name
Played
Name
Played
QB
Chad Henne
2004-'07
Tom Brady
1995-'99
RB
Tyrone Wheatley
1991-'94
Karan Higdon
2015-'18
RB
Anthony Thomas
1997-'00
T. Biakabutuka
1999-'02
FB
Chris Floyd
1994-'97
B.J. Askew
1999-'02
WR
Amani Toomer
1992-'95
Braylon Edwards
2001-'04
WR
David Terrell
1998-'00
Roy Roundtree
2008-'12
TE
Jeremy Tuman
1994-'98
Sean McKeon
2016-
TE
Tim Massaquoi
2016
Jay Riemersma
1991-'95
LT
Jeff Backus
1996-'00
Jon Runyan Sr.
1991-'95
LG
Damon Denson
1993-'96
Jon Goodwin
1998-'01
C
Rod Payne
1992-'96
David Molk
2007-'11
RG
Maurice Williams
1997-'00
Joe Marinaro
1991-'95
RT
Trezelle Jenkins
1991-'94
Jon Jansen
1994-'98
NT
Will Carr
1993-'96
Rob Renes
1995-'99
DT
Jason Horn
1991-'95
Willie Henry
2012-'15
SDE
Rashan Gary
2016-
Glen Steele
1993-'97
WDE
Brandon Graham
2006-'09
Chase Winovich
2014-'18
SAM
LaMarr Woodley
2003-'06
Jake Ryan
2010-'14
MLB
Victor Hobson
1998-'02
David Harris
2003-'06
WLB
Prescott Burgess
2003-'06
Dhani Jones
1995-'99
HSP
Jabrill Peppers
2014-'16
Khaleke Hudson
2016-
SS
Dymonte Thomas
2013-'16
Marcus Ray
1994-'98
FS
Tommy Hendricks
1996-'99
Jamar Adams
2004-'07
CB
Marlin Jackson
2001-'04
Andre Weathers
1995-'98
CB
Charles Woodson
1995-'97
Channing Stribling
2013-'16
CB
David Long
2016-
Jeremy Clark
2013-'16
Morals of the story:
Pure talent can't be faked at receiver or cornerback, and really shows on the edge.
Size in high school is vastly overrated for OL
Safeties should be geniuses
Instincts are way more important for linebackers than "this is a huge dude who goes thump."