Upon Further Review 2018: Defense vs Wisconsin
SPONSOR NOTE: Reminder that Matt is hanging out at the Charity Tailgate at 327 East Hoover (if you were at the preseason MGoEvents this year and last it's the same place). It's right next to the train tracks on Hoover. The band goes right by it on their way to the stadium, which is cool. Say hi.
When not tailgating Matt is also a person who will get you a mortgage right quick from the comfort of your own home.
FORMATION NOTES: Michigan was content to roll out the base defense against Wisconsin despite the radical change in approach the Badgers are from Michigan's previous spread-oriented opponents. Hudson was omnipresent. There was one tweak on passing downs, with Michigan replacing Gil/Ross with Josh Uche to present a five-man front: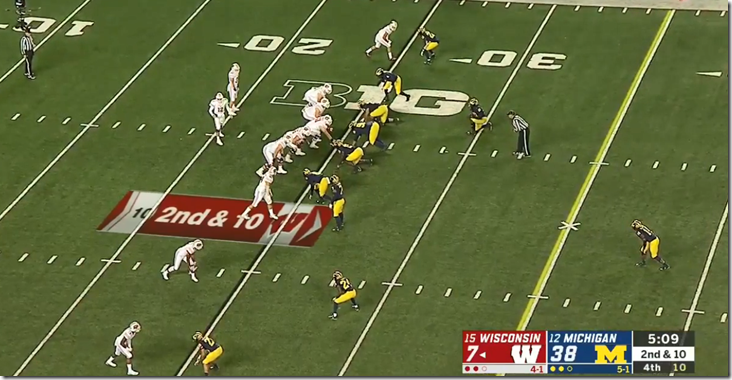 Uche lurking to the bottom of the line; Bush kneeling near the umpire
Note also that Michigan has their three cornerbacks on the field and just one safety. This still comes out as 4-2-5 in my 'package' column but should be something else and will be if it continues.
Just one 3-3-5 snap on a run down in this game, a six yard run.
SUBSTITUTION NOTES: Winovich and Paye were almost omnipresent; Hutchinson did get a dozen snaps spotting them, mostly late. Kemp, Marshall, Mone, and Solomon got about equal time at the DT spots, with Dwumfour a bit further behind. Michigan tried to confine him to passing downs.
Bush and Hudson omnipresent; Gil and Ross split their snaps about down the middle. Uche played in the package above; Furbush and Glasgow made cameos.
Secondary is what you'd expect save for Kinnel missing some snaps with what looked like cramps. Hawkins got that time.
[After THE JUMP: a lot of running and almost no passing.]