Michigan All-Blank Teams: Position Switchers
What are we even doing Devin? I don't know, Devin!
Maybe we need to wear bucket hats, Devin! [Upchurch]
---
You know those "make your all-time" lists that circulate in the offseason? I'm still making themed teams because it's easy content and "Make a new website" and "Make HTTV" are in my job description.
Previously:
This week: Position-Switchers!
----------------------------------
Rules: He had to play at least a season or a snap at a significantly different position at the college level (so no ATHs), and BEFORE this position. Jake Ryan's move from quasi-DE in a 4-3 under to the Mike in an 4-3 over counts; Matt Godin going from 5-tech to DT does not. Neither does moving between safety positions unless you're a FS who became half-linebacker. Also no pro moves (sorry Cato June), or playing a second, non-primary position (sorry Charles Woodson) even if you won the Heisman (sorry, Tennessee fans, but he did).
Cutoff Point: Recruited Post-Bo, so I don't have to remember positions from when I was ten (sorry Tripp Welborne).
----------------------------------
Quarterback: Devin Gardner
"Wonky throwing motion" indeed. [Eric Upchurch]
In between the times he wore 7 and that awful Nebraska day, Michigan couldn't resist getting one of their best athletes on the field. So despite no backup quarterback plan other than Russell Bellomy for oft-dinged Denard Robinson, in 2012 Mr. Gardner was shipped off to receiver. At first it looked to be a good idea: Gardner caught touchdown passes in his first three games (Bama, Air Force, and UMass). He wasn't a great route runner but with Denard getting the ball every play the receivers got a lot of one-on-one matchups, and Gardner was a big dude. Then Nebraska occurred, and the following week the Devin at QB era could begin. The receiver experiment thus ended at 16 receptions, 266 yards, and 4 touchdowns.
As for quarterback, the end of that 2012 season was magnificent enough to portend great things, but the offensive line was never enough. Two virtuoso performances against Ohio State and Notre Dame as a redshirt junior, then a senior year of a lot of heart but a broken body and a coaching situation. If we do a "man I feel sorry for that guy" team he'll be back.
Other candidates: Nope.
[Hit THE JUMP unless you're an Iowa safety then you probably don't want to know what's next]
----------------------------------
Running Back: Denard Robinson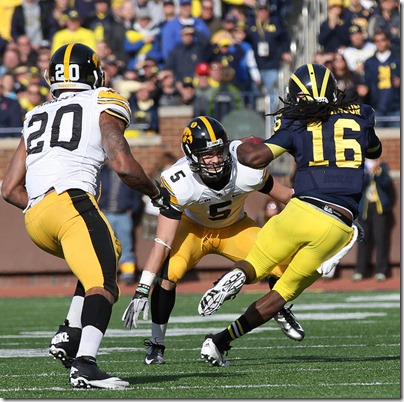 ​
Did I NOT warn you, Iowa safety? [Upchurch]
So what if the other options are failed cornerbacks and slot bugs—Denard the running back did awful things to White Iowa Safety and was a half-sane gameplan away from upsetting Ohio State, averaging 9.6 yards per carry over those two games. Even without removing sacks, Denard as a ballcarrier averaged 6.2 YPC, with 42 career rushing touchdowns and nearly 4500 yards.
Other candidates: B.J. Askew (FB), Ross Taylor-Douglas (CB), …not a lot of guys moving TO running back actually.
----------------------------------
Fullback: Aaron Shea
Until 1999 Shea was officially listed at tight end. That's probably cheating since he continued to be deployed as a U-back like on the play above. But hey, they made a big deal about his switch at the time. Plus it gets me out of having to choose between B.J. Askew and Chris Floyd.
Looking over the history half of our fullbacks started as something else.
Others: B.J. Askew (RB), Chris Floyd (RB), Henry Poggi (DE), Obi Oluigbo (LB), Brian Thompson (TE), Bernie Legette (RB), Ray Jackson (RB), Khalid Hill (TE), Vince Helmuth (DE), Dave Armstrong (DE/OLB), Jared Wangler (WLB), Stephen Hopkins (RB), Ben Mason (MLB), probably lots more I can't name off the top of my head, Will Paul (DE), Quinton Patilla (LB), yeah let's stop here.
----------------------------------
Tight End: Jay Riemersma (QB), Zach Gentry (QB), Bennie Joppru (TE)
GL 5'11" defensive backs. [Fuller]
One of one type and one of the other for a position that, like fullback, draws plenty of position-switchers. Both the blocky-catchy Riemersma and catchy-blocky Gentry were athletic take snappy-throwies who ended up starring at tight end. Riemersma was a solid blocker and smart route-runner, serving as Todd Collins's favorite safety blanket and breaking in Griese and Dreisbach. Gentry, the jewel of Harbaugh's last-minute 2015 grabs, took his shot at QB, but even as a recruit the fallback option of a freak NFL-style flex tight end was pretty sweet.
Joppru was always expected to play offense but he came in at linebacker then switched over during his redshirt year.
Others who contributed: Tim Massaqoui (WR), Andy Mignery (QB), Rob Vander Leest (DT/OG), Keith Heitzman (DE), Chris McLaurin (LB), Ricardo Miller (WR), Dave Spytek (DE), Eric Rosel (S/OLB), Steve Watson (DE), Henry Poggi (DE), Phil Brackins (S/WLB)
----------------------------------
Wide Receiver: Devin Funchess, Diallo Johnson, Kelvin Grady
Not 87. [Fuller]
It took until midway through Funchess's sophomore year for Brady Hoke to give up on this guy ever becoming a 230-pound blocker, and thanks to statisticians who can't change their rosters, Funchess gets to hold a bunch of tight end records for being Michigan's top receiving tight end...as a receiver.
Diallo Johnson is a weirder story because he and we held out hope for a long time that the former blue chip would force Lloyd Carr and co. to become a running quarterback operation. As Diallo's junior year approached Michigan had both Tom Brady and Drew Henson over former starter Scott Dreisbach, which didn't leave room for experimentation. Diallo was a decent receiver, though Tai Streets, Markus Knight and the other '98 recruits overshadowed him.
Fans of Jermaine Gonzales (yes with an 's') will be mad he got pushed aside for former POINT GUARD Kelvin Grady, but the basketball transfer played a pivotal role as a rotation slot receiver for Rich Rod. Also his catch against MSU was a first down and remains one of the most insane, game-changing bad calls in memory.
Others: Jermaine Gonzales (QB—we'll always have the Transcontinental), Alijah Bradley (RB), Tyrone Butterfield (RB), James Rogers (CB)
----------------------------------
Offensive Line: Maurice Williams, Steve Hutchinson, Mason Cole, Dave Pearson, Damon Denson
Took me 2 minutes to find a play where Hutchinson and Williams both made a good play
I'm speeding this up now because you'll remember most of these guys for OL jobs they did and that's it. Steve Hutchinson came in as a DE, moved to DT, and switched to OL late his freshman—if you don't think he should count we'll give that left guard spot to Adam Kraus, who played one year at tight end before making his inevitable move to guard. Maurice Williams and Damon Denson, both high recruits, also both began as defensive linemen (Denson got three starts at DT as a true freshman) but always projected as NFL OTs.
Dave Pearson wasn't as much of a recruit but made the same transition later in his career and ended up a pretty good center. Mason Cole makes the list for his high-profile switch from left tackle to center and back to left tackle, as need dictated.
Honorable Mention: Kurt Anderson (LB/DT), Dave Petruziello (DE), Chris Ziemann (DT), Adam Kraus (TE), Mike Kolodziej (TE), David Brandt (DT), John Ferrara (DE until like a week before he started #2008), James Hudson (DT), Will Campbell (DT). Jon Jansen was listed as a "Middle guard" on the 1994 roster but he was 6'8"/240 with a tight end number and I'm not buying that.
----------------------------------
Defensive Tackle: Jibreel Black, Shawn Lazarus
Shawn Lazarus once weighed about as much as Shantee Orr
The surprise here was after I instituted my "RVB" rule I couldn't find many DTs. There were a lot of OL types here who moved to DL because they couldn't handle complicated blocking assignments: QWash, Slocum, Kerwin Waldroup, and Brion Smith were all touted, but didn't contribute much.
Jibreel Black makes this list for having to play nose tackle despite coming in on the OLB->WDE career path of Brennan Beyer and Frank Clark. Black was never actually big enough to play DT but he did so gamely when the starters got hurt and Quinton Washington was on double super secret probation.
Shawn Lazarus is well named. In 1999 as a redshirt freshman he was a 6'3"/227-pound outside linebacker buried behind Victor Hobson, Grady Brooks, Roy Manning, et. al. Then he bulked up to DE, then SDE, and by his fifth year he was up near 300 pounds and taking the majority of nose snaps in a rotation with Grant Bowman and Norman Heuer.
Of the guys who came in as edge rushers etc. and tried to bulk up to DT, only Lazarus made it, unless Lawrence Marshall adds to that list in 2018.
Honorable Mention: Quinton Washington (OG), Will Campbell (OG-lol), Will Paul (TE/FB), Ron Johnson (WDE), Vince Helmuth (stuff), Paul Sarantos (LB), Lawrence Marshall (WDE)—plus lots of guys who committed at OL and moved to DL then vanished.
----------------------------------
Defensive End: Brandon Graham, Chase Winovich
This is the one position where there's a temptation to count linebackers who moved down to DE (e.g. LaMarr Woodley), but we don't need to because we've got two of the best DEs in Michigan history who played something else. Brandon Graham has to be on the list because it's part of his story: he came in as a linebacker a la Woodley but by 2007 BG had ballooned into a defensive tackle, and seemed destined to end up wasted there. Then came Barwis, and then came the above; now he's the Super Bowl MVP.
Chase Winovich took a strange route to end with a NFL decision. He came in as a SAM linebacker (his YMRMFSPA was Jake Ryan) but moved from there to tight end, tried fullback when Harbaugh came along, then moved back to defense as Taco's instantly valuable understudy.
Honorable mention: Glen Steele (TE), Larry Stevens (safety!), Craig Roh (LB), Reuben Jones (MLB), lots of former LBs who fizzled out here.
----------------------------------
Linebacker: Jake Ryan (4-3 under SAM), Ian Gold (RB), Prescott Burgess (S)
[Upchurch]
This one was the toughest to choose from because what's a linebacker, and how far can you shift in a role before you're not one anymore? So I broke hybrid space player into its own position and chose three linebackers who had to play a job that was at least 75% linebacker.
Jake Ryan gets a spot because he went from quasi-DE to middle linebacker his senior year, which is a bigger shift even than Mason Cole's LT->C shift a couple years ago. It wasn't natural, and it took him away from what he did best. But it was also necessary as Michigan made the transition from a cov2/under defense to a press man unit that operates out of a 4-3 over, a process that began out of necessity when Ryan suffered an ACL tear prior to the 2013 season.
Ian Gold of course began as a running back for two seasons—and kept his very running back #20—before providing the archetype for Devin Bush Jr.
Prescott Burgess was supposed to herald another archetype: the five-star hard-hitting high school safety who becomes a linebacker with a safety's coverage skills. This worked out well enough for Burgess, or at least the linebacker parts did—he was never very good against running quarterbacks, which kinda defeated the purpose of bulking up a safety. You'll see a bunch of honorable mentions below who spent a year at DB and failed to make a similar transition. You won't see Mouton because he moved to linebacker immediately. Eric Mayes, the injured captain of the '97 team, was an earlier example.
Honorable Mention: Eric Mayes (S), Mark Moundros (FB), Brandin Hawthorne (S), Brandon Smith (S), Evan Coleman (FB), Isaiah Bell (S), Greg McThomas (FB), Steve Watson (TE)
----------------------------------
Hybrid Space Player: Jabrill Peppers (Nk, CB)
The rule with HSP is I won't consider SS->HSP a position change, even if it really is one today (Brad Hawkins and Jordan Glasgow swapped position coaches when they switched from Viper and Rover, respectively, this year).
But of course there's no argument which guy we're taking. With respect to Stevie Brown for turning himself into a respectable linebacker sort in 2009, Peppers lent his elite cornerback speed to this position for a season, and it took one game for opponents to learn not to try Michigan's defense horizontally, unless it was to the weak side.
Honorable Mention: Stevie Brown (FS), Cam Gordon (WR, FS), Brandon Harrison (CB/FS)
----------------------------------
Safety: Thomas Gordon (HSP), Chuck Winters (RB)
How do you find a decent safety? Chisels perhaps? [Fuller]
"Safety is a problem on these posts" is a theme, but I have no problem including "Prison Abs" (be glad we didn't have had prospector names when Rich Rod was naming things) Thomas Gordon, a former high school quarterback who was one of three starters at the hybrid Spur position in 2010 before moving free safety in 2011. Say what you will about Brady Hoke but he turned a decade of free safety angst from its culminating Cam Gordon/Ray Vinopal moment to "Well, that's over" just by moving one guy back.
We have to go all the way back before Safety Angst was a thing to find another: Chuck Winters, a competent safety from back in the day when those were still something Michigan fans believed we should have two of such every year. Winters, of course, began as a running back, as did a zillion other safeties Carr recruited. By his own admission, he wanted safety to be the best natural athlete on the field, and the best natural athlete on the field for most high schools was playing running back or quarterback until very late in Carr's career.
Honorable Sorry to Do This To You Mention: Troy Woolfolk (CB), Charles Drake (RB), Julius Curry (RB), Cam Gordon (WR), Jon Shaw (RB), Brian Cole (WR), Charles Stewart (CB), JT Turner (CB), Anton Campbell (RB), Tony Blankenship (QB), Corwin Brown (CB), a zillion more CBs I don't need to mention
----------------------------------
Cornerback: Ty Law (RB), Marlin Jackson (FS), Jeremy Clark (FS), Morgan Trent (WR)
If you saw Ty with the ball in his hands you'd guess [still from SI video]
I went with four guys because Dime defense is a thing, and all of my position-switching corners are different sorts.
I was so mad back when Ty Law declared early for the NFL—I told you my ideas about players have evolved a lot since I was 14, okay? Back then it didn't seem natural for a player to skip an entire season (his SENIOR season!) for something as fleeting as money, even when the Freep reported his family was in financial ruin. I held it against him that Michigan made him an All-American cornerback out of running back clay. I hope I get to apologize to him some day, because "oh you put me on some contrived list" probably won't cut it. Also the freshman who replaced Law in 1995 (also a high school running back) was pretty good.
You know who did come back though: Marlin Jackson. This is a Devin Gardner-was-a-receiver pick admittedly but Marlin did return for his senior season after having to play safety as a junior, and he was an All-American a second time.
Then there's Jeremy Clark, lost at safety but with plenty of athleticism that could  be re-channeled into Richard Sherman-lite. That worked very well, but versus Penn State in 2016, just a few snaps after the point where he couldn't take a medical redshirt, Clark was injured for the year. Before that he was the slight winner in a head-to-head battle for snaps with Channing Stribling.
Morgan Trent was a wide receiver for a few years before moving over to his more natural cornerback spot when his coaches only filled it in two years with Johnny Sears and Chris Richards. Trent was decent in 2007 then a disinterested black hole in 2008 because he didn't like the new staff.
Honorable Mention: Troy Woolfolk (FS), Woody Hankins (RB), James Rogers (back from WR #everforget), Freddy Canteen, Darnell Hood (RB), Doug Dutch (WR), Teric Jones (RB), Dennis Norfleet (Slot/RB), Ross Douglas (RB), Drake Harris (WR), Nate Johnson (WR)
----------------------------------
I'm skipping special teams because this is long enough and what do you care if a punter kicked or whatever.