This Week's Obsession: Most Snakebit Player in Recent Memory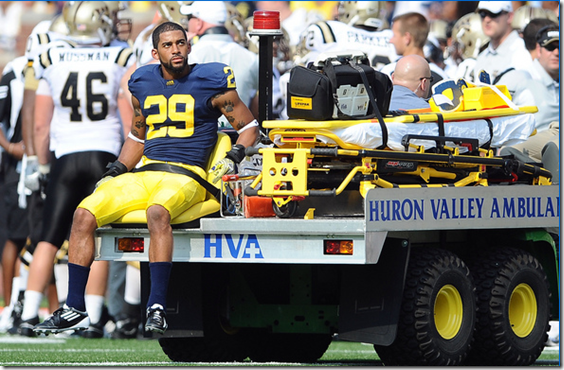 Melanie Maxwell/Ann Arbor.com
The Question:
What it says in the title duh. Note: other than Drake Johnson, who was obviously the inspiration for this.
The Responses:
Ace: Two years ago, it was hard to imagine Caris LeVert would make a list like this. After forcing John Beilein to burn his redshirt and contributing to the 2012-13 title game squad, he played an effective second banana to Nik Stauskas on a 2013-14 team that nearly made it back to the Final Four and set the (since surpassed) KenPom standard for offensive efficiency. The blueprint was there for LeVert to step into Stauskas' role as a junior, play at or near an All-American level, lead a deep tourney run, and then face a difficult decision about whether to turn pro early.
Lucy will let him get back on the court next time, Charlie Brown. [Bryan Fuller]
Instead, Michigan struggled out of the gate in 2014-15, suffering a few humiliating defeats as the team failed to gel around LeVert, who struggled to maintain his sophomore-year efficiency. As Michigan survived a last-second, game-tying attempt by Northwestern at Crisler in mid-January, LeVert went down clutching his foot while the rest of the team celebrated. On a seemingly innocuous play, he'd suffered a season-ending injury; without him, Michigan missed the postseason, and LeVert returned to try it again his senior year.
LeVert looked fantastic, putting up All-American-level numbers as the team's centerpiece, and Michigan made it through non-conference play with a quality win over Texas and no bad losses. LeVert was poised to lead his team to a decent NCAA seed while cementing his standing as a first-round NBA prospect. Then, in the waning moments of the conference opener at Illinois, it happened again: LeVert stepped on a defender's foot, rolled his ankle, and came up limping.
[Continue at THE JUMP even though you don't want to, because you know you should, even if it's painful. If you make it to the end there are 24 minutes of Denard highlights]