Michigan All-State of Michigan Team (Since 1990)
TUEBOR is Latin for "Pothole!" because you can't sue us if we warn you
The best players in Michigan play for Michigan, but who were the best players from Michigan to play for Michigan?
Previously:
This week: We're looking to build the best possible team out of guys who grew up and played their high school ball in Michigan. Since we've covered a lot of these guys' Michigan careers already, I figured this could instead be a celebration of the programs they came from, and Michigan high school football in general. Special thanks to michigan-football.com, a highly valuable resource.
Rules: Only players recruited since 1990-on. Reasons are 1) Until the late '80s Michigan was a very regional recruiter. Quick chart of Michigan rosters (via Bentley) by state of origin, walk-ons included:
Moeller was the first coach since helmets were a thing to field a team that wasn't made up mostly of Michiganders and Ohioans. Reason 2) My database goes back to 1990. Reason 3: I was 10 that year, and kid memories aren't of much use. This gives us a pool of 171 players to choose from whose careers most of us are somewhat familiar with.
---------------------------------
Quarterback: Devin Gardner, Inkster

via AA News
Right off the bat this is a tough one, and a decision I'm personally going to get flak for because the other good candidate reads this blog. Drew, at your best you were the better player, and I promise to buy you a beer next time you're in Ann Arbor. However I'm sticking by the guy who should never have to buy a beer in the State of Michigan again. Also: 33 starts to your eight.
In high school Gardner played for UofD as a sophomore but was forced to sit out for off-field issues for five games. He transferred to Inkster, following coach Greg Carter from recently closed Saint Martin de Porres, and exploded, leading them to two straight state finals. While Devin was at Michigan Inkster was also closed, its students dispersed to four other school districts.
Backup: Drew Henson, Brighton
The rest of the field: Shane Morris, Steven Threet, Nick Sheridan, Alex Malzone, Craig Randall
[After THE JUMP: The greatest player in Michigan high school history]
---------------------------------
Running Back: Tyrone Wheatley, Robichaud
Wheatley the elder is a good candidate for the greatest athlete in the history of the state. Born in Inkster, he went to their main rival, Robichaud in Dearborn Heights, where he destroyed just about every state scoring record while also winning a total of nine state championships between football and track for the Bulldogs. He also was a great basketball player.
Backup: Clarence Williams, Cass Tech
The rest of the field: Kevin Grady, Ed Davis, Drake Johnson, Jerome Jackson, Justice Hayes, Thomas Rawls, Jesse Johnson, Teric Jones, Austin White, Kelly Baraka, Reggie Benton
---------------------------------
Fullback: Chris Floyd, Cooley
By the 1990s Michigan high school football was suffused with former Bo assistants and players, and many schools were running Bo-style option offenses where the "fullback" was a running back who got 20-30 carries a game. Out of this era came the last great ballcarrying fullback, Chris Floyd, who dominated at Cooley High School in Detroit. Dude had 4,000 yards and 41 touchdowns for Cooley, which closed in 2012. The once-beautiful building is now popular with urban explorers.
Backup: Khalid Hill, East English Village Prep
The rest of the field: Joe Kerridge, John McColgan, Mike Vanderbeek, Ben VanSumeren, Wyatt Shallman, John Anes, Roger Allison, Quintin Patilla, John Anes, Jared Wangler
---------------------------------
Wide Receiver (Z): Braylon Edwards, MLK and Bishop Gallagher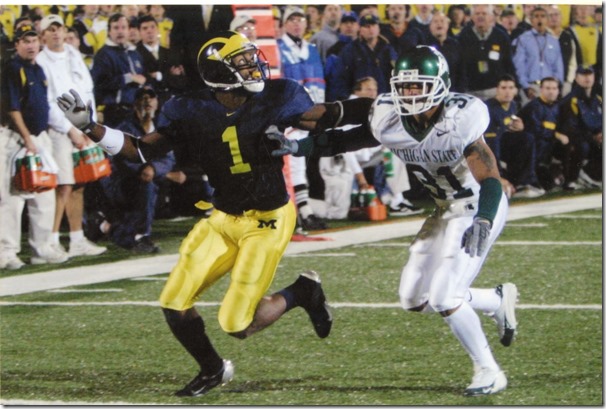 [UM Bentley Library]
Two top wideouts who switched to #1 both grew up knowing plenty about its meaning. Braylon, as we covered in the three-star article, grew up in Detroit while his father Stan was with the Lions and trained with his dad from a young age. That career was supposed to go through power school Martin Luther King (where he was teammates with Ernest Shazor and Larry Harrison) but in three years there Braylon, who was 5'8", preppy, loved Greek mythology, and tutored kids in geometry, did not fit in. He also rarely did more than block on the run-run-run team, and broke his leg during his crucial-for-scouting junior season. Michigan offered Shazor, an early five-star and the Wolverines' first commit of the 2001 class, without looking twice at Stan's son.
As a senior he finally transferred to Bishop Gallagher, the Catholic school program with a big-time quarterback and a passing game directed by legendary coach George Sahadi. But then the quarterback got injured in a motorcycle incident, and as the most athletic kid on the team Braylon had to replace him. Fellow Wolverines Markus Curry and Darnell Hood (the starting running back) were also on the team, and for the remainder of the 2000 season all three rotated through the skill positions and played together in the defensive backfield. Those who watched that team remember Curry standing out at WR and CB. Somehow Braylon still managed to pull together 63 receptions for 740 yards and 8 TDs that year, many out of the backfield.
Three more star players from that team, Taurean Lewis, Terry Canty Jr., and Tony Collins, were killed in early 2004. In their memory Canty's father, Terry Sr., started the Detroit Triple-T Foundation, the real urban boxing and youth mentoring program that inspired a plotline in The Wire.
Bishop Gallagher merged with St. Florian to become Trinity High in 2002 while Braylon was at Michigan, then that became Harper Woods Notre Dame until that too closed, ending Sahadi's career. Coach Sahadi would go on to serve as a scouting coordinator for Lloyd for one season but passed away only a year later.
Wide Receiver (X): Devin Funchess, Harrison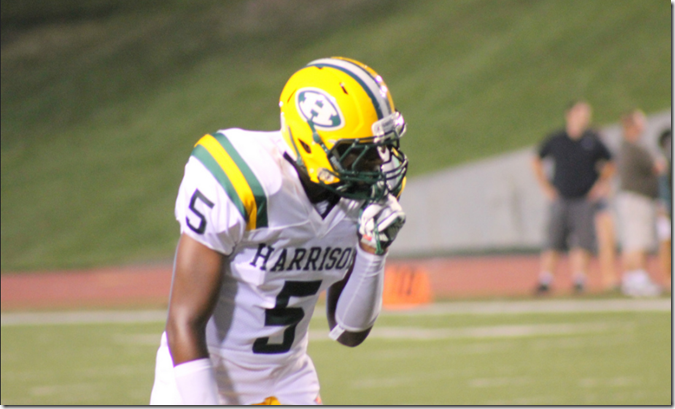 vs Cass Tech [Eric Upchurch]
Farmington Hills Harrison is entering its final season this fall after the (my) school district decided the building that most resembled a prison was the least worth keeping. But for my generation it was THE power program of Southeast Michigan public schools, non-Detroit division. Football players from all over the Midwest moved to Farmington to play for the Hawks and their legendary coach. Many came out as three-stars already close to their college potential, a fact rivals mocked them with (at least pre-Drew Stanton) even though it was just more evidence that John Herrington was better than everybody else at turning wussy ass suburban kids into football players. A lot of my friends still have injuries from playing Harrison. Ask Demorest, whose Seaholm Maples faced the Hawks in the playoffs his sophomore and junior years, how tough the green and yellow were.
But for most of that time the bulk of those guys went to Michigan State. Lloyd took Charles Stewart and that was remarkable at the time. It was Brady Hoke who broke through, gathering up weird wiry DT—>WDE prospect Mario Ojemudia and lanky freaky WR—>TE prospect Devin Funchess, and would have also won the school's top prospect ever, Aaron Burbridge, as well that year if there had been any hope of him qualifying academically. Funchess of course was never more than a wide receiver playing tight end until Michigan just made him a wide receiver. He was good enough at that to leave early for the NFL, where he had 840 yards and 8 TDs last season.
Today West Bloomfield (Ron Bellamy) and Southfield A&T (Spartan Tim Conley) are vying to replace the retiring Herrington as the public school you go to for football. West Bloomfield seems to be winning that battle, which is both awesome and weird if you grew up thinking of the WB as the kind of program that I could play for.
Backups: Donovan Peoples-Jones, Cass Tech; Walter Smith, MacKenzie
The rest of the field: DiAllo Johnson, Carl Tabb, Nate Schoenle, Joe Reynolds, Jeremy Jackson, Mo Ways, Drake Harris, Jermaine Gonzalez, Antonio Bass, Csont'e York, Da'Mario Jones, Brent Cummings, Kevin Bryant
---------------------------------
Slot Receiver: Grant Perry, Brother Rice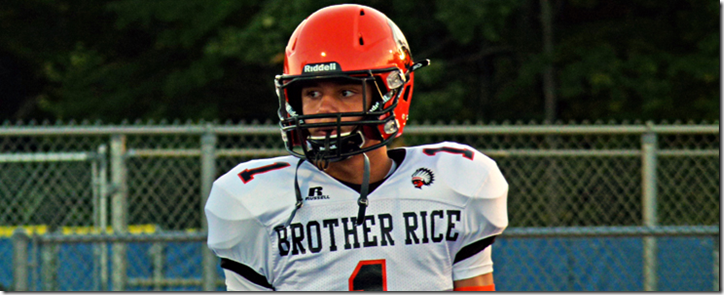 One of the most prolific receivers in state history, Perry and quarterback Alex Malzone were in each others' heads for most of an extremely productive career for both of them at Birmingham Brother Rice, a Catholic school I passed every day on my drive to Groves, and the top rival of just about every school in town. I won't lie: we don't say nice things about Brother Rice around here, partly because it's the stuffy private school whose students have a  local reputation for ungentlemanly conduct when about town, and mostly because they've been very good at beating all of us in football for a very long time. They also have longstanding traditions, developed everybody's coaches, and talk about education first in the manner that makes everyone else feel like "What, we don't?" In short, they're the Notre Dame of Michigan high school football.
Here was another Michigan coaching legend, Al Fracassa, who arrived at Rice the same year Bo came to Michigan. Like Herrington, Fracassa produced mostly Spartans. He retired one year before Perry and Malzone's class graduated as the winningest coach in state history, though by Perry's time Fracassa was Paternoing, while offensive coordinator Dave Sofran prepared to take the reigns. In Sofran's first year he got to sit back and watch Malzone and Perry connect 105 times for 1727 yards and 20 touchdowns. But unlike his predecessor, Sofran would not last four decades; graduations decimated them after Malzone and Perry left, and the following year the climbed back to just 7-4 with some of their best players injured (e.g. former M commit Carter Dunaway). Sofran was fired and the job went to Fracassa's former DC, Adam Korzeniewski, who had been coordinating Seaholm's defense.
Backup: Kelvin Grady, East Grand Rapids
The rest of the field: Dennis Norfleet
---------------------------------
Tight End: Jay Riemersma, Zeeland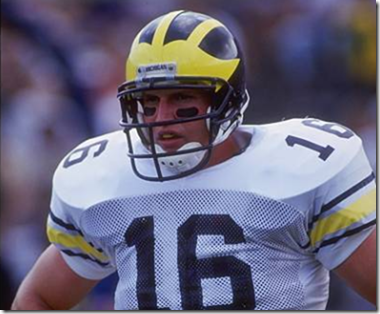 Zeeland is a moderately sized town best known as the town that means you're about to get to Holland. Riemersma was born in Evansville, Indiana, but grew up in Zeeland, where he became the star quarterback, all-time leading scorer in basketball, and an excellent baseball player too. As a junior the 6-5 behemoth led Zeeland to the Class B semifinals, losing to powerhouse DeWitt (who'd reclassified from C only a few years earlier and would eventually move up to A). His size and athleticism would come to serve him well at tight end.
After a long NFL career, Riemersma returned to Zeeland to coach the Zeeland East football team in 2005 when the school district split his alma mater into an East and West. Long involved in socially conservative politics, Riemersma ran for Congress from his hometown in 2009, but didn't make it out of a highly contested primary.
Backup: Mark Campbell, Bishop Foley
The rest of the field: Martell Webb, Shawn Thompson, Carson Butler, Brian Thompson, Rob Vander Leest, Mike Kwiatkowski, Michael Jocz, Chris McLaurin, Kevin Murphy
---------------------------------
Center: David Brandt, Jenison
We're still in Ottawa County. David Brandt is from Jenison (not Genison, Bentley databasers), a GR suburb where Grand River meets 196 on the Southwest edge of the metro area. It's a town known less for football and more for high average SAT scores (and an international academy).
Brandt was there in a different time, when Jenison was a regional power and regularly producing what we'd today call 4-star talent. Playing mostly defensive line, he helped lead them to a 10-1 record and the second round of the AA regional playoffs in 1995. Notre Dame NT Paul Grasmanis had played there recently and Brandt drew favorable comparisons as he collected various All-American honors. But Brandt was more modern Jenison than Grasmanis-like in personality. His natural high intelligence (stories about him at Michigan are all about him picking up some complicated skill in like 5 minutes) led him to the offensive line, and NFL football was a fallback because he couldn't find a good enough job teaching special ed. Like a lot of people at Jenison, Brandt's first interest was hunting, and even today his former Michigan teammates say don't bother trying to get him to watch Michigan football on a Saturday after deer season begins.
Backup: If it comes to that we'll move over Dave Pearson from guard and elevate one of their backups because…
The rest of the field: Rocko Khoury, Andy Brown
---------------------------------
Right Guard: Matt Lentz, Brandon (Ortonville)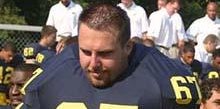 Matt Lentz arrived listed at 6-6/305 out of Brandon High in Ortonville. Lentz's high school was opened in 1982, with the old high school becoming the middle school and the middle school becoming the elementary.
When I was in high school Brandon—which had gotten roughed up in the old Greater-Oakland Division—got placed in OAA-IV with all the Jewish Metro Detroit suburban high schools, so they gained a reputation as these fearsome farmboys who didn't care about winning so much as making sure their future lawyers knew who'd win outside a courtroom. While Lentz was at Michigan they finally organized a Flint-Metro division, but back when he was playing he was still in the same division as my alma mater, Groves, along with the Southfields, Pontiac Northern and Central, and perennial bottom-feeder West Bloomfield.
Lentz himself grew up on a 21-acre farm with 12 horses. He was a local legend, a three-time all-state lineman and son of a former Notre Dame tight end whom the local paper profiled while dragging his father's pickup truck up a hill. Those legends came with crazy weightlifting numbers which proved to be mostly true at Michigan. I've got to go back to shorter writeups.
Left Guard: Dave Pearson, Brighton
Warning: Jock Jams, '90s style video editing effects
A year behind all-world quarterback prospect Drew Henson, David Pearson arrived as a 6-3/240 weakside defensive lineman prospect and bulked up to play guard then center. Head coach "Wild" Bill Murray coached there for 21 seasons, finally retiring the same week as Carr. His best season was 2005 but his best teams were the 1990s, when they had Clint Copenhaver, followed by Dave and Drew and walk-on Eric Warner. It's a good school district on the western edge of Metro-Detroit, close enough to be a suburb of both Detroit and Ann Arbor, with a ski mountain and disc golf and the connection of 696 and US 23 to keep the local economy churning with visitors.
Backups: Mike Onwenu, Cass Tech; Ben Braden, Rockford
The rest of the field: Leo Henige, Alex Mitchell, Adam Adkins, Tom Berishaj, Phil Paea, David Dawson, Pat Sharrow
---------------------------------
Left Tackle: Jake Long, Lapeer East
Lapeer, Michigan, is the moderately-sized town at the junction of US-24 and I-69. Lapeer East broke off in 1975 from Lapeer HS, which became Lapeer West, and then in 2014 they were merged back together in East's building. Long wasn't expected to be the top overall pick in the NFL draft but he was certainly the greatest athlete in Lapeer history and probably the best in the Flint area in living memory, starring on the offensive and defensive lines, and also playing some monster fullback. He tried basketball and was immediately the best player on the court. At football he led Lapeer East to its first state playoff win and its best season in school history.
Backups Jon Runyan Sr, Carman-Ainsworth
The rest of the field: Mike Sullivan, Demeterius Solomon, Joe Denay, Jeff Potts, Ron Acheson, Eric Moltane, Dann O'Neill (I split up some guys as right tackles)
Right Tackle: Jon Jansen, Clawson
Clawson is an Oakland County Detroit suburb and those who live there aren't really sure if they live there or Royal Oak or maybe Troy, or Madison Heights, but certainly not Birmingham because you'd know as soon as you saw your tax bill if it was Birmingham. Mostly it's a small downtown with an excellent sushi restaurant and a very underrated Vietnamese place, and the reason I-75 jogs east at (exit 69 of) Big Beaver Road. The high school is weird: it's attached to the middle school and just a block off the center of town, while the football field is two miles Northwest behind the elementary school.
For such a small town with limited reason for existence they have a pretty solid football program, of which Jansen is still the greatest product.
Backups: Maurice Williams, Detroit Pershing
The rest of the field: Mark Huyge, Rueben Riley, Ja'Raymond Hall, Jalen Mayfield, Ryan Hayes
---------------------------------
Nose Tackle: Rob Renes. West Ottawa

Renes is on top.
Here's another guy I covered during the three-star post. I wrote then:
Legend goes Michigan DC Greg Mattison and his new DL coach Brady Hoke accidentally caught the second half of a West Ottawa game when they (got drunk and) showed up at the wrong time for a state playoff game, and when Carr heard Renes was also a valedictorian candidate he approved the offer sight-unseen. Renes says that's bullshit and his recruitment was his coach knew some Michigan people from when they worked together at WMU and sent his tape in.
West Ottawa is another Ottawa County school, this one serving the huge area north of Holland to Lake Michigan, while Holland High and Black River split Holland proper. Even more than today however this was the big school of the area—it was split in 2005 after burgeoning past 2500 students. It's often the school in your mind when you think of Western Michigan football, the way Cass Tech springs to the fore when you think of Detroit. Desmond Morgan also played there.
Backup: Terrance Taylor, Muskegon
The rest of the field: Gabe Watson, Larry Harrison, Alex Ofili, Brion Smith
---------------------------------
Defensive Tackle: Mike Martin, Detroit Catholic Central
So what if he played nose most of his career, can you imagine starting Martin at 3-tech? Yeah. Also nose was much stronger than DT and I need to do the same thing when I get to the linebackers so here's the precedent: I'm putting out my best team.
Plus it lets us mention Catholic Central. Specifically Detroit Catholic Central, (as opposed to Grand Rapids and others around the country), a private school in Novi that has long recruited some of the best young talent around the state (Mark Messner, Matt Godin, Wyatt Shallman, Terry Malone). Martin got to spend one year on the old campus before they moved over to the new one, however he missed their state title years; the amazing run of six state championships from 1995 to 2003 was before his time, but he still got to play for another coach of the Michigan Hall of Fame, Tom Mach, who coached the Shamrocks for 41 years (winning 10 state titles), and is third all time behind Fracassa and Herrington in wins.
Like Renes, Martin was an excellent wrestler in high school, though he didn't start until he was a junior, as well as a track and field star. He was also the No. 1 junior dog handler for the American Kennel Club, and played alto saxophone in the band. In a normal year he'd be among the best in-state prospects but 2008 was a huge year for the state, with Nick Perry (USC), Dann O'Neill, Jonas Gray (ND), Mark Ingram (Bama), Cissoko, and Fred Smith (MSU) all joining Martin as four-stars.
Backup: Will Johnson, Lake Orion
The rest of the field: Eric Wilson, Matt Godin, Will Heininger, Will Campbell, Gannon Dudlar, Lawrence Marshall, Nate Miller, Paul Sarantos, Deron Irving-Bey
---------------------------------
Strongside End: Brandon Graham, Crockett Tech
Detroit Crockett, a vocational school, didn't have a football team at all until 1996, and didn't have a locker room until Brandon was a senior. When he arrived a sophomore, BG was already one of the best young players of his class. Also the parents had to shine car lights on the field for late practices because Crockett had no lights of their own.
Anyway he shined, playing linebacker, left guard, kicker and punter as he earned an honorable mention all-Detroit as a sophomore and led Crockett to a state championship as a junior. By his senior season he was by consensus one of the best middle linebackers in the country, ran away with the Gatorade Player of the Year honors, and added tight end and fullback to his positional list despite missing a few weeks to injury. Crockett went undefeated in the regular season as long as he was there, building a foundation for the program that would eventually merge with Finney at the newly constructed East English Village High (where Khalid Hill went).
He was the first athlete from Michigan to participate in the U.S Army All-American Bowl. That nearly ruined his college career, because MHSAA rules are stupid, and won't let you compete in athletics if you play in an out-of-state game. Graham didn't learn this until he was informed he can't play any other sports for the duration of his high school career. While sitting around all winter and spring he gained 40 pounds, and Carr stuck him at defensive tackle. Then Barwis came along and you know the rest.
Backup: Ryan Van Bergen, Whitehall
The rest of the field: Brennan Beyer, Rondell Biggs, Jake Frysinger, Nathan Brink, Quintin Woods, Andre Criswell
---------------------------------
Weakside End: LaMarr Woodley, Saginaw
In 1999 Saginaw High School got more attention from the suddenly exploding recruiting industry than any other high school in the country due to the #1 recruit in the country for most of the cycle, wide receiver Charles Rogers. While scouts marveled at the physical gifts of Rogers and reporters wondered whether it was right to let the world know Rogers's grades weren't going to be enough to pass NCAA muster, reports started trickling in of the little underclassman linebacker and running back who was doing as much as Rogers, future NBA point guard Anthony Roberson, and Michigan-bound OLB Roy Manning to lead Saginaw to the Division II state championship. That was 1999. By 2002 a much larger Woodley was the top inside linebacker recruit in the country, and starting running back Jerome Jackson got a fourth star, and with Saban now in the SEC, the until-then natural landing spot for Saginaw recruits, Michigan State, no longer seemed like much of a destination.
Saginaw has continued to produce star athletes—most recently Draymond Green—and their basketball program is still one of the best in the state despite Lou Dawkins retiring shortly after his son died of a rare heart disease at a Michigan State basketball camp. Lou's other son Christian Dawkins is at the center of the FBI's college basketball corruption investigation that has naturally implicated the school and Michigan State's basketball program. Meanwhile the long-proud football program, which produced Michigan greats Fred Petoskey (the Bennie Oosterbaan of the 1930s), Calvin O'Neal, and Tom Slade, has fallen on hard times.
Backup: Shantee Orr, Denby
The rest of the field: David Bowens, Mario Ojemudia, Royce Jenkins-Stone, Corey Malone-Hatcher
---------------------------------
Strongside Linebacker: Larry Foote, Pershing

Matt Freed/Pittsburgh Post-Gazette
I'm cheating with the linebackers to get the best three on the field. Foote played some SAM during his career and as a former safety he can stay on the field as a hybrid space player so this pick isn't that crazy, even though Foote was way more of a Devin Bush than Khaleke Hudson.
I'm also going to spend a little longer on this school, because Foote maintains a very strong connection to his hometown. The list of great mid-century Michigan players from Pershing is long indeed: Glenn Doughty, Frank Moore, William Hardy, George Genyk, Paul Seal, Gerry Smith, Walter Williamson, Fred Julian, and Thom Cecchini all came out of the school in Conant Gardens, a historically prosperous black neighborhood in northeast Detroit. Also from Pershing: The Four Tops. "Prosperous" was relative: my mom grew up directly across Woodward but that might as well have been the Atlantic Ocean; if someone from Palmer Woods crossed the street it was only to get donuts.
The neighborhood (and next door Krainz Woods) held out as well as it could be expected to with the city's decline, as renewal efforts were focused closer to downtown while the city put housing projects and a prison out there on the quasi-suburbs. With the revival of nearby Ferndale, and Highland Park already between them and the rest of the city, the west of Woodard neighborhoods have revived thoughts of breaking off from Detroit. But Conant Gardens is unlikely to leave—the citizenry there are quite proud to be Detroiters, and are often found on the front lines of grass roots revival efforts.
And they've kept Pershing going, though enrollment has flagged to under 400 and they absorbed some of Kettering to to do so. The Doughboys, under head coach Stephon Thompson, were still decent as of the 1990s, when they sent Maurice Williams and Larry Foote to Michigan. Both came highly raw; Foote was a safety who arrived malnourished and filled out into a star linebacker and eventual NFL star. Foote, who has 313 in his twitter handle, named one of his kids Trammell, and once paid for the funeral of a random Detroit child who fell through the ice, is currently linebackers coach for Arizona, but plans eventually on coming back home to open a youth and job training center.
Backup: Clint Copenhaver, Brighton
The rest of the field: James Ross, Cam Gordon, Johnny Thompson, Charlie Stumb, Jim Presley
---------------------------------
Middle Linebacker: David Harris, Ottawa Hills
Of course WARF was going to make an All-MGoBlog roster. One of Michigan's lowest-rated recruits (he was on the two-/three-star borderline), Harris is still used as the exempli gratia for underrated Western Michigan players. Though the school has "Ottawa" in the name, it's in Kent County, close to the heart of GR. Neither is Ottawa Hills High School in the neighborhood of Ottawa Hills (which is a few miles north). But it is part of the Grand Rapids school district, which has a bunch of specialty schools but today has just two "real" high schools, the other being Union (swanky East GR and Kentwood are separate districts). The football team today competes against the Forest Hills (the Eastern suburbs) schools in the OK-White division, and recently hasn't been very good. Union and Ottawa Hills share a stadium, Houseman Field, which had already long been the city's football center when Gerald Ford played on its surface.
But back in David Harris's day there were four GR high schools, and Ottawa Hills started every year against state powerhouses East Kentwood and East Grand Rapids, and held their own against the big Catholic schools, not to mention an annual rivalry game with Muskegon. Harris had 158 tackles as a junior, but really broke out as a senior at linebacker and fullback, leading the Bengals to the playoffs in a season that included a 26-14 victory over East Kentwood and a 20-2 win over mighty Muskegon. The Free Press named him all-state but it was too late to save his lowly recruiting rankings. Finally retired from a long NFL career, Harris hosted a camp at Houseman Field last weekend.
Backup: Ian Gold, Belleville, and apologies to both OLB spots that got usurped by the incredible depth at MIKE
The rest of the field: Desmond Morgan, Kenny Demens, Tim Laws, Mark Moundros, Mike Wroblewski
---------------------------------
Weakside Linebacker: Sam Sword, Arthur Hill
Here's another great player from Saginaw, but Sword went to the other big school in town, Arthur Hill, named for the lumbering and shipping magnate who graduated from Michigan during the Civil War, and went back to make his city into the most important civic center in the Thumb region. The school produced 1920s All-American Harry Hawkins, gave the Mad Magicians their best receiver in Dick Rifenburg, and more recently sent national prospect Shonte Peoples to Ann Arbor.
Sword played middle linebacker and tight end for Arthur Hill in the early 1990s, leading them to a state championship in 1993. Michigan was chock full of linebackers at the time, but Angry Michigan Outside Linebacker-Hating God struck that year with a vengeance, and through the carnage of attrition, injuries, and burned redshirts Sword saw a path to early playing time.
He wasn't wrong. DL coach Greg Mattison assumed control of the defense in 1995, and transitioned to a 4-3 under that had two spots for MLB types. Jarett Irons had the MIKE spot on lockdown but Sword managed to displace Rob Swett and Clint Copenhaver (the NAMES!) for WLB as a redshirt freshman and held onto it through 1996 before taking over for Irons as the centerpiece of the Doomsday Defense of '97.
Backup: Steve Morrison, Brother Rice
The rest of the field: Eric Mayes, Roy Manning, Chris Singletary, Kevin Leach, Joey Sarantos, Josh Ross
---------------------------------
Strong Safety: Delano Hill, Cass Tech
Finally we're covering my parents' alma mater, and Michigan's famous pipeline, Cass Technical High School, the great magnet high school of Detroit. Cass selects students from all over the school district based on test scores and middle school grades, offering a more rigorous, college-preparatory set of courses. Its purpose since its founding in the 1910s was to give every Detroiter with the will and intelligence a chance at a top-notch education, however by the middle of the century they rigged entry exams and then later created tracks (e.g. "Science & Arts" or as it was more accurately referred to at the time "Saxon & Anglo") to perpetuate racial divides, and artificially capped how many students could enroll from each neighborhood in those tracks.
The old building, erected from 1917 to 1922 and designed by Albert Kahn, was dilapidated back by the late 1960s, but that building was renovated (with a large addition) in 1985, replaced in 2005, and demolished while Delano was still in school. New Cass is a beautiful modern structure—if you're in Detroit I recommend visiting the library for a panoramic view of the whole city.
Since 1997 the head coach of Cass Tech has been former Michigan running back Thomas Wilcher, best known in his collegiate career for the collective groan when Jamie Morris came out and the big track player replaced him. He has been a much more successful football coach than he ever was as a back, accumulating a 173-65 record overall, an insane 51-27 record in the highly competitive Detroit Public School League ("The PSL"), three State Championships, and sending more blue chips to FBS programs than any other school in the state. Wilcher is also the AD and track coach at Cass. The middle championship was won in 2012 with Delano and Lewis in the backfield, plus David Dawson, future Buckeyes Damon Webb, Mike Weber and Josh Alabi, plus 9 other future FBS players.
Of course among them only Delano looked older than his coach. As for Delano over King alum Ernest Shazor, big hits are nice but give me the athlete who helped give Michigan one of the best man-to-man secondaries of its long history. He also went in the 3rd round of the draft.
Backup: Ernest Shazor, Martin Luther King
The rest of the field: Clarence Thompson, Shonte Peoples, Jacob Stewart
---------------------------------
Free Safety: Thomas Gordon, Cass Tech
I had another tough decision here—weakness at safety is a feature of these features—but flipped back to "Ol' Prison Abs" over Chuck Winters because Dr. Sap convinced me Winters was more likely to give up a big play. Gordon on the other hand solved the longest positional black hole in Michigan memory when he moved from 3-3-5 Spur to free safety for the 2011 season.
So we're still at Cass, except back up to a time when people were still saying Wilcher can get good players but can't win a championship. Thomas Gordon played quarterback for the Technicians and started playing safety as well in 2008, when Cass Tech won 8 games for the first time since 2000. He was by far the lowest-ranked of the four(!) CT Michigan guys he played with, the others being Will Campbell, Teric Jones, and Boubacar Cissoko.
Backup: Chuck Winters, St. Martin de Porres
The rest of the field: Julius Curry, Charles Stewart, Earnest Sanders, Greg Cooper, Brian Cole, Jaylen Kelly-Powell
---------------------------------
Cornerback: Jourdan Lewis, Cass Tech
Cass Cass Cass, and I'll warn you now the next guy also went to Cass. If the worst player in the history Cass Tech football (according to his coach, multiple times) was 1963-'66 lineman Rob (father of Seth) Fisher, the greatest is Jourdan Lewis. Not only is Lewis the one tiny Cass Tech cornerback who Made It, he was the star of Wilcher's first two (2011 and 2012) state championship teams and was drafted three spots ahead of Delano.
Needless to say we followed Jourdan's career closely long before he agreed to tell his story on MGoBlog. It will come as no surprise to followers of Cass Tech cornerback recruiting that the best news out of his recruitment was when it was revealed he's taller than TomVH. That's still well below six feet so he still gets to wear the mantle:
Also now that we're finally done with Technicians here's the list of those who played for Michigan in alphabetical order in the Bentley database: Will Campbell (2009-12), Boubacar Cissoko (2008-'09), David Dawson (2013-'16), David Downs (1997-'98), Thomas Gordon (2009-'13), Curtis Greer (1975-'79), Delano Hill (2013-'16), Delonte Hollowell (2011-'14), Harlan Huckleby (1975-'78), Tage Jacobson (1932-'34), Royce Jenkins-Stone (2012-'15), Teric Jones (2009-'10), Archie F. Jordan (1918-'22), Jourdan Lewis (2013-'16), Michael Onwenu (2016-present), Donovan Peoples-Jones (2017-present), Frank K Raiford (1979-'80), Terry Richardson (2012-'15), Pap Sanneh (1993), Tom Seabron (1975-'78), Arnold Simkus (1962-'64), Roosevelt Smith (1976-'79), Clarence Williams (1995-'98), Michael Wilson (1981-'83), and Anthony B. Woodford (1976-'77)
Cornerback: LaVert Hill, Cass Tech and MLK
​
Please don't ask Jourdan what he thinks of the Jourdan clones playing for King. [MLive]
If Delano's brother hadn't transferred to King for his senior year we'd have a pure Cass Tech secondary on this team. We also would have made it through an entire 22 positions of great players from great Michigan schools without highlighting a Crusader, which would have been a shame.
While Cass is the magnet, King is the high school for downtown and midtown Detroit. It opened in 1901 as Eastern High School at Mack Avenue and Grand Boulevard. In 1967 it moved to the edge of Elmwood Cemetery, close to the riverfront, and in 2011 it was completely renovated to house a tech school, a prep school, and an international studies program. It remains a juggernaut in Michigan high school athletics.
Hill's transfer across rivals was a huge deal. CT and King faced each other in two instant classics that season, with Hill and MLK barely defeating Cass in both despite playing the second game without five players (including Ambry Thomas) because of a brawl a week earlier. Donovan Peoples-Jones put Cass up with a punt return touchdown but that was upstaged by Hill's 85-yard catch. It was Tech's only two losses.
Despite a reputation for sending too many four-stars to State, Michigan has done fine at MLK—in addition to Shazor and Harrison (and Braylon) we got William Cruse, Ed Davis, Shakir Edwards, Henry Hill, Howard Hamilton, Deon Johnson, Walt Kunow, Riley McPhee, Leroy Neisch, Dennis Norfleet, Cecil Pryor, Gary Rose, John Rowser, Jon Saigh, Michael Taylor, Clarence Thompson, William Yearby, and most recently Ambry Thomas.
Backups: Morgan Trent and Andre Weathers
The rest of the field: Markus Curry, Raymon Taylor, Deon Johnson, Grant Mason, Boubacar Cissoko, DELONTE HOLLOWELL, Darnell Hood, Quinton McCoy, Terry Richardson, Brent Washington, Ambry Thomas, Vincent Gray
---------------------------------
Kicker: Quinn Nordin, Rockford

The Nordins' Sparty neighbor had a sign made, and also gave us an idea of what kind of neighborhood we're talking about
When rivals hear the name Quinn Nordin they ask if you've heard that Jim Harbaugh once slept over at the star kicker's house. The natural follow-up question, if you know a thing or two about the houses in that part of Rockford, would be "Which wing of it?"
But don't take that to mean Rockford boys can't play ball, because the Grand Rapids suburb's high school has 431 victories since 1950, just two fewer than Farmington Hills Harrison (in 168 more games, with twice the enrollment). Ben Braden and 1970s center Will Hart came from there, and so did my houseguests this weekend.
Backup: Kenny Allen, Fenton
The rest of the field: Phil Brabbs, J.J. McGrath, Jake Moody, Jason Gingell, K.C. Lopata, Jason Olesnavage, Seth Broekhuizen, Kyle Seychel
---------------------------------
Punter: Nate DeLong, Roosevelt
Theodore Roosevelt High School in Wyandotte (also known as Wyandotte High or Wy-Hi) is down on Eureka Road in the center of the very blue collar downriver community, one of the oldest in the state. Historically Wyandotte was the sandy beach where the people (Hurons) lived and traded while Detroit was the fort town protecting the narrowest point of the river. The Wy-Hi building, another grand Albert Kahn design stolen from Paris, dates back to the 1920s. The football field, named for an important community member who kept the city's education system afloat as rest belt economics took hold, sits on the site of the old train station and overlooks the tracks.
Downriver football is often overlooked, but the nation found DeLong, the top prep kicker prospect in the country in 1992. A left-footer, his punts had a backspin that's never quite been replicated though someone should try to since it caused all sorts of trouble for returners who had a hard time judging the ball in the air and catching it cleanly. He also came to football late—Nate never so much as watched football until high school, when a senior family friend he'd played soccer with asked Nate to come learn kicking with him so he wouldn't have to do so alone.
The rest of the field: Kenny Allen, Ross Ryan, Mark Spencer, Paul Peristeris, Cory Sargent, Jay Vinson
---------------------------------
Returner: Dennis Norfleet, MLK
official school photo
We end back at King, appropriately enough, with a guy who embodies all the excitement, attitude, and disappointments that have come out of there. It also allows me to end this tribute to Michigan high school football by honoring the life of a coach from the heart of it.
Norfleet was hands-down the best player in the PSL in 2011, once taking player of the week honors three weeks in a row playing running back, some slot receiver, cornerback, and returner. He was also a star point guard for the basketball team. He was set on going to Cincy when Michigan got to signing day with a few extra spots in 2012 class, and after grabbing Willie Henry extended an offer to Norfleet.
Then head coach Dale Harvel, who 1974-2009 legend Jim Reynolds, got himself a bit of a reputation around here when he jumped all over Michigan in 2015 for kicking Norfleet off the team. Harvel was upset that Norfleet's college career under Hoke had not been directed toward Norfleet's goal of being a special ed teacher, or any major at all. He could have been more circumspect but nobody doubted his heart was in the right place. Unfortunately it was that heart that failed him—Harvel passed away suddenly in July 2016 after suffering a heart attack during a 7-on-7 scrimmage. The much-beloved coach was just 57. Assistant Tyrone Spencer Jr., 31 and himself a King grad, succeeded Harvel and won a second straight Division 2 State Championship his first year.
Norfleet resurfaced for a year at Tuskegee, then in 2016 he took a year off of football to return to Michigan and finish his degree.
Backup: Markus Curry, Bishop Gallagher
---------------------------------
Map: