Go Blue Bowl Tailgate This Saturday
[Reposting for those who missed yesterday]
What? MGoBlog and handful of former Michigan players who are disproportionately cornerbacks about my age are going to be tailgating before the PSU game at Marlin Jackson's Go Blue Bowl Tailgate charity drive. There will be a raffle, and a tailgate Olympics where fans are teamed with former players for maizehole/beer pong/ladder toss, and a Q&A session MC'ed by Brian, and beer.
Where? The North End Zone, 1011 S. Main St., Building B, Ann Arbor, MI 48104. Technically it would be Michigan Stadium's north end zone if the field was 300 yards long. It's the white and green house on Main Street, opposite Pauline, off the northwest gate of the Big House.
When? 3 pm to 6 pm this Saturday. Games will start at 4-ish, probably do the Q&A from 5 pm to whenever it breaks up or it's time to go to the game.
Who exactly? Well, Brian Cook, Seth Fisher, Ace Anbender, Adam Schnepp, Orson, MMMGoBlueBBQ promised to stop by, my 7-month old…oh you meant important people? Confirmed so far are Marlin Jackson, Brandon Williams, Todd Howard, Marcus Ray, Cato June, Chris Perry, and Zia Combs. As these things go, more are planning to come but can't make promises.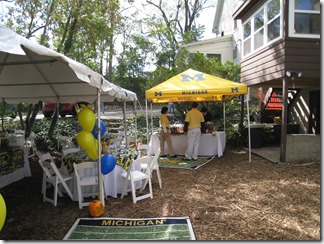 Looks like this except none of us wear khakis and polos.
  The event was organized by Marlin's people, who asked us to participate.
NOBODY under 21 (except babies). They are checking IDs.
What's the cause? The Go Blue Bowl Tailgate and the Go Blue Bowl Football Challenge support Marlin's Fight for Life Foundation, as well as the the Phalen Leadership Academies, the Peace Neighborhood Center of Ann Arbor, the Summer Advantage Program, and Go Blue Then and Now. These all* fund extracurricular and catch-up programs for at-risk kids.
Marlin started FFL in Indianapolis and has expanded the concept up to Michigan. The school systems where these kids live have been dropping such programs and don't have the ability to implement modern teaching techniques (even though we've known they work for 15+ years) so FFL provides that. It's evolved a bit since we started supporting it: the in-school programs are Building Dreams/Field of Dreams (elementary/middle), and RAP (high school). Seal the Deal is the after-school youth flag football program. And they've added Be a Blessing!, which follows up with the kids who've been in their programs, and provides need-based assistance to their families.
Go Blue Then and Now is an umbrella organization for former Michigan players' charities.
The Go Blue Bowl itself is a flag football game for local kids football teams where former Michigan players coach them for a day (or most of a day then hide indoors because their Floridian skin still can't handle Michigan weather; not naming any names that are also a unit of measurement).
I gotta make a donation right? Yes, but what you can afford. We urge you to donate beforehand on Marlin's website, or buy some raffle tickets when you arrive, or be like "here's five dollars" at the gate. I do ask if you're going to drink the beer you donate like $20 at the door so they don't end up taking a loss on the provisioning of said suds. Suggested minimal donation if you're just gonna come by for the Q&A is $5. The point of the tailgate is to raise money for these charities.
There are things you get for donation levels of $100 and above, like access to the VIP lounge where players with weak-ass Floridian skin might be hiding, and signed memorabilia, and corporate sponsorship displays.
Also one sponsor who sends a check ahead of time will get two free tickets to the Penn State game that one of our readers donated to the cause.
The raffle? I'm not sure of everything that will be there; when we did our tailgate last year Marlin brought a jersey signed by Woodley and some footballs and t-shirts, and Six Zero had a drawing of a half-lion/half-Devin Gardner. There's a Michigan Stadium print by Bennie (godson of THAT Bennie) McCready that I'm bringing. And you can win a spot in the tailgate Olympics.