Beet-Red And Nude
9/16/2017 – Michigan 29, Air Force 13 – 3-0
also this happened [Eric Upchurch]
I have ceased being a person who gets seriously exercised about the shortcomings, real or imagined, of Michigan's coaching staff. I will get my grouse on when it's fourth and a half yard and Michigan punts, because if I tried to hold that in I would literally die. There's some stuff later in this post about giving the ball to the Hammering Panda on short yardage and how it's dumb and stupid not to. There will always be niggling details that grate.
But I'm not going to freak out because Michigan's offense is struggling. If my mentions, or Ace's, or poor damn Nick Baumgardner's are any indication the Air Force game was HONEYMOON OVER for a healthy section of Michigan's fanbase. No doubt Sam and Ira have just completed four hours of radio where 75% of the callers were spittle-flecked, nude, and beet-red, proclaiming manifestoes about the personal embarrassment they were caused when Michigan could not score an offensive touchdown in the first 59 minutes of a game against a Mountain West team.
And... eh. I mean, nobody sane could disagree with propositions up to and including "this offense is butt and probably going to cost Michigan any chance of silverware." I wish the offense was not butt, too. In previous years I might be nude and beet-red, writing a manifesto about how I suffered personal embarrassment when Fitz Toussaint ran 27 times for 27 yards.
I am not. I'm going to see how this works out.
I'd like to think this is because I am so good at looking at football that I know that Michigan's problems under Rich Rodriguez and Brady Hoke were clear, severe, and systemic coaching issues while Harbaugh's are not. To some extent this is probably true: Harbaugh has not switched his base defense midseason in a panic (twice!), or decided that "tackle over" was an offense instead of a gimmick, or continued inserting a quarterback without an ulnar nerve in the second half of an Ohio State game. The worst tactical issue he's had so far was the increasingly disappointing Pepcat package last year, which is a speeding ticket compared to the grand felonies perpetrated by Michigan's last two coaching staffs. Check that: three coaching staffs.
But I'm also extrapolating based on track record. There is an element of faith that Harbaugh engenders, because... uh... I mean, obviously? If you need numbers, here's Stanford, with Harbaugh in bold:
| Team | Year | Record | FEI | S&P | YPC | YPA | YPP |
| --- | --- | --- | --- | --- | --- | --- | --- |
| Stanford | 2006 | 1-11 | N/A | 113 | 2.1 (118th) | 6.3 | N/A |
| Stanford | 2007 | 4-8 | 61 | 83 | 3.0 (113th) | 6 | N/A |
| Stanford | 2008 | 5-7 | 48 | 31 | 4.9 (20th) | 6.4 (82nd) | 59 |
| Stanford | 2009 | 8-5 | 1 | 6 | 5.2 (7th) | 8.7 (7th) | 9 |
| Stanford | 2010 | 12-1 | 5 | 3 | 5.2 (16th) | 8.9 (10th) | 13 |
| Stanford | 2011 | 11-2 | 6 | 8 | 5.3 (13th) | 8.7 (7th) | 6 |
Harbaugh embarked on a similar project at San Francisco. The 49ers were 25th in Football Outsider's DVOA fancystat the year before his arrival. They improved to 18th in year one and then had consecutive top ten years (fifth and eighth) before a dropoff in Harbaugh's final season under Jed York. That last season is the only one in Harbaugh's pre-Michigan coaching career where the offense isn't either taking a significant step forward or an elite or near-elite unit, and it's saddled with a bunch of confounding factors. (SF got hit with a blizzard of injuries that year, oh and the owner was trying to force out a guy who'd gone to three consecutive NFC Championship games because reasons.)
At Michigan he immediately took the dead thing that was the Brady Hoke offense and made it okay, leaping from 89th to 38th in S&P+. Last year plateaued largely because the starting QB inexplicably went in the tank in Iowa and then did something nasty to his shoulder.
If the late slide a year ago and early sputters from a team that lost seven starters is enough to overthrow Harbaugh's long career of mostly great offenses in your mind, please go away. Yes, there are problems. No, this isn't Lloyd Carr turning Tom Brady, David Terrell, Anthony Thomas, and four long-term NFL starters into the 60th-best offense in the country. Bitching about Harbaugh's offense makes no sense after two years of inventive game plans, plays I have to invent terms for after a decade of doing this, and mostly solid results despite Brady Hoke's abominable late offensive recruiting*.
This feels bad man. But put your damn clothes on and stick to not sports.
--------------------------
*[Deep breaths. Ready?
The only offensive recruit to even make it to year five from the 2013 class are Patrick Kugler and the fullbacks. De'Veon Smith and Jake Butt were productive and graduated. Da'Mario Jones, Csont'e York, Jaron Dukes, Dan Samuelson, Wyatt Shallman, Chris Fox, David Dawson, Kyle Bosch, Shane Morris, and Derrick Green all burned out without making any impact.
Hoke's miserable 2014 class has Speight, the starting QB, Mason Cole, Ian Bunting, and nobody else even contributing. Moe Ways, Juwann Bushell-Beatty, Freddy Canteen, Drake Harris are all gone or benched.
And literally the only offensive recruits Hoke left Harbaugh in the transition class were Alex Malzone, John Runyan Jr, and Grant Newsome. That is three recruiting years producing four starters.]
[After THE JUMP: but hey the defense though]
AWARDS
Known Friends And Trusted Agents Of The Week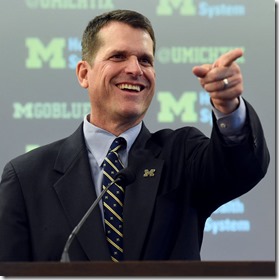 you're the man now, dog
#1 Chase Winovich. Michigan's dominant defensive outing started with Winovich, who was a constant threat on Air Force dropbacks and came up with a fairly incredible 9 tackles as a DE who Air Force was generally trying to double or option off.
#2(t) Devin Bush and Mike McCray. Bush and McCray edge ahead of competitors for honors here. Each had 11 tackles, most of them at or near the LOS. Bush had a mad squirrel sack; McCray had two TFLs against a team that hates and avoids TFLs like no other. M's linebacker level was stellar.
#3 Quinn Nordin. One 49-yarder and four relative chip shots; this is still enough to make the top three, because it is 15 points in a game where Michigan's offense scored one touchdown.
Honorable mention: the rest of the defense with special mention to Lavert Hill and Rashan Gary. Ty Isaac was efficient and explosive in the open field. James "Doug" Foug was really good on kickoffs.
KFaTAotW Standings.
5: Devin Bush (#1, Florida, T2 Cincinnati, T2 Air Force)
3: Mason Cole (#1, Cincinnati), Ty Isaac (#2, Florida, #3 Cincinnati), Chase Winovich (#1 Air Force).
2: Quinn Nordin (#3 Florida, #3 Air Force)
1: Khaleke Hudson (T2 Cincinnati), Tyree Kinnel (T2 Cincinnati), Mike McCray(T2 Air Force).
Who's Got It Better Than Us Of The Week
DPJ stakes Michigan to a two score lead with his first impact play at Michigan.
Touchdown, Michigan!
Donovan Peoples-Jones scores on a 78-yard punt return. Michigan takes a 16-6 lead over Air Force in the 3rd Quarter. pic.twitter.com/FX26voQmWf

— Evan Petzold (@EvanPetzold) September 16, 2017
Honorable mention: Nordin's 49 yarder confirms he's real good; various Michigan option stops on which Air Force seems befuddled that these guys can run like they do; Higdon puts the nail in the coffin; Isaac almost does a couple times.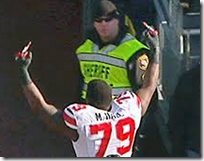 MARCUS HALL EPIC DOUBLE BIRD OF THE WEEK.
Air Force dials up a blitz that destroys a third-and-goal-from-the-eleven Ty Isaac run in the backfield, prompting Michigan's nth field goal of the day and a lot of boos from people being very un-dude.
Honorable mention: Various Speight decision to not throw at Perry; Evans's early fumble changes the complexion of the game; Kinnel gets burned on their completion; Crawford unfairly tagged with a ludicrous holding call; Crawford drops a ball in his chest; TV goes to commercial one play in to the fourth quarter.
OFFENSE
Furk. Looks like several different sources are "reporting" that Tarik Black's injury is a serious one. Unconfirmed obviously, but it's rare that a rumor this widespread turns out to be untrue. UMBig11 says at least eight weeks and probably the season. Eric got a shot just before we think the injury occurred:
[Upchurch]
That ankle is about to have something unfortunate happen to it.
Losing Black is a blow; expect DPJ to move into the starting lineup and Oliver Martin or Moe Ways to pick up DPJ's snaps. Martin has had some injury issues himself—he did not dress for Cincinnati. He was in uniform on Saturday but did not play.
UPDATE:
Harbaugh on Tarik Black: he's gonna be out. going to need surgery. crack on outside of his foot. not sure he'll be back this season.

— Adam Schnepp (@aeschnepp) September 18, 2017
in bounds is where the completions are [Upchurch]
In which you author considers building a bunker. Okay: this game has my Speight optimism on the wane. On the podcast I wondered why Grant Perry didn't have a bazillion catches in this game, and after a rewatch I have to wonder about that even more. Speight passed up a wide open Perry multiple times to go after tougher, more covered receivers. If he was forcing it to his most experienced and reliable receiver I'd get that. If he was throwing it to the wide open guys I'd get that. Forcing it to Not Perry baffles.
He hasn't had a BR yet this year but he's going to near a half-dozen in this game. There was one throw on which he reprised Mitch Leidner's "back shoulder corner" route, getting lucky that his throw was well behind a very covered Black. Meanwhile Ty Isaac is leaking out of the backfield wide open.
Add in a bunch of incorrect throws to his wobbly accuracy and uh... that's a situation. I dunno man. It's always something this year.
Every fade ending up somewhere between mostly and entirely out of bounds is a big problem in the redzone. Also elsewhere. We know O'Korn can throw fades. O'Korn for redzone QB? Is that insane? Probably! Do I kind of think it's not insane! Definitely!
Speight's what did you do face [Upchurch]
It's not all his fault though. Speight isn't getting much help from his teammates. Crawford dropped Speight's best pass of the day, and I thought he should have done a much better job adjusting to the ball on Michigan's first play from scrimmage. It was an admittedly underthrown deep ball; we have seen guys like Simmie Cobbs and Tyrie Cleveland make that play, because underthrown balls are often a big problem for defensive backs on deep routes down the sideline. Indeed, the Air Force CB had no idea where the ball was and flailed around, probably interfering without a call. Even so: Crawford wasn't anywhere near making that same play. Meanwhile Black dropped that back-shoulder corner, miraculous though it was.
I also suspect that there are a number of subtle issues that aren't apparent unless you know the playcall and the specifics of each route. Sometimes balls that get winged wide are bad throws; sometimes they're bad routes. I certainly underrated the negative impact Michigan's youth would have on the passing game.
Meanwhile the line had a number of issues picking up Air Force blitzes. They're starting two second-year players and Ulizio, who is more or less a second year player after health issues. This was a bad defense for them to go up against early in the season.
Unfortunately this section means there's no easy fix. A hypothetical QB switch—which remains very improbable—sticks another guy in this mess, and without Black.
the despair of going out of bounds by an inch [Upchurch]
Near misses; productive anyway. Isaac was an inch away from a long touchdown on Michigan's first drive and had one called back on an absurd holding call. This has a big impact when you're playing a defense as aggressive as Air Force; they get a lot of stuffs and they give up a lot of big plays, so it's important that your big plays are BIG PLAYS. Michigan's weren't, by tiny margins.
Even without the little bit of luck required for Isaac to have monster day Michigan's ground game was productive. Excise Speight and a kneel down and Michigan averaged 5.1 YPC. (Yes I'm counting the Higdon TD, which was against starters and a natural outcome of the way Air Force plays, not an anomalous occurrence due to desperation.) The way they got there was frustrating because of the Air Force safeties lining up at 8 yards and thundering downhill; several times I felt like a play was about to break for a nice gain only for some guy to pop up out of nowhere and tackle for three yards.
I thought Michigan had a pretty good plan and executed it well enough. Isaac hit almost all the holes—the one run he clearly screwed up is addressed in the next bullet—and juked a few guys and has the long speed to make it count when he does break into the open field. I'll take it.
God knows how good this Air Force defense is going to turn out. Academies don't suffer as much from departures as other schools because they have more or less infinite scholarships, so the guys who step in are almost always third-year players at least. But losing 10 starters is bad. (Unless you're Michigan.) The last two years AF has been 47th and 9th in (SOS adjusted) S&P+ run defense. Even if Air Force is back to mediocre this was a good performance that was nearly great; if they totally suck nevermind. But they probably won't?
Feed the panda. I don't understand why Michigan does anything other than hand the ball to Khalid Hill and tell him to run behind Mike Onwenu on short yardage. Two Hill carries converted; meanwhile Michigan failed to convert a third and one when Ty Isaac didn't see the gap in the line and hesitated in the backfield. IIRC the only time Hill's been stopped was on the goal line against OSU, and even then he powered his way into the endzone on fourth down.
A 350 pound guard and a man-panda are a gift; use them at every opportunity.
Can't keep happening. Karan Higdon missed a third cavernous cutback lane in three games, and this one was especially grating because it was clearly part of Michigan's gameplan to create great big cutback lanes and have their backs hit them. Isaac did it plenty; Higdon missed a huge opportunity.
THUNK. Look out for a +2 Ben Mason block in UFR. He came in; I focused on him; I exclaimed "nice block!" sort of involuntarily from the stands. I hear tell Matt Millen was a disaster in this game but I did appreciate his guttural response to the same block. He also picked up a personal foul on a kickoff by jumping on the pile.
dumb screens were of use [Upchurch]
More dumb screens please. Michigan's dumb screen game has been lacking so far this year, and with their situation on offense let's hope that they start making more of an impact. I'm calling screens that don't involve the OL "dumb" here, because they are stupid easy if the DBs are playing it soft. They did, for the most part, in this game, and Michigan took advantage with the above DPJ jet down the sideline and one insta-screen to Black that went for seven yards.
With Black out, dorfy nothing plays should be further sought out. Eddie McDoom rather fell out of the offense in the first two games; Saturday he got a handful of touches. I'm pretty sure the jet sweep that got killed was a bad block ID from a receiver; on his other opportunities he gained at least five yards and made a number of yards himself.
You can't run an offense on screens but you can create a number of 2nd and shorts if the opposition is sufficiently scared of your athleticism. DPJ should put the fear of God into just about everyone short of OSU, and exploiting whatever cushions are provided might help smooth some of the rough edges.
The rapidly emerging ZENTRY! Zach Gentry has a Zoolander name and he had a second consecutive game where his blocking was a positive. He also had another 30-yard catch after ripping past a linebacker. More Gentry please.
DEFENSE
A plan, a man, a canal: Panama. Most interesting tweet of the week goes to James Light:
Looking forward to see how Don Brow defends Air Force Triple Option. Here is the scheme he drew up for us at the 2016 Michigan Clinic. 1/3 pic.twitter.com/0oj0T76diw

— James Light (@JamesALight) September 16, 2017
This is in fact what Michigan ran much of the time against the base flexbone look, with Hudson the "Pup" backer:
The guy in Light's mentions who asserted what Air Force would do in response was also on point:
Air Force will become much more double option based if they play like this. Watch for lots of counter motion as well

— Kyle Kolbe (@kolbs11) September 16, 2017
Air Force had a period of success in the late first and second quarter when they overloaded the strongside with two inline tight ends and used their A back as a lead blocker instead of a dive threat.:
note that M has not shifted formation at all despite the heavy run strength to the boundary
That is no doubt what this guy means by "double option"; NCAA Football devotees will recall it as "power option."
Furbush and Gary got walled off by all the extra meat; Worthman had a series of 6-7-8 yard runs and the big chunk run that set them up for their second field goal. A couple of end-arounds also met with success.
Michigan changed their approach in ways I haven't sussed out just yet, and then Air Force struggled to pin down something that would work for a quarter or so until they found those pitch sweeps on which they could flank a tight end outside of Hudson consistently. Michigan adjusted to the last of these. By then Air Force was out of its comfort zone because their kicker missed a field goal to bring the game within a single score and had to try to throw a bunch and that went nowhere.
When the dust cleared Michigan had performed better against the Air Force flexbone than just about anyone in the last five years:
Air Force: pic.twitter.com/QLTFQ83OVv

— Manuel Excel (@colintj) September 17, 2017
The contrast between this and the hairy outing five years ago where AF racked up 417 yards and was unfortunate not to get more could not be greater. This was a tactical matchup between two very good coaches that Don Brown won, with a significant assist to his killer personnel. Troy Calhoun after the game:
3.       Game plan-wise, you didn't complete a pass in the first half…were you concentrating on establishing the run?

"Well, they are a little bit different. They probably don't have to quite commit as many guys to the run as maybe some of other squads we've faced.  It's not like there were 11 guys within 4 yards of the line of scrimmage, so they had something to do with that.

4.       About getting outside on Michigan in the 2nd half

"Well, we probably blocked a little bit better. And then, candidly, in the first…especially the first 25 minutes of the game, we' tried…..but.... to block bodies that size, that move that well and that play blocks as well as they do, again…I mean, that's a credit to their guys."
An impressive outing all around. If only much of it applied to the rest of the schedule.

#1 among DL but second to Glasgow in flow [Upchurch]
Get it, hat man. Picking out a most pleasant surprise on the defense is a challenging task. I think I can make a case for Chase Winovich despite his excellent productivity in limited snaps a year ago. Winovich has been second only to Devin Bush when it comes to raiding opponent backfields so far. That is reasonably in line with expectations. What isn't: run defense.There he's vastly exceeded any reasonable preseason expectations. This site's preview was almost certainly the most bullish on this aspect of Winovich's game...
The catch you expect when talking about an underclass DE who flipped from offense and seemed radically undersized—"he was a terrible run defender"—does not actually apply. He did get blown up on occasion, and sometimes he'd fire upfield and get kicked out a long way because his focus was on rushing the passer. But he was surprisingly able to drive OTs where he wanted to go. ... For a redshirt sophomore playing a chunk of the year with his hair on fire the early returns were better than anyone had a right to expect.
...and I still said he was "not likely to be in [Taco] Charlton's league as a run defender."
I now think he's in Charlton's league. His ability to shock OL back and disengage productively verges on stunning. He is a 260-pound player who seems like he's a 280 pound SDE, and a good one. He pursues like a WDE; he is very good at playing read option*; he was all over the place against Air Force. Michigan moved him inside to a four-tech in this game and he handled it with aplomb.
Rashan Gary is tracking about where you want him to be, and I think Winovich is Michigan's best defensive end through three games.
*[Minus a couple of mental hiccups against Cincinnati that are probably fixable.]

uptown funk is gonna give it to you [Upchurch]
Get it, Denardbacker. Devin Bush hopped on an option QB's back for a sack he did not think a linebacker was fast enough to acquire. Against almost all linebackers that would have been a correct assumption. This is a now-regular occurrence.
Bush also flashed his sideline to sideline ability on the regular, forcefully meeting Worthman a couple of yards downfield. He picks through trash and flies all over the place and makes vanishingly few mental errors for a second-year player. I feel like I have written this !!! paragraph about Bush after every game. It's a race between Bush and Quinn Nordin for "earliest a Michigan player has been taken for granted." I can't remember what it was like to not have Devin Bush as the MLB. I imagine it sucked.
Bounce back. Tentative expectation after my rewatch is that Mike McCray will bounce back from a rough day against Cincinnati with a very positive score. McCray dodged cut blocks, met Worthman a fair amount himself, and ejected McVey from the field of play on the kind of "oooooh" hit that's still fun.
exit, stage right [Upchurch]
This was a game for him since mashing run D is his specialty, but I'll never turn my nose up at a linebacker making a bunch of plays against an option team. 
The big bad hit. What happened on the 64-yarder? Kinnel got beat as jet motion to his side got him to bite on a play action fake that never actually game. But if the broadcast was correct and Metellus was getting an earful on the sideline afterward, then he should have been in centerfield and held this down to a 15-20 yard gain. Instead:
Metellus is on the top hash, reacting to the guy whose jet motion suckered Kinnel on the other side of the field. That guy redirected, Watson was caught off guard, Metellus assumed option action that way, and one guy's pre-snap motion got two guys. I'm not even mad about this. Air Force is going to get you at some point. Here, and only here, Michigan got shredded by a playcall that beat their safeties' awareness.
There and only there. All other pass attempts from Air Force were incomplete or sacks, and nothing else was even particularly close to complete. Hudson was in great spots on two attempts, breaking up an underthrown deep ball that could have been dead on and still ended up incomplete and then getting robbed of an interception when a Worthman pass was yards behind a very covered receiver. His Hail Mary interception was only justice.
Hudson did get flanked repeatedly on Air Force's second-half sweeps, but when Michigan defended the last one well he still shot upfield inside of the tight end and the rest of Michigan rallied. Maybe that was more schematic than a particular issue with him.
[Upchurch]
Not exploitable. I was nervous about Michigan's cornerbacks in a game where they would barely be asked to cover but would be called on repeatedly in run support; this turned out to be an unfounded worry. Lavert Hill popped off a couple of blocks on the edge to tackle; Long actually had a couple of plays on which he was making tackles to the interior. I don't think there was a single play on which a corner screwup resulted in yards for Air Force.
This was the second straight week where Hill and Long were all but untested in coverage, which is kind of an important bit of being a cornerback. Run support and assignment football appear to be checks.
SPECIAL TEAMS
in your face charlie murphy [Upchurch]
AHHH YOU PUT IT THROUGH THE UPRIGHTS. Silver lining to Michigan's day on offense: we got a lot more Quinn Nordin data, and it was good. Nordin was 5/5 and is now 11/13 on the season with four hits from outside 45; one miss was from 52. Only a 32-yard miss in the opener is a downer. Everything in this game was (approximately) down the middle. He's gone from terrifying unknown kicker to an automatic 3 in record time. I'm not even particularly worried this will jinx him.
FOUG FOUG FOUG FOUG. James Foug, who should be named Doug, had a highly entertaining troll game going on during the second half. He would put every kickoff about a yard into the endzone, daring Air Force's returner to bring it out. He did not take the bait. He successfully forced a couple returns late by leaving it just short of the goal line with massive hangtime. Michigan was able to stuff those returns at the 15 or 20, saving a bit of field position. At this point it feels like a Foug kickoff that doesn't go into the endzone is intentionally short.
the faces are perfect [Upchurch]
"He's not a mistake repeater." That's what Jim Harbaugh said about Donovan Peoples-Jones after last week's adventure, and sure enough DPJ was thrown back out there against Air Force. With good reason:
Touchdown, Michigan!
Donovan Peoples-Jones scores on a 78-yard punt return. Michigan takes a 16-6 lead over Air Force in the 3rd Quarter. pic.twitter.com/FX26voQmWf

— Evan Petzold (@EvanPetzold) September 16, 2017
He had another chunk return and fair caught everything that he could get to; the only punt that hit the ground was a short duck that he was screaming about, as one does.
Key blocks. The main blocks DPJ picked up on that return were from Metellus, Long, and Kinnel, ie three-fifths of the starting secondary.
Shank #3. Will Hart's had a bumpy start to the season, shanking 3 of his 12 punts. He's hit a few boomers, too; one wonders how much more patience Harbaugh will have if a quarter of Hart's punts continue to go out of bounds after 25 yards.
MISCELLANEOUS
Coached up. See, progress does happen in critical areas:
@Chase_Winovich yesssss! @snkuhlman pic.twitter.com/wsaIeEO7kT

— Dk (@hail_victors) September 17, 2017
If Speight can improve half as much as Winovich has in the handshake department we're in business.
COMMERCIALS. Brutal redhat day in the stands, with the capper a commercial one play after the beginning of the fourth quarter when a timeout was called. It drives me crazy that things are so bad. The Big Ten is willing to bend over backwards for its TV partners so it can make an increasingly absurd amount of money. That money does not go to the players. It goes to everyone else.
I want to boycott CFB advertisers as a result but it turns out boycotting 60% of the American economy is hard. So I'll just boycott the worst: Dr. Pepper. Fuck Dr. Pepper. I'm a Mr. Pibb man now!
HERE
Worst: Third and Too Damn Long

A couple of years ago The Mathlete wrote a really interesting diary about 3rd-down conversions and how distance affects it. The average 3rd-down position to go was 6.5 yards; a good offense usually is a bit below that, and more times than not converts on 1st or 2nd down a good clip. A basic takeaway (and I really encourage you to read it) is that 3rd downs tell you more about how an offense performs in its "optimal" situation than necessarily how good they are on late-drive conversions; if you are an efficient offense, you don't get into 3rd down all that often and, when you do, you have advantageous positioning (a couple yards to go). Manageable yardage lets you keep your whole playbook available, it makes the defense a bit more guarded about pinning their ears back, and means you are (likely) limiting TFLs.

So I've been keeping account of Michigan's 3rd-down positioning thus far. Last year's Michigan team was a little above average; they converted around 43% on their 185 attempts; the national averages are 40% on 183. But this year they are down at 34%, 102nd in the country. And a big reason is they are facing pretty long odds; their average 3rd-down position is 7.4 yards; against Air Force it was 7.8. And yes, that 7.8 is goosed by a 3rd-and-21; you zero that out and they are around 6.3. But this remains a consistent problem for this offense; they can't seem to get on track consistently on 1st and 2nd down, so they're walking into these long conversion attempts with few options. Against Florida they were able to catch the Gators sleeping and convert on a couple nice Isaac runs on long 3rd downs. But that's not something you can rely on and, with the exception of Higdon's TD late on 3rd down, it really hasn't been replicated in the last two games. When you're staring down 3rd-and 8+ multiple times on a drive, the expected value from that drive is going to be low. Thus far Michigan has survived being behind the sticks because of the defense and opportunistic offensive output, but that's not going to continue forever. People will say that's on Speight, and some of it is in terms of the general struggles throwing the ball, but the offensive play calling at times has left the team in low-percentage plays that feel like burned downs, such as the multiple McDoom sweeps in the red zone. 7.4 yards feels abnormal and should settle a bit down as Michigan stops getting dumb penalties (they average 7 a game for 65 yards compared to 4.8 for 45 last year) and (one hopes) gets more into a rhythm earlier in the drive. But for this team to be successful offensively, they need to stop putting themselves in bad spots.
Take the fan satisfaction survey. Need an update on Devin Gardner's exploits in Japan? Carcajou has you covered. This is a Very Michigan Fanbase thing. Not a lot of movement in B10 expectations this week.
ELSEWHERE
Baumgardner on redzone:
This is what growing pains looks like. But it's also something the coaching staff needs to adapt to on the fly. The fly sweep stuff was too predictable, though Michigan did offer a few counters off it that gained positive yardage. This was about the only unique wrinkle all game.

The screen game doesn't exist. The ideas to get the ball to athletes in space happen from time to time, but not nearly enough. And everything in the red zone was just way too bland.

If U-M goes through Big Ten play and begins to add new and fresh wrinkles to its offense, then we know the win over Air Force was simply a "let's just get out of here" game.

But if things continue to stay vanilla because your offense can only execute so much at once? Then you have bigger issues.
MVictors got various sideline videos:
HSR:
So I don't know.  Expectations are a weird thing.  We feel like Michigan should have won by more, and I suppose if the two Ty Isaac touchdowns were actually touchdowns, we might feel differently about a 38-13 win (all other things being equal, of course.)  But instead, Quinn Nordin was like a Rockette during the Christmas season, kicking it on call for a Michigan record-tying five field goals in a game.  I suppose there is a positive in knowing that Nordin is exceedingly solid as a college kicker, but settling for three so often is going to cost Michigan down the line.  We know it, the players know it, and assuredly, the coaches know it.  So how do you fix it?  That I do not know.
A couple of years ago, Lloyd Carr shared with me what he was hit with during his first year as a young Michigan football position coach in 1980. The year before, in 1979, Michigan was the absolute WORST team in the country when it came to Special Teams execution. The Wolverines fumbled trying to receive punts, missed field goals galore, and even had some punts blocked. It was not good. How did Bo handle it? With an enthusiasm unknown to Lloyd Carr. Because Bo felt the special teams were not coached as well as they should have been in 1979, he assigned every coach a position on the 1980 special teams. Much like anything in life, business or sports, if you focus on something and monitor whatever you are concerned about, you will more than likely improve performance. So what happened in 1980? Michigan led the country in several Special Teams categories. The same thing happened this week. Jim Harbaugh obviously put more focus and attention to Special Teams and it showed on Saturday – specifically the punt return team. The talent is there, and now it seems the coaching and focus is as well.
Inside Michigan Football. Apologies for the brief section here; more will pop up in UV.