Organize The Organization
[Eric Upchurch]
10/6/2018 – Michigan 42, Maryland 21 – 5-1, 3-0 Big Ten
Take the box score. Eliminate it. Group events in a football game. Order those groups by how weird they are—how disproportionate the amount of thing X is relative to other football games. The top of our sorted list is not quite what I want to talk about because it's "walk-on running backs wiping two people and looking for more":
This is GD beautiful.

Tru Wilson is a bulldog.
He picks up the blitz to free Shea, then goes and pancakes a D Lineman, *then* gets up and looks for more.

That's winning the play, friends. pic.twitter.com/hxN3DgybXd

— Due# (@JDue51) October 7, 2018
Michigan-Maryland had way more of that than the average college football game.
The runner-up is what I want to talk about: pointing. Michigan's defense spent large swathes of this game frantically screaming at each other, and pointing. They pointed at Maryland players. They pointed at each other. They pointed back at the Maryland players because they'd exchanged positions, and sometimes helmets. Sometimes after a good play they'd point at each other again.
All of this made the partisan observer nervous. That's number three on our list of unusual football related things from Michigan-Maryland: the ratio of observer nervousness to opponent yards. Michigan's offense struggled to turn yards into points, so when one of Maryland's knife elves ripped off a 98-yard kickoff return touchdown the ensuing Terrapin drives had an unusual amount of collar-pulling for a game in which total yardage was approximately 200-20. At that point any particular shift may have induced an insufficient amount of pointing from the Michigan defense, whereupon Maryland scores a long big touchdown and Michigan's officially in one of Those Games again.
This was not one of those games. It was one of those other games where a vastly superior Michigan team clonks the opponent and everyone's like "okay but WHAT about THE RIVALS" afterward. Randomness notwithstanding, fair enough. But since there's a lack of other stuff to talk about, a lack of soaring emotional whatnots to put down for posterity, it is worth noting that Michigan didn't get got.
It is legitimately impressive that Michigan was able to adjust to all the junk Maryland threw at them. Until their desultory final drive Maryland's long was 20 yards and there didn't seem to be many, if any, opportunities that they failed to take. There were a couple of nervous moments when the various faster-than-light dwarves got in space and shook Michigan players; there were virtually no busts.
My grading doesn't do a good job with this because it gives you nothing for not screwing up and not being involved as a result of not screwing up. The safeties came in mildly negative last week and I tried to explain that while they had some bad plays individually they were part of a unit that gave up one play longer than 15 yards and that they were "meh" at worst. I've been thinking about trying to repair that for a while.
In any case: this was a second straight week of no big plays. Michigan is hyper-aggressive and is currently tied for 13th and 16th in number of 20+ and 30+ yard plays ceded. Whatever the individual faults the safeties have when their man coverage is tested, they are part of a coherent unit that has largely cut out the One Bust Per Game we've gotten used to the past few years. (Knock on wood.) The standout example this year was Brad Hawkins getting lost against SMU, and he's a sophomore non-starter.
This is all part of the Don Brown curve, where by year three when the team really has it down things take off. The pointing on Saturday was a different sort of pointing than the stuff from the last couple years. Old pointing induced nervousness in itself, because the opposing offense wasn't going Full Matt Canada and Michigan was still frantically pointing and yelling to each other, sometimes without a suitable outcome. New pointing gets Michigan through a Full Matt Canada game without an obvious touchdown-creating screwup.
The Don Brown curve is more of a line at Michigan since they were immediately stapled to the top of most statistical categories upon Brown's arrival. But they have remained steady in the face of some stiff attrition. After Mike Dwumfour went out, three of the four projected defensive line starters were absent. It didn't matter. It may well against Wisconsin, but if you want to bet against Don Brown in year three, go right ahead. Chase Winovich is going to be pointing out your teeth on the ground afterwards.
HIGHLIGHTS
AWARDS
[Upchurch]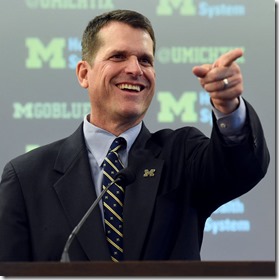 you're the man now, dog
#1 Shea Patterson. 10.5 yards an attempt, a couple of Forcier escapes, and a dime off his back foot that didn't even count. Repaired most of the issues from last week. More in the offense section.
#2 Zach Gentry. The focus of the passing game; 7 catches for 112 yards. Yes, should have been more if he'd followed his blockers on the screen. But he's pretty much the only non-Patterson player to have, like, stats.
#3 Khaleke Hudson. Hudson made a major impact early when the game was still in doubt, with a sack and a rush that would have been a second if Mike Dwumfour didn't barely edge him out.
Honorable mention: The rest of the defense. Karan Higdon. Ben Mason.
KFaTAotW Standings.
7: Chase Winovich (#1 ND, #3 SMU, #1 NW)
4: Devin Bush(#3 ND, #1 Nebraska), Rashan Gary(#2 WMU, #2 Nebraska), Karan Higdon (#1 WMU, #3 Nebraska), Shea Patterson (#3 WMU, #1 Maryland).
3: Zach Gentry(T1 SMU, #2 Maryland)
2: Ambry Thomas (#2 ND), Donovan Peoples-Jones(T1 SMU), Josh Metellus(#2 SMU).
1: Will Hart (#3 NW), Mike Dwumfour (T2 NW), Kwity Paye (T2 NW), Josh Uche (T2 NW), Khaleke Hudson(#3 Maryland).
Who's Got It Better Than Us(?) Of The Week
The other slightly nervous portion of the game was the Maryland touchdown drive that made it 27-14; Michigan's response drive was an efficient march downfield to definitively salt the game away.
Honorable mention: DPJ gets a convoy for his TD. Hudson opens his sack account. Chase Winovich well chases people.
​MARCUS HALL EPIC DOUBLE BIRD OF THE WEEK.
Ty Johnson's kickoff return touchdown momentarily makes it seem like it could be one of Those Games.
Honorable mention: Four down failure and a decision to punt on fourth and three help that 7-3 lead exist as Michigan fails to capitalize on their early ~40-yard drives.
[After THE JUMP: three fullback-related bullet points. Seriously.]