Organize The Organization
[Eric Upchurch]
10/6/2018 – Michigan 42, Maryland 21 – 5-1, 3-0 Big Ten
Take the box score. Eliminate it. Group events in a football game. Order those groups by how weird they are—how disproportionate the amount of thing X is relative to other football games. The top of our sorted list is not quite what I want to talk about because it's "walk-on running backs wiping two people and looking for more":
This is GD beautiful.

Tru Wilson is a bulldog.
He picks up the blitz to free Shea, then goes and pancakes a D Lineman, *then* gets up and looks for more.

That's winning the play, friends. pic.twitter.com/hxN3DgybXd

— Due# (@JDue51) October 7, 2018
Michigan-Maryland had way more of that than the average college football game.
The runner-up is what I want to talk about: pointing. Michigan's defense spent large swathes of this game frantically screaming at each other, and pointing. They pointed at Maryland players. They pointed at each other. They pointed back at the Maryland players because they'd exchanged positions, and sometimes helmets. Sometimes after a good play they'd point at each other again.
All of this made the partisan observer nervous. That's number three on our list of unusual football related things from Michigan-Maryland: the ratio of observer nervousness to opponent yards. Michigan's offense struggled to turn yards into points, so when one of Maryland's knife elves ripped off a 98-yard kickoff return touchdown the ensuing Terrapin drives had an unusual amount of collar-pulling for a game in which total yardage was approximately 200-20. At that point any particular shift may have induced an insufficient amount of pointing from the Michigan defense, whereupon Maryland scores a long big touchdown and Michigan's officially in one of Those Games again.
This was not one of those games. It was one of those other games where a vastly superior Michigan team clonks the opponent and everyone's like "okay but WHAT about THE RIVALS" afterward. Randomness notwithstanding, fair enough. But since there's a lack of other stuff to talk about, a lack of soaring emotional whatnots to put down for posterity, it is worth noting that Michigan didn't get got.
It is legitimately impressive that Michigan was able to adjust to all the junk Maryland threw at them. Until their desultory final drive Maryland's long was 20 yards and there didn't seem to be many, if any, opportunities that they failed to take. There were a couple of nervous moments when the various faster-than-light dwarves got in space and shook Michigan players; there were virtually no busts.
My grading doesn't do a good job with this because it gives you nothing for not screwing up and not being involved as a result of not screwing up. The safeties came in mildly negative last week and I tried to explain that while they had some bad plays individually they were part of a unit that gave up one play longer than 15 yards and that they were "meh" at worst. I've been thinking about trying to repair that for a while.
In any case: this was a second straight week of no big plays. Michigan is hyper-aggressive and is currently tied for 13th and 16th in number of 20+ and 30+ yard plays ceded. Whatever the individual faults the safeties have when their man coverage is tested, they are part of a coherent unit that has largely cut out the One Bust Per Game we've gotten used to the past few years. (Knock on wood.) The standout example this year was Brad Hawkins getting lost against SMU, and he's a sophomore non-starter.
This is all part of the Don Brown curve, where by year three when the team really has it down things take off. The pointing on Saturday was a different sort of pointing than the stuff from the last couple years. Old pointing induced nervousness in itself, because the opposing offense wasn't going Full Matt Canada and Michigan was still frantically pointing and yelling to each other, sometimes without a suitable outcome. New pointing gets Michigan through a Full Matt Canada game without an obvious touchdown-creating screwup.
The Don Brown curve is more of a line at Michigan since they were immediately stapled to the top of most statistical categories upon Brown's arrival. But they have remained steady in the face of some stiff attrition. After Mike Dwumfour went out, three of the four projected defensive line starters were absent. It didn't matter. It may well against Wisconsin, but if you want to bet against Don Brown in year three, go right ahead. Chase Winovich is going to be pointing out your teeth on the ground afterwards.
HIGHLIGHTS
AWARDS
[Upchurch]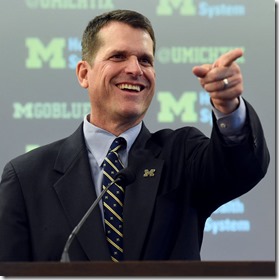 you're the man now, dog
#1 Shea Patterson. 10.5 yards an attempt, a couple of Forcier escapes, and a dime off his back foot that didn't even count. Repaired most of the issues from last week. More in the offense section.
#2 Zach Gentry. The focus of the passing game; 7 catches for 112 yards. Yes, should have been more if he'd followed his blockers on the screen. But he's pretty much the only non-Patterson player to have, like, stats.
#3 Khaleke Hudson. Hudson made a major impact early when the game was still in doubt, with a sack and a rush that would have been a second if Mike Dwumfour didn't barely edge him out.
Honorable mention: The rest of the defense. Karan Higdon. Ben Mason.
KFaTAotW Standings.
7: Chase Winovich (#1 ND, #3 SMU, #1 NW)
4: Devin Bush(#3 ND, #1 Nebraska), Rashan Gary(#2 WMU, #2 Nebraska), Karan Higdon (#1 WMU, #3 Nebraska), Shea Patterson (#3 WMU, #1 Maryland).
3: Zach Gentry(T1 SMU, #2 Maryland)
2: Ambry Thomas (#2 ND), Donovan Peoples-Jones(T1 SMU), Josh Metellus(#2 SMU).
1: Will Hart (#3 NW), Mike Dwumfour (T2 NW), Kwity Paye (T2 NW), Josh Uche (T2 NW), Khaleke Hudson(#3 Maryland).
Who's Got It Better Than Us(?) Of The Week
The other slightly nervous portion of the game was the Maryland touchdown drive that made it 27-14; Michigan's response drive was an efficient march downfield to definitively salt the game away.
Honorable mention: DPJ gets a convoy for his TD. Hudson opens his sack account. Chase Winovich well chases people.
​MARCUS HALL EPIC DOUBLE BIRD OF THE WEEK.
Ty Johnson's kickoff return touchdown momentarily makes it seem like it could be one of Those Games.
Honorable mention: Four down failure and a decision to punt on fourth and three help that 7-3 lead exist as Michigan fails to capitalize on their early ~40-yard drives.
[After THE JUMP: three fullback-related bullet points. Seriously.]
OFFENSE
[Upchurch]
The bounce back. Shea Patterson wasn't exactly bad against Northwestern; he was a step down from his performance level from earlier in the year. He wasn't comfortable with his protection and wasn't super comfortable trying to find holes in Northwestern's zone. Both of those problems seemed to be addressed on Saturday. Patterson hung in the pocket for long periods of time and paid it off with downfield completions. He repeatedly found receivers, especially Zach Gentry, in pockets Maryland's zone wasn't covering.
The highest passing grades from Big Ten QBs this past weekend pic.twitter.com/7M8Sqs15jF

— PFF College (@PFF_College) October 8, 2018
The major issue statistically, the interception, was a fine decision and throw. After things broke down, Patterson found Gentry and put it in the #buttzone, but the defensive back was able to make a play. The ensuing deflection fell unkindly. That'll happen. As interceptions go that is the most innocuous variety possible.
Patterson made up for that with a series of accurate balls, a few of them after he'd dodged blitzers who got through clean. The touchdown (that counted) to DPJ was a very Forcier moment where he spun one way and then the other as two guys came through clean. The only really bad moments were the throw on the fake screen and a failure to pull the ball on a third and short where the opposition had no one to contain him.
10.5 yards per attempt speaks for itself, and that's without the 40-yard touchdown that Patterson threw off his back foot. Michigan's heading into a critical three game stretch with a huge upgrade at QB.
Tackles still surviving. Maryland has a very legit WDE in Jesse Aniebonam. He managed one TFL. Patterson was not sacked. There were the aforementioned incidents where blitzers got through clean, but those were relatively few—three? Sometimes you're going to get got by a blitz design, and it doesn't feel like that's particularly common.
If I'm picking the flavor of pressure Patterson is going to suffer I'd prefer it to be guys who aren't picked up at all instead of guys whipping up on Michigan's tackles. The former is fixable. The latter is much less so, except insofar as it seemed to happen after the Notre Dame game.
A clarification. Ben Mason should be running on fourth down. He should be running behind the Big Big Boys on the right. Michigan's decision on the failed fourth down attempt to offset Mason to the weakside and then run him behind Runyan was baffling. The OL blocked down and Maryland delivered three unblocked guys to Mason's facemask. Not even Ol' Murderface is able to do much with that. I kind of get running him to the left to keep people honest, but if you're going to do that what's with the offset?
When Michigan returned to the Big Big Boys later in the game they duly rumbled it in, with Onwenu and Ruiz picking up Maryland DTs and dumping them downfield on three consecutive plays.
Onwenu & JBB ride this DT out of dodge. Higdon blasts forward to the 1.
Hell of a drive. pic.twitter.com/xlOQSJrcxk

— Due#(@JDue51) October 7, 2018
A linebacker was able to shoot the gap on the last, but what's one linebacker going to do against Mason? Lose.
In other fullback news. How does one amp up the humiliation from this?
Have the fullback do it.
6'3", 254 lbs going up and over.

Ben Mason is a BEAST. pic.twitter.com/7O72M7P8gi

— SportsCenter (@SportsCenter) October 6, 2018
It's cool and all but maybe cool it? It's probably not a big deal but Michigan put a few things on tape that I kind of wish they hadn't. Those include a pass from Grant Perry, the fake flash screen that turned into a throw to DPJ, and the tight end screen to Gentry. (Gentry at least maintained some mystery about the play's goals by studiously avoiding his blockers.) Those could have come out last week and I would have been all about it; Maryland was never threatening in this game. So, like, why?
[Upchurch]
The solid. Jared Wangler's had an increasing role in the offense over the past few weeks, and this game provided an opportunity for Michigan to get him a touchdown. This had to be a goal for the program. Fifth year senior, moved to fullback, son of program legend: this man needs a touchdown. If he gets to make a diving catch in the endzone to convert it all the better.
Wangler also dodged a guy in the Northwestern game for a nice pickup and there were a few double-fullback snaps in this game featuring Wangler in front of Mason. Could be a developing thing.
Oblig Tru Wilson mention. He's up there leading off the post because I Be Like Dang. The holding call he got was borderline; if the LB doesn't stumble that doesn't get called.
DEFENSE
[Upchurch]
404 takes not found. Mo Hurst, the defense, again: Maryland was so overwhelmed that it doesn't feel like there's that much to say about Michigan's stars outside of the stuff in the Actual Column Section above. Winovich: Winovich. Bush: Bush. Corners: largely untested. Etc.
In related news:
Too good to have stats. Maryland's approach and a bunch of zero-yard runs prevented Michigan from racking up stats commensurate with the defensive performance. They had just five TFLs, two of those sacks.
[Upchurch]
Gil got sideline to sideline. Gil came in for some criticism in these parts last week so only fair to point out he managed a TFL where he outraced Bush to the sideline. That was a moment of excellent anticipation, as he started moving before the snap and appeared to have the Maryland play downloaded.
DL injury crisis. Michigan is getting down to scraps on the DL. After Dwumfour exited the game Michigan was down three of their four projected starters, and they don't seem to have enough confidence in Donovan Jeter to rotate him in yet. The wounded:
Rashan Gary has an AC joint injury that Harbaugh says is "not a long term thing" despite it seemingly being a very long term thing. He was held out as a precaution and will play this week.
Aubrey Solomon "had a good week last week," per Harbaugh, as he works towards a return from what's probably meniscus surgery.
There wasn't any news on Mike Dwumfour from Harbaugh. Bush said he "just rolled up his ankle" and Dwumfour tweeted out he's "good," which seems implausible after what looked like a non-contact injury that required the cart to come out.
Carlo Kemp apparently limped off the field at one point and did not return, which I missed. There was no update on him either. He didn't go down and his injury was so late that there was no point to inserting anyone with so much as a hangnail so he's probably fine.
Michigan's DT depth is Lawrence Marshall, Donovan Jeter, and walk-on Carl Myers in the absence of Dwumfour and Solomon—an uncomfortable situation with the Badgers rolling into town. Hopefully one can get back this week.
[Upchurch]
Hudson's blitz impact. We hadn't seen much of the backfield terror Hudson sowed for much of last year; this game was a return to form. Hudson picked up a sack and was a major contributor to the one credited to Dwumfour. On both he drew blocking and got through it. Anyone can run at a quarterback fast when nobody expects them to do so. Hudson has a knack for driving through running backs and darting around offensive tackles that makes him a threat even when his attack is anticipated.
Pew pew. Brandon Watson's pick-six catapulted him onto the PFF team of the week, albeit on limited data:
Brandon Watson, Michigan

Week 5 Grade: 91.1

Watson blanketed receivers in his coverage on Saturday, seeing two targeted passes and not allowing a single one to be caught while coming away with an interception himself. His passer rating when targeted: 0.0.
I'm not sure if PFF is grading guys when they're not targeted. This seems to imply the answer is no.
Congratulations to Viral Big Ten Holding Study folks. Maryland was called for holding twice in this game. Woo! It'll be interesting to see if that keeps up going forward. If Michigan suddenly reverts to league average in the immediate aftermath of everyone in my mentions ccing @BigTen, @JimDelany, and @Pontifex about the grievous outrages being perpetrated against fair Michigan, well, that'll be something.
SPECIAL TEAMS
The one large negative. Ty Johnson took a kick back to stake Maryland to what must have been one of the most improbable leads of the season, from a total yardage perspective. Johnson later gave Michigan a little win expectation back when he fumbled a kickoff into the endzone and brought it out. He got tackled at the two, more or less ending a Maryland possession before it began. He didn't have to do that: if the ball goes into the endzone on its own momentum it's a touchback even if you dorf it.
The kickoff is just one of those things until Michigan gives up another big return.
Give that man a Beaker. Michigan deployed two returners for much of the day, with Ronnie Bell to the right and a little shorter than Donovan Peoples-Jones. I'm guessing that Maryland's punter had the ability to roll out and drop a rugby kick where DPJ couldn't field it—he is Australian after all—and Michigan wanted to prevent that. Once it was clear the punt was a regular punt Bell would go block a gunner. This worked reasonably well. DPJ got 21  yards on his two returnable punts and nearly broke the second.
That's not a strategy you'd want to deploy on fourth and short but in spots that are unlikely to see a fake it's likely to continue. I want to see the fourth and 20 punt return scheme put like six guys back there. Let's get crazy.
Chippies do mean something. Quinn Nordin hit both his field goals (31 and 34 yards, FWIW). This isn't cause for a parade but it does reassure somewhat since Nordin had that period of woe last season and started this year off with a FG miss and an XP miss. He's now 8/9 on the year and has put his last few short ones right down the middle.
Another reason to go for it in plus territory. Hart had his first pooch opportunity of the year and ended up with a 45-yard touchback. It will be impossible to maintain Hart's ludicrous average if Michigan is punting from the opponent's side of the field.
MISCELLANEOUS
A gap in the rulebook. Michigan got a chunk play that was partially called back because of a DPJ block in the back. The result after the block was still a first down. The booth called down for targeting and applied the rule; the addition of a 15-yard penalty on the opposition ended up costing Michigan their first down.
This appears to be correct, as the rulebook doesn't seem to provide any ability for a coach to decline a penalty when they offset. The refs certainly didn't check with Harbaugh, and thus the paradoxical situation where Michigan gets a 15 yard penalty on the opposition and loses 13 yards.
Obviously, they should let you decline penalties that would otherwise offset. The only time this would come up is in a situation similar to Michigan's where the offense got part of their big play called back.
Single bands of rain forever. ABC did not entirely follow through with the rumored nearly commercial-free game, but there were many fewer breaks than is usual these days. The first quarter had just two commercial breaks in it; usually you can't get through the first eight minutes without three or four. I lost specific track as the game moved along but I can't tell you how many times I looked at the red hat in dread only for the guy to make a beautiful "let's gooooooo" motion.
It was nice! I liked it. I wouldn't want to boycott every single college football advertiser if their were two commercial breaks a quarter. The game felt like a game instead of a barely-connected series of events. Let's do this all the time. If the EPL can get $166 million annually from NBC for a league that ...
is across a damn ocean
has the timeslots you expect for teams across a damn ocean
averages 10-20% of college football's viewership
has zero, zero, ZERO ZERO ZERO in-game breaks
...then surely networks can figure something out to reduce the commercial burden of college football games.
HERE
[Upchurch]
Don't look now, but Michigan's early-season schedule doesn't look nearly as ragged and unimpressive as previously assumed. ND is undefeated and #5 in the country (and yes, Michigan didn't play the Book version of the Fighting Irish, but they also didn't play this Patterson version either), Western is 4-2, SMU is 2-4 but put up a solid fight against UCF and has played at TCU, UM, and UCF already, and NW just beat up MSU on the road for the third straight year. Oh, and Nebraska, well, Nebraska is maybe the best 0-5 team in the country and DID put up 518 yards of total offense on Wisconsin. Obviously the second half of the season is going to define this year, but this team has played better competition than a lot of people are giving them credit for, and we might look back and see the beginning of a really good team as they worked through the kinks against the "tomato cans".
The obvious question came with an obvious answer.

Do you guys feel like you're adequately prepared for Wisconsin next week?

"Absolutely," said Cesar Ruiz. After Michigan's 42-21 dismissal of Maryland, it was hard to expect another answer.

The obvious follow-up — why? — continued the pattern. Michigan has been preparing well, practicing well and, all things considered, playing well. Yet, after six weeks, we know little more about this team than we did in August.
The State of our Open Threads:
Well, what a difference a week makes.

Last week, as you'll recall, Northwestern gave us fits in the open threads - 263 fucks, 132 shits, 31 damns, 51 instances of "suck" thrown at the team. All in all, par for the course in stressful road wins, especially sloppy ones that require a comeback.

So, Maryland was a very quiet game for the board by comparison - actually, there were only 1,181 posts in total. It was a home game, which lowers participation, but it was also a game with a weather delay at the front of it, and the thread was up nearly two hours before game time as a result. By the time it actually started, a lot of people who might otherwise participate probably stuck to the game.

Indeed, only 108 fucks were given yesterday, many of them aimed at Maryland's rather underhanded play and attempts to take players out. Some were also given during the first couple offensive drives and during Maryland's special teams TD. The story is similar for the 55 shits, although some of those - roughly half, in fact - were centered around injuries as well as the same things the fucks were focused on.
ELSEWHERE
Michigan is back up to #5 in the S&P+ rankings. Man watches tape, comes away sounding like Jim Ross:
On the second play of Mason's senior year HUDL highlight tape, he comes across the formation, catches a pass in stride, turns up field and hurdles a defensive back, leaping into the end zone.  Thirty seconds later, he mauled a poor little linebacker into submission because he is, after all, still Ben Mason.

Then he ventures into unrecognizable territory once again. Mason, lined up in the slot (!!!), fakes like he's going to run to the flat, then bolts upfield, using his speed to run deep. He gains separation from the slot corner and hauls in a 40-yard reception.

The Ben Mason you're familiar with returns intermittently, obliterating opposing defenders. By my count, the 3-minute, 53-second clip includes eight pancake blocks. That feels low.

Throughout my viewing experience, there are irresponsible cackles of joy at the expense of Mason's opponents. His brutality borders insanity.
Michigan sophomore fullback Ben Mason says he's looking forward to next week's game against Wisconsin.

So are we.

This is the season-defining stretch for the Wolverines, a gauntlet of three difficult games. Wisconsin, Michigan State, Penn State.

"The beginning of the schedule was prep to get through these," said junior linebacker Devin Bush Jr., "and I feel like we're ready."
LEGACY CHAMPION – Somewhere in Football's Valhalla, GrandMama Wangs is smiling!  I'm sure after her grandson, Jared Wangler, scored his first touchdown as a Wolverine, legendary QB and father, John Wangler had a little tear in his eye.

Watching your son score a touchdown is a tremendously proud moment and I'm sure that was the case Saturday for the old maize and blue signal-caller.  While Wangs threw all kinds of TDs in his career he never reached the endzone running the ball.  He came close in 1979..:

..and this run against the Buckeyes was the longest in his career. So while John can boast of more TD's in his day, Jared can now claim that he did something his dad never did – score a TD in Michigan Stadium. Well done #5!
Remember these?  Yeah, those interior concourse columns covered with cool  photos of former Michigan players  this year?  Umm, they are gone – covered up with Block Ms and such.  I'm not sure why but naturally I'm curious for an explanation.
I think I have an explanation: those columns were ads associating the players with various brands. Chris Spielman sued OSU over a similar usage of his likeness and since expanded his complaint to every IMG school. Michigan is one. Those columns were walking into a lawsuit with a target on your forehead. It would seem like removing the ads would be a better solution, but I doubt Michigan is driving the bus on this one.
Matt Canada on Michigan's D. Baumgardner. Hoover Street Rag.
Gameday incoming. Michigan opens –6.5, now –7.5.