Outback Bowl Teleconference: Jim Harbaugh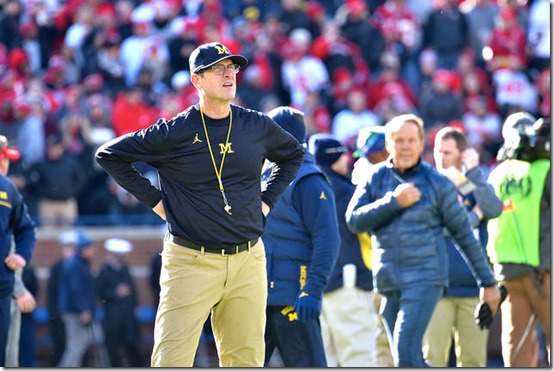 [Fuller]
"Yeah, on behalf of the 2017 Michigan Wolverines football team and the University of Michigan, we're excited as heck to be coming down to the Outback Bowl. We all have—most of us, anyway, on the team—friends and family in Florida. We are excited about the competition in South Carolina and… hard football team. Been watching them a little bit and they're tough. They're really well coached.
"We're excited about the New Year's Day game on January 1st. I think it's gonna be one of the most exciting January 1st lineup of bowl games that I've ever seen, so excited to be part of it and can't wait. Know it's going to be a lot of preparation our team will take up, get underway here this week.
"We know we've got to be better and that starts today and having a great matchup against South Carolina really helps motivate us to do that."
What's your reaction to the Big Ten getting shut out of the playoff this year and the decision to go with Alabama over Ohio State?
"My reaction is there should be more than four teams in the playoffs. Again, just to reiterate, eight teams, 12 teams, 16 teams—16 would ideal to be in the playoffs. It would make us more like every other spot, every other collegiate sport that has a playoff, every league in sports that has a playoff and a championship that does it through a playoff format.
"FCS, I mean, they have that format. It's been in place. I think it's up to 24 teams now and at that level I think it's the ideal way to do it, so that's my first reaction."
I know you always talk about bowl practices as a way to catapult the team into next season but how much are you guys looking at this bowl game as more of maybe a way to validate the season for yourselves? There were a lot of variables this year: some injuries, three quarterbacks. How much are you looking at this game as kind of more just a validation of this season rather so much than catapulting into next season?
"I'd say both, Adam. Really building and attacking at the same time. This season and next season all at the same time. It's both."
If I could follow up real quick, just a few weeks or actually about a month or so of bowl preparation. How much more are you looking to see out of you team going into this bowl game. Is there another level that you feel you can reach that you haven't reached in the regular season?
"Absolutely. We look at it right now, we're not good enough. Not good enough to win all our games and we need to be better. We need to be good enough, and that starts now. That starts now, today. That started—well, really started last week, you know, as we go forward building and attacking, using our meeting time, using our training time, using our practice time, [and] this next ball game all to motivate us and improve as a football team."
[After THE JUMP: Peters' status (wrt the concussion and otherwise), Speight's transfer, a Tarik Black update, and a discussion about better redshirt rules]