Outback Bowl Teleconference: Jim Harbaugh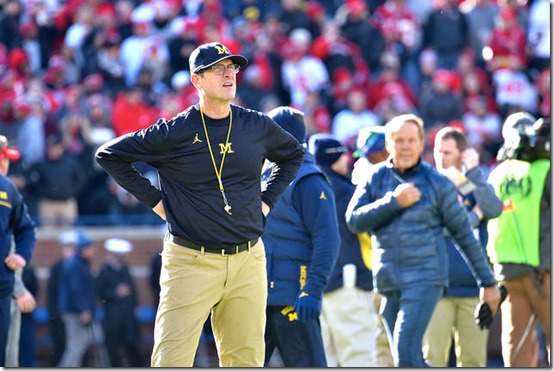 [Fuller]
"Yeah, on behalf of the 2017 Michigan Wolverines football team and the University of Michigan, we're excited as heck to be coming down to the Outback Bowl. We all have—most of us, anyway, on the team—friends and family in Florida. We are excited about the competition in South Carolina and… hard football team. Been watching them a little bit and they're tough. They're really well coached.
"We're excited about the New Year's Day game on January 1st. I think it's gonna be one of the most exciting January 1st lineup of bowl games that I've ever seen, so excited to be part of it and can't wait. Know it's going to be a lot of preparation our team will take up, get underway here this week.
"We know we've got to be better and that starts today and having a great matchup against South Carolina really helps motivate us to do that."
What's your reaction to the Big Ten getting shut out of the playoff this year and the decision to go with Alabama over Ohio State?
"My reaction is there should be more than four teams in the playoffs. Again, just to reiterate, eight teams, 12 teams, 16 teams—16 would ideal to be in the playoffs. It would make us more like every other spot, every other collegiate sport that has a playoff, every league in sports that has a playoff and a championship that does it through a playoff format.
"FCS, I mean, they have that format. It's been in place. I think it's up to 24 teams now and at that level I think it's the ideal way to do it, so that's my first reaction."
I know you always talk about bowl practices as a way to catapult the team into next season but how much are you guys looking at this bowl game as more of maybe a way to validate the season for yourselves? There were a lot of variables this year: some injuries, three quarterbacks. How much are you looking at this game as kind of more just a validation of this season rather so much than catapulting into next season?
"I'd say both, Adam. Really building and attacking at the same time. This season and next season all at the same time. It's both."
If I could follow up real quick, just a few weeks or actually about a month or so of bowl preparation. How much more are you looking to see out of you team going into this bowl game. Is there another level that you feel you can reach that you haven't reached in the regular season?
"Absolutely. We look at it right now, we're not good enough. Not good enough to win all our games and we need to be better. We need to be good enough, and that starts now. That starts now, today. That started—well, really started last week, you know, as we go forward building and attacking, using our meeting time, using our training time, using our practice time, [and] this next ball game all to motivate us and improve as a football team."
[After THE JUMP: Peters' status (wrt the concussion and otherwise), Speight's transfer, a Tarik Black update, and a discussion about better redshirt rules]
Could you tell us when the team will resume practice and also you mentioned already watching some film of the Gamecocks. Your impressions, maybe, if you've been able to study enough of their offense and Jake Bentley, their quarterback?
"We practiced last week. We practiced Tuesday, Thursday, and Saturday. The starters did not. They did weight training and they did [inaudible] and young guys and guys that don't play as starters have already begun practicing and then the whole team will resume tomorrow practicing as a full team tomorrow.
"South Carolina, as I said, just the little I've seen so far, and we thought this could be a possibility, already have been—what I've watched most is their defense and… tough, fast are the things that are jumping out. Good schemes. Well coached. Coach Muschamp does a great job and looking forward to meeting him. This is gonna be good. I've followed his career and been a fan so looking forward to meeting him in person."
With the departure of Wilton Speight pursuing a graduate transfer, will Brandon Peters be your starter for the ball game or will the quarterback competition be re-opened for the bowl game?
"We'll start practice with Brandon as the no. 1 quarterback."
I was just curious what memories you have of the '85 game against South Carolina.
"Unbelievable atmosphere at the stadium first and foremost jumped out. It was an electric environment. The Fire Ants: they had a great defense at that point, at that time as well, and they do now. The 2010: Space Odyssey being played before the game—everything was just amazing and yeah, fortunately we played well as a team. That was a good game for our team both offensively and defensively. Great competition, I think that's the thing I remember the most is the great competition.
"Driving by the capitol in Columbia, that was really impressive. Just being in the city there and it was really impressive, the campus and the football environment there, the importance of football at the University of South Carolina. Everything, all those things really stood out to me."
Is Brandon cleared to practice from the concussion protocol? You said you'd go into practice with him as the starter but is he cleared?
"Yeah. He practiced last week, too, Nick."
You mentioned earlier not being good enough right now to win all the games. Is that the message for the team last week as they went into the offseason, that the whole process had to start now to maybe turn a corner?
"Yes, yes. Yeah. Building and attacking at the same time and came out with three good practices last week, had really good meetings, and guys needed some time away from practice to heal some bumps and bruises and also get in the weight room and get some of those good sessions. I think we had good improvement last week as a team and then we'll go into this week with the same objectives: to grow and improve."
Most of my Brandon Peters questions were asked but I was wondering about Wilton Speight. Were you shocked by his decision?
"I support him. Like all the guys on our team, support what they think is best for them and naturally that's the approach, that's the angle of approach that I come with. Always had a good relationship with Wilton and I was…yeah, I guess most pleased or proud or happy, I guess, whatever word, don't know quite what word it was, but I was just happy he came in and talked to me, and he got an honest discussion. Always strive for that with all of our players and just know what's on his mind and nothing secretive. Nothing's coming from the dark shadows or, you know, doesn't have to be that way. It can be just good, upfront, honest dialogue and I appreciate those kind of relationships the most."
I was also wondering last year this time high-profile players did not participate in bowls. Do you anticipate all your guys who are leaving to play in the Outback?
"Don't know. You know, that's—haven't had those conversations yet but we will, I'm sure. And again, I'll ask if there is a player on our team that has that perspective, it doesn't have to be secretive. Doesn't have to come from the dark shadows. We'll talk about it. We'll be able to figure it out. I'll be supportive in the conversation and the discussions about it, so that's—none of those have taken place yet, though, Angelique."
Just going back, earlier in the season when Tarik [Black] got injured you had mentioned that he might be a go for bowl practices. Wondering if that's still an option [and] what Tarik Black's status is?
"Um, you know, there is… I don't know. I mean, I think there's a poss—he could probably play. Good possibility he could play in the bowl game but he's already played in four games this year and right now the rule is that if they've only played in four then he could get this year back as a medical redshirt so as I sit here now I'd say Tarik wouldn't play, that we'll get the year back.
"Which, you know, leads to another really good dialogue and I think it's being discussed at the NCAA level that I think the proposal is if they only play in four games maximum, no matter when they occur, whether it's the first four games or the last four or say they only played in one game, like a bowl game, that their redshirt year would not be affected. And I think that's a real good discussion and dialogue to be having right now, that freshmen players who have redshirted up to this point could still play in a bowl game and still be a redshirted player, that they still would have their five-year clock, four to play five, and right now if you play anybody in a bowl game they would lose their redshirt year. You'd burn their redshirt, as people commonly like to say.
"In the discussion, I think the bowl game should be treated as a new year. It should be treated as next year and if they count that as the fourth game that they played in or the third or the second or the first then it still does not burn their redshirt year. I think that would be a good thing for the players.
"It'd be a good thing for all concerned, and even Angelique brought up earlier, say some senior players decide it's not in their best interest to play in a bowl game. What a wonderful thing it would be to play some of the freshmen in that bowl game and not lose their redshirt year. I believe it's being discussed by the rules committee and this is a timely time to talk about it because there's real-life examples where these bowl games could be treated as next year and not part of the regular season.
"Hope that makes sense. Hope I didn't talk about it too much or… I know you got more than what you asked for, but Tarik, if he does play in this game, then that would burn a redshirt year, so right now I'm leaning toward not doing that. Thanks, Adam."
If I could follow up, definitely got a good explanation. Thank you. How much, though—is this a decision that's concrete with you? 'Okay, Tarik, if you play it's going to burn your redshirt. Not going to happen.' Or is this a decision that—you would be essentially sacrificing a whole year for one game, so is this essentially something that is set in stone, he is not going to play regardless?
"As I said, that's the way I'm leaning. Did not say that was set in stone. Said that's the way I'm leaning right now."
Okay. So likely he will not play.
"That's the way I'm leaning. Come on, Adam." [Ed. A- NTA]
I just wanted to make sure, Jim. I appreciate it.
"I said it three times. Clearly. Do we have another question?"
I know you mentioned you watched a little bit and kept track of Will Muchamp's career a little bit. What makes a Will Muschamp team hard to coach against and what stands out about a team he's involved in?
"They always play so gosh darn hard. Every time I flick on the TV or see one of his teams playing that jumps out at me. I usually root for the teams that are playing hardest and I find myself rooting for the teams he coaches quite a bit because of that."
Is Tarik going to be able to practice? Is he healthy enough for that?
"Uh, I think he will be. He didn't last week but I think as we go possibly that he would be. Did you and Adam (NTA) get together and say, 'Okay, ask…' Are we good with that line of questioning?"
[laughs] Yeah, we're good.
"Alright."