Brash, Outrageous, And Free
9/17/2016 – Michigan 45, Colorado 28 – 3-0
linebacker on fire [Patrick Barron]
Let's say you're on the sideline of a football game. You've got a job to do, and you're doing it. This job involves looking at things other than the field, so you rely on your colleagues to let you know when the action threatens to spill over into your area of the sideline.
This is a fine system. You've honed it over the years. People move at a certain speed, you see, and when you hear "heads up" you get your head up, evaluate the situation, and avoid the brunt of the contact. Tried, and true, this system. Damn near infallible, in fact. At no point have you looked winged death straight in the facemask.
Then, this Saturday. Just after your team has taken a very unexpected second-half lead, the system kicks in. "Heads up." Head goes up. This is a process, though, and as you are in the midst of this process your brain starts signaling to you that something is wrong. The tone of voice, maybe? An ominous breeze? What's that thing with the sirens going by? Doppler effect? Whatever it is, the hairs on the back of your neck stand up straight. The process is complete now. Your head is up.
The system has failed.
The system was designed with certain tolerances and Jabrill Peppers has just blown through all of them. You are now staring winged death straight in the facemask. What a terrible time for it to be, now. Before is good. Later is good, assuming that there will in fact be a later. Now… now is bad. You spin the fight or flight wheel and land on "soil yourself."
And who can blame you, really?
Sphincters are also designed with certain tolerances. In your own way you've just blown through as many of them as Jabrill Peppers has in the realm of physics. So you've got that going for you.
-----------------------------------------
There is a certain kind of person—usually a rival fan with a brain that could be cooled down to meat-locker temperatures without any discernible ill effect—who spent most of the offseason bleating about excessive hype for Jabrill Peppers. Peppers didn't have a bunch of shiny counting stats, you see, and therefore he was worse than other people who did.
This argument, already dead in the water to any slightly objective person with eyes, is now beyond repair. Peppers has a decent season's worth of linebacker stats three games in: 9.5 TFLs, 2.5 sacks, three QB hurries, and a forced fumble. He leads Michigan with 28 tackles, 19 of them solo. He's got 173 punt return yards—an average of 22 yards a pop!—and has just started contributing on offense.
Linear extrapolation of these numbers gets to territory so uncharted that Captain Janeway and her crew of morons show up to survey it. We probably shouldn't do that. Spicy stats will get rarer as the competition level increases… insofar as it does. Rutgers is still on the schedule, after all. Maryland—which just went to double OT with Central Florida—is also on the docket. Penn State and Wisconsin have offensive lines that are, uh, in flux. Peppers might not might meet significantly more resistance except in a few games.
So screw it! Linear extrapolation: 112 tackles, 38 for loss, 10 sacks, a thousand return yards and however many touchdowns, and whatever he chips in on offense. Ahahahahahaha.
PICTURED: THE BIG TEN CONFERENCE
Haha. Ha.
---------------------------
This was a concerning game for several reasons, not least of them the fact that a middling-at-best Pac-12 school was driving to go up 28-7 in front of a shocked Michigan Stadium. Post Traumatic Hoke Disorder was in full effect amongst the 110,000 gathered. Personally, I was not having a real good time. I went into emotional shutoff mode, as is my wont, and contemplated how I was going to break it to MGoBlog readers that I was moving to Bolivia, as is also my wont.
Peppers didn't rescue that himself. I had a fist pump after Rashan Gary came around the corner and a ragged exhalation when Amara Darboh dismissed a couple tacklers to turn a tunnel screen into a touchdown. Michigan's rebound from a game they certainly lose in the previous regime was a collective effort. That collective effort was mostly accepted on mute.
The one guy who pierced right through that attempted stoicism was Peppers. Because BANG he's thumping some dude in the backfield and BANG he's just slashed upfield through the first wave of punt defenders and BANG he has sacked the quarterback before he's even finished his drop.  Even when you're trying not to feel anything in case the feelings are horrible, it's impossible to see Peppers and not think OH HELL YES SOMETHING 'BOUT TO BE ON FIRE I CAN'T FEEL MY FAAAACE LET'S GO PUNCH A LEOPARD WOO.
Offense or defense, doesn't matter. He's the best lion. He sinks his meaty claws into anyone with the temerity to test his edge. He's the best gazelle. He slashes through a line of claws without ill effect. He is sui generis, the scourge of sphincters, and someone put him in a winged helmet to rouse the inert from their stupors and send them to their local superstores in search of an axe appropriate for crazed berserking. Check.
HIGHLIGHTS
WH:
Parkinggod:
AWARDS
[Bryan Fuller]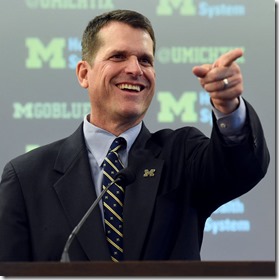 Known Friends And Trusted Agents Of The Week
you're the man now, dog
#1 Jabrill Peppers is an easy selection after 3.5 TFLs, a sack, two rushes for 24 yards, a kickoff return to the Colorado 45, and four punt returns averaging 25 yards a pop including the game-sealing touchdown. Peppers has been everything he's been hyped up to be so far this year. The busted coverage is a demerit, and this is still an easy pick.
#2 Jake Butt was the one consistently positive target in Michigan's passing game, with seven catches for 87 yards; I also caught a couple of positive run-blocking events on Michigan's big plays.
#3 Ben Gedeon had 12 tackles, a critical sack early in the game, and was a major component of Michigan's interior run defense. Pop pass issues may have been on him and McCray but asking LBs to respond to RPOs like that is asking for trouble; I'm assuming those are on the safeties.
Honorable mention: Khalid Hill would have made it if I wasn't pretty sure he got Speight killed on the sack/strip. Rashan Gary, Chris Wormley, and Ryan Glasgow were key components of a stout interior run defense.
KFaTAotW Standings.
5: Jabrill Peppers((T2, Hawaii; #3 UCF, #1 Colorado).
3: Mike McCray(#1, Hawaii), Wilton Speight (#1 UCF).
2: Ryan Glasgow(#2 UCF), Jake Butt(#2 Colorado).
1: Delano Hill (T2, Hawaii), Ben Gedeon(#3, Colorado).
0.5: Chris Evans (T3, Hawaii), Mason Cole(T3, Hawaii).
Who's Got It Better Than Us Of The Week
This week's best thing ever.
Peppers finally gets his return touchdown and seals the game.
Honorable mention: Matching 45 yard touchdowns down the edge by De'Veon Smith and Amara Darboh; various other Peppers things.
WGIBTUs Past.
Hawaii: Laughter-inducing Peppers punt return.
UCF: Speight opens his Rex Grossman account.
Colorado: Peppers cashes it in.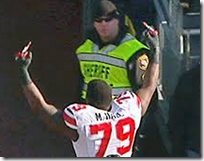 MARCUS HALL EPIC DOUBLE BIRD OF THE WEEK.
This week's worst thing ever.
A blown protection gets Wilton Speight blindsided for a 14-0 Colorado lead and a first quarter of deep panic.
Honorable mention: A blown coverage results in a long post touchdown to open things up for CU; Colorado strikes back at the beginning of the first half with a 70-yard bomb.
PREVIOUS EPIC DOUBLE BIRDs
Hawaii: Not Mone again.
UCF: Uh, Dymonte, you may want to either tackle or at least lightly brush that guy.
Colorado: Speight blindsided.
[After THE JUMP: SPEIGHTDOWN, also bad thing discussion]
OFFENSE
[Barron]
Speight regression. That did not seem to be the same quarterback who played against UCF. The incomplete deep shots to covered guys are one thing: one was a few inches from a Chesson touchdown and long throws are high variance activities. What was disquieting was Speight's sudden bouts of inaccuracy and plain bad idea throws. Some of these probably weren't on Speight, as CU's secondary performed at a very high level. Others were. This from PFF is ugly:
He completed just two of five passes in the intermediate range of 10-19 yards, and was inaccurate on all six downfield shots 20 yards and beyond.
I'm having some difficulty interpreting PFF's quarterback grades. Speight wasn't good by any means, but they gave him the same grade as Colorado backup Steven Montez, who went 0/7 and looked totally incapable of completing a pass downfield. That grade, 54.4, is apparently nowhere near above average.
Speight did move around a lot on a day where he faced a ton of pressure—19 of 35 dropbacks—and found guys downfield. The Perry catch-and-run that was Speight's longest completion of the day happened only because Speight was able to move up in the pocket after getting pressured and find a guy. That's been a strength.
Not a strength: running the ball. Michigan called a naked boot in the second half that most guys would have turned into a first down. Speight got two and allowed himself to get blown up by a tackler as if he was taking a hit in linebacker warmup drills. Dilithium level: 1. He's Navarre in this category.
90% this was on Hill [Bryan Fuller]
The fumble-return touchdown. Michigan blew a protection as CU sent a cornerback:
You can see the line slide left so the protection issue has to be one of the backs, and the most likely culprit is Hill, who's lined up to the side away from the shift. He's almost certainly got an assignment where he checks for blitzers opposite the shift and then gets into a route; he doesn't check the CB. Since that CB is Awuzie, Colorado's version of Peppers, that's pretty frustrating. Any time he's in the slot should have been a corner blitz alert.
shut yo mouth [Barron]
On the other hand about Hill. I think this block on the edge might be the exceedingly rare +3, as dude just runs through a linebacker as if he is a small child*:
Hill doesn't even slow down there and then a DB cuts him, which is odd but also an edge 2-for-1. In my experience that does not happen. The most impressive thing there may be Hill's awareness: if he'd sealed that LB inside I'd be like "great block" on a 15 yard run. To go through that guy to the safety is duty above and beyond, and that more than anything else is the impetus for a critical touchdown. Smith doesn't have to do anything until the five yard line.
Hill was also the primary edge blocker for the Chesson touchdown, but that was more about the Colorado defensive back having a freakout than anything else:
Not only does that dude do nothing to prevent a touchdown, he trips a teammate. Less than ideal. Hill gets a sticker for being in excellent position, I guess?
*[MGoBlog does not condone running through small children as if they are Colorado linebackers Khalid Hill is assigned to block. Please do not attempt at home.]
Side note on the Smith TD. I'd wondered about Newsome's weird super-deep pulls after UCF; now seems clear that they're intentional and that he's supposed to get the force guy. Previous issues with these plays that seemed to be on Newsome were actually on other players who started blocking gents they were supposed to let go to get kicked out.
[Barron/Fuller]
Let's hope those are some damn good CBs. Michigan's WRs had a very rough time trying to get loose from Colorado's secondary. Both of the above shots are actually of Ahkello Witherspoon, the Buffalo cornerback who isn't a potential first round pick per the NFL draft scouting media. Darboh ends up playing defense and breaking up an interception; Chesson just barely misses a spectacular touchdown by coming down inches out of bounds. In both cases Witherspoon played things as well as you can. PFF:
Colorado cornerbacks Akhello Witherspoon and Chidobe Awuzie shine

Awuzie has been on our radar for a long time, but how about the play of Witherspoon? He gave up just one reception on seven targets and broke up a pass. While Awuzie was charged with the Grant Perry catch and run for TD (he vacated his assignment to pursue a scrambling Speight), he otherwise was outstanding, giving up just one catch on three targets for three years, also posting a break-up. The interior duo of Kafovalu and Tupou was excellent in both phases, as they combined for six total stops, two sacks and four other pressures.
Michigan largely avoided Awuzie, thus all the shots of Witherspoon… and the lack of Chesson targets, as Colorado matched Awuzie on him most of the game. Witherspoon must be pretty good just given his performance, but I think we can set aside the "Darboh fast now?" speculation after UCF. 
[Barron]
Goofy quarterback switches. Michigan used its backup quarterbacks on three snaps in this game, none of them because Speight was banged up. The first, pictured above, featured Shane Morris pitching to Jabrill Peppers and then hustling his ass off to provide a lead block. This went about as well as quarterback blocks usually do. It's still better than nothing, and a delightfully weird way to get your running game back to 11-on-11.
John O'Korn made an appearance on a package you could interpret as a five-TE set. This goofy business ended up with two tight ends lined up as wide receivers in a conventional twin TE ace set. A handoff to Khalid Hill on second and ten gained two yards. This was in the midst of Michigan's extreme offensive struggles and I may have exclaimed to those around me something along the lines of "well geez, chaps, I struggle to understand what the point of that was."
O'Korn also came in to run a QB sweep on Michigan's final drive.
[Fuller]
Line issues. Speight got way too much pressure, and again Ben Braden was watching blitzers from depth blow by him. There was an early instance of this where Colorado had a three man line and the only LB in a reasonable location to blitz was tipping it somewhat, and Braden still blew the protection. An injury shouldn't affect your ability to read and get to a linebacker; he's been really disappointing so far.
Meanwhile, massive NT Josh Tupou was a bad matchup for Cole. Tupou was immobile, and nobody seemed inclined to help Cole, so he just clogged the interior the whole game.
I did not notice this live but PFF caught a real bad game for Newsome:
The unit combined to give up two sacks, a hit and 11 hurries, with C Mason Cole (a sack and two hurries), LT Grant Newsome (a hit and four hurries) and LG Ben Braden (three hurries) having the biggest struggles in pass pro.
The week-to-week shift in PFF's evaluation here is remarkable. UCF isn't great but they've got a couple non-scrubs on the DL.
DEFENSE
[Barron]
Safety concerns. Welp: interesting times are upon us. Michigan suffered two huge plays because of safety issues.
On the first, Jabrill Peppers was flat-footed in the face of a play action fake long enough for Colorado to hit a post over the top. That seemed like a busted assignment instead of biting on a play action fake. Previously when Hill has shot down to the LOS on the snap we've seen Peppers bail to the deep third for a few steps as he decides on run or pass. He remained flat on that play and those three steps were enough for Colorado to hit on the post.
The second was Delano Hill in a mismatch on a slot receiver who turned him around. A wounded Sefo Liufau managed to get off a pinpoint ball despite being unable to step into the throw because of the presence of Ryan Glasgow. That was 70 yards, and the only real forward motion from Colorado after the first quarter.
In addition to the big plays there were a number of lesser issues. Dymonte Thomas got juked, as above; he was also beat on a corner route in the endzone. Worse than those events was the flea-flicker in the third quarter where he was in good position and then turned around; he got completely lost and it was only a flat drop from the CU WR that prevented another long TD.
Colorado hit several wide-open slants off of RPO plays on which downfield shots are difficult or impossible because linemen get downfield. That latter continues a theme. I mentioned a play in that vein in the UCF UFR:
There was one lingering concern I had.

WHAT IS IT

I didn't like Michigan's reaction to the various covered TE sets they showed. Something about their approach just seemed off. The clearest example I have is a pop slant that McCray deflected; despite the successful outcome of the play that dude is wide open:
He's wide open because Michigan's spending Clark and Thomas covering nobody in particular. There are no WRs to that side of the field. Once the play starts both backs commit to the other side. It feels like a team prepared for this pop slant is going to send Thomas at it as soon as they read run action.
Michigan again failed to react to these pop slants in the way that Michigan opponents did during the Rodriguez era—RR more or less invented them, and they worked great until teams started sending their safeties to explode receivers' midsections on predictable plays. I have to think Don Brown knows this and knows how to defend this variety of RPO and just hasn't got his safeties recognizing it yet. FWIW, Michigan did start backing off their LBs and shooting them into the passing lanes in the second half.
Hill did chip in an excellent TFL and both he and Thomas were a part of the general throttling after the first quarter. Not all of it was the worst. Even so many eyes were opened to the sneaky-excellent play of Jarrod Wilson over the last few years. There's a reason he made an NFL roster.
[Fuller]
Gary emerges. There was a notable uptick in Michigan's performance when Rashan Gary entered for extended playing time in the second quarter. Michigan ran out the ultimate beefmode line with Gary, Hurst, Glasgow, and Wormley; Gary was nominally the weakside end. As that end, he had a near-sack on an edge rush that ended a Colorado drive and strung out an edge run that would normally outdistance any 290-pound player by yards.
If he's able to do that he brings everything Winovich does and 40 extra pounds. Taco Charlton's imminent return should make this a moot point, but I wouldn't be surprised to see Gary get a start at WDE against PSU if Charlton's still out. Gary's developing at the rapid rate you'd expect a true freshman with his crazy skillset to develop.
[Barron]
Another game, another incomplete on outside corner play. CU took some deep shots at the corners that were off, with Clark again coming in for his weekly PBU. Stribling gave up a slant or two and got a PBU of his own on another. With the RPO stuff working so well there was little reason for the Buffs to chance it down the sideline, and after Liufau went out little ability to.
Both guys are playing well and we have a significant amount of data from last year; still waiting to see if either guy has taken a step forward in their senior years.
[Barron]
Slot corner issues. Brandon Watson is not going to make the tackle above, and he's almost certainly a part of the wide open spaces Colorado found in the middle of the field. Those worked better as a tribute to the American bison than a defense, and you have to imagine that when Jourdan Lewis returns that he'll grab all available slot corner snaps. Current instances of Watson coming on the field will turn into snaps for Clark or Stribling as Lewis slides inside.
Michigan has another dime package with Tyree Kinnel; also have to figure that he'll lose most of those snaps since Michigan has three safeties on the field at all times already. Lewis figures to be a huge upgrade on both those guys when it comes to tight coverage on quick little buggers.
Ben Gedeon, man in many places. 12 tackles is an impressive number against a team that tried to avoid going up the middle. Gedeon also flashed into the backfield for a critical sack during the early, grim portion of the game. As mentioned in the safety section, I don't think you can hold him responsible for getting read on various RPOs that seek to make him wrong no matter what he does; the responses have to come from elsewhere in the defense.
During the brief window after halftime when Liufau was hale and Michigan was holding the LBs he did get under a couple of those and cause confusion.
Peppers as a blitzer. This stuff does not compute for offensive linemen and quarterbacks. Peppers's sack was a sack against anyone in the country:
The zero to sixty there is insane and the QB has no chance to bug out. While he is going to overrun guys sometimes the sheer speed with which he can get to the QB is unmatched among front seven-ish players.
After some puzzling deployments against UCF, Michigan used Peppers to the field-side edge more in this game, to their considerable profit. I confess that I don't get why you'd ever have Peppers line up to the boundary, but Brown must have his reasons. They do seem to be moving towards what they did last year with him except now he also blazes in on blitzes a lot. 
SPECIAL TEAMS
[Fuller]
The big ol' block. Colorado's punt formation was even more spread than spread punting formations usually are, as the endzone view of the punt block demonstrates:
4 vs 3
Usually there are a couple guys lined up near the center who can chip a couple guys coming through. Not so for the Buffs, and thus four guys run scot free at three blockers. The rightmost one compounds the issues by changing his mind about who to block and getting nobody; I don't think that matters much. Both Hill and Jocz were there in time to return that punt to sender.
A second punt went off the back of a blocker and can't be credited to Michigan except insofar as they'd spooked the guy. Which, yeah, they had. In addition to that decidedly silly event, a jittery CU punt team took two delay of game penalties and resorted to line-drive rugby kicks that generally hit Peppers's chest with no one in the area code.
The hidden Peppers advantage (to go with all the obvious ones). Before we get to the other stuff, don't forget that Pepper's ability to field just about anything is an underrated advantage. For some reason Peppers wasn't able to return a second-half punt, so Michigan sent Amara Darboh out there. Darboh failed to field a punt a few yards in front of him and it rolled for an extra ten or fifteen yards. Peppers had a similar situation on the next punt but caught the rest of them and returned four. The yardage advantage he provides isn't just in the return yards, it's in the lack of punt rolls.
The touchdown might have been the least impressive return of the day. Peppers is fast and makes a couple guys miss towards the end; the bulk of the work is done by the four guys who give Peppers a lane directly up the gut:
Stribling and Keith Washington take the outside gunners and recover from iffy starts to kick both out. Watson finds a third guy and gets enough on him; Devin Bush doesn't do much to get in the way but that's enough. Peppers is 25 yards into his return before someone has a shot at a tackle.
While they didn't go the distance, Peppers's other returns are more difficult  to get chunks on. He caught one on the fly and blew through the first wave as a result; the other two were returns on which Peppers started running to the sideline and then blew through a crease based on his superior change of direction. That latter is becoming something of a trademark.
Kenny Allen was decidedly off. Two missed field goals, not many touchbacks on kickoffs, and punting that was decidedly shaky. Michigan lined up with two gunners to one side of the field a few times, and Allen's punt went the other way most of the time.
You have to think the field goals are a blip—Harbaugh blamed the snap for the short miss in the post game, FWIW—but I am concerned about Michigan's punting.
What was with our punt formation? I don't know if Michigan's newfound punt-blocking prowess has scared them off spread punt formations or what, but the bad old NFL-style formation returned, and Michigan immediately got an excellent return on their face. Jay MacIntyre was one Tyree Kinnel tackle away from a touchdown, and unlike last year's long returns this one did not require a broken tackle or a bunch of referee dorfs.
Punt return trends across college football are indisputable: pro-style punting sucks. If there is a fatal flaw in spread punting that causes a ton of blocks, Michigan just discovered it. Last year 60 teams had zero blocked and another 47 had one. There's been no uptick in blocks since spread punting came into vogue.
MISCELLANEOUS
Matt Millen. Guy has his ups and downs but as I did my rewatch this was definitely an "up" game. No "follow the fullback," just instant and correct analysis of things that went wrong. Everyone put the post touchdown on Thomas; Millen immediately put it on Peppers, which Peppers copped to post-game. Same with the sack/strip: Millen pointed out what had gone wrong and why. Not everybody does that.
This has been "Brian periodically defends Matt Millen and everyone ignores him."
Hopefully that man has been taken out back and shot given a stern reprimand. No "In the Big House." Thank you based Special K.
As a side note, this was definitely more of a Harbaugh's IPod game. Volume's still at ear-piercing levels, unfortunately.
Redshirts. Burn them all, I guess. All you have to do is look at this year's fifth-year seniors to understand how bad of an idea that is, but I guess you have to take the bad with the good.
THAT'S RIGHT MORRISSEY REFRENCE AFTER A 17 POINT WIN. You said I couldn't do it. You owe me a dollar.
HERE
Worst:  Unnecessarily Interesting Secondary

We all knew coming into the year that the secondary had a lot of experience and talent.  But we also knew that the era of boring safeties (both Kouvacs and Wilson) was probably over as well.  Dymonte Thomas and Delano Hill are great athletes who can make plays on the ball in space, and in Don Brown's defense they can wreak havoc in both the running and passing games at a moment's notice.  But at the same time, they can absolutely run themselves out of good position or the right coverage, resulting in big plays.  In the wash you assume math favors the aggressors and those crunching hits, timely turnovers, and drive-killing deflections are worth the occasional bust.  And thus far, that's largely been true, as UM has as many fumble recoveries (2) as they did all last year, and Hill has a pick-six to his name.
ELSEWHERE
Over the weekend, I saw a question posed that just about sums up college football, especially in September. Paraphrasing, it asked: "Is there a sport in which perception changes from week to week more than in college football?"

The answer to that, I'd say, is that there is not. College football Team X is indomitable one week and worryingly flawed the next. Levels of competition swing widely, and when injuries occur, the dropoff from starter to backup is far greater than in the professional league (where even the third-string guy is supposedly competent, by virtue of even being in the league at all).
Michigan's game -- rather, quarter and change -- against Colorado on Saturday is evidence of the blind swings of perception, more like a mace wielded wildly than a pendulum, for a pendulum indicates order by design.
"Jabrill Peppers proved that he was the best player today in this game. We don't win that game without Jabrill Peppers," Harbaugh said. "...I feel great with the ball in his hands. He is a dynamic player. He made the difference. I think Jabrill was by far the best guy out there in all phases."

In only his third week in a new role closer to the line of scrimmage, Peppers seems to be hitting his rhythm on defense. Peppers won the Big Ten's freshman of the year award last season while playing primarily at safety. Defensive coordinator Don Brown, in his first year with Michigan, sold Peppers on the move this spring when he showed him film of former players playing in the same dynamic role on his defenses at Boston College.
Sap's Decals get detailed on… decals:
UNIFORM CHAMPION – I can't tell you how happy I was to see two things about this year's helmet stickers/decals. According to Greg Dooley, the decals are indeed smaller this year. That's good to hear as they seemed to be a tad larger last year. Was also happy to see that the placement of the decals has changed this season. No longer are they applied in a tip-to-tip fashion as they were last year. They are now "nested" amongst/next to each other, much like they were back in the day. This means that, according to my Dr. Sap computer models, more stickers can be placed on the Maize and Blue headgear in 2016. If my calculations are correct, the stickers should max out around 75 or 76 WITHOUT being placed in between the stripes. That's about 20% more than last year – for those of you who are counting and wondering at home. :)
On the field right after the game Jake Butt talked about how Colorado punched them in the face, but "we punched back harder."   Imagine that.  Punching back.  Sadly I feel like that's a move we haven't had around here for a long time. 
HSR:
I'd love to be able to tell you that I saw this coming, but no, I did not.  I did not think today would be a romp; Colorado has some guys on scholarship, after all, but the quick strike touchdown, followed by the sack-fumble-touchdown, and the only comforting thought in the Big House was that it was still really early, and Michigan has not exactly struggled on offense this season.
MBN:
No panic
Down 14 early in the game with Colorado seemingly moving the ball at-will, I'd like to think this was just the product of playing two cream puffs to start the season, but so did Colorado. Michigan was flat early on. Poor tackling, poor coverage and a lackluster offensive attack plagued Michigan's 1st quarter and much of the first half.
Like Jake Butt said after the game, Michigan was punched in the face...but this time they punched back. That's a beautiful thing considering this is one of the first times in recent years I can remember Michigan punching back so decisively. That's a huge boost for this team, and an indicator that things are on the the right track. Colorado's entire offense hinged on the ability and arm of Sefo Liufau. No doubt he was the spark Colorado needed in this game, and his absence in the 2nd half was noticeable.
TTB:
but Peppers had 2 carries for 24 yards in this one. He also had 204 all-purpose yards, including a 54-yard punt return touchdown. Michigan shouldn't wear out Peppers, but if he can be a difference-maker, he should be getting 5-10 touches on offense against the best opponents. I think it's good to get him some early touches, and then if Michigan pulls away, they can stick with their regular offensive personnel.
Also more TTB. Further Peppers wows can be had at MGoFish. Also apparently now you can watch teams warm up on BTN plus or something? Baumgardner.
Tom Brady's pregame speech was about a man with a hook for a hand!
"It was basically a chilling speech," Michigan defensive tackle Ryan Glasgow said. "It made the hair on the back of your neck stand up."
Spoooooky.