I Ate My Own Heart Out Of Contempt For Your Feebleness
[Eric Upchurch]
9/22/2018 – Michigan 56, Nebraska 10 – 3-1, 1-0 Big Ten
In the aftermath of an implausible beatdown there is always a race to identify the most emblematic stat of the day. I have participated. I have scoured the box score. I have consulted with the learned elders. This one takes the cake. Prepare thyself. Ensconce. All right: Adrian Martinez had 22 passing yards with a long of 32.
You rn:
Those 32 yards came when a hunted Martinez hurled a 500 ball skyward that one of his receivers was accidentally in position to come back to. Michigan was one arm punt away from a statistic that would implode the fundamental nature of football. Alas.
At least they won? And Martinez finished with negative total yards?
--------------------------
The strangest thing about a game like this is how the goalposts move in the middle of the first quarter. If Nebraska had been moderately feisty and the defensive tackles had been a major factor in a 3.0 YPC day from the Cornhusker ground game, we'd be talking about how they passed a major test against a couple of senior guards who Big Ten coaches thought were pretty good. Instead Michigan held Nebraska's top three backs to ten yards total.
Nebraska now proves nothing. It might prove something later, if the tough-luck Nebraska that outgained Colorado by 150 yards but conspired to lose thanks to Laviska Shenault making absurd plays re-emerges. If Michigan also continues looking like a juggernaut instead of the sad mess that took on Notre Dame, this game will be retroactively upgraded from "accidentally played another MAC team" to the turning point when the Warinner hit and the corner got turned.
For now this was the sort of game where your sack celebration is ripping out and eating your own heart, because nothing else is going to be a challenge.
"If I was gonna take their heart from their offense, I figured it was about time that I took my own heart and ate that too." — Chase Winovich (HT @MikeDPersak) pic.twitter.com/sunipiZYHE

— Alejandro Zúñiga (@ByAZuniga) September 24, 2018
Precisely calibrating exactly how much to take from an unexpected hamblasting of a Big Ten team is far more pleasant than many things you can do after a football game. But we have been here before. With the exception of last year Harbaugh's Michigan teams have paved lower-tier teams flat. This is good! This tends to fling you up very far in predictive ranking systems. Michigan is now 5th in S&P+, like they seemingly always are, and S&P+ is designed to tell you who will win football games in the future. Paving people flat is a characteristic of very good football teams that win many games and leave you with a rich satisfied feeling that we are assured is something football fans can feel after the conclusion of a season.
But because of Certain Events and Certain Circumstances Leading To Third-String Quarterbacks all that feels hollow even if you're gripping onto the random, bloody-minded universe theory with everything you've got. We've been taught that paving folks doesn't correlate with winning the games that might cause the most annoying people in the universe to shut up for at least three seconds. That's not rational, but it sure as hell is sports.
The goalposts are going to keep moving until someone, probably Devin Bush, tackles them and glues them to the floor. Michigan has one more friendly double-digit spread next week against Northwestern, and then we get to play the games that will determine your state of mind, and, perhaps most importantly, the tenor of the takes we will have to endure for eight months of barren, dumb offseason.
Have fun storming the castle! Or paving it! Please pave it.
HIGHLIGHTS
AWARDS
Known Friends And Trusted Agents Of The Week
[Upchurch]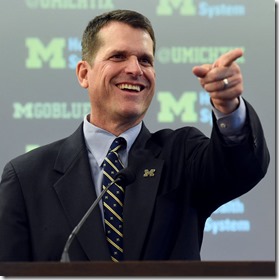 you're the man now, dog
#1 Devin Bush. Bush's main accomplishment was getting up to nine tackles on a day where Michigan's constant rotation and Nebraska's inability to stay on the field spread defensive stats incredibly thin. Michigan's next highest tackler had four; 12 different guys had TFLs. Bush had 2.5 of his own, a sack, and got sideline to sideline to blow up Nebraska's perimeter run game. He is reaching the Mo Hurst level where he is so consistently excellent it's hard to find new talking points about him.
#2 Rashan Gary. Just a half of play from him but it was a monster half. He's got his own section below. Felt terrifying in the way we were hoping he would before the season.
#3 Karan Higdon. The holes were there for him. He took advantage. His power was welcome after some YAC struggles last week, and if he hits the open field he'll outrun a lot of angles. Also he was the only offensive player to, like, feature.
Honorable mention: Will Hart is gonna get on the board if Michigan ever punts six times in a game. DPJ had a punt return TD. The tackles didn't give up a pressure? Is that true? I think it might be. The 10 guys with TFLs not mentioned.
KFaTAotW Standings.
4: Chase Winovich (#1 ND, #3 SMU), Devin Bush(#3 ND, #1 Nebraska), Rashan Gary(#2 WMU, #2 Nebraska), Karan Higdon (#1 WMU, #3 Nebraska)
2: Ambry Thomas (#2 ND), Rashan Gary(#2 WMU), Donovan Peoples-Jones(T1 SMU), Zach Gentry(T1 SMU), Josh Metellus(#2 SMU).
1: Devin Bush(#3 ND), Shea Patterson(#3 WMU)
Who's Got It Better Than Us(?) Of The Week
You gotta put some style points on it.
Honorable mention: The first half.
​MARCUS HALL EPIC DOUBLE BIRD OF THE WEEK.
Khaleke Hudson is ejected on a dubious targeting call and will miss the first half against Northwestern.
Honorable mention: Injury worries for Gary, who was holding his shoulder, and Kwity Paye. Harbaugh passes on a potential program-record field goal. Four commercial breaks in the first eight minutes of gametime.
[After THE JUMP: Ol' Murderback]