I'll Believe In Anything; You'll Believe In Anything
10/3/2015 – Michigan 28, Maryland 0 – 4-1, 1-0 Big Ten
fight or fliiiiiiiiiiaaaaaaargh [Patrick Barron]
I'LL BELIEVE IN ANYTHING – WOLF PARADE
"I mean ... there were a couple plays where they got first downs. We've got to look at that and correct it. They shouldn't have anything."

-Maurice Hurst
"I BELIEVE" seems like one of the most fun things to say at full bellow. You are in thrall to whatever it is you are busy believing in. You are ejecting spittle that contains within it the virus that will pass the belief on to those blessed by its impact. You have left the constellation of niggling doubts and pressing issues behind for at least three syllables. It sounds like a good time.
With neither Catholics nor Michigan fans prone to bare-chested, cloth-rending proclamations of that sort, I haven't had many opportunities to test this theory out personally. Once I when I was a teenager I ended up in a place where super serious teenagers were hanging out and speaking in tongues and the like. Yes, the reason was a girl. No, it didn't take.
But anyway in the aftermath I have occasionally found myself lingering on late-night exploitative religious television with equal parts scorn, sympathy, and jealousy. While the pompadour'd reverend is immediately repulsive, I get the flock's desire.
Just give me a sign, Lord. Just give me a sign. I will take this sweaty dude's earpiece radio telling him details from the card I filled out. I'll take anything. My God, this dude is sweaty. That wasn't directed at you, necessarily, Lord. You probably know about the sweaty guy already. Sorry.
Just give me a sign.
He is really sweaty though.
----------------------------------------------------------------------
Here is what this game was like: Michigan punched in the first touchdown of the game early in the third quarter. When Maryland got the ball back, the play by play announcer gamely attempted to maintain the general public's waning interest by noting it was "just a two score game."
Unless it's the Big Ten West you're talking about, in modern college football you don't have to say that in the third quarter. You don't have to say it until there are about five minutes left, and that's only if someone's out of timeouts.
Baylor and Texas Tech were a couple hours away from trading 45 minutes of haymakers before falling over in an exhausted heap. Tennessee hired Mike DeBord and now specializes in blowing three-score leads. Indiana—Indiana minus its starting tailback and quarterback!—took three separate Ezekiel Elliott uppercuts and still staggered its way back to attempt a potential game-tying drive. They got a 79-yard touchdown run from that quarterback made out of popsicle sticks. Their attempt to tie only ended because a relatively obvious pass interference call in the endzone went unnoticed.
Indiana. Indiana's bench.
These days a two score lead in football is slightly more meaningful than one in basketball, but you could be forgiven for forgetting that during any particular Big 12 game. Anyone turning off a game because two scores separate the sides is ravenously hungry and can't turn on the toaster and the TV without blowing a fuse or has something seriously wrong—like Lions fandom—with them.
Not right now, not against Michigan. If you find yourself two scores down against Michigan it's time for a priest and a eulogy. "BYU: at least they're already saved." "Maryland: if you pay really close attention you can tell they tried."
I mean, maybe not forever. Anything this good is bound to regress to the mean and get various holes poked in it and fall over breathing heavily. This isn't even typical Michigan fan bleating, it's just a fact. The ultimate fact of the universe is entropy. Ask Ohio State, currently struggling to nose ahead of MAC teams and Indiana after returning almost literally everyone of importance from a team that blitzed Oregon and Alabama to end last year. Ask the water on Mars. Ask Devin Gardner. Chaos reigns.
---------------------------------------------------------------
Michigan now faces back-to back undefeated top 15 opponents. A year ago this would have been time to stock up the bunker and wait for the bombs to fall. Even when the Harbaugh Hail Mary was gloriously completed, we collectively told ourselves we were going to keep expectations on the level. Hopes stopped at "this is a nice 8-4 season that feels very nice and also like football mostly."
It's dumb to go past that even now. Reasonable expectations are a nice thing to have. The poison of ridiculous ones is evident down the road. I've been here before, latching on to the things that seem good and saying maybe it'll happen this time. I have gotten naught but misery for my troubles.
But each three and out, each time a Michigan defensive lineman shoots through a gap he should not be able to pierce, each bewildered quarterback throwing a ball he sort of hopes is complete but mostly just wants out of his hand—all of it sucks me closer to the event horizon. Within it all reason is lost and the future is a horde of pending victims in our war against the galaxy.
Outwardly I am still too Michigan to cry it out, the thing that is fun to say. But on third and long—and there is always a third and long—my eyes dance with blood. Just give me a sign, Lord.
HIGHLIGHTS
Also, the BTN profiled Amara Darboh:
AWARDS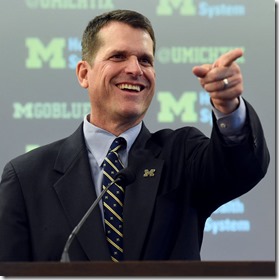 Known Friends And Trusted Agents Of The Week
Now named! Named like so because this is the nicest thing Harbaugh can say about you.
you're the man now, dog
#1 Desmond Morgan was actually relevant this week. He was also terrific, with a difficult diving interception on a deflected pass, two pass breakups besides, and nine tackles.
#2 Maurice Hurst edges out the rest of the defensive line with two ultra-badass TFLs, one a sack on a three man rush, one an extremely similar play where he dumped the RB in the backfield.
#3 Blake O'Neill delicately located two punts inside the five, had a 59-yarder, and was extremely important for field position in a field-position-heavy game.
Honorable mention: All defensive persons. Drake Johnson. Jake Butt. The offensive braintrust.
KFATAotW Standings.
5: Chris Wormley(#2 Utah, #1 Oregon State)
3: Jake Butt (#1 Utah), Jourdan Lewis (#1 UNLV), De'Veon Smith(#2 Oregon State, #3 BYU), Ryan Glasgow (#1 BYU), Desmond Morgan (#1 Maryland)
2: Ty Isaac(#2 UNLV), Jabrill Peppers(#2 BYU), Maurice Hurst (#2 Maryland).
1: Willie Henry (#3 Utah), AJ Williams (#3 Oregon State), Channing Stribling(#3 UNLV), Blake O'Neill(#3 Maryland)
Who's Got It Better Than Us Of The Week
This week's best thing ever.
Jehu Chesson gets loose on a jet sweep and puts a Maryland safety in an early grave before outrunning the other guy to the endzone.
Honorable mention: Perfectly called Drake Johnson screen goes for touchdown; perfectly called Jake Butt screen goes for 44 yards; every defensive play except about six.
WGIBTUs Past.
Utah: Crazy #buttdown.
Oregon State: #tacopunts.
UNLV: Ty Isaac's 76 yard touchdown.
BYU: De'Veon Smith's illicit teleporter run.
Maryland: Jehu Chesson jet sweeps past you.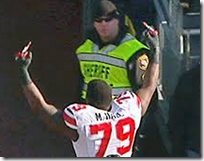 MARCUS HALL EPIC DOUBLE BIRD OF THE WEEK.
This week's worst thing ever.
A Jake Rudock NO NO NO YES throw hits Sione Houma in the hands and bounces up to a defender, thus prolonging the first-half slog significantly.
Honorable mention: Even though Michigan got it back, Ty Isaac's second fumble felt a lot like a promising guy eating bench for half a season. Also Isaac's first fumble.
PREVIOUS EDBs
Utah: circle route pick six.
Oregon State: Rudock fumbles after blitz bust.
UNLV: Rudock matches 2014 INT total in game 3.
BYU: BYU manages to get to triple digit yards in the last minutes of the game.
Maryland: Slog extended by deflected interception at Houma.
[After THE JUMP: sad ghost rudock, tuff ghost defensive line]
OFFENSE
noooooooo sad ghosts noooooooo[Barron]
Sad Ghost Rudock returns. Another extremely ugly game from Michigan's quarterback. 180 yards on 32 attempts doesn't sound that horrible, but when you remove the 75 yards acquired on two RPS +3 screens, things get ugly quick. That's 3.8 YPA on downfield passes. Even considering the conditions, woooooooooof.
Caveats: Jehu Chesson did fail to help out Rudock on one deep ball that he got both hands on, albeit on a dive. Conditions were poor. Yannick Ngakoue exposed Mason Cole a bit.
Caveats aside, when Jake Rudock is taking multiple receivers off their feet on five yard passes with nice chunks of YAC available you're gonna have a bad time. Rudock left some of those screens way short, as well—hard to burst upfield from a full squat.
I dunno, man. Rudock's ups aren't as up as I expected they would be and his downs are a lot more down. At this point I can't credit the "he needs to get on the same page with his receivers" thing much, so it's just a guy who's a game manager but isn't very good at managing a game. I can't get too mad at the INT since it hit Houma in the hands. I just need him to be the person who facilitates a ton of YAC when it's there. This was not that.
[Barron]
The mini-Denard moment was nice though.
SHOELACES MILDLY DISTURBED BY A BREEZE
somehow Maryland cannot catch him
Maryland might not be good
Next time don't hire the drill instructor from Full Metal Jacket maybe
Can we talk about the tight end screen though? That was the best. I have watched many fake RB handoffs followed by fake WR end-arounds and on just about all of them the offense is attempting to go deep. You know it, I know it, the Maryland defense knows it. So when the not very convincing fakes happened the secondary stayed way deep and the interior guys rushed hard. When Butt leaked into the flat with a convoy I was already going RPS RPS RPS in my head.
By the time the ball got to Butt there was one guy within 20 yards of him and he was a DB being blocked by Jehu Chesson. IE, a dead man. Butt's leisurely downfield stroll was less about trying to get all the yards immediately than making sure each of his blockers was expended usefully. Jake Butt for running back?
RPS all day. The offense didn't do very well at… things. Rudock was bad, the OL didn't get a ton of push, the tailbacks were very bad until Johnson got a grip on things late. Michigan managed a solid day anyway in large part because they got big gains on excellent plays. The TE screen was the best; Michigan also caught a blitz on the Johnson touchdown, put Chesson one on one in a ton of space on his touchdown, and had a clever draw variant that shot Johnson through the backside of a play for a big gain.
[Barron]
Drake Johnson: back? With De'Veon Smith out his understudies got the opportunity to come out and play. Ty Isaac put the ball on the deck twice; Derrick Green was still Derrick Green; Drake Johnson made a move. Michigan didn't turn to him much until the second half, after the first two guys had tried and failed to impress. Johnson made the screen count for a touchdown—something the other guys probably don't do and then had two impressive runs late. The second one stood out in particular because it was probably something nobody else on the roster gets done.
Michigan caved in the line for a moment but Terps ended up partially shedding blocks and getting to the point of attack. Isaac might bounce this; the other two guys almost certainly drive upfield for what they can get. (Smith gets two more yards than Green.) Johnson bounces it tight. He ends up running just off Braden's back, avoiding the contain guy and bursting to the second level. That is not only a cut, it is a cut that happens after people commit inside and understands that Braden is going to get movement when he goes behind it.
That is a pretty consistent thing from him. He botched the counter last week but if you're asking me which dude I expect to read the blocking right, gun to my head, it's Johnson all day.
Two point conversion. The two point conversion was ripped directly from the Patriots last year.* It puts some variety of linebacker in space against a rub route and a guy like Khalid Hill, an excellent receiver.
*[Full post from the SBN Pats blog is here.]
[Barron]
Chesson spent all of his XP on speed and blocking. Chesson's a very useful player—the guy who can take the top off a defense—but for various reason's he's been unable to translate his speed into big pass plays. The above should have been a big chunk; Chesson could not bring in a moderately difficult ball. On the other hand, he occasionally wrecks safeties in the open field and outruns pursuit angles.
He did do some good work underneath in this game, including a third down conversion on which he got lit up by Likely on the catch. If he can get good at that kind of stuff the catch-and-run possibilities there are enticing.
Right now he's a cross between Steve Breaston and Martavious Odoms: not bad at all, but a #2 or #3 WR ideally.
Line things. Another day where they didn't get as much push as you might hope, thought I suspect I'm going to find a bunch of yards the tailbacks left on the field. There was another incident in this game where Kalis correctly popped outside the tackle on a power play only for his tailback to bury himself inside where there was no hole. This one did not turn into a 60-yard touchdown.
As mentioned, Cole did struggle against Ngakoue. I thought the sack he gave up wasn't terrible since he only got beat on the third move. Rudock's clock should have gone off. You do want Cole to do better, and there were a couple of instances on which he was beat clean. Ngakoue might be really really good—6.5 sacks already and I watched him wreck Brandon Scherff a year ago—but this was a step up in competition that indicated he was not ready to be left on an island with an elite rusher.
DEFENSE
you try to make good decisions facing this down [Barron]
NOT BAD. This drive chart.
1st H11  15:00  Kickoff       V47  11:52  Punt           7-42   3:08
1st H01  08:59  Punt          H29  05:30  Interception   9-28   3:29
1st H34  03:29  Fumble        H44  01:43  Punt           3-10   1:46
1st V28  01:36  Fumble        V39  00:22  Interception   3--11  1:14
2nd H29  11:09  Missed FG     H29  10:05  Punt           3-0    1:04
2nd H20  05:55  Kickoff       H25  04:22  Punt           3-5    1:33
2nd H43  02:47  Punt          H36  02:07  Punt           3--7   0:40
2nd H39  00:53  Kickoff       H49  00:08  Punt           5-10   0:45
3rd V45  12:59  Interception  V45  11:26  Punt           3-0    1:33
3rd H29  09:13  Punt          H32  08:18  Interception   3-3    0:55
3rd H25  07:59  Kickoff       H39  05:18  Punt           5-14   2:41
3rd H31  05:00  Kickoff       H32  03:05  Punt           3-1    1:55
4th H37  14:48  Punt          H37  14:24  Punt           3-0    0:24
4th H05  09:49  Punt          H07  08:51  Punt           3-2    0:58
4th H25  06:45  Kickoff       H34  04:54  Punt           3-9    1:51
4th H15  03:13  Punt          H18  01:48  Punt           3-3    1:25
That is two first downs after the first ten minutes of the game.
The caveat. Maryland's receivers did drop a ton of passes, probably a half-dozen over the course of the afternoon. We saw that the short quick guys Maryland fielded were a better matchup against Michigan's corners than the big lanky ones BYU used; various guys named Jacobs were able to get open on slants and get a step on deep balls. Unlike BYU, Maryland did leave a sizeable number of yards on the field.
Now let us return to bronzing that drive chart anyway.
[Barron]
Hurst and Glasgow: holy crap. Hurst had another instant sack on a three man rush, his second consecutive game with one and third consecutive with a sack. Glasgow was not quite as dominant as he was against BYU because Maryland went in assuming they could not block him, and they were not wrong. His most impressive play in this game may have been one on which he played no role in the tackle. Watch his pursuit on what would become a Delano Hill TFL:
That is why I compare him to Mike Martin. That ability to power through, redirect, and then chase at speed was exclusive to Martin during my tenure as Internet Guy Who Looks At Plays Guy; now he has company. 
Maryland has thrown more interceptions than anyone in the country and they spent most of the day throwing anyway because they correctly surmised they weren't going to get anywhere on the ground. Eliminate sacks and Maryland had 46 yards on 26 carries. That ain't no way to live.
Henry came to play as well. Henry had the Godzilla sack that leads the column; his day was otherwise high quality. He helped force the Morgan interception by getting into the QB super-quick on a screen and contributed to the overall stoning of the run game.
IS WOLF PARADE A TERRIFIC INDIE BAND FROM MONTREAL OR MICHIGAN'S DEFENSIVE LINE AMIRITE. I'd just like to thank you for reading MGoBlog despite semi-regular interjections like this one. You are a tolerant people, O readers.
Exit Ojemudia. The lone downer from the defense in this game was Mario Ojemudia's Achilles injury. If that's a tear his career is over just one game after he could have gotten a medical redshirt, and it certainly doesn't sound good:
"Looks like it could be an Achilles," Harbaugh said. "That is a hard, tough rehab. I've got some experience with that one — not personally, but I've seen it. It's a tough injury. It's surgery, and then you can't do anything. Can't try to come back from that too early."
Michigan has a reasonable option behind Ojemudia in Royce Jenkins-Stone, a senior who's been playing pretty well in limited time so far. Michigan also has Lawrence Marshall, the redshirt freshman who got more offseason hype than anybody this year.
And, you know, if neither of those options ends up proving appealing they can sacrifice some flexibility in exchange for size by running out four of their six excellent DE/DT sorts. That would be fun just to see how tiny they can make a pocket.
Edges: nope. Another game against a spread, another donut in the successful wide receiver screens category for the opposing offense. Peppers has gotten the lion's share of credit in this space for that but it is worth pointing out that Michigan's tendency to press also helps a great deal. In this one we saw a lot of Lewis in the slot and he was helping erase the edge stuff, as well.
[Barron]
Interceptions: this game's illegal formation penalty. I've often said that turnovers are more about what the offense gives you than what you can do yourself, and this game was a pretty good example of that. Jeremy Clark's interception was a horrendous idea on a pass where the WR was bracketed; Morgan's was a short dumpoff thrown too hard that deflected to him; Lewis's was another throw that was not there at all. On the last Rowe's throw was tough to catch because it was actually behind Lewis:
All of them were more on Maryland than Michigan.
But even when you come across a team that tends to make those kind of mistakes it is up to you to be in position so they're actually mistakes. Michigan had just about everything other than quick slants dead to rights. They crushed the pocket regularly. When your first read is open all the time you don't throw many picks or get blown up and fumble much. That plagued Michigan a year ago. This year not so much.
Tanner Mangum managed to avoid the turnover fiesta but got very little in exchange, and he might be kind of good—he tore UConn to bits. Michigan gets a freshman quarterback next week against Northwestern; they'll have more opportunities.
Morgan had a GAME. I know I am more pro-Desmond Morgan than his mom, but I hope this game gives you some indication of why. Most other spots this week are prefacing their praise for Morgan by re-iterating their previous criticisms about "lateral movement" before moving on to the I Be Like Dang section of their commentary. Unless you're an NFL scout that's never been an important limitation. Morgan reads and reacts with the best of 'em. There's a reason he's the guy who never comes off the field.
Who can I see about un-eating a lemon?
Kinnel burned his redshirt. Yeah, I'm a bit disappointed Tyree Kinnel burned his redshirt. I do like the fact that he's the first non-wide receiver to do so (and Michigan might get Cole's back since his injury appears to be lingering) and that they waited until now to do so. Waiting until game five indicates they're being careful about these things and making sure they actually need this guy in a major role soon, whether that's now or next year.
To me taking off Kinnel's redshirt indicates that Michigan knows they're
never moving Peppers back to a real safety spot
not moving Clark back to safety either
nervous about Dymonte Thomas as a starter
In general, Clark's successful transition to corner is a good thing. For safety depth it's not. Kinnel is literally the only guy currently on the roster who is safety-shaped and not claimed at CB.
I've never had an issue with burning redshirts of guys who are going to be needed in a major role as true sophomores, and Kinnel has a good case for that.
SPECIAL TEAMS
Orin Incandenzaaaaaa. Someone got mad at me on twitter for referencing David Foster Wallace's NFL MVP punter from his infamously dense novel Infinite Jest, but like hey man if you can find me a single other heroically excellent punter in the history of literature I will reference him too. Unless there are Aussie-based bodice-rippers that have made it to these fair shores, I'm guessing there aren't any.
Anyway, Blake O'Neill put a 48-yard punt out of bounds at the one yard line. In five games he has 11 inside the opponent 20—including 5 or 6 inside the ten—and zero touchbacks. Yards per return opportunity* is sitting at 2.1; last year it was 6.0. Will Hagerup had 16 punts inside the 20 against 9 touchbacks.
Punting stats aren't that great (it should really be inside the 10, not 20), but even with the highly imperfect ones we have the upgrade is obvious. And that's an upgrade from a very good, if somewhat erratic, punter.
*[A stat I made up that is return yards divided by punts that didn't go in the endzone.]
John Baaaaaaxter. O'Neill hit a 59 yarder that broke the Cardinal Rule Of Playing Maryland and everything was fine. Here's the view when Will Likely caught the ball.
Seven guys in frame instead of two, all of them on Likely's half of the field. Likely has two blockers.
The other time they broke the rule, this on something of a line drive:
Seven guys against two blockers again. And this was an off day for Michigan's punting and coverage units, probably due in no small part to the wind and rain. Before Saturday only 20% of O'Neill's punts had seen a return. Maryland returned half of their opportunities.
Meanwhile, Peppers. While Jabrill Peppers could not maintain his near-spotless record of fielding punts, he just about broke one in this game. Total return yards this season now stand like so: Peppers 96, opponents 45. And if there was a game to maybe give up the yardage on punts you're not sure about it was this one, with the weather and the opposing punters leaving so many of them short.
The one downside of this defense is that we get one Peppers KO return per game.
This Blake O'Neil Instagram caption is about as Australian as it gets. pic.twitter.com/qGPMhETAuV

— Ben Fidelman (@bfidelman) October 5, 2015
I am putting away the Infinite Kicker Fear Doll. Kenny Allen missed a 47-yarder that I thought was going to curl in. He left it to the right in a 20 MPH wind that must have died at the wrong time because that thing went ramrod straight. Meanwhile he hit two chip shots. He's hit all six of his attempts from 40 and in and narrowly missed from 44 and 47; he's pretty all right.
My only complaint is that maybe next time I'd like to be clear on whether your dink kick is a squib or an onside kick.
It totally should have been an onside though. 53 seconds left up 6-0 in that situation an onside to end the half would have been killer. Or dumb since upping variance was bad. Killer and dumb? Paging Les Miles.
MISCELLANEOUS
[Barron]
On Harbaugh and running through walls. He's a weird guy and he wears on people but he instills belief in players; he's been through some pretty terrible injury stuff himself and can do things like the above naturally.
We're not even trying anymore. Maryland, cumong man:
Didn't notice this until now. Check out who Maryland listed as official starters for Michigan. pic.twitter.com/r08TeyKkJU

— Michael Spath (@Spath_Wolverine) October 4, 2015
Good ol' 8. Recruited him from that server farm up 'round the nebula.
The worst fans ever. Not Michigan or Maryland, but a little bit down the road:
MSU fans. They gone. pic.twitter.com/X8c8Fh9e9i

— Tony Paul (@TonyPaul1984) October 3, 2015
Weather wasn't great on Saturday but it was in the mid 50s. Throw on a poncho and you're going to be a bit too warm, if anything. Michigan had more fans at a road game than MSU had as the #2 team in the country at halftime in a league game. Hell, probably 3x or 4x the number of fans showed up for the 2008 Northwestern game when a 3-7 Michigan team took on Northwestern in brutal freezing rain.
I challenge anyone anywhere to come back with a shot from a top five team that's that empty during a conference game that's still in doubt. It's won't happen. MSU fans are the worst.
Game theory things. Not much of note other than Harbaugh's decision to go for two after scoring to go up 12-0 halfway through the third. Normally that would be too soon to do that; in a game where it seemed impossible that Maryland would score three times I thought it was the correct move.
Since that's not very interesting, let's revisit the fourth quarter of Clemson-Notre Dame:
With about 14 minutes left, Notre Dame scores to draw within 21-9. They go for two and fail.
Clemson kicks a field goal, now 24-9.
Notre Dame scores, kicks XP, 24-16.
Notre Dame drives, fumbles at 4 yard line with about two minutes left.
Notre Dame scores, goes for two, fails, 24-22, game over.
Kelly is taking a ton of heat for attempting the early two point conversion, but it's the right move without question. For one, even if you assume that Clemson does kick a FG it is an inadvertent example of going for two while behind multiple scores. If ND gets it they win the game 25-24 with their final touchdown. Since they did not they got a second chance to convert. Given historical conversion rates the numbers are in favor of the aggressive approach. Meanwhile if Clemson does not score or scores a touchdown you haven't lost anything by failing; if you succeed you give yourself another way to get to OT.
Kelly did err by kicking the extra point on ND's second touchdown of the fourth quarter. There were nine minutes left at that point, so figuring out how many scores you're actually down will impact your decision-making later. Better to go into fourth down decisions knowing whether you're down seven or nine.
So of course idiot ND fans are piling on Kelly.
Non-Ojemudia injuries. Steve Lorenz has heard that Joe Kerridge, De'Veon Smith, and Channing Stribling all could have played if Michigan thought they really need them to and expects all three back for Northwestern. Dymonte Thomas returned in this game, leaving Brian Cole the only guy whose status is in doubt—and every game Cole misses tips the scales in favor of a redshirt.
how to make me hate your company in 30 seconds
The worst commercial. While that f-ing Buick music makes me think of the Reservoir Dogs torture scene every time and I am considering a Dr. Pepper boycott until they show Larry Culpepper in the Reservoir Dogs torture scene, nothing tops those Lowe's commercials in which your future "football self" thanks you for getting your chores done on Saturday.
Those things are downright un-American. Playing them incessantly ON SATURDAY when I am watching 18 hours of college football because I actually love this country, Lowe's, is enraging. No I am not going to blow the leaves during Clemson-Notre Dame, you communists.
Lowe's is run by Al Qaeda. They're not even trying to hide it anymore. YES AL QAEDA IS COMMUNIST SORT OF.
HERE
Best:  Making It Look Hard

Piggybacking a bit on this point, the biggest change between this year's defense and the past couple is how hard it seems for other offenses to do anything against them.  While previous teams haven't quite reached these heights in past seasons (#3 in S&P+ defensive rankings), they have always comfortably been a good-to-very-good defensive squad since Hoke took over.  But they always had hiccups, always had these weak spots where their deficiencies were exposed rather spectacularly.  Whether it was Gary Nova throwing for 400 yards, or Carlos Hyde running for 226 yards on 27 carries, or numerous punt returners flying down the field for big gains, it always seemed like teams could move the ball against UM if they were even a bit creative.

And what made it worse is that, especially early on in a season, you deluded yourself into believing that maybe, just maybe, Akron is better than you though under Terry Bowden (he coached at Auburn!), or maybe Gary Nova was a fringe NFL QB, or Tyler Lockett was an amazing player (okay, that last one turned out to be largely true).  Then you'd watch them play other teams and realize that, no, they just looked good against UM, and that seemed to happen far too often.

But not this season.  Even though Utah had some success moving the ball, it still looked like far more of a slog for them than against anyone else on their schedule.  And since that first game, UM has just been muderballdeathing offenses to a degree that hasn't been seen around these parts since, I don't know, 1997?
The Two Jakes

* I posted this during the week, but wanted to share in case it got lost in all the comments.

Let's compare college career stats for two notable Michigan quarterbacks:

Player A: 59.5% completion percentage, 7.1 yards per attempt, 27 TD, 15 INT (1.8:1), 130.6 Rating

Player B: 60.7% completion percentage, 6.9 yards per attempt, 38 TD, 23 INT (1.65:1), 128.8 Rating

Who is better? But wait, let's add in rushing totals, because QBs sometimes run the ball.

Player A: 85 carries, -81 yards, -1 ypc, 4 TDs

Player B: 155 carries, 448 yards, 2.9 ypc, 10 TDs

Looks like Player B has the edge. But wait, what about punting?

Player A: 14 punts, 36.3 yard average.

Player B: 0 punts.

Player A is Brian Griese. Player B is Jake Rudock prior to the Maryland game.
Whoah.
ELSEWHERE
Sights and Sounds:

Ollie's – Dear lord.  I'm sure there are righteous bargains at Ollie's but dude…I'm thankful we don't see this stuff inside the Big House:

History Notes:

Via the official game notes, the last time U-M pitched back-to-back shutouts was in the 2000 season, when the Wolverines shut out the Indiana Hoosiers (58-0) and Michigan State Spartans (14-0) in consecutive contests from Oct. 14-21.
Did you know Michigan actually pitched a pair of shutouts in the same afternoon on this day (Saturday October 3) in 1931?   Yes, we played and bagel'd CMU and EMU in one afternoon.  If you listened toTWIMFbH you knew.
OFFENSIVE CHAMPION – Gotta go with Drake Johnson. With no De'Veon Smith and Ty Isaac not being able to hang on to the ball, The Drake made plays and looked comfortable running the ball – brace and all on his left knee. When the team was sputtering and looking for a spark on "O," #20 made the most of his opportunity.
I had a mild repiphany this past week.  A repiphany, of course, is when you remember a life changing revelation that you had about yourself previously but had allowed to fade in to the background.  But my realization is that I am fundamentally about defense.  If you ask me to choose which I like better, offense or defense, it's going to be defense.  (This is mildly ironic because quiz bowl, with which I have been involved for nearly a quarter century as a player, tournament director, and coach, is one of the few competitive activities of two teams facing each other simultaneously where you cannot play defense, except by playing offense.)  In football, offense is about imposing your will on the other side.  I want to do this particular thing to achieve this particular goal, and this is how I will go about doing it.  Defense is about guessing what the opponent wants to do and preparing for any and all contingencies as best as possible.
This week's bewildered opponent quote of the week:
"I'm a little bit at a loss of words right now, but it's just a matter of we need to get better this week."
Michigan opened at –12(!) but that was quickly bet down. Currently at 8.5. Harbaugh family meta-coachspeak. Drake back. Touch The Banner. Chatting with John Harbaugh. Maize and Brew.
Big Ten stuff. The Wildcats shut out Minnesota and held them to 173 yards. The week before they narrowly beat Ball State. BYCTOM:
It was a harrowing win, but let us remember that we are talking about Northwestern football. Let the football gluttons sit around in their tuxedos grousing about not winning by enough points and intriguing about playoff committees. Northwestern has started undefeated for the third time in nearly two decades and has yet to lose a game through a spectacular series of football misfortunes.
Things got so bad for the Gophers that they decided to take the redshirt off of Demry Croft. How are things at Penn State?
It was so incoherent as to be utterly indistinguishable from a 9-year old playing Madden and just mashing buttons.
They were outgained by Army in a 20-14 win.
MSU lost a starting safety for the Michigan game and much of the rest of the season:
Dantonio said RJ Williamson had surgery on a torn bicep this morning. Out indefinitely, possibly back for last game/bowl game.

— Mike Wilson (@MikeWilson247) October 4, 2015
They also lost their backup LT, Dennis Finley, for the year. They need at least one of Conklin or Kieler back badly.