9/9/2017 – Michigan 36, Cincinnati 14 – 2-0
furk [Eric Upchurch]
There is always a tipping point when something that probably won't happen becomes something that probably will happen. Sometimes this is nice, like when the entire NFL swears up and down that Jim Harbaugh wouldn't go back to Ann Arbor for love or money. Sometimes it is not nice.
If we aren't already at the tipping point where "Wilton Speight makes a lot of critical mistakes" is a reasonable, seemingly immutable theory, surely we are approaching it.
The weird thing is the way these critical mistakes are loosed into the world. Anybody can throw several passes into defenders' facemasks. Killing your team with a blizzard of boggling interceptions is almost common in college football, where injuries and the vagaries of rostering regularly see peach-fuzzed high schoolers thrown into a tank of piranhas. Sometimes people transfer from Tulane and are expected to stop throwing interceptions, for reasons unknown.  Also apparently the NFL has this issue. Twitter informs me Scott Tolzien—yes, that guy—started a game this weekend. Twitter hastens to note that things did not go well. The hopelessly overmatched panic machine quarterback is so common it's a football trope.
Speight, on the other hand, has an air of cool control up until the moment he wings a pass so high that Donovan Peoples-Jones correctly decides his best bet is to spike it, or he turns around to hand air to his running back, or he does that again for the second time in one dang game. He does not seem overwhelmed. He hasn't thrown into coverage except on rare, understandable occasions*. He's yelling at his peach-fuzzed skill player crew about where to line up regularly. He makes a bunch of checks at the line. He is a man in command.
And then.
The very bad events are adding up. Everyone misses guys or makes bad reads or eats a sack on occasion. Speight's bad has been explosively bad, and maximally punished. Thus this column, which is lot like 2015's Jake Rudock is going to kill us column.
Rudock, of course, did not kill Michigan. He turned into a fine college player and Matt Stafford caddy, and even now it's not too hard to see Speight getting it together. His issues are fairly simple to correct; they jumped out at me, a layman, on a re-watch and Speight confirmed it in the postgame press conference:
"What it comes down to is, when there's something going on in my face – when I avoid the pressure – I've got to keep my base. Coach Pep is big on keeping my base. Staying loaded. And sometimes when I move around in the pocket, I get a little sloppy with my feet and it causes the ball to sail or go a little low."
Speight was leaning back a bunch in this game and the resulting throws were high. Nick Baumgardner with a preview of what UFR is going to say:
And feet here ... pic.twitter.com/Amw0zns1nE

— Nick Baumgardner (@nickbaumgardner) September 10, 2017
Also he's dorfing handoffs because he's not listening to Harbaugh. Two seemingly simple fixes yet to make it to the field in year four. This cuts both ways: if Speight can fix his lingering issues Michigan has that commanding guy when he throws straight and does not fumble exchanges, and that seems pretty good.
deep shot hit rate: muchly [Bryan Fuller]
There are very good reasons that Speight is keeping his competition stapled to the bench, and it's that upside. Nobody else on the roster is going to walk on the field and know where everyone else has to be, a critical skill given the average age of Michigan's offense. Nobody else is going to have all the checks in his head, or the pocket presence.
The things Wilton Speight needs to fix are fixable in a timespan of weeks. John O'Korn and Brandon Peters do not have flaws (presence and youth, respectively) nearly as tractable, and so Michigan is going to ride with Speight and hope like hell these blips are just that, and not a pattern that will clobber a promising season like it did in Iowa City last year.
Until further notice, all dropbacks will be evaluated with a jaundiced eye and glance towards Columbus. Welcome to the John Navarre zone.
*[In this game he tried a deep shot to a bracketed Peoples-Jones because there were only two guys in the route and both were covered and what else was he going to do, which is fine.]
HIGHLIGHTS
Inside Michigan Football:
AWARDS
mobile man mauls Mouhon [Fuller]
Known Friends And Trusted Agents Of The Week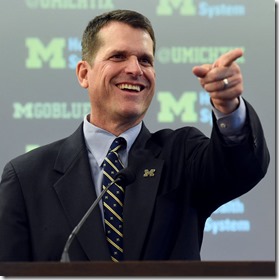 you're the man now, dog
#1 Mason Cole. This is a bit of a guess but OL never get the proper amount of respect in this section because I haven't gone over things with a fine-toothed comb yet. Cole helped Michigan bust a lot of crack sweeps, and while Isaac got the yardage on the long one it was Cole's ability to ID the force defender, declare him harmless, and go wreck a safety that sprung the play. He gave up nothing in pass protection, as well.
#2(t) Khaleke Hudson, Devin Bush, and Tyree Kinnel. Michigan's bushel of short fast dudes on defense terrorized the Cincinnati backfield, collecting all of Michigan's sacks on the day. Each also had their moments in the ground game as well; Kinnel in particular had a couple of critical tackles. Oh, and a pick six. (That was a bit of a gift, yes.) I'm rounding up and giving each gent a point. The points are made up and don't matter, people!
#3 Ty Isaac. Isaac was Michigan's best back again, slaloming through waves of opponent players. He alternated bounces with interior runs that kept UC off guard and used his size and speed combination to excellent effect.
Honorable mention: Winovich, Hurst, and Gary were all effective in bursts. Brandon Watson was in the back pocket of many a wide receiver. Grant Perry was efficient, explosive, and dangit that third down was a catch. Zach Gentry had a couple of key receptions.
Honorary Honorable mention: Baker Mayfield.
KFaTAotW Standings.
4: Devin Bush (#1, Florida, T2 Cincinnati)
3: Mason Cole (#1, Cincinnati), Ty Isaac (#2, Florida, #3 Cincinnati)    
1: Quinn Nordin (#3, Florida), Khaleke Hudson (T2 Cincinnati), Tyree Kinnel (T2 Cincinnati).
Who's Got It Better Than Us Of The Week
Grant Perry's third-quarter grab and go both further established him as a bonafide top-flight, experienced receiver but staked Michigan to a two score lead that allowed most to exhale.
Grant Perry with the breakaway speed, scoring a big TD for Michigan. pic.twitter.com/xgJpJYTYqN

— Brad Galli (@BradGalli) September 9, 2017
Honorable mention: This week the good section gets to talk about Pick Six #1 and Pick Six #2. You will like them better here, I imagine. Also: Ty Isaac rips a long one off down the sideline, Speight hits Kekoa Crawford with a bomb; Rashan Gary hulks up after nearly getting ejected and gets the crowd hyped.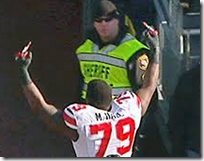 MARCUS HALL EPIC DOUBLE BIRD OF THE WEEK.
Speight's second dorfed exchange ends a promising drive for Michigan and causes even the aggressively reasonable to think this guy has a long term issue.
Honorable mention: Cincinnati rips off a long touchdown drive to start the third quarter and create a period of squeaky bum time; Donovan Peoples-Jones turns out to be Not Jabrill Peppers on punt returns; various Speight overthrows; that one play where both guards pulled in opposite directions.
[After THE JUMP: oh also a defense]