Preview 2014: Safety
Previously: Podcast 6.0. The Story. Quarterback. Running back. Wide Receiver. Tight End And Friends. Offensive Line. Defensive End. Defensive Tackle. Linebacker. Cornerback.
| Free Safety | Yr. | Strong Safety | Yr. | Nickelback | Yr. |
| --- | --- | --- | --- | --- | --- |
| Jarrod Wilson | Jr. | Delano Hill | So.* | Jabrill Peppers | So.* |
| Jeremy Clark | So.* | Dymonte Thomas | So. | Blake Countess | Jr.* |
| Reon Dawson | Fr.* | Brandon Watson | Fr. | Dymonte Thomas | So. |
[* = player has taken redshirt. # = walk-on]
So, JARROD WILSON…
Okay, okay, Jarrod Wilson after the jump. Now…
NICKELBACK!
RATING: EXPLOSIONS
ok, you're out of shoes, right
RATING: 4
I've been talking about hybrid space players for years now, projecting that Michigan would acquire one of these important gentlemen since about a year after that, and resigning myself to yet another repurposed 5'9" corner four games into every season since. Two years ago:
The thing that kept me from playing nickel a lot last year – the nickel has to be able to blitz. He has to be able to change the math … some guys can blitz and some can't.
Michigan didn't have that guy, and their defense was solid, but conservative.
Now… now Michigan has a hybrid space player. Sound the trumpets. Unfurl the banners. Roll the carpet forth unto the unworthy ground so that our prince can walk upon maize and blue! Fetch… fetch the Woodson comparison. Yes, from the vaults.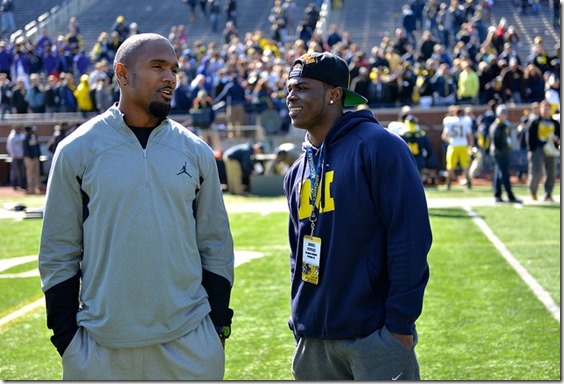 ATTACK OF THE CLONES [Fuller]
And so forth and so on. As to why Michigan is deploying its most hyped recruit ever at a spot historically reserved for a not-quite-starting cornerback on passing downs, let's revisit last year's preview:
------------------------
The ideal nickelback is a corner/safety/linebacker hybrid who can cover slot receivers, blitz like a mofo, and fend off blockers to make tackles in space, and in the increasingly spread-oriented world of football they are essentially starters. This does not just apply to college football:
NFL offenses are identifying the nickel corner as a key part of any defense. "This varies from defense to defense, but the amount of your sub package that you play nowadays — because we're seeing more three wide receivers on the field — your inside player is going to play as many, if not more plays," Capers says. "You could be in some form of your sub defense two-thirds [of the time]." The number Hayward throws out is 75 percent; Whitt says 80. No matter the math, the point is that the nickel cornerback is as much a "starter" as any other spot in the defensive backfield.
The QED here: that's an article on second-year player Casey Hayward, who replaced Charles friggin' Woodson as the Packers' nickel. In his time at that spot, Woodson picked up a Defensive Player of the Year award. The best nickels double as outside corners when teams are in a base package; others are just really important fifth defensive backs.
-------------------------------
SI followed that Grantland article up with one this year asserting that the nickelback has risen in prominence as the NFL's "key battles move to the slot":
Teams ran base (with four defensive backs) 48 percent of the time in 2011, 45 percent in '12 and 40 percent in '13. Nickel sets increased from 40 to 44 to 49 percent over that same three-year span.
College is gradually following a similar pattern. One of the main reasons Michigan is moving to the over defense is that they were in it like half the time last year anyway, because that's how you have to respond to spread offenses. However, the motivations are somewhat different. In college if you get spread out there's a better than even chance they are spreading to run, an innovation still mostly on the sidelines in a league where you can pick the 30 most accurate passers in the world and whoever the Browns have this year.
But the idea remains the same: triple threat.
"To play nickel now? I think it's really hard. You have to play the two-way go [option routes in which the receiver can turn inside or outside based on coverage] inside the numbers, you have to be able to tackle, and you have to be able to blitz. And blitz is a technique, just like playing man-to-man or running routes. You need practice at that. You can't run in there straight up and down like a pencil, or you'll get decapitated. Because as the nickel, sometimes you blitz, and the tackle is set up on you. How do you beat him? You've got to get him back on his heels -- you set him up, almost like a basketball player driving to the hole.
You have to cover, you have to play the run, and you have to murder the quarterback. Come on down, JABRILL PEPPERS [recruiting profile].
Since Peppers is a true freshman, and since he is Jabrill Peppers, I can't tell you anything you don't already know if you've read that profile. Selected, mouth-watering highlights:
"Peppers is a rare athlete with potential to be great at the next level. He is one of the most talented players I have ever seen at the high school level. At 6-foot-1, and 205-pounds, Peppers has college ready size to go with un-matched speed and explosiveness."
This one is particularly apt given Peppers's spot in the defense:
"…could play four to five different positions and excel at them.  He is a strong running back.  He is as fluid as a good corner.  He hits like a linebacker.  He could play safety.  You could honestly take him and put him in an outside linebacker position and he would flourish.
Oh and
USC coach: "Holy s---, that's him? I've only seen two players in high school with a body like that and both of them are named Peterson [Adrian and Patrick]."
Scout's Scott Kennedy gets a gold star for his player comparison:
"I think his impact on the game [would be maximized by] letting him roam around a little bit and freelance and let him play – an Eric Berry style of safety where they would walk him up. I mean, Eric Berry had 15 tackles for loss.  He is that kind of a player.  Eric Berry, I thought, was maybe the best player in college football a couple of years ago."
Eric Berry was a nickel in college. People didn't quite know it at the time because everyone was just inventing the idea of putting your most badass guy there, but he was a nickel. He's a nickel in the NFL, acquiring 3.5 sacks in 2013 and going to the Pro Bowl every time he's been healthy.
That is the mission. Be Eric Berry. Or All Pro Charles Woodson, of course.
Can Peppers do it right away? I'm supposed to equivocate about freshmen here. I won't. He's got the size, he's got the speed, and he's blazed his way to the starting lineup essentially on day one. Sam Webb:
I know the Jabrill Peppers is hyped enough already but the word he is the real deal.  You saw the pictures so you know where he is physically.  But it's the non-stop motor and tenacity that just put him on another level from most freshmen.  …  It's often hard to keep expectations of freshmen subdued, but it's especially hard when they've been as good as advertised in practice.  They all say he is young and has a lot to learn, but also say he is as good as advertised.
I'm sure there will be some busts as he gets situated in the defense. That should be the primary issues. Go time: now.
[After the JUMP: the actual safeties, you shoe-throwing maniac.]
BACKUPS
BLAKE COUNTESS was Michigan's nickelback last year and would likely reprise the role if Peppers got hurt. That would be fine—Michigan has corners out their ears—but not dynamic, and we like dynamic. DYMONTE THOMAS is practicing exclusively at safety according to Mattison, but if Michigan can lock down some starters at those spots I bet the start trying to make him a nickel again, so that next year they can split Peppers wide and still get that sweet triple threat action.
SAFETY
RATING: 3.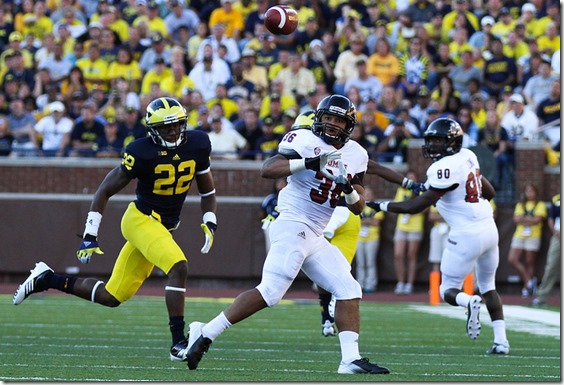 [Eric Upchurch]
JARROD WILSON…
We good? Okay.
JARROD WILSON was boring last year. Boring is good. Boring safeties are not, say, exploding in a fiery heap multiple times to lose The Horror, and it's very nice that Michigan does not project to have their free safety do that again. Feel the lack of big plays ceded on his watch in his UFR chart.
| Game | Opponent | + | - | TOT | Note |
| --- | --- | --- | --- | --- | --- |
| 1 | CMU | 4.5 | 4 | 0.5 | I'm more positive on him in feelingsball world. |
| 2 | Notre Dame | 3 | 1 | 2 | I love boring safeties. |
| 3 | Akron | 5 | - | 5 | INT was a lifesaver. |
| 4 | UConn | 1.5 | 1 | 0.5 | mmmm boring safety |
| 5 | Minnesota | 0.5 | 4.5 | -4 | Maxxxxxx got him a bit. |
| 6 | Penn State | 8 | 2.5 | 4.5 | Had a monster game until last OT PI. |
| 7 | Indiana | 1.5 | 4 | -2.5 |   |
| 8 | MSU | 3 | 0.5 | 2.5 | Why he's getting pulled for Avery is also a mystery. |
| 9 | Nebraska | - | - | - | Did play quite a bit, but didn't chart. |
| 10 | Northwestern | - | - | - | DNC |
| 11 | Iowa | 2 | 1.5 | 0.5 | Eh |
He had two negative days, one against Minnesota when Maxxxx Williams got him several times in coverage, and then the holistic tempo collapse against Indiana. After that Michigan inexplicably pulled him for large chunks of the MSU, Nebraska, and Northwestern games as they tried things like "what if this 180 pound cornerback is a better safety than Jarrod Wilson" and "hey look I found this guy Josh Furman on the roster." Those results were not good; Wilson got his job back, broke his hand before the OSU game, and the floodgates opened.
So he is important. You may be asking why he can't be like a Florida safety, and to that I say "because." I'll believe a Michigan safety can aspire to anything above boring when I see him kill someone with a trident and not before. Until then, Anonymous Big Ten Opponnent has it right:
"There's no one that really hits you like some teams so you knew you could get away with going over the middle or going up for a ball because you weren't going to take a lick. Some teams have these safeties that will just kill you, but Michigan wasn't one of them. They did have a guy [junior Jarrod Wilson] that was around the ball a lot but he wasn't a headhunter."
I'm fine with this. It would be nice to have that headhunter, but on a defense that appears to be structured around tight man coverage and blitzing if you do make them bleed down the field with impeccably boring safety play chances are they find themselves behind the chains before they can punch it in.
So this is what we want, all of this:
We want Wilson to use his size and considerable range to protect the bit of the field it's easy to throw into as his cornerbacks muck up short routes and force things outside. We don't really know what a safety is doing unless either he or the QB screws up, so a lot of my confidence in his ability is an inference based on a lack of bad clips. An opponent scores a long touchdown and people want to know why, so I clip almost all of 'em. This against Indiana is the only one on which I think Wilson was the main issue.
One per season is very good for a true sophomore.
We also want a guy who can stay home to bail us out versus Akron, ID and blow up screens, and the like. From time to time Michigan did bring him down and use him as an aggressive box safety or replacement linebacker, and these things generally went fine. About that Maxx Williams thing:
That guy with all the XXXXX in his name was lighting up Jarrod Wilson all day.

Sometimes the guy who comes in the picture to make the tackle is not necessarily the guy who had a problem, and sometimes I do have to make an educated guess at who's the issue here, so don't take any of this as a Proclamation or anything.

I do think he had a bit of a rough day. His bite here on not very convincing PA gets him out of position and opens up a nice gain:

The wheel route Minnesota hit, while seemingly the best coverage of the day that isoed up Wilson, was a bit of a PA bite and a bit of a pick that he was a step slow on. The make-up speed is the good part; the recognition was not so good.
So man coverage may not be a strong suit; if he is deep in man free most of the year it won't come up. And, again, true sophomore, improvement, etc.
I'll be fine if Wilson is about the same guy he was last year. He promises more what with the combination of Shazor-like size and range (though not hitting) with, you know, sanity. I like him a lot; I think he might be too boring for postseason recognition but BORING. IS. GOOD.
WHO WANTS SOME / who is getting ready for a snap [Fuller]
The guy next to Wilson is in some doubt thanks to one broken jaw, that belonging to DELANO HILL [recruiting profile]. Hill was supposed to be the narrow leader in the strong safety race up to that point; he was also supposed to be back for the opener. That latter is no longer the case, which opens the door to JEREMY CLARK [recruiting profile].
Neither of these guys has done much—anything in fact—on the field other than cover kickoffs and the like, so to the recruiting stuff we go. Clark was a sleeper in the Channing Stribling vein, plucked out of Kentucky before he got on SEC teams' radars. Originally a grayshirt, Clark was upgraded in the midst of a strong senior season that had the locals sniffing around, amongst others. He then redshirted, and got scattered snaps last season.
Clark's main asset is his size. At 6'4", he is a wingspan ballhawk type who's a close analogue of Wilson. He's better suited to thwack something out of the air than to come down and try to put a lick on a tailback a half-foot shorter than him. (Or, in Dennis Norfleet's case, nine inches.) And it was in fact Wilson who dove to the line as Michigan's SS when Clark was his partner at the fall scrimmage. And that is all we know. I don't even have any chatter blockquotes here except this one:
If Jabrill is at corner than who's your guy at nickel and what about Jeremy Clark? Looked like he was out there first.

"Jeremy Clark's really had a good fall camp, you know, really excited about his progress."
Woo. Sam did have some chatter:
He has long been regarded as one of the best athletes on the defense. He's 6-4, 205 lbs., runs well, and is fluid enough that they once considered playing him at corner.  But it has taken a while to make the mental adjustment.
Part of the reason Clark was off the radar is that he went to a tiny high school, so the adjustment period has been longer for him than it has for, say, Mason Cole at almost-college Eastlake.
There has been a bit more on Hill. For one, he is a member of the Greg Oden Super Old Lookin' Black Teenager club. I have included a photo at right so that you will agree with me as I make this important assertion. Delano Hill is going to look exactly the same until he is 50.
Hill was getting unreserved praise from the coaches before the jaw injury and is probably your starter if healthy. Mattison:
"Delano is a guy who has really done a great job in this off-season. I mean, he's really worked with Wellman in the weight room. He's really put it on himself to be a become a football player to be in the mix. …

he's right in every meeting and he's way more attentive than he ever was as a youngster."
Hill is a terrific athlete, having run an electronic 4.44 at the Opening as a recruit, and he actually had a reputation for being advanced for a high school safety.
He sees the field extremely well from his safety position, and closes passing lanes quickly. In each of the events we have covered Hill at in recent months he has come down with a number of interceptions, and that was the case again on Saturday. Usually cornerbacks take home MVP awards from the defensive back group because a lot of the work is in man coverage. Hill's win as a safety attests to his abilities in pass coverage.
He also brings the wood in a way Michigan safeties haven't in a long time:
Hill is an aggressive run defender with good zone coverage skills; also displays the athletic skills needed to cover inside receivers.  … a tough customer who demonstrates open field tackling skills … His run support is outstanding; will come up and force off the edge while demonstrating quickness filling the ally; is a very aggressive downhill run defender with the ability to move through traffic; displays very good long pursuit ability.
Who's the last intimidator Michigan had at safety? Marcus Ray? I think it's Marcus Ray. Anyway, that makes him a good match with Wilson in Michigan's new aggressive defense. He is suited to strong safety; Wilson is suited to free safety. This year it seems like there is going to be a considerable difference between those two spots, and that perhaps more than anything else gives him an edge.
I liked both these guys as recruits and they've had some time to acclimate. While I wish there was a third guy in the equation who seemed like a plausible option—we'll get to the mysterious disappearance of Dymonte Thomas in a second here—I'm relatively confident this won't be a huge issue, especially since Michigan looks like a cover 1/3 team that won't put the SS as the only man between Michigan and a long touchdown particularly often.
BACKUPS
The Hill/Clark loser is going to be the top backup at both spots, and will probably see a reasonable amount of time even if everyone's healthy.
[Adam Glanzman]
After those two it's DYMONTE THOMAS [recruiting profile], who you could be forgiven for thinking is actually named What Ever Happened To Dymonte Thomas? Thomas was the anointed hybrid space player that would save us all from destruction at the hands of the spread barbarians. He kicked off his career by spectacularly rejecting a Central Michigan punt, literally blocking it before the punter kicked the dang thing.
With his foot.
Everyone went "much fast so lickety" and projected that he would be totally awesome and stuff. Thomas disappeared immediately, and so thoroughly that there are several search parties still combing the Alaskan wilderness for him. Blake Countess, who is decidedly not a Hybrid Space Player, was the nickel all year.
This isn't a huge surprise since Thomas was a tailback and linebacker in college; transitioning was always going to be a thing. But is it so hard of a thing to play nickel, a spot where an error costs you a first down but usually doesn't result in a complete meltdown? Er… I don't like the answer to that question. I mean, if the guy can do this according to Mattison…
There was a play this spring where he blitzed from the far corner, the ball got off, and he made the tackle downfield coming all the way around the quarterback and running to get it. I said 'there's the nickel you're looking for'. I really am looking for big things out of him."
…and the hybrid space player is a big deal to have, the disappearance is ominous.
Apparently Thomas was a Total Loose Cannon last year:
"I learned that I don't have to try to make every play myself" -Dymonte Thomas.

That's a major step for a kid that had issues with being overly aggressive.  He has always been a "see-ball, get-ball" guy, but this year he says he understands that sometimes the defense is set up for one of his teammate to "get-ball"  and that it's his job to funnel the ball-carrier player to that teammate.  
This is not a good way to see the field. It also makes you wonder what the hell he was on it at all for, but let's just file that under standard redshirt bitching and move on. Since we've had a couple of generic positive quotes about having a good spring* and absolutely no indication he was in competition for a job.
So… yeah. It's early yet, but if your bust alarm is going off I can't blame you. Let's hope this is all much ado about little information.
Watson and Dawson are on the shelf [Fuller]
There are no other scholarship safeties on the roster, but eventually some dudes are going to get moved there. One, freshman BRANDEN WATSON [recruiting profile] seemingly already has, which is a real weird move since Watson was recruited mostly because he spent his high school career lined up two inches from the nose of his man. ECA seemed to never ever play anything but man press so he has got to be very far away from readiness. A redshirt beckons.
And there is redshirt freshman REON DAWSON [recruiting profile], a major project with one main asset: speed. Dawson was a late replacement for Gareon Conley, who decommited for OSU once it was clear he was pretty good. Dawson had his arm in a sling at both open scrimmages; no idea how long that will hold him out. Special teams duty should kick off his involvement, and given the depth chart trying him at safety seems inevitable.
Also I should mention redshirt sophomore AJ PEARSON, a walk-on who made the two-deep out of fall camp thanks to the Hill injury. This is the sum total of the world's knowledge about Pearson:
"A.J. Pearson, a guy who walked on from Atlanta, is a pretty good football player. He's getting some looks in there."
We actually have a thread about him from 2012, which contains slightly (slightly) more information.
*[Given Willie Henry it seems like a good sign when your coaches said you had a pooptastic spring, because that means they think you can be good if you're mad.]