Preview 2014: Defensive Tackle
Previously: Podcast 6.0. The Story. Quarterback. Running back. Wide Receiver. Tight End And Friends. Offensive Line. Defensive End.
A note before we start: this preview relies heavily on the defensive UFRs of last year because there's a convenient numerical system that does a decent job of summing up a defensive player's contributions. One caveat: the system is generous to defensive linemen and harsh to defensive backs, especially cornerbacks. A +4 for a defensive end is just okay; for a cornerback it's outstanding.
Depth Chart

| STRONG DE | Yr. | NOSE TACKLE | Yr. | 3-TECH | Yr. | WEAK DE | Yr. |
| --- | --- | --- | --- | --- | --- | --- | --- |
| Brennen Beyer | Sr. | Ryan Glasgow | So.*# | Willie Henry | So.* | Frank Clark | Sr. |
| Taco Charlton | So. | Ondre Pipkins | Jr. | Chris Wormley | So.* | Mario Ojemudia | Jr. |
| Henry Poggi | Fr.* | Maurice Hurst | Fr.* | Matt Godin | So.* | Lawrence Marshall | Fr. |
Depth chart shows everybody just because.
What looked like a sure strength at the beginning of the season degraded gradually and then suddenly; by the end a 285-pound Jibreel Black was trying to hold up against the best rushing attack in the country in the Ohio State game. That could have gone better.
With both projected interior starters gone, that might be time to panic, but actually… Michigan has options here, and talent. Injury and and inexplicable absence contributed heavily to the issues last year. Ondre Pipkins suffered a midseason ACL tear; Quinton Washington was left on the bench for most of the after a breakout turn his junior year, and then didn't play well when he was in the game. Thus the amount of talent they actually have on the field is just about what they had last year plus a year of experience for everyone and the additions of Pipkins and early-enrolling freshman Bryan Mone.
NOSE TACKLE: HOUSE OF GLASGOWS
Rating: 3
Glasgow (left) and Mone, one of the many men chasing him.
I'm not exactly sure what we expected at this position. I can guarantee it was not RYAN GLASGOW, he of the rootinest, tootinest clan of walk-ons to ever wander onto Michigan's roster and lock down starting spots down the spine of the team as sophomores. Yes, Glasgow is related to Glasgow and has essentially the same origin story: they were enormous dudes who didn't play football until their last year of high school, and now they're starters.
In Ryan's case this may be nominal and temporary. Nose tackle sees a ton of rotation even in adverse circumstances, and as we're about to detail there are a pile of guys pushing from behind here. And then there is the Pipkins thing: Glasgow may be in front of Pipkins only because it takes a long time for big guys to recover from major injuries.
But he's here. And… uh… he is here. There is obviously no recruiting profile for him. And Glasgow only got sparing snaps a year ago as a redshirt freshman. He didn't do much in those snaps; the only clips I got for him were a couple of times when he got blown up a bit, once dropping to a knee against Akron, once taking the brunt of a Notre Dame double team.
Now, this is not actually out of nowhere. Two years ago this preview specifically noted Glasgow's existence:
And here's a weird one: I've heard that Michigan thinks they have something in walk-on Ryan Glasgow. … It would be a longshot for him to see the field this year, obviously, but he's listed at 294 already and is a guy to keep an eye out for in case that pans out.
As his brother's proven, these guys come with the requisite size and strength for the major level of competition. Meanwhile Glasgow is ahead of a ravenous pack behind. (One that could also include Willie Henry if the coaches were uncertain about nose tackle—Chris Wormley would cope just fine as a starter.) This is a situation in which having the walk-on on top of the depth chart is probably fine. Onfield issues last year don't mean much more than he was a freshman DT. Even the most highly touted guys often struggle their first couple years as their conditioning and technique catch up.
Also positive Sam Webb talked with Mark Smith, his position coach, and Smith went out of his way to bring Glasgow up:
During one interview he interjected with a mention of Glasgow's name.  At the end he said, "(Glasgow) had an outstanding spring and will compete for a lot of time."

Well Glasgow has continued that strong play from what I hear.  He is without question one of the strongest players in the program (I believe only Pipkins tested out stronger during the spring), he's huge, Smith described him as a technician, and he has a non-stop motor. Don't confuse this with the Nate Brink talk of a few years ago. 
Webb's not going to prompt a guy to talk about a walk-on; that's something a coach has to know and think about and make an effort to bring up. Mattison did something similar last year:
Who's pushing Jibreel Black and Quinton Washington?

"Watching the tape, and you look, and all of a sudden Ryan Glasgow, from the three-technique position, makes two tackles on the line of scrimmage all the way down the line the other way. When we stopped it and showed our guys and said, 'Look, this is Glasgow making this play. This is a heck of a job.'"
Webb did mention that part of the reason Glasgow is in front is because Michigan is making every effort to be careful with Pipkins as he returns from ACL surgery, so it may not last. Playing time will; nose has two starters essentially.
So it's fine. If he doesn't perform, he will get yanked. Michigan has…
[After THE JUMP: everybody into the pile! Pipkins deployment, MEAAAAT, OGRE, and more pile.]
A PILE OF BACKUPS
There is a pile of depth. It is young; it is still pretty freakin' awesome to see three good to very good options here.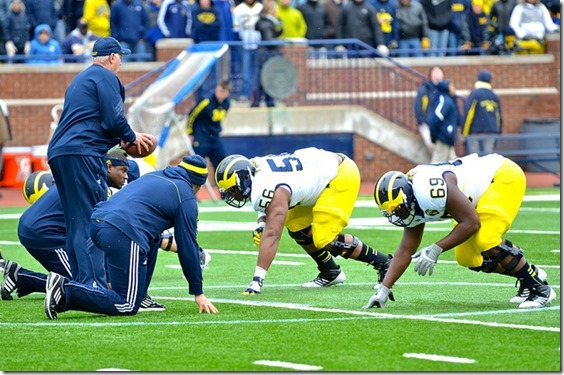 This could be a common pairing. [Fuller]
Obviously, ONDRE PIPKINS [recruiting profile] was not supposed to get listed in this section. He was supposed to apprentice for one more year and then emerge into an all-consuming force right about… now. Unfortunately, that ACL tear has delayed things. Pipkins was not full-go this spring and was cautiously worked back in this fall:
Michigan headman Brady Hoke mentioned his plan to limit Pipkins during two-a-days, but the third-year lineman insists that that is strictly a precautionary measure.  He believes the physical aspect of his recovery is complete. What's left is mental, and he has made great strides there also.
He's a very large man less than a year removed from destabilizing his knee. Caution is a good idea.
Importantly, the injury does not appear to have impacted his conditioning. Pipkins passed all of his conditioning marks this fall is now down to a svelte 305. Pipkins on that: ""the last time I was that size I was in middle school." Not sure if serious, but let's put the sad vegetable picture up in tribute.
YOU MADE IT
Well done sir.
Pipkins has always flashed huge talent. Hell, one of his first snaps at Michigan was an obliteration of all-everything senior Barrett Jones:
Last year he showed an ability to two-gap against Notre Dame's excellent center:
When we got our insider look a few weeks ago, Pipkins seemed to be back to the improbable combination of size and movement that made him such a big-time recruit:
…the just-returned Pipkins was praised for his agility. He dominated one-on-one sessions and made some spin moves that seemed "impossible" for a guy his size.
Webb was relaying similar sentiments from a practice where he reputedly "imposed his will"… at times.
"At times" is the ballad of the promising young defensive tackle and it applies to Pipkins in full. For him it's a matter of being dominant on every play—okay, two thirds of the plays—instead of tantalizing with the ability to throw guys into the quarterback and then disappearing behind a scoop block on a stretch play. The Heininger Certainty Principle should start kicking in right about… now.
"(I) didn't have as good of hands last year as I feel like I do now.  Running to the ball, that can get better.  Playing the blocks and getting off blocks.  If you watch film from last season, I really couldn't get off blocks as good.  Now we're working on getting off block, shedding blocks a lot more every day in practice.  That is where I took the next step and that is why I feel like I'm a better player than I was last year.  I'm getting my technique down instead of just going, I'm planning my technique now."
It might be a bit of a slow start; I have a dollar that says Pipkins's junior year feels a lot like Frank Clark's.
Obligatory Pipkins Hoke impression goes here.
IN UR BASE [Fuller]
After Pipkins, two freshmen entice. Redshirt freshman MAURICE HURST [recruiting profile] was only a 3/4 star tweener coming out of Massachusetts, but one look at his film and the Mike Martin comparisons start coming in waves. Here's his grizzled, hard-bitten high school coach momentarily channeling his inner Brony:
"I think probably the first indication to me was my defensive coordinator Al Fornaro said, 'You've got to see this guy come off the ball.' I looked and went yay."
That first step is magic yo. His entire recruiting profile is based off that ability to get off the ball in a flash, just like Martin.
Hurst's profile increased after a dominating appearance at the Semper Fi game…
Once the ball snapped, he was a complete animal. His explosion is terrific. His aggressiveness and ability to get underneath lineman is tremendous.
…and given his location and previous camp avoidance the distinct impression is that Hurst is underrated; he would have been last year's Sleeper Of The Year except for those danged sites that picked up on his surge and moved him into their Top X lists.
Hurst started redeeming that promise in earnest this offseason. He may have been the star of the open fall scrimmage. He blazed into the backfield four or five times, once securing a safety and other times blowing runs to hell. Disclaimers about Michigan's second string OL apply, yes. Even before that Webb's moles were saying he was "tough to deal with because of his blend of power and exceptional quickness."
With neither Pipkins nor Glasgow looking much like a quick-twitch pass rush guy there seems to be an obvious role for Hurst this year as the designated nickel NT, with scattered snaps in regular packages and definitely on the goal line.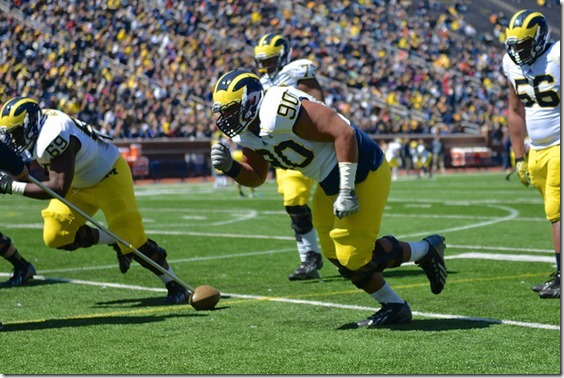 MY ANACONDA DON'T WANT NONE UNLESS [Fuller]
The other option is true freshman BRYAN MONE [recruiting profile], who enrolled early and made an immediate impact in spring. But first, MEAAAAT:
Coach Hoke had a nice feast with the Mone family last night for his in-home visit. pic.twitter.com/DaKu7m8S0q

— Steve Lorenz (@TremendousUM) December 4, 2013
Second, I know what Brady Hoke's favorite music video of recent vintage is:
Question:  Talk about Bryan Mone a little bit.  He's a big kid and it seems like he has the potential to be a difference maker down the road.

Brady Hoke:  "He's one of the freshman who came in, in January who I think gives us that quality depth.  He's a tremendous individual number one, but he loves to play the game.  He's fun to be around.  He has huge hands and huge butt, which butt is good.  We're excited about him."
Transcription typo? Perish the thought.
Mone was impressive enough to draw mention in our spring recap and was a big-time recruit with a Branch-like skillset:
…very athletic for his size. Mone is very quick off the ball and can use his athleticism to swim around offensive lineman or use his size to bull-rush. One of Mone's biggest assets is his hands. On film, Mone shows violent hands and uses them to gain proper leverage in the trenches. …nimble on his feet for a 300-pound athlete, showing great change of direction and the ability to avoid lineman when needed.
He was still working his way down from 350 to around 300, a process which seemed to be just about complete by spring—he's currently listed at 312.
They certainly don't have to play him—it would in fact be nice to get some separation since the other three  guys in contention for playing time will all be back next year—but he's just about physically ready and was around for spring. He might get a redshirt just because Michigan doesn't need him.
Finally, Michigan will redshirt sleeper recruit BRADY PALLANTE [recruiting profile] this year. Pallante is a shortish heavyweight wrestler type who needs time to significantly increase his weight—currently 255.
THREE-TECH: UNLEASH THE OGRE
Rating: 4
The guy on the turf was blocking Henry until Henry decided that was over. [Fuller]
This preview has noted that offseason coachspeak is about 95% motivational lies multiple times already, and now we come to the grand bull-moose proof of such a thing: Willie Henry. You may recall that Henry was banished to third string for the spring game even after starting for much of the year. In the aftermath, his position coach was pretty blunt about what was going on:
"Willie's a young man that has great potential. Willie can be as good as Willie wants to be.

"And when he decides that's the time, he will be."
Henry was put in a heated position battle that rumbles said he would lose. He was publicly urged to get it together. This did not feel like a normal thing for a freshman off a promising debut; it felt like an explanation for why a guy was not playing. Henry, of course, did. A lot.
Why did this happen? Because Willie Henry can be f---ing awesome. I've watched Michigan's defensive linemen for a long time now and I have never seen a freshman with the ability to just, like, put that offensive lineman somewhere else.
That guy did not go into that play thinking he was a screen door to be opened at Willie's convenience. And yet, here we are, torn off the hinges. And then there's the Talismanic Willie Henry Play against Michigan State, where a tackle gets under his pads and starts driving him back until Henry is just like NOPE:
That is bad technique rescued by sheer strength. Dude is an ogre. I might just call him Ogre.
Or this one:
That's a freshman! Nobody does that. Nobody just throws offensive linemen away like that unless they're Brandon Graham, and even Brandon Graham didn't really take off until he was a junior.
So.
Michigan knows Henry can be f---ing awesome and needs Willie Henry to know that he has a pot of gold waiting at the end of the boring, work-intensive rainbow. So they're on his ass day and night. And Henry has responded. Hoke:
"Willie has had a really good summer, real good.  I'm proud of Willie, from the academic part of it, to how he has made strength gains.  Him and Kyle Kalis are most likely the strongest guy on the team.  I'm saying that without looking at measurables and all that.  Just very strong human beings."
This is true. This preview started getting hyped on Henry last year when a Mike Rothstein post-season survey of outgoing seniors landed on Henry as the best redshirt freshman because he was "strong as an ox," "an animal," and "as talented as some of the guys I played against this year." There are a number of plays he makes like the first MSU one above that he should just not be able to, like when you're sealed on a stretch but it don't matter to Ogre.
Because of that strength his MGoChart is pretty great for a freshman DT who didn't even play in the first two games.
| Game | Opponent | + | - | TOT | Note |
| --- | --- | --- | --- | --- | --- |
| 3 | Akron | 6.5 | 1 | 5.5 | A nice introduction. |
| 4 | UConn | 3.5 | 3.5 | 0 | Made a couple plays but got housed once. |
| 5 | Minnesota | 1 | 6 | -5 | Rough outing. |
| 6 | Penn State | 5 | 1 | 4 | Displayed strength on one particular inside zone blow up. Nice bounce-back. |
| 7 | Indiana | 5.5 | 1 | 4.5 | Every standard down should have Henry or Washington. |
| 8 | MSU | 9.5 | 5 | 4.5 | Up and down and mostly up is something I'll take from him. |
| 9 | Nebraska | 7 | 4 | 3 | Highly variable as technique is consistent but strength massive. |
| 10 | Northwestern | 9 | - | 9 | Didn't get blown up in this game. |
| 11 | Iowa | 3 | 5.5 | -2.5 | Iowa's meaty line exploited his lack of technique. |
Yow. But there is the obvious catch, especially when you consider that Henry was one of the guys on the interior of the line getting splattered by Ohio State: big, old, powerful offensive lines pretty much handled Henry. That's because he needs a visit from the pad level fairy. Being able to do that thing against MSU is impressive, but it is also not something you get to do most of the time that happens to you.
If Henry has put in the work and has the technique down, he is going to break out in a major way. We saw suggestions of that in the fall scrimmage, and buzz from inside Schembechler is headed the right way:
Ask the players who has been balling out this fall and Henry's name comes up first.  One coach said, "Willie is that SEC type lineman." He apparently has been extremely disruptive.  This is another example of a kid maturing. 
… He has bought in and everyone says it shows. "I accepted (the criticism) like a man." Of all the talent they have up front, the vibe I get is they feel like this kid has the most potential.
Yes, sir. I'm not sure Henry gets all the way this year since he had so far to go with his technique… but he doesn't have to get all the way to be an impact player. It says here he's All Big Ten and enters next year with significant draft chatter.
BACKUPS
CHRIS WORMLEY was actually excluded from the first two deep in favor of Matt Godin, but we saw so much more of Wormley last year that we should talk about him first. Because I don't have much to say about Godin.
Wormley, though, is a bit of an enigma. He has the sheer size to be in Henry's class…
"Number one, he's huge. He's a big guy," Hoke said.
…and has now cracked 300 pounds. He just hasn't done much with that, seemingly ever. When Ace caught him in high school he was not a force despite towering over the opposition…
Wormley's best way to get penetration was to simply run right around his blocker, and while this was nice to see in terms of evaluating his quickness, it brings up another point of concern—how is a 6'6", 270-pound Michigan-bound DE not completely flattening the 6'2", 225-pound offensive tackle across from him with malicious regularity?
…when his coaches talk about him they talk about a really nice guy who has not yet found the proverbial Switch…
Mark Smith:  "Chris has the ability to be one of the most dominant players that we have on our defense.  You look at the size, the strength, and the athleticism that he has, as soon as he understands that every time that ball moves, 'I come off the ball'… he is going to be a very good player.   …  You're hoping it's one of those things where all of a sudden, you always talk about, well, the animal finally tastes blood and it likes it.  That's what you want from Chris."
…and now he's found himself behind Godin on the depth chart. Is that a real thing? Is it slapping a grizzly in the face with a salmon to see if he gets mad? What happens if he doesn't?
I do think the depth chart is an attempt to get Wormley to hulk up. He wasn't bad for a redshirt freshman coming off an ACL injury last year.
| Game | Opponent | + | - | TOT | Note |
| --- | --- | --- | --- | --- | --- |
| 1 | CMU | 4.5 | 1 | 3.5 | Nice push a couple times. |
| 2 | Notre Dame | 1 | 5 | -4 | Blown out by doubles, but is RFr SDE playing DT against good line. |
| 3 | Akron | 0.5 | - | 0.5 | Henry and Godin took over. |
| 4 | UConn | 4 | - | 4 | Helpful on multiple sacks. |
| 5 | Minnesota | 1.5 | 2 | -0.5 | Plug plug plug. |
| 6 | Penn State | 8 | 3 | 5 | Also got a couple freebies. |
| 7 | Indiana | 4 | 5.5 | -1.5 | Weak for DT at this juncture. |
| 8 | MSU | 3 | 1 | 2 | Mostly SDE. |
| 9 | Nebraska | 3.5 | 1 | 2.5 | Not much of a playmaker but getting better. |
| 10 | Northwestern | 2.5 | 1.5 | 1 | Hoping for a leap next year. |
| 11 | Iowa | 5.5 | - | 5.5 | Had an impressive sack. |
He wasn't Henry, but he's holding his own most of the time. With more weight and experience he should be a plus player. When he gets going he can impact guys with enough power to MAKE PLAYS:
That's kind of his only move, though: grind up through a guy until you eventually get there. The kind of dynamic power Henry displays is absent from Wormley's game—not only the OL ragdolling but Henry's ability to bull through OL in the run game, when they're firing off at you. Wormley holds his ground, and so far that's all.
Too often his momentum ceases when he hits double.
Freshman against a good ND line, to be sure. We may be collectively too harsh on Wormley because he looks like a normal, fairly promising freshman instead of an ogre. But the questions are clearly there.
I think he overcomes a number of those to be the clear #2 three tech and gets a bunch of time, depth chart or not. Coping as a freshman usually means good things for your future.
They call him Ol' 99 because they don't know much about Tom Harmon [Bryan Fuller]
Meanwhile, MATT GODIN [recruiting profile] is on the two deep in front of Wormley. Godin was the third string 3-tech last year, seeing scattered snaps across the season. I've got one clip for him that I haven't even looked at that is…
…oh, hey, it's actually a nice pressure up the middle. Against Akron, sure, but I was expecting something bad, because young DL.
We don't actually have anything else on the guy. He didn't get any discussion in UFR; he hasn't been mentioned enough to get tagged in a press conference; and pretty much the only blip he's made since last year's preview was when he started next to Glasgow in the fall scrimmage. At 6'6", 286 he's a bit tall for DT, but again, if he's not playing well he won't play, because Wormley and Henry will eat all the snaps.
And TOM STROBEL [recruiting profile] still exists. He was a solid four star recruit coming out of high school but disappeared into the hinterlands of the roster immediately and has not given any indication he's going to climb out. He's a redshirt sophomore now, he's listed at 6'6" 268, and he's playing three tech despite Michigan's Henry/Godin/Wormley three-deep while Michigan could use some additional ends. All of that is bad for his prospects of ever seeing the field.