Preview 2014: Running Back
Previously: Podcast 6.0. The Story. Quarterback.
IT'S SUPPOSED TO BE THREE *YARDS* AND A CLOUD OF DUST

-This Preview, Last Year
IT'S SUPPOSED TO BE ANYTHING POSITIVE AND A CLOUD OF NOT EBOLA
Rating: 3
| FEATURE BACK | Yr. | SHORT YARDAGE | Yr. | 3RD DOWN | YR. |
| --- | --- | --- | --- | --- | --- |
| De'Veon Smith | So. | Derrick Green | So. | Drake Johnson | So.* |
| Derrick Green | So. | De'Veon Smith | So. | Justice Hayes | Jr.* |
| Drake Johnson | So.* | Wyatt Shallman | Fr.* | De'Veon Smith | So. |
How did Michigan's current tailbacks do last year? I don't know and they don't either. The situation on the line and Fitzgerald Toussaint sucking up a bunch of carries left Michigan relatively short on snaps to give anyone still around, and then when they got those snaps they were immediately drowned in a pile of opposition bodies.
This was especially bad since Michigan has almost exclusively recruited guys with tree-trunk legs who aren't going to put a Hart move on you. An anonymous opponent talks to Michael Spath at Big Ten Media Days:
"They needed to have a really quick, change-of-direction back, kind of like [Nebraska's] Ameer [Abdullah], but they had two guys that were similar size that were more like the big, physical type. Like Carlos Hyde, but they weren't as fast as Carlos, they didn't have the holes to run through, and they didn't have the vision."
Or that vision was wall-to-wall doom. The jury is emphatically out.
THE THREE-HEADED MONSTER-TYPE SUBSTANCE
Unless Ty Isaac gets his NCAA waiver, something that does not seem likely, Michigan only has four-ish tailbacks on the roster after Ross Douglas's sensible move to slot receiver. Three of those have drawn heavy mention through fall camp, and one seems to be the very tentative #1 back. (Or at least he did until they released the depth chart this morning, but Rome wasn't written in a day, people.)
HAIR ZOOM 2014 [Fuller. Nice resolution, bro!]
That is DE'VEON SMITH [recruiting profile], a ball of muscle Michigan won in a head-to-head battle with Ohio State. Smith had a bit of a Braylon Edwards in him last year… the Braylon who was infamously Not On The Same Page with Lloyd Carr early in his career. Smith was left off the travel roster in early November for obscure reasons—Hoke gruffly explained that "De'Veon didn't travel because I took him off the travel team"—that turned out to be some major friction about playing time. Smith couldn't understand why he didn't have all of it and had a rep for expressing that point of view… let's say passionately.
It seems like that friction is in the past now. Reports have varied as to who is at the top of the tailback depth chart, but they have varied in who, if anyone, is 1B to Smith's 1A. The BTN guys said Smith was at the top when they visited practice; our insider thought Smith was clearly at the top of the depth chart; Hoke told the assembled media that Smith and Drake Johnson were the top two guys. Then he said Green was the top guy with Smith just behind, and then they were neck and neck. so… yeah. My Bayesian estimation is that Smith has a tiny lead that wouldn't even be worth mentioning except for the fact that I have to talk about someone first.
Given Brady Hoke's favorite word other than "well" and its total lack of applicability to the last couple editions of the Michigan ground game, these presser statements are almost a coronation:
"The one thing I know about De'Veon is he's probably as tough a guy as I've been around. His identity is toughness. The way he practices, he's a guy who can get dinged up but he's still going to go, and he's going to go, and he's going to go."
I'm totally fine with this. I predicted Smith would emerge as the #2 back last year; I preferred him when asked in a mailbag after the season.
I am bullish on him because people complain about his speed, and I like Mike Hart. Speed is an overrated quality for tailbacks because 90% of the time they never approach their top end, and Smith brings a lot of Hart-like qualities to the table.
One is the fact that if you used a giant claw to extract De'Veon Smith from the tumbling melee of a football game, his legs would keep going. Turn him over: still going. Etc. From the Northwestern game:
I liked Smith's "leg churn," as faux NFL draft analysts like to say. He seems to have a knack for keeping his thighs moving as the pile forms around him.
That ability to keep his stride when being harassed was key for his big run against OSU, when he ran through two tackles without even acknowledging their existence.
And since Smith barely got a carry with any room to do anything last year the GIF I asked Ace to pull from Smith's highlight film is still a good representation of his assets:
The man has uncanny balance and the ability to run through tackles. In addition, Smith had a Hart-like aversion to fumbling through his high school career and didn't put one on the turf in his freshman year.
What Smith didn't show in year one was anything approximating Hart's ability to ghost out of tackles he had no right to avoid. Smith needs more help than Hart did and hopes to make it up by being bigger and more powerful once he gets going. That was a major problem last year and might be one again.
The broken record bit: any attempts to predict production here are seriously compromised by the massive question mark on the offensive line. I'm guessing Smith and Green platoon just about down the middle, with neither really emerging into a star; both are decent, and just decent.
[After THE JUMP: Mega-recruit now mega-hulk, the pass-pro brothers, God willing, and a belated appreciation of Vincent Smith.]
Apparently this must have happened last year. [Fuller]
Speaking of Green, head #1A is mega-recruit DERRICK GREEN, who everybody panicked about because he was too big as a freshman. There was e-looting and e-chaos after the fall roster listed him at 240. Everyone then felt totally vindicated about this panic as they watched Green work his ass off to turn into perma-Hulk as they ate cheese puffs while watching Buffy on Netflix. (Is Buffy on Netflix?)
Obligatory shirtless instagram photo:
Everyone isn't wrong. The roster in fact underestimated Green's heft; according to the man himself he was 248 with 27% body fat last year. Green's freshman year did underwhelm, and for reasons beyond the chaos in front of him. Spath flagged down an anonymous Big Ten opponent for a take:
"Green was supposed to be their big freshman but he didn't impress me. He was really slow to the hole, and with their line, that hole was so small and he just wasn't the kind of guy that could squeeze in there."
From my point of view, Green just kind of fell over too much. After Minnesota:
Derrick Green is a bust? He's a bust!

I didn't think he could do much with the runs he couldn't do anything on. But he hasn't shown a whole lot of power yet, which is worrying. He goes down on first contact a lot for a power back.
One offseason later, Green is 220 pounds with 9 percent body fat and ready to rumble. Ideally the weight loss will make him faster to the hole, whereupon he can run through guys trying to tackle him from the side and maybe get to his true A+++ skill, which is trucking safeties like a mofo.
We have the requisite reports that Green is "much more physical" this year and that his feet are very good for a guy his size. That was the reason he was such a big deal recruit: a combination of  size and nimbleness you don't often get.
Green can only live up to those recruiting ratings if he is a physically overwhelming dude in the mode of an Adrian Peterson or a Beanie Wells. When so much of his weight last year was not capable of generating power he was just a guy; maybe this year he can be something more.
Started from the bottom, now we're here. Which is third. But third isn't bad! [Fuller]
Redshirt sophomore DRAKE JOHNSON is head #1C. He was touted as a potential feature back for most of spring before Hoke made an abrupt about-face late, classifying Johnson with Justice Hayes instead of the two moosebacks:
"All of them have done a nice job, I think they're improving, I think they're getting better," Hoke said. "In third down situations, Drake and Justice have done a nice job."
Then depending on who you listen to he has either been a real contender to start or a guy who will play because he's their best pass blocker. And hey, after last year we are all hyper-aware of the importance of pass blocking in a tailback. Sam Webb a couple weeks ago:
He is showing power and explosion without the tentativeness that is typical fresh off of ACL surgery. He was also the best pass blocker before he went down last year, and that is a HUGE key.
But by the end of fall camp Johnson had clearly fallen behind Smith and Green:
"Going into it, Derrick was No. 1, yes," Michigan coach Brady Hoke said. "I think No. 1a was De'Veon. And I think Drake can help us a bunch."
And things were back to where they were in spring: Johnson will play, but Michigan has better options for feature back.
Since Johnson blew out his ACL covering a kickoff in the opener last year we don't have much to go on other than his reputation as a recruit—very fast straight-line guy without much wiggle—and the odd thing that's reached the outside of Fort Schembechler.
Oh and this is your annual reminder that Drake Johnson was directly exposed to the fact that Fred Jackson cannot have his thirst quenched by anything.
ALL HAIL THE VERY IMPORTANT THIRD DOWN BACK
This is going to be weird, but: it's only a small exaggeration to say that Vincent Smith's departure was the most damaging that Michigan suffered before the 2013 season. The Last Of The Pahokeeans was a blitz pickup machine; in his absence everything was higgledy-piggledy.
For real. No one in the history of UFR has ever had back-to-back weeks in its protection metric like Fitz Toussaint did against MSU and Nebraska: –14, –9. In general a –2 is awarded for a complete biff that destroys a play whether it leads to a sack or a wild rollout that ends in zilch. I was advocating for Jack Miller's removal after he put up a –6 against UConn, and a tailback(!) more than doubled that in one game. It was beyond ugly.
On this one he comes to a stop after the PA fake and gets run over by a blitzer. Toussaint hits this guy in the chest instead of the midsection.

He's also stock still, which means all the momentum is with the defender.
I have no idea why or what happened to him and may have unfairly asserted that a couple of missed pickups where his fault when it's equally possible the line was a problem, but the overall trend was shocking. Insane, and shocking. I mean:
So! Let's fix that. Can we fix that? I don't know but I am going to assume yes because otherwise I will die right here right now.
DRAKE JOHNSON is likely to get first crack at third-down back, given his apparent third-place finish in the tailback derby and his reputation as Michigan's best pass blocker. As for what Drake Johnson's like, see above. We don't really know yet.
Justice Hayes is hanging around at #4 [Fuller]
Michigan will also play JUSTICE HAYES, who was reputed to be a spread-oriented space back coming out of high school but decided on Michigan anyway. He's struggled to get off the bench thus far in his career, which is alarming since he was a junior last year and Toussaint was doing all that stuff above. Hayes did get some time as the season went on, mostly as a quick release valve in the short passing game.
It seems like that's going to be his role, if he in fact has one. Hoke:
"Justice (Hayes) caught the ball out of the backfield well. There was (a blitz where) he stepped up and took on the linebacker, did a great job."
He is pigeonholed.  For what it's worth, I thought Hayes was a viable option after the spring scrimmage:
On the few runs on which tailbacks had an opportunity to do something notable it was usually Justice Hayes doing the notable thing. He had a couple of quality cuts in tight areas that got him a nice chunk. … There's no reason that Hayes shouldn't be given a look as the feature back after last year's lack of production all around and his evident ability. He was no slouch as a recruit, and being able to pick through traffic is a nice skill to have.
I was pretty frustrated when Hoke mentioned Hayes strictly as a third down back afterwards. Michigan seems to insist on having big guys at tailback under Hoke. Maybe he's not replicating the promise that admittedly tiny sample size suggests.
Hayes probably isn't going to get more than a few carries with Johnson horning in on his third down role, and then maybe he'll get a dozen catches on top of those—Michigan does seem to be emphasizing quick swings out of the backfield for which Hayes is well-suited.
PROBABLY THE LAST GUY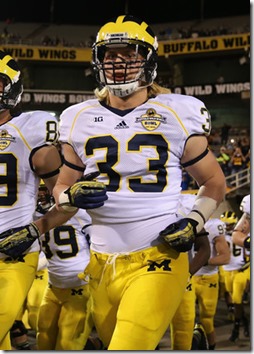 Shallman, Isaac
Even if no one else believed it, Michigan brought WYATT SHALLMAN [recruiting profile] in as a mondo tailback last year, and Shallman did play there during the fall scrimmage. He may be an H-back long term; this year he's an interesting option for the role Michigan invented late last year when Joe Kerridge started getting a bunch of snaps next to Gardner in shotgun formations. Kerridge was just there to block; Shallman may  be able to provide FB-style blocking while being more of a threat to do something with the ball.
And the probably: USC transfer TY ISAAC is around, hoping he gets a waiver so he can play this year. Given the way Michigan has approached his practice time—scout team—that does not seem likely. Hoke just mentioned that Michigan hasn't heard anything about Isaac's "appeal," so they've been shot down once already. Wait 'til next year.