10/22/2016 – Michigan 41, Illinois 8 – 7-0, 4-0 Big Ten
viscera cleanup crews are on overtime [Eric Upchurch]
Dear reader, it turns out there is a downside to Michigan hog-walloping every team they play. You see, when every game resembles Brock Lesnar versus a toddler the emotional import is rather muted. Michigan was always going to put it on Illinois and their third-string quarterback. They scored four straight touchdowns to open the game and cruised home; I spent three quarters of the game wincing when Michigan players required attention from the medical staff, very much ready to hit the fast-forward button.
This is a difficult column-writing environment. Sometimes you get a gift like Jabrill Peppers annihilating some poor staffer on the sideline. Sometimes there's a 41-8 game that doesn't even cover the spread and Peppers has the temerity to fair catch punts in the third quarter as Michigan Stadium groans because we haven't seen nearly enough comical explosions to sate our greedy little hearts.
So I must confess, dear reader, that I do not have a grand overarching theme to offer you. We're past the point when we can say "boy, it is nice to blow out a team you are supposed to blow out"; I already wrote that one. I already wrote the one about how this looks like a historically good defense. I already wrote the one that looked back at the Brady Hoke and Dave Brandon mess, which was two years ago and feels like two hundred. I already wrote the one about how Michigan broke the opposition's spirit, and the one about how we're crabby crabs looking for any flaw because of the roadblock at the end of the season. I submit to you that I have mined all available angles when Michigan lives up to expectations, especially when those expectations are of the steamroller-versus-bag-of-Cheetos variety.
So here we are, looking at each other, waiting for me to say something.
--------------------
this column must wait [Bryan Fuller]
There is a column I have yet to write, but cannot write yet: Wilton Speight as Jake Rudock. Like Rudock, Speight scuffled through much of the first half of the season. Like Rudock, Speight had a eye-catching game featuring many daggers against a bad defense. I want to point at Rudock's exponential improvement and say yes that for Speight right now we all saw it, but one game against Illinois is insufficient evidence. One game against Michigan State, a team currently ranked worse than EMU by various fancy stats, is also probably insufficient evidence.
But two weeks is better than one, and three better still, and I was struck by Speight's comments after the game on what he did on the bye week:
"I watched all of the six games, every snap, and just took a lot of notes on what glaringly needed to be better and also little things. So being able to throw with guys like Grant [Perry], Jehu [Chesson], in our time off—you know, we didn't have the couple hour practice with pads on and everything but we were still able to go out there like we did this summer and throw certain routes. I just wanted to focus on—I can make every throw, in my opinion, but sometimes I was short on passes or when a guy was open I'd miss him. That's what I wanted to focus on the second half of the season was eliminating that."
Speight is a guy who almost transferred because he thought Harbaugh would go with a guy he recruited, but stuck it out; he beat out everyone's fave-rave this offseason, and he's held the job without challenge since. Because he works. They all work—this offseason saw a spate of hilarious articles about the QBs trying to slip in work with the WRs without the other guy knowing. Speight works like the rest of Michigan works.
And maybe he is getting there. You can see the war between Jim Harbaugh and Al Borges in his performances: early on, Speight was creepily accurate. Then he got annihilated by Chidobe Awuzie and regressed to old habits. This happened to Devin Gardner early on, as well. He'd start out throwing it like his coaches wanted him to and regress to a high-school pushing motion once he started thinking about guys trying to hit him. Speight was rattled against CU and seemed to have lost the refinements from the offseason; given an opportunity on the bye week he set to regaining them.
So far, so good. More important than the performance against Illinois is the reaction when the coaching staff is jetting around the country trying to lock up recruits. When the cat's away, the mice watch film and run routes.
HIGHLIGHTS
Parkinggod:
A more extensive selection at MGoVideo.
AWARDS
[Upchurch]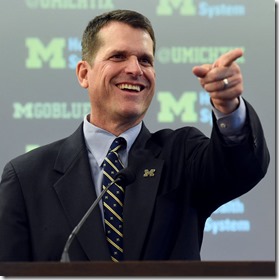 Known Friends And Trusted Agents Of The Week
you're the man now, dog
#1 Wilton Speight opened with his traditional terrible first pass. I grumbled to my wife. He was lights out after that, averaging 11 yards an attempt. His performance was even more impressive than the numbers since he suffered a couple drops and Amara Darboh was interfered with on a bomb to the endzone that was dead on. Speight didn't benefit from anything super-long, either. Michigan's longest completion was 33 yards. This is a version of Speight you can win many things with.
#2 Karan Higdon had a 45-yard touchdown late on which he burst past a guy with an angle and then cut back to get the last ten, carrying a DB into the endzone. Consider that even before that he'd gained 61 yards on 7 carries. He slalomed through various blockers and opponents on a trap play on which it looked like the hole wasn't exactly where it was supposed to be and generally looked fast, powerful, and way better than Mike Weber.
#3 Ben Braden had a shockingly smooth transition to left tackle. He led the way on various offset draws and his pass protection was close to impeccable against some tough customers (when they're rushing, at least). The one sack he was charged with was PA on which he didn't have a traditional pass drop; I thought that was more on Speight than Braden. If he can maintain this level of performance Michigan's Newsome issue seems far less daunting.
Honorable mention: The entire defense. They spent so little time on the field and split what stats were available that no individual was able to do as much as the various offensive players. They remain rather good.
KFaTAotW Standings.
7: Jabrill Peppers(T2, Hawaii; #3 UCF, #1 Colorado, #2 Rutgers)
6: Wilton Speight (#1 UCF, #1 Illinois)
5: Ryan Glasgow(#2 UCF, #1 UW).
3: Mike McCray(#1, Hawaii), Ben Gedeon(#3 Colorado, #3 PSU, three-way T1 Rutgers).
2.5: Karan Higdon(four-way T2, PSU, #2 Illinois).
2: Jake Butt(#2 Colorado), Kyle Kalis (#2 UW), Chris Wormley (three-way T1, PSU, same vs Rutgers), Taco Charlton(three-way T1, PSU, same vs Rutgers).
1: Delano Hill (T2, Hawaii), Chris Evans (T3, Hawaii, four-way T2, PSU),  Maurice Hurst (three-way T1, PSU), Jourdan Lewis (#3 UW), Devin Asiasi(#3 Rutgers), Ben Braden (#3 Illinois).
0.5: Mason Cole(T3, Hawaii), De'Veon Smith (four-way T2, PSU), Ty Isaac (four-way T2, PSU).
Who's Got It Better Than Us Of The Week
This week's best thing ever.
This is kind of a dumb best thing ever, but TRAIN.
It was more hearing the stadium respond to TRAIN than the actual three-yard touchdown. The vibe around the program now is so fun, and TRAIN is a part of this.
Honorable mention: Most of the rest of the game.
WGIBTUs Past.
Hawaii: Laughter-inducing Peppers punt return.
UCF: Speight opens his Rex Grossman account.
Colorado: Peppers cashes it in.
PSU: Wormley's sack establishes a theme.
UW: Darboh puts Michigan ahead for good.
Rutgers: Peppers presses "on".
Illinois: TRAIN 2.0.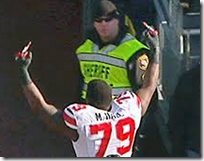 MARCUS HALL EPIC DOUBLE BIRD OF THE WEEK.
This week's worst thing ever.
Michigan gives up a touchdown on a downfield prayer that Delano Hill misreads.
Honorable mention: Two other big plays by Illinois, many worrying injury moments. .
PREVIOUS EPIC DOUBLE BIRDs
Hawaii: Not Mone again.
UCF: Uh, Dymonte, you may want to either tackle or at least lightly brush that guy.
Colorado: Speight blindsided.
PSU: Clark's noncontact ACL injury.
UW: Newsome joins the ranks of the injured.
Rutgers: you can't call back the Mona Lisa of punt returns, man.
Illinois: They scored a what now? On Michigan? A touchdown?
[After THE JUMP: eh, the usual]
OFFENSE
Is this offense... good? They've been overshadowed by the defense. Their opposition has been mostly pliable, and they scuffled against Wisconsin. But they are scoring an awful lot of points and running for big hunks of yardage. Opponent-adjusted measures like 'em just fine. They're #19th in S&P+; FEI has not been updated for this week as of press time but had Michigan #3(!) going into Saturday*.
It certainly doesn't feel like a top five offense. It doesn't feel like a top 20 offense, but the numbers are starting to argue with your lying eyes. Michigan has four different running backs with more than five yards a carry; they're averaging 5.5 YPC, third in the Big Ten behind only OSU and Maryland. (And I imagine Maryland is in for a harsh correction during this Indiana-M-OSU-Nebraska run they've got coming up.) Speight's in a dead heat for best passer rating in the league with JT Barrett and Perry Hills, and while he's been a bit fortunate with his INT numbers that criticism is getting less powerful as the weeks go by and throws into coverage continue to decline.
So, yeah, they might be good.
*[FEI actually has Michigan's offense ahead of their defense, which is odd; it also had Ole Miss a top 10 team, so there are some sanity tests the current iteration is failing. It's a drive based metric so it has fewer data points, I think. It might be wonkier for longer than play-based S&P+.]
The Braden move. Michigan needed to make a move at left tackle after JBB struggled in his 1.5-game audition; they decided to try Ben Braden out instead of moving Mason Cole outside. The results were highly encouraging. Bredeson had his best game of his career by some distance. Braden was an effective pass-blocker and PFF's highest-graded run blocker on the day.
He did give up a sack on a second and thirteen play action, but that was mostly on Speight not getting rid of the ball. Braden fired out as if it was a run to help induce people to bite, and the DE eventually read the play and shed him. It was almost five seconds after the snap when Speight got hit; he's got to get rid of that ball.
Why don't they make the entire offense out of offset draw? A third and seventeen conversion from Karan Higdon was the offset draw's most spectacular deployment last Saturday, but it was far from the only one. Smith got a first down in the redzone on it and another just after halftime. IIRC Higdon had another; it hasn't been stopped once this year.
The offset draw was always going to be good against Illinois's DEs, who are pass-rush focused to an absurd extent, but what impressed me about Braden's day on the ground was his ability to get second level blocks. Against Rutgers offset draws saw the relevant tackle release into acres of space in which he merely had to exist; Illinois did a good job of challenging. Braden engaged guys and allowed his backs to cut off of him.
I imagine it's going to get stopped by someone at some point; so far that subtle tweak has been so effective I'm surprised I don't see it when I watch games across the country.
McDoom swing. Can I complain about a play Michigan ran in the first quarter when it was tied 0-0 because it was so pretty I wanted to keep it? No? I suppose not.
Anyway: not complaining about Michigan's swing pass to McDoom on their opening drive. McDoom went on that orbit motion implying he might take a pitch; Michigan faked a run up the gut; McDoom stopped and redirected back where he came and was screamingly wide open on a swing pass he took for 33 yards. McDoom made maybe 15 of those himself by dodging one tackle and breaking a second; the play got the rest.
Michigan then used that uncertainty to get the jet working again. A few weeks ago we mentioned that Wisconsin was timing up Michigan's snaps against jet motion; several times in this game Michigan used the jet motion without snapping in an attempt to prevent those blitzes. I continually enjoy the fact that the Harbaugh offense makes sense, and also enjoy the points when it makes no sense. Speaking of...
TRAIN. For one, that was a 5 TE set. Did it need to be a 5 TE set? No. Was it one for recruiting purposes? Probably. Now Jay Harbaugh can go into the homes of tight ends nationwide and say "we run 5 TEs sometimes." For two, just listen to the crowd as M lines up in the train:
People are friggin' pumped for a novelty formation you can't even snap the ball from, and it turns out that is the correct approach. Butt popped wide open as Illinois resorted to man coverage and the ultramesh route won against it.
[Fuller]
Peppers carries. Michigan was determined to have Peppers carry the ball and inserted several plays where he was simply a designed runner, including a zone read lead play where the mesh was a fake decision and Smith a lead blocker; they also ran good old inverted veer, on which the default is the QB taking the ball.
Illinois did a better job defending Peppers than anything else Michigan did, in part because the Pepcat package saw Illinois insert both safeties in or near the box; a couple of plays were well blocked but the 11th Illinois defender was able to make a tackle after three or four yards. Peppers is going to have to throw occasionally to make the package work. I have to imagine that resurrecting the Denard-era QB iso play and its correspondingly devastating play action would be as effective as it used to be.
Hello, Tyrone. Man, that Wheatley touchdown was quite a tantalizing thing. Michigan gets him lined up against a corner and Wheatley just wins the route. It's one thing if he boxes the guy out or uses his size; instead the CB tries to jam him with no discernible effect except knocking himself off balance. Speight hits him and he cruises into the endzone:
Wheatley's had some blocking struggles so far and has ceded time to Asiasi, but give him another year to get things down and he's going to be bonkers. That may already be in progress. PFF had him one of Michigan's best players and the TD was his only catch aside from the freaky tip play, so he must have done work on the ground.
Higdon is better than Mike Weber. I tweeted this yesterday after his long touchdown mostly to flood my mentions with OSU fans going "lol your a tard," and Mission Accomplished. But, I mean, am I wrong?
Little tweaks, little tweaks. This will get more attention in UFR but I liked Michigan's ability to play off their this-looks-like-a-sweep formations. Yet another Khalid Hill flat route was open for a catch and run because Asiasi motioned to a position that implied the crack sweep and instead went directly upfield, picking off the LB trying to cover Hill.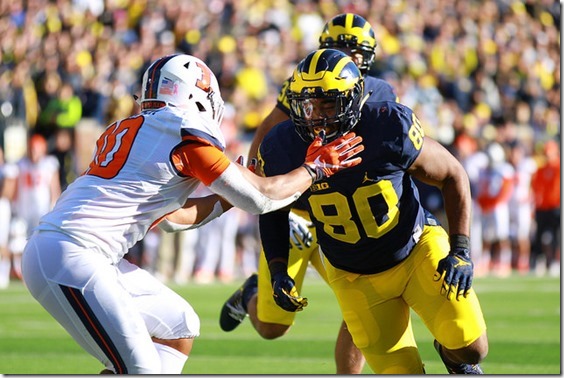 hammer panda [Upchurch]
Hill just thumping people. Also in Khalid Hill: I caught him thumping guys repeatedly on a cursory rewatch. He again got one of those edge two-for-ones, albeit on a play that didn't get to him. Impact fullback remains a thing.
So does touchdown vulturing. Michigan had a bit of hard time punching it in after Ty Isaac was ruled out at the half-yard line, and after a pass interference call gave Michigan another set of downs there was a general grumbling that we should just give it to Hill and stop fooling around with all this fancy tailback nonsense. Michigan did so, and officially became the first program in recorded history to quiet fan rabbling by handing it off to the fullback.
DEFENSE
Eh, the usual. Man, that Rutgers game screwed with everyone's heads. The grumbling in the stadium when Illinois got a first down was palpable. I felt it too. Y U GIVE DUMB FACE FIRST DOWNS, my brain momentarily exclaimed. Then I attempted to put things in context, largely failing. The Illinois touchdown was shocking. Horrifying. Inexplicable.
Then the new shiny numbers came out and Michigan improved. Instead of giving up 0.9 points to an average D-I team they're expected to give up 0.8. I have no idea how to judge anything versus expectations anymore. This defense makes reasonable expectations completely unreasonable. I feel like I've been transported into a Dali painting and asked to do basic physics problems.
Timing up those snaps. Michigan seemed to have the Illinois cadence down, as they had a bunch of snaps on which linebackers crossed the LOS at speed. It was reminiscent of the Wisconsin game, when the Badgers successfully timed up a bunch of blitzes based on Michigan's jet motion. Illinois was reasonably successful at blocking these but also gave up some big TFLs, like the one McCray spearheaded in the first quarter.
[Upchurch]
Big plays ceded: an evaluation. Illinois gained 172 yards. 131 of them came on just three plays:
A 45-yard Ke'Shawn Vaughn run. This was a wildcat package where Vaughn ran to the short side. Winovich got blown up by a guy cracking down on him; both McCray and Thomas got too aggressive with their angles and got chopped down. Both Thomas and McCray have been vulnerable to these sorts of things this year; this is a symptom of a real issue. (Such as it is.)
A 43-yard Malik Turner catch over Ben Gedeon. This had to be a safety bust since defenses in which a linebacker is expected to carry a wide receiver downfield without any help do not exist. I'm all but certain this was on Metellus. Kinnel had recently exited the game and Metellus entered in his stead when Michigan went to its dime; after that catch Michigan used Brandon Watson as their sixth DB (he played field corner). Freshman non-starter having a mental issue deep into a blowout: not a problem.
Another 43-yard Turner catch, this one over Delano Hill. As you can see above, this was really close to a PBU. Hill still needs to do better since the throw was a pop fly from George as he was getting blasted, but he just about did enough. Against anyone other than Malik Turner—PFF's highest-graded Big Ten WR and a guy who looked like it Saturday—it probably is enough. Alas.
Another 17 yard run early was also due to stunt casting, as McCray was drafted as a DT on third and nine and Illinois ran at it for the conversion.
Is that good? Yes.
Opposing quarterbacks have a 1.5 QB Rating when throwing at Michigan CBs Jourdan Lewis & Channing Stribling this year. 11/39 131yds 0TD 4INT pic.twitter.com/IbubKab5ow

— PFF College Football (@PFF_College) October 24, 2016
QB quality does have something to do with that; on the other hand, Colorado, Wisconsin, and Penn State have all featured efficient to explosive passing games when not playing Michigan.
I need more Hurst sacks. Mo Hurst sacks, if you will. Stop throwing rotten fruit at me. Belly rub is the best.
NOW I AM DIGESTING YOU, he screams [Upchurch]
I need more of this in my life.
Um... is that all? I think that might be all. Michigan did exactly what you would expect to this team. That's great. I mean, there is this.
so. https://t.co/YWB05UUcJM pic.twitter.com/PZxFFCbs4M

— Ace Anbender (@AceAnbender) October 24, 2016
Also this:
For your morning finger-tenting pic.twitter.com/FrVlPznlZl

— MVictors (@MVictors) October 23, 2016
They are still on pace to be a historically good defense.
SPECIAL TEAMS
Maybe they're on to something. There was a discussion in the comments earlier this year about Michigan's pro-style punting and whether they were resorting to that because they thought they'd cracked the code on spread punting and didn't want to get blocked all the time. I was skeptical. After another block Saturday I'm less so. Michigan again got multiple guys through and Khaleke Hudson got a hand on one; that's their fourth of the year.
Cumong man. Peppers had a fair catch when he had acres of space in front of him. I was like dawwww, and so was everyone else.
Field goals. Michigan made two, one from 23 and one from 27. It says something that this makes me feel slightly better.
MISCELLANEOUS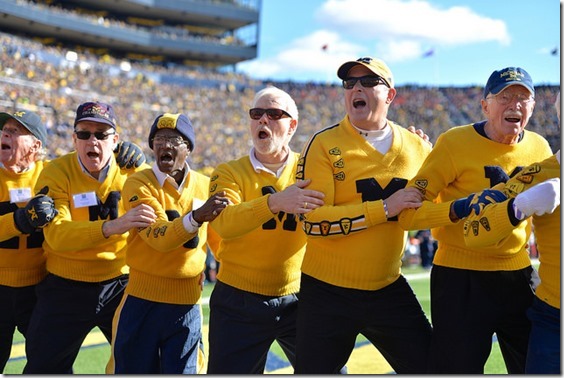 [Fuller]
Homecoming. Good to see the alumni cheerleaders back in force after last year's snafu. Homecoming is the best, and at the Alumni Association tailgate they never fail to blow the roof off the place.
I ended up at Iowa's homecoming one year—yep, they scheduled Michigan and won—and it consisted of having an actual king and queen wave at the crowd briefly pregame. I was disappointed, because I wanted to see Iowa's weird old chants and weird old drum majors and, I don't know, a guy who juggles entire corn stalks. That brought Michigan's homecoming and how cool it is into relief. Band... face.
[Fuller]
Also very cool. Honorary captains usually come and go without much reaction from me, but Hank Aaron is on another level. Jeter, Brady, Jordan... I mean, it's good. I did not think "holy shit, that is Famous Person" until this weekend. (No, I didn't get excited about Activision/Blizzard CEO Bobby Kotick, jerkos. I'm a Command and Conquer man.)
Injuries. Michigan had a few injury scares but seems to have come out of the Illinois game unscathed:
Khalid Hill went to the locker room in the third quarter and did not return; Isaiah Hole reports that he is "fine" per a source.
Mike McCray exited briefly but returned during the game.
Harbaugh said that Chris Evans was briefly knocked out but feeling better by halftime. I wouldn't be surprised if he sat out against MSU; doesn't seem super serious no matter what Archer says.
Tyree Kinnel did not return after he exited the game; his status is uncertain but he didn't look like he was hurt seriously as he got to the bench. A slight limp that looked like a bruise or a stinger or something.
On the Evans hit. Just an unfortunate thing that happens in football. I've seen a lot of targeting accusations in the aftermath. It was not targeting. The standards are different for active runners; the Illini safety did not get the crown of his helmet involved, and Evans was just as guilty of creating the helmet-to-helmet contact. Nothing about the safety's approach was malicious or reckless.
Hits like that are going to happen from time to time in football. I'm just glad Evans is apparently okay.
The glasses. I think we're having a gimmicky top five of five gentlemen other than the ones Harbaugh specifically called out in the press conference who the glasses remind you of.
I caught Danny Kanell calling this "not a good look" on one of the postgame shows. Really? Really you want to go there, Danny Kanell?
You do not. You do not want to go there.
HERE
The State of Our Open Threads:
Let's shift to another interesting trend - a noted uptick in "damn". Here's the graph of normalized values for the Original Six of this analysis:
"Damn" is the gray bar, and for the last three games, we've been trending upward overall with its use. Going back through these threads, much of that can be explained with the board's general assessment of the quality of play, but also a couple moments where someone was down or injured. For a long time, we did not use "damn" nearly as much as you would think on the board, but it is beginning to find expression.
Worst:  So Many TFLs

I have to complain about something with the offense, so one thing I did notice was some continued instability blocking against an aggressive defensive line, this time resulting in 8 TFLs and 2 more QB hits.  It's clear that the drop-off from Newsome to JBB is more than some first expected, and so some shuffling is in order.  Normally I'd be worried going into a game against MSU with the front line in flux, but (a) Illinois's defense is predicated (and capable) of racking up tackles in a way MSU's isn't, (b) UM has a number of viable-ish options to shore up the line, and (c) it's still a team that put up nearly 600 yards and didn't break out too many wrinkles save for a couple of more Pepcat runs, the return of the train formation for their first TD, and a fake punt that would have worked had Gedeon been able to handle the snap.  But again, any offense will struggle if guys are in the backfield, and considering how consistent MSU has been over the years at jumping the count, UM can't give them (and other opponents) an easier time to disrupt the offense.
FWIW, Illinois entered with a ton of TFLs because their linebackers go after everything with abandon. That was one reason the passing game was so open on slants and the like.
ELSEWHERE
Harbaughhhhhhhhhhhh.
Jim Harbaugh is still incredulous about losing his challenge on 4th & 2 last Saturday. "I've never seen a worse call in football."

— Dan Murphy (@DanMurphyESPN) October 24, 2016
What a nut.
Michigan is #3 in PFF's top 25.
Bredeson looks much, much better than he did in his spot duty earlier in the season. And Braden was plenty comfortable on the edge at left tackle. Both guys had a hiccup or two in pass protection, but they were outstanding in the ground game all afternoon. There was no dropoff with Michigan's rushing attack despite a new wrinkle up front.
Interesting bit on the Wheatley TD:
"I think I emerged a little bit earlier in the week (in practice)," said Wheatley, who also had a 6-yard catch in the second half. "Coach (Jedd) Fisch came up to me and told me they wanted to get me a play. We ran it off to the side a lot this week with coach Jay and then in the game when we got down to the red zone he called it.

"And I got a touchdown."
Issue #3: Does Jim Harbaugh believe in Information Chaos Theory over Information Secrecy Theory?
I have a friend who breaks things for a living and he explained to me during the early years of social media that the key to not giving potential identity thieves a line on who you are is not to put zero information out there, but to put so much information out there that no one knows what is real and what is fake.  If you make it plausible enough, you're not worth the hassle.

I feel like Harbaugh/Drevno/Fisch have decided that they're going to show Michigan's opponents so many things in their playbook that have so many variations, that no one will know that look X means play Y.   Instead, they've gone full Vulcan: Infinite Diversity in Infinite Combinations.  Sure, we'll try a fake punt up 34 in the second half, because the opportunity presented itself!  Sure, we'll run the train after two straight misfires in the "let's just Jabrill Peppers a touchdown today" effort.  Sure, we'll cook something up that earns Tyrone Wheatley, Jr. his first career catch which becomes a touchdown.
Relentless.  Up 41-8 Harbaugh challenged the spot.  I love it.  It was a reminder that no matter what the circumstances, our focus will remain sharp, the gas pedal will be pressed down.  The team came out stale in the second half and I wonder if Harbaugh did this to reminder everyone that this never stops – there are no moments to relax – and this is how it will always be.  Even up 41-8 in the 4th.
DEFENSIVE CHAMPION – I'm starting to get the impression that Rashan Gary is adjusting to the speed and strength of the college game. Believe me, it IS a step up from high school, even if you are as big and strong and quick as #3. He's starting to make his presence known and felt and that is impressive midway through his freshman year.
MLive on Higdon. Dymonte Thomas "pan hands" no more. Illini perspective on the game. Big Sean in the house again. Postgame presser.
This doesn't really have anything to do with Michigan, but since I've been there I appreciated this Bill Connelly piece on Missouri. Mizzou is in a bad place right now for a lot of reasons and it's a struggle to stay engaged at the bottom. Similar piece coming up from Iowa fans, who learned that eight points is a two score game this weekend.
They changed the fifth tiebreaker to overall win %. Shouldn't impact the outcome of a hypothetical three-way tie at the end of the year, which would mean OSU wins. Meanwhile OSU fans are taking the loss well.
I'm not mad. I'm actually laughing. pic.twitter.com/6YiVajBh5i

— Tom (@Tomathy87) October 24, 2016
Woe is they.