Return Of The Crab People
9/10/2016 – Michigan 51, UCF 14 – 2-0
[Eric Upchurch]
It's been a while since Michigan fans set to grumblin' about 37 point wins, but here we are. That one track guy ran a long way and quarterbacks set to scrambling and a bunch of guys jetted into the backfield. These are bad things that a remorseless juggernaut would not allow in its vicinity, and thus it's open season for crabbers.
This is not necessarily a criticism. Your author joined with the Ann Arbor Pincer & Exoskeleton masses at halftime:
Not super happy with the blitz pickups. Even if they're blitzing you gotta pick up the guys coming up the gut.

— mgoblog (@mgoblog) September 10, 2016
Second straight game with multiple big containment busts leading to long QB scrambles.

— mgoblog (@mgoblog) September 10, 2016
Michigan led 34-7.
What can I say? I expected Michigan to pave these dudes and they did not. While UCF did stack the box and blitz its little try-hard buns off, I rather thought that wouldn't matter. I did not expect UCF to rush for an uncomfortably large number of yards themselves.
I don't place anywhere near as much emphasis on these things as Scott Frost—"we outrushed them, we outhit them, and in the futuristic game of run-hit-ball, those are the only factors"—but in the middle of a live football game you're winning by a zillion points the only thing that keeps your interest is taking the data in front of you and projecting it down the road, when Michigan will face teams that can rush for 300 yards and not lose by 37… or at all.
----------------------
After a rewatch and a little bit of time to reflect, the things that happened were things Michigan can clean up. Blitzers coming free because Michigan didn't get off their blocks fast enough. Defensive ends too gung-ho about getting around the edge because their careers are still in the tadpole stage. A bust here and there probably related to the new defense.
There wasn't anything that set off alarm bells except one bad fill by Dymonte Thomas against a 10.3 100 meter guy who was such a niche player that his 87-yard touchdown was his only carry of the game. (You know you're a specialist when you run 87 yards on your first opportunity and your coaches are like "great job, eat bench.") Per folks who look at these things closely, Michigan did mostly pave them, and declined to do things that would exploit UCF's blitz-happy approach on the ground.
What they did instead is let Wilton Speight go to work. Whatever ground game hiccups have increased the worry factor should be more than offset by Speight looking like a Harbaugh quarterback immediately. Michigan saw stacked boxes and responded by passing over and over again. Up 31-7, Michigan got the ball on its own 13 and threw five straight times to open their drive. After halftime they indicated they were not inclined to take the pedal off the metal by opening up a touchdown drive with back to back completions to Butt for a total of 40 yards.
I have seen some quarterbacks this year. I have seen LSU fans go bonkers because a Purdue transfer went 6/14 for 100 yards against Jacksonville State. I have seen Clayton Thorson rack up seven points against Illinois State. There's a ton of collar-pulling across college football when new quarterbacks step in, no matter their age or hype level. Harbaugh has none of that with Speight. UCF set up to deny the run so Michigan rained it on their heads.
[Upchurch]
There wasn't an ounce of hesitation, and I was reminded of the quarterback press availability a week or so before the season. Speight sat down and told the assembled reporters that he flat-out expected to start. That was a confident read. It went with his spring performance, and now 50 throws into his starting career we have a bonafide trend. Wilton Speight is a man who knows where he wants to go, and would like us to come with him. Even if we are a crusty, crustaceous people.
HIGHLIGHTS
Parking God:
WD:
MGoVideo has the Harbaugh postgame and Inside Michigan Football.
AWARDS
[Upchurch]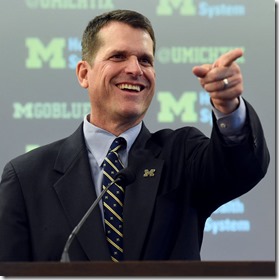 Known Friends And Trusted Agents Of The Week
you're the man now, dog
#1 Wilton Speight completed 68% of his passes despite three drops on routine balls, cracked 300 yards, was still super accurate on everything under 20 yards and good on longer throws, and dealt with an unfortunate amount of pressure with aplomb.
#2 Ryan Glasgow had a dominant defensive game on the interior, sussed out a dangerous screen for a TFL, and just about ran down a track star on the 87 yarder. His range is completely absurd for a nose tackle.
#3 Jabrill Peppers led Michigan with eight tackles, two of them TFLs, added two hurries on top of that, returned a punt 35 yards, and was not responsible for much of the scramble or screen yardage ceded.
Honorable mention: Jehu Chesson and Amara Darboh were locked in and excellent. Erik Magnuson and Grant Newsome shut out the men trying to rush on them.
KFaTAotW Standings.
3: Mike McCray(#1, Hawaii), Wilton Speight (#1 UCF).
2: Jabrill Peppers (T2, Hawaii; #3 UCF); Ryan Glasgow(#2 UCF).
1: Delano Hill (T2, Hawaii).
0.5: Chris Evans (T3, Hawaii), Mason Cole(T3, Hawaii).
Who's Got It Better Than Us Of The Week
This week's best thing ever.
No sir, no Early Season Jake Rudock this year.
Late Season Jake Rudock… ask again later.
Honorable mention: BLOCK ALL THE KICKS; Peppers forces a fumble with authority; Rashan Gary flashes end product on impressive sack; Speight hits Butt on a sweet corner route for a TD in tough circumstances; Michigan inserts Chris Evans at upback so they can't pop it up and UCF panics and kicks it out of bounds; Chase Winovich sack/strip results in a turnover.
WGIBTUs Past.
Hawaii: Laughter-inducing Peppers punt return.
UCF: Speight opens his Rex Grossman account.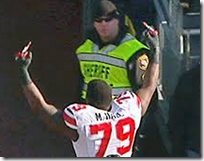 MARCUS HALL EPIC DOUBLE BIRD OF THE WEEK.
This week's worst thing ever.
Dymonte Thomas gives everyone the heebie-jeebies by failing to tackle a dude for like 20 yards and instead he goes 87. Also worrying about this play: the eerie similarities between it and the late season problems last year's defense had.
Honorable mention: Michigan Stadium has collective hallucination that Jake Butt dropped not one but two passes; various QB scrambles caused by bad contain; Kenny Allen drops the snap on a punt; several run plays are thunked in the the backfield.
PREVIOUS EPIC DOUBLE BIRDs
Hawaii: Not Mone again.
UCF: Uh, Dymonte, you may want to either tackle or at least lightly brush that guy.
[After THE JUMP: SPEIGHTDOWN, also bad thing discussion]
OFFENSE
Speight is on time. Wilton Speight was  25/37 with three drops on routine balls and a fair bit more pressure than he got in the opener. PFF had him pressured only nine times on 39 dropbacks, but it felt like considerably more than that watching live. Also, 9 > 0. He took a bunch of deep shots which were mostly accurate after the first miss to Chesson.
PFF was positive* but said he "did not have any big time throws," which seems pretty harsh on a college QB who nailed a 50-yard bomb. I thought he was terrific. His confidence in his reads was notable. This was the longer Jake Butt touchdown:
That ball is out. It's exactly on time. He doesn't get blown up. He stands in and finds Butt right in the front corner of the endzone.
Any third and twelve throw from the fourteen that ends up in the endzone is impressive because the windows there are going to be so small; this didn't look like a great throw against a tight window because of the precision timing.
For a redshirt sophomore just getting his first starts, Speight's poise and calmness stand out. My thought process on that looper to Poggi as Speight was getting tackled went:
oh god pick six
well, that's grounding
oh, Poggi's over there so it'll be just an incompletion
is that catchable?
did he catch that?
is what he did to that tackler a felony or misdemeanor?
He's able to go through some progressions—he definitely took the blown read on a Jake Butt y-cross to heart, hitting that same route multiple times for big gains—and his accuracy has been outstanding so far. I don't think he's taken a guy off their feet on a ball less than 20 yards downfield, and I don't remember anything that was even particularly difficult to catch.
If that's what he does with the wonky throwing motion, I'm fine with it. I timed him some more and he's again at 9-11 frames.
*[I'm still getting a grasp on their new out-of-100 grading system. I assume 50 is average and Speight's 66.4 is good. I'm not sure how good. Lamar Jackson got an 81 against Syracuse and Deondre Francois got a 72 against Ole Miss, so 66 appears to be about halfway between an average performance and one that propels you into a Heisman discussion.]
Butt drops. I don't know, man. He seemed as baffled as anyone else at them. We have a pile of data that says that won't continue. I'm just going to pretend it didn't happen unless it happens again.
Butt blocking. Well… yeah, okay, not great. At one point Michigan ran a crack sweep that he didn't get his guy sealed on and I thought to myself "I wish that was Chesson," which says something about something.
Smith back to Smith things. So the De'Veon Smith carry on which he left six different guys in various states of brokenness was yet another run on which Smith went beastmode in part because he'd just blown his cut. It was a double iso. Smith ran at a gap, which caused a linebacker to run at that gap, and instead of cutting Smith just ran into him.
[Upchurch]
Darboh more of a deep threat? Darboh caught a bomb where he just plain ran by the corner on him:
That is Shaquill Griffin, the guy coming off a 15 PBU year who is projected as a late round NFL draft pick. IE, not a scrub.
He also outran UCF DBs to the corner on two separate drag routes to pick up 20-30 yards. The touchdown might actually be a screen or close enough to it:
Darboh's right on the LOS as he catches that and if the rules for a catch in the backfield are the same for illegal forward pass—all of you has to be over the line—then that's a situation where Michigan can actually block downfield. Michigan doesn't seem to be doing this intentionally or the Chesson rub that springs Darboh for the big play would be more blatant.
I bring this up because Colorado has a play similar to this where the WR gets more definitively behind the LOS and the WRs just outright block for the whole play. (Ace will have more detail in FFFF later this week.)
Anyway, Darboh getting both these drag targets when the very very fast Jehu Chesson is also available was of interest, as was the considerable separation he got deep. I don't think players get noticeably faster as they mature, but it felt like Darboh was a more athletic version of himself. Darboh-is-best-receiver credence: incremented from "nope" to "I mean… probably not."
Running: not so much. Michigan's ground game was extremely and worryingly bleah. Harbaugh downplayed it in the aftermath, saying UCF overplayed the run and that play action passing was their response. While that was certainly an effective counterpunch, Harbaugh's substitution pattern probably reveals more about his true thoughts than the words he said in front of the press.
At no point did Michigan's starting OL come out. Even on Michigan's last snaps the starters, give or take Braden, were on the field. That felt like a frustrated Harbaugh trying to get his guys some additional live fire reps so they could actually pick up a blitz or two.
So on the surface the PFF grades are downright weird:
Michigan offensive line dominates after rocky start

After some initial struggles in the first quarter, Michigan's offensive line put together a really dominant performance. Grant Newsome and Erik Magnuson, the two starting tackles, did not allow a single pressure on 89 combined pass-blocking snaps. In addition, with the exception of left guard Ben Braden, all members of the unit were solid in run-blocking, too. Center Mason Cole was the best player on the Michigan offense, as he had only one negatively graded run-blocking snap and had multiple plays where he drove UCF linemen several yards downfield.
Part of that performance is the fact that PFF counted a whopping 28 blitzes on Speight dropbacks and only nine pressures.
Other contributing factors: Michigan's blocky/catchy guys had a rough time doing the former, and there was a return to some bad old days from the running backs. Even with all that the grades here are shockingly high; I'll be interested to see how my charting comes out.
[Upchurch]
Smith: not Citrus Smith. Smith had an eye-popping run that ended with the fallen strewn in his wake, and that was very impressive. Unfortunately at least a couple of the strewn did not need to actually be strewn. Michigan ran a double iso play. At this point Smith has threatened one of the gaps.
#2 is a linebacker who is flying up to hit that gap. Asiasi's doubling the NT and has no shot at that LB once he decides to shoot towards the LOS, but the lovely thing about this double iso play is that it turns into a bit of a zone. Smith got that guy to commit and now if he cuts to the gap where he isn't he's got a big play.
He does not do this, instead running over half of UCF en route to about as many yards as he would have gotten anyway. ¯\_(ツ)_/¯
This goes back to a million conversations about Smith's instincts, or lack thereof. It's all been hashed and re-hashed before.
Smith wasn't alone in this. Isaac also had a ??? run on a third and one he barely converted. There was a huge cutback lane he ignored.
[Upchurch]
Hill, ultimate vulture. Nobody cares about your fantasy team, Khalid Hill.
DEFENSE
The big bad thing. The 87-yard touchdown was faintly reminiscent of the big Ezekiel Elliott run that opened the floodgates against OSU, with one major exception: the opposition blocker with a big positional advantage was not a 260-pound tight end but rather a wide receiver. Mike McCray had to do better with that.
Once he sees that it's an outside run headed his way he needs to get his eyes off the ballcarrier, find the guy assigned to him, and shatter him. Instead the WR got into him and grabbed him and sealed him away. His angle to the ball compounds those issues; he ends up behind the LOS when a parallel or slightly more conservative angle gives him a much better chance of forcing things back to his friends.
Was it holding? Probably not. While the WR is grabbing McCray he's doing so in the middle of his chest, and they'll almost always let you get away with that.
The McCray error is 15 or 20 yards and then Thomas turns it into 87 by coming up too hard and getting beat to the outside without even laying a finger on the dude. Hey, I said he wouldn't be a boring safety. Now he just has to pick off JT Barrett twice to make up for it.
Two versus three on the edge. I was puzzled by how Michigan sought to combat the UCF screen game. Several times during the game they lined up at a severe disadvantage with minus one or even minus two defenders…
…over the trips side, and UCF took advantage for some easy yards. Late in the first half they ended up with two guys over three on a passing down and had to take timeout, so I assume that some of this was the kind of early-season brainfarts that I predicted in the season preview.
But it happened too often to think it was entirely in error. Michigan didn't game anything on the edge and I found it strange that Peppers was often far away from the action. The 87-yarder probably ends up a bit differently if he's involved.
National Lampoon's Massive Lane Vacation. UCF picked up probably 100 of their rushing yards on various scrambles that broke the pocket to find nobody within 30 yards of the quarterback. On one level this didn't make much sense since the scrambles were vastly more effective than the actual passing game; on another level, whatever.
Michigan spent most of this game rolling out a true freshman DE and a redshirt sophomore who just moved back from offense and was getting his first start. Both had a tendency to go all-in on edge rushes. Part of being a good DE is realizing when your speed rush has lost, at which point you "convert speed to power," as the scouting types say, and blast the OT in an effort to constrict the pocket.
Gary was okay at this; Winovich less so. Winovich's youthful tendency to shoot way upfield was probably exacerbated by a sack/strip he had in the first half where he relentlessly pursued way around the corner. In the second half this relentlessly put him way upfield when the QB saw green grass in front of him. I'm pretty sure after the third big QB run he got yanked for Lawrence Marshall.
That's the biggest downgrade from Charlton to Winovich. Charlton's power-based rushing style is very good at keeping the quarterback contained, as his main way to get to the QB is by going through his opposition. More experience and the healthy return of Mone and Charlton will see this problem greatly mitigated.
Everything else. Was fine!
I suppose you want more detail on things that aren't complaining. Fine.
THUMP. Mere moments after Todd McShay had given Jabrill Peppers a B as a run defender, he forced a fumble with a thunderous shot on a quarterback trying to run some speed option. Fumbles not caused by sacks are mostly random; Peppers-caused fumbles are not mostly random. They are mostly physics.
The one thing a corner had to do. Jeremy Clark had a PBU on the one deep ball that was accurate enough for anyone, WR or DB, to get a hand on it. Eric got a great shot of it:
[Upchurch]
Note again the jersey tug in an area where your body and that of the WR shield it from almost all detection angles. Like, say, every single one except this one. Michigan's PBU-jitsu took off after they hired an actual CBs coach.
Because Jeremy Clark is now the one with gypsy problems the deflection was nearly caught by the WR anyway, but he managed to hand-fight with the guy on the ground until the ball popped out.
I would not be surprised to see a bunch of dime packages with Lewis in the slot on passing downs. Michigan has three safety-types on the field on most downs; whichever corner isn't on the field on standard downs is a huge upgrade on alternatives as a cover guy.
In lieu of Lewis. Michigan's passing-down package in this game was a 3-3-5 or a 3-2-6, depending on your opinion of Peppers, in which they lifted a DT and inserted Tyree Kinnel. Kinnel didn't do a ton of note except get beat on a slant route, but it's encouraging for his future that Michigan's running him out there.
The usual on the interior. With the exception of the bust that led to UCF's second touchdown, Michigan throttled the Citronauts like they should. Their two backs combined for barely three yards a carry and Michigan harassed the UCF QBs into identical 3/11 performances.
Mo Hurst's return featured a number of his trademark flashes into the backfield; while I don't think he's all the way back after he missed the opener with an injury invariably described as "nagging" by insider types, he didn't seem far off his form from last year.
Linebacker step back. McCray wasn't great on the long run, as described above, and if I had to put the evil eye on a particular player for the other touchdown it would be Gedeon, who seemed to vacate the dead center of the field to go hit an OL releasing into nothing relevant.
Gary comin'. 2.5 TFLs and half a sack understates his impact in this game. Like Wormley he's unblockable by tight ends and is developing the ability to power under an OL pads and come around the outside on a tight path, like Brandon Graham used to do. By midseason he's going to be weaponized.
SPECIAL TEAMS
[Upchurch]
Four blocked kicks. Is that a record? It feels like it must be a record. The two field goals were half Michigan, half UCF as both those kicks were low. Only one was of a length where a low kick might make some sense. The two Kinnel punt deflections came as the shield devoted two guys to one Michigan rusher; possible Michigan saw something on film.
One bomb. Kenny Allen's first punt of the year lived up to expectations. It went 55 yards on the fly… and landed in the endzone. His other opportunity to place one inside the 20 hit and rolled out at the 13. Average of 46, already a touchback: he's not Blake O'Neill but he should be a plus player because when he's got a long enough runway he can take advantage.
Just, uh, catch the snap. And that's all we have to say about that.
Also automatic on field goals. Mostly chip shots but 3/3 adds to Allen's superior accuracy from within 40.
Peppers return. A punt out of UCF's endzone was always going to be huge trouble for them; that was the most obvious 30 yard return I've seen at Michigan Stadium in a while.
MISCELLANEOUS
Holding: nope. Part of the great pass blocking grade was the fact that the refs seemed determined not to call holding either way. There were two UCF blitzes that I was dead certain would draw holding flags (one on Braden, one on Poggi); neither came. On the other side of the ball there was the usual amount of panicked grabbing as the opposition tried to deal with the Michigan DL. (Although not so much on the 87-yarder.)
Nooooooooooooo. Special K, why must you torment me? In The Big House? Really? I thought we had all agreed to consign that moldy butt-rock to the dustbin of the Brandon era. If we absolutely must use a custom song that is not very good, why don't we try the one associated with our current very successful coach instead of the lowest point in the history of Michigan athletics since Don Canham's arrival?
Hooray for one correct targeting call. There's always some guy in the comments and my mentions saying that any hit, no matter how brutal, is excusable. This is usually because the person in question is ignorant of the rule. Any defenseless player taking any contact directly to the head has been targeted, and McDoom took a nasty shot:
Shoulder to helmet is just as much targeting as helmet to helmet.
McDoom left the game; I'm guessing the reason was a potential concussion resulting from that hit.
[Upchurch]
The blow-by. Scott Frost, what's your deal?
Watch how UCF's Scott Frost acts like a spoiled brat and avoids Harbaugh pic.twitter.com/lq4yg3S01S

— • (@ItsAntWright) September 11, 2016
Combined with the rather delusional press conference it seems like Frost is just as not over it as Sam Webb.
Here
Best:  The QB Book According to Harbaugh

In the second week of the 2015 season, against turrible Oregon St., Jake Rudock went 18/26 for 180 (!) yards and 1 (!!) INT, averaging about 7 ypa.  That week began a stretch of 7(!!!) straight games wherein Rudock didn't crack 200 yards passing a game, and had a 4:4 TD:INT ratio.  That cry you hear are the echoes of many people, including myself, who absolutely 100% thought that Rudock was either injured or just not that good, and believed Harbaugh should try out someone else at the position.  We all know how that played out.

Two weeks into the 2016 season, Wilton Speight has completed 70% of his passes for 457 yards, 9.1 ypa, for 7 TDs and 1 INT. He continues to throw the ball into tight windows effectively, leading his receivers and scanning the field like a pro.  Yes, the deep ball is still a bit of a work in progress, but in basically a year and a half Speight has gone from a guy Harbaugh bitched out on television to being one of the 2-3 best QBs in the conference.  Anyone who still doubts Harbaugh's QB guru-ness, I don't know what to tell you.
Elsewhere
EDSBS the Mag has a fine opinion piece from Harbaugh this week https://t.co/Wf1CaNzwEf pic.twitter.com/F3r6NgPoEs

— SPENCER HALL (@edsbs) September 12, 2016
This had to happen.  It was inevitable because it is what happens when expectations are raised.  Michigan won by 37 points, and people aren't happy.  There is a legitimacy in this because it's the inevitability of disappointment, and disappointment only comes when expectations exist.  Expectations have not been "real" in Ann Arbor for much of the last decade, after all.  There have been historical expectations, but that is based as much on a bizarre combination of entitlement and factual evidence as anything.
OFFENSIVE CHAMPION – I have watched a lot of Michigan Football over the years – coming up on 40 of them this year – and I have never seen a QB looked more poised, more comfortable and more in command of a Michigan offense in his 2nd career start than Wilton Speight.  That includes some great, legendary names down through the years and even when you look at Jake Rudock in Game #2 last year, he was nowhere near the efficiency that Speight is at right now. I get it that Rudock was only on campus for a few weeks this time last year, but let these numbers sink in: since his 1st throw/interception last week, Speight is 35 of 50 for 457 yards with 7 TD's and 0 INT's. WoW!!! I'm just gonna leave it at that – WoW!!
Touch the Banner breaks down the long run:
Schematically, Michigan was fine here. They had a DE to handle the mesh, an OLB to take the crease, a FS to fill the alley, and a CB to keep contain. The execution was poor, though. McCray and Stribling didn't get off their blocks, and Thomas took a poor angle. Defensive coordinator Don Brown has a few different ways of handling the mesh, so it's unclear whether Marshall did his job or not. And on the strong side of the play, it would have been shut down for little to no gain.
Jacob Gase on Chase Winovich:
After the immediate emotion wore off following the game, Winovich transformed into an ecstatic ball of energy, quoting everyone from UFC fighters Conor McGregor and Nate Diaz (on his fighting mentality) to his father, Peter (comparing settling in at his new position to his dad coming home from work and shouting, "Honey, I'm home! Put the steaks on!")

The last quote may have been the most appropriate — Winovich sure seems at home now. Instead of putting in long hours on the scout team or trying his best to provide depth on offense, he can relax and do what he's most comfortable doing.

"It just lets me get out there and play," Winovich said. "Sometimes you don't choose your passion — your passion chooses you."
Jake Lourim on Harbaugh's QB loyalty:
One of the crushing blows in that game was a Todd Mortensen interception with 3:45 to play. Mortensen, a senior transfer from Brigham Young, went to the sideline, and Harbaugh's reaction — like everything else about Michigan's second-year head coach — was familiar.

"I could tell he was disappointed, because he's competitive, and he wants to win as much or more than anyone. But I didn't get chewed out in the moment," Mortensen said. "… I don't even remember what he said, because his reaction was so supportive, it didn't make a lasting impression on me."

What Mortensen does recall is what happened the next day in San Diego's film session. Harbaugh showed his quarterback the film. He taught him how to avoid the mistake in the future. And most importantly, he stuck with his guy during the low point of the season.

Mortensen didn't make any more glaring mistakes, the offense averaged 44 points in the last eight games and the Toreros finished 7-1.

"From that game on, I never had a game where I felt like I was the reason we didn't win the game," Mortensen said.
Photos from M&BN.
Michigan opens a 20-point favorite over Colorado. Looking one week further down the road, Penn State's dealing with some injuries. Starting LB Jason Cabinda missed the Pitt game and was spotted on the sideline with a "large cast" on his left hand. Several other players missed time on Saturday and may or may not get back for Michigan.