10/1/2016 – Michigan 14, Wisconsin 7 – 5-0, 2-0 Big Ten
[Eric Upchurch]
I was scared once.
Let's dispense with the I ain't scurrred talk: football is terrifying and brings you to your knees and you can either admit this to yourself or embark on a life of chest-puffing Brandon stuff. Michigan hadn't won a game against a top ten team in 12 tries. When they're tied deep into the second half after spurning a pile of opportunities to make it a contest that's only kinda-sorta competitive you're goddamn right the idea they'd lose a game to a team that might as well have started drives on third and eight was bowel-shaking.
Anyway. Channing Stribling fell over and Alex Hornibrook heaved the ball at his receiver. It seemed long from the get go and turned out to be long, but you never know. As that mortar arched back towards earth my annoyance momentarily morphed into terror, because this was the kind of game where 7-7 is a war and 14-7 is a surrender. That ball clanged harmlessly to the turf. Wilton Speight's deep shot to Amara Darboh did not.
Hornibrook negotiated terms shortly thereafter, and hello it is October and it's hard to see a loss on Michigan's schedule until what's looking a lot like Football Armageddon II. Bill Connelly's fancystats have Michigan a two-touchdown favorite in every game before The Game, and it's not hard to see Vegas issuing double-digit spreads until then. This is the elite team it is supposed to be, even if someone needs to hit the field goal kickers with a frying pan until they remember to put it through the uprights.
This is because of the defense. Many expectations were piled upon it this offseason, and all have thus far been redeemed. You've seen it with your personal sensory organs. I have as well. I have seen other defenses, many of them, and the sense of serene calm when Michigan punts has only been matched by 1997 and 2006 in my experience. Michigan passes the eye test. They pass the scouting test. PFF has seven different Michigan DL with 100 snaps charted and a grade of 75 or above, which is bonkers.
And they pass the computer test. As of today Michigan is the #1 defense in S&P+ by a furlong and a half:
The gap between them and #2 Florida is bigger than the gap between Florida and #10 Washington. They are first or second in any capacity you'd like to name, and complaints about schedule strength start to ring hollow when Colorado is lighting up everyone they come across with a backup quarterback who netted –4 yards against Michigan and Wisconsin ends up with half the yards they did against LSU or MSU.
Michigan's supposed weakness on defense isn't one, and everything else is coming in at or above expectations. People used to say things like "punting is winning" and mean them as something other than shots at Kirk Ferentz. That's because football used to look a lot like Saturday's game: trench warfare punctuated with one or two seismic moments. I have an old feeling, and a good feeling, about this football team.
------------------------------------------
With Iowa playing competitive games against Rutgers and Indiana going toe-to-toe with Michigan State, thoughts inevitably turn to the roadblock at the end of the season. The team has to take things one game at a time. I don't. I can take them six or twenty at a time. I can know the names of a couple of large men in the 2019 class at Belleville, because it's never too early to think about 2023.
So. This defense and the great roadblock. One of those previous defenses had a fatal flaw. One did not. The 2006 defense had one and a half excellent cornerbacks and no nickel package. Leon Hall would go on to a long NFL career. Morgan Trent had a cup of coffee in the league. Michigan went up against an OSU spread offense with Chris Graham as their spacebacker. This was part poor roster construction and part horrendous gameplanning; Michigan was put to the sword by Troy Smith.
You'd think that's in the past now, but just last year a good, if depleted, Michigan defense entered the OSU game with a plan to do the exact same thing they'd done the rest of the year and got ripped for 300 yards on the ground, yet again. The failures linger and give you pause when you project down the road, especially since this does not seem like a rebuilding year for the Great Satan. Worry, worry, worry.
Still, Jabrill Peppers is not Chris Graham. Michigan just crushed a manball team without taking their 210 pound linebacker-type substance off the field. They are not running a defense that tells you which guy is not going to play the run presnap. They have survived the first five games with a just couple of injury scares on the defensive line. I am thinking Michigan might be able to punt a lot and win, even down in Columbus.
HIGHLIGHTS
Parkinggod:
AWARDS
[Eric Upchurch]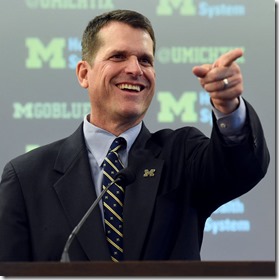 Known Friends And Trusted Agents Of The Week
you're the man now, dog
#1 Ryan Glasgow forced Channing Stribling's second interception by hitting Hornibrook as he threw and spent the rest of the day tossing UW's poor center to the ground, whether it was run or pass. He didn't rack up many counting stats because of the nature of the Badger offense but he's in line for a big-ass UFR grade.
#2 Kyle Kalis was a pile-mover in a game that needed to move many piles. Michigan's run game was decidedly right-handed in this one, and Kalis didn't have the protection issues Magnuson did. The repeated zone reads with Peppers were an impressive demonstration of Michigan's ability to shoot a very good defense off the ball.
#3 Jourdan Lewis was only targeted twice. One was incomplete. One has been photoshopped into a nouveau Jumpman logo. In addition to those two incidents, Lewis had two excellent plays in run defense that shut down Wisconsin attempts to get to the edge.
Honorable mention: uh, everyone on defense. Amara Darboh was the main target on Michigan's second touchdown drive.
KFaTAotW Standings.
5: Jabrill Peppers(T2, Hawaii; #3 UCF, #1 Colorado), Ryan Glasgow(#2 UCF, #1 UW).
3: Mike McCray(#1, Hawaii), Wilton Speight (#1 UCF).
2: Jake Butt(#2 Colorado), Ben Gedeon(#3 Colorado, #3 PSU), Kyle Kalis (#2 UW).
1: Delano Hill (T2, Hawaii), Chris Evans (T3, Hawaii, four-way T2, PSU), Chris Wormley (three-way T1, PSU), Maurice Hurst (three-way T1, PSU), Taco Charlton(three-way T1, PSU), Jourdan Lewis (#3 UW).
0.5: Mason Cole(T3, Hawaii), De'Veon Smith (four-way T2, PSU), Ty Isaac (four-way T2, PSU), Karan Higdon(four-way T2, PSU).
Who's Got It Better Than Us Of The Week
This week's best thing ever.
Speight bombs one over the top to Darboh for the winning points.
[Upchurch]
Honorable mention: The Lewis interception.
WGIBTUs Past.
Hawaii: Laughter-inducing Peppers punt return.
UCF: Speight opens his Rex Grossman account.
Colorado: Peppers cashes it in.
PSU: Wormley's sack establishes a theme.
UW: Darboh puts Michigan ahead for good.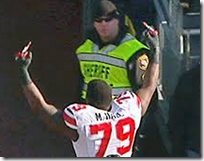 MARCUS HALL EPIC DOUBLE BIRD OF THE WEEK.
This week's worst thing ever.
For the second consecutive week this is a key piece being knocked out, probably for the season. Grant Newsome took a cut from a defensive back that resulted in a knee injury "as serious as a knee injury can be" and Michigan has to find out what they've got behind him now.
Honorable mention: Wisconsin scores an actual touchdown; any of three different makeable field goals go awry; Speight gets picked off; Michigan takes 34 consecutive penalties on special teams.
PREVIOUS EPIC DOUBLE BIRDs
Hawaii: Not Mone again.
UCF: Uh, Dymonte, you may want to either tackle or at least lightly brush that guy.
Colorado: Speight blindsided.
PSU: Clark's noncontact ACL injury.
UW: Newsome joins the ranks of the injured.
[After THE JUMP: one bushel of beets please]
OFFENSE
[Bryan Fuller]
Bushell-Beatty enters and is... fine! Newsome's injury promises to be a long-term one, so the insertion of Juwann Bushell-Beatty was a fraught one. JBB hasn't been talked about much during his career—Ben Bredeson got all the fall camp hype as the man pushing Newsome, and JBB spent big chunks of spring playing guard. It was a surprise that he got in, and then a further surprise that Michigan didn't seem to miss Newsome's presence much, if at all.
My cursory rewatch didn't turn up anything negative, either. Michigan did offer him more tight end help than Newsome got, and they remained right-handed on the ground. Those are minor concessions against either the toughest or second-toughest defense they'll go up against this year, one that has an especially vicious and diverse blitz game.
[Barron]
Speight's throws into coverage. I didn't think he was great but I also thought the three balls thrown into coverage weren't all terrible. The above was. Speight got pressure and chucked it up for grabs.
On the other hand, the actual interception didn't bother me that much. Speight had in fact hit Butt for a 20 yard gain when Cichy intervened by the barest of margins:
[Barron]
Sometimes passes get deflected when you're trying to fit it in a small window; Cichy is very good in coverage; for that to end up in an interception and a long return is pretty fluky. The fact that UW was able to create a turnover out of that is a credit to them, mostly. I'd be fine with Speight throwing that pass again. Maybe get a hair faster, etc.
Finally, back to back throws to Chesson were either a learning experience or just random chance. On the first, Chesson ran a corner route that was pretty well covered but Speight threw it anyway because he didn't have anything else. This is fine. I have no problem with that decision. The problem is that Speight left it a little behind and rather low. The safety was able to undercut it as a result.
On the very next snap this was the result on play that was shorter but almost identical otherwise:
[Fuller]
Ball is up high, DB can do little other than tackle. That's an accuracy issue.
But still, meh. Speight took some bad sacks and did indeed throw into coverage. Much higher degree of difficulty in this game; it's a struggle for him. Still hoping for improvement as we go along here but each game stuck in this C- twilight decreases the chances he'll develop into a top-level guy.
[Barron]
A run game. The numbers are unimpressive but I was pleased with how much push the Michigan OL got, and the production. As Bronxblue notes below, once you excise sacks and the six carries at the end of the game into ultra-stacked lines Michigan got 4.5 YPC against some tough customers, and that was without much downfield threat from the passing game (until the touchdown).
I thought both Smith and Isaac did well and made yards of their own; Evans was more frustrating in that regard but he's a whisper-thin freshman who is not going to be breaking many tackles yet. Higdon's absence was puzzling after a strong performance last week. I assume that's injury-related.
Meanwhile, the line did well against the same sort of 3-4 that gave them so much trouble against Colorado. PFF had Kalis with an outstanding grade and Cole with a good one. Magnuson seemed good on the ground and didn't make the top five because of the pressures he ceded, I'd imagine.
Involving Chesson. Last week I fretted about a lack of involvement for Chesson, and Michigan duly set about correcting that. Michigan's first touchdown drive heavily involved him, and a couple of more accurate passes would have seen him rival Darboh on the day.
I also appreciated that he cut a jet sweep back and shot up the gut for six or seven yards. You see wide receivers continue to run outside on well-defended jet sweeps all the time, and Chesson was guilty of that last week. He fixed it this week. Hopefully we'll see the same progression for Kekoa Crawford, who got zero on an eerily similar play where a cut behind his blockers yields a solid gain.
[Upchurch]
Somebody crash please. The only involvement Jabrill Peppers had on offense in this game was to play quarterback and hand off to a suite of tailbacks. You always wonder if the offense in fact has options in that situation, and it turns out, yes, Peppers was just waiting for the end to crash:
Looking at the End like please chase, please chase he stayed discipline though pic.twitter.com/h4OFXqytXN

— JP5 (@JabrillPeppers) October 2, 2016
He did not, so Peppers kept handing off. Effectively. Michigan was never really stopped on this zone read; I'm pretty sure the one eh gain was a bad decision by Smith not to cut back into the space Peppers generates by his presence.
Come on ride the train. I really wanted this to end up in the endzone:
ATTACK THE DAY WITH FORMATIONS UNKNOWN TO MANKIND pic.twitter.com/2pvjWe8Vg9

— Chase Winovich (@Chase_Winovich) October 2, 2016
There was a purpose to this, as Michigan broke from... that into a tackle over formation and snapped as quickly as possible. The play descended into a rugby scrum and Michigan lurched to the one, possibly because they overloaded a couple of guys, possibly because Wisconsin was still wondering WTF they were looking at.
As innovations go this one will be a footnote in the history of football, but I'm all for David Foster Wallace: the formation.
Asiasi drives the train. This kind of thing will endear Devin Asiasi to his coaches:
LOVE #2 Devin Asiasi's effort. Does. Not. Stop. pic.twitter.com/jqTWzzuKla

— Due (@JDue51) October 2, 2016
Getting TJ Watt so pissed off he rips your helmet off: +1.
DEFENSE
[Fuller]
A face-shattering performance. The standout number in the aftermath of Michigan clobbering Wisconsin's offense isn't applied to a Michigan player at all. It is in fact the Pro Football Focus grades for the best five players on the Badger offense:
RB Dare Ogunbowale, 64.6
RB Corey Clement, 56.6
WR Robert Wheelwright, 55.4
WR Jazz Peavy, 51.5
T Ryan Ramczyk, 49.1
For comparison's sake, the broke-ass version of Wilton Speight collected a 54.4 after the Colorado game. The impression I've gleaned from their new system is that anything less than about 60 is bad, and once you start getting under 50 it's time for the sackcloth and ashes. Michigan obliterated the Wisconsin offensive line to the point that the one guy who made it onto the list scored a 49. That would be one Ryan Ramczyk, PFF's #1 left tackle nationally entering this game.
In the preview I asserted that while the Wisconsin blocking corps had five very good players (three OL and the two fullbacks) there were holes the Badgers could not cover up because of the depth of Michigan's defensive line. This true—Ryan Glasgow ended up wearing the center's skin—and also not true—to have a hole you have to have substance around the void.
I also asserted that we had a pretty good idea what Wisconsin would do against a top tier defense: score a couple touchdowns on 15 play drives and gather just over 300 yards. Michigan halved that.
An irritating style of offense for TFL enthusiasts. Michigan's only two TFLs of the day were the two sacks. Michigan had a blizzard of tackles at the line of scrimmage or one or two yards beyond it because Wisconsin was in run run pass punt mode most of the day; they managed to power their way to or across the line of scrimmage. This did nothing for Michigan's havoc stats, Wisconsin, and I am annoyed at you.
Also in this category. Michigan got a ton more pressure than the sack numbers would indicate; Hornibrook's backup plan in case he was about to be consumed by defensive linemen was to hurl it downfield at a fly route. He did this an irritating number of times and was usually able to get enough on the ball that an interception was unlikely. A fine strategy for mitigating damage, and another reason the defensive stats look uninspiring on a day of dominance.
[Barron]
RPSed again on the RB wheel. Wisconsin's touchdown was an increasingly familiar sight: Michigan linebacker who starts in less than great position ends up in man coverage on the back and loses that matchup through little fault of his own. We saw it a few times in this game from Ogunbowale on flares and the like; the downfield strike for the TD was the only wheel. I think that might be a recurring theme. Brown's going to keep going after guys and sometimes the opposition is going to land a haymaker like that. Gedeon at least made Hornibrook put it in the bucket.
Revenge of RPS on a late flare. Wisconsin's first play of their final drive saw them return to that RB flare that got them a chunk early, but pre-snap Peppers and McCray sought each other out and flipped their spots on the field. McCray was in the wide open spaces to the field, Peppers to the boundary, and Wisconsin ran the play anyway. Peppers thumped it OOB for nothing.
The linebackers are good. Both guys got put in situations where they were unable to keep up with speed backs; McCray got hit on an early flare and Gedeon of course got the wheel route. That's going to happen. They offset those plays with a really consistent day against the Wisconsin ground game. UW did poke through the line from time to time and other than one good run for Clement up the gut they invariably found a linebacker waiting for them. McCray had a particularly thumping tackle on one zone stretch that looked like it might break for a chunk. Instead it was two yards.
I've been pleasantly surprised with both guys, and almost halfway through the season we're moving on from hope to facts. Michigan's linebackers are good.
[Barron]
Stribling and Lewis. Another game of scattered tests, almost all of them passed. Stribling had the one terrible moment when he fell down on a deep ball that could easily have been a 77 yard touchdown that put Wisconsin ahead. He got beat on Wisconsin's first third down of the game, and was otherwise impeccable. (A crossing route he ended up trailing was blatant offensive pass interference that featured a Wisconsin player giving him a clear shove when the pick wasn't going to happen.)
Lewis meanwhile had one iffy moment where Peavy got some separation from him deep; he made up the ground and appeared to get a PBU on a ball Peavy otherwise inexplicably dropped. He was avoided the rest of the day until fourth and ten, when he did that thing you already know all about.
Safeties? Another week, another ask again later. Wisconsin almost literally didn't get a run play to them and took all of their deep shots to the edge of the field. I don't remember much of anything Thomas did. Hill got confused on the successful Peavy jet sweep; on the other hand he got over the top of one of those bombs down the sideline.
SPECIAL TEAMS
Wellllllp. 0/3 on the day with two of those from Kenny Allen, dropping him to 4/8 on the year. College kickers, man. Allen set a Michigan record for accuracy last year, and so of course this year he's a random number generator. Ryan Tice entered, missed his attempt, and despite that Harbaugh's post-game press conference specifically said this would be a major opportunity for him.
The implication there is that Michigan's trying to give him the job, which 1) is crazy given Allen's 2015, and 2) makes sense. Welcome to CollegeKickerville! You'll hate your visit. You'll come back far more frequently than you want to. You will leave without warning and return without warning. Fucking kickers.
On the other foot. Allen was bashing everything else, bailing out Michigan's flag-happy special teams with the kind of bombs that freak out returners into not fielding them; he was actually unfortunate to get a couple of crappy rolls on punts that otherwise could have been 60+ yards without a return. When he did see his punts fielded he'd gotten sufficient hang time to let Michigan recover from its relative lack of gunners. Jazz Peavy only had two return attempts, one of them because he decided to field a bomb on the three.
Peppers check in. Peppers didn't rip anything huge off. He did have a nice thirteen yard return that set Michigan up in excellent field position. Wisconsin's punters appeared to sacrifice distance, as well. They alternated their two guys, who'd been averaging 40 yards a kick this season. In this game they dropped it down to 36.
More entertainingly, Peppers strove for precision after a fair catch:
I also thought his spot on the shanked Wisconsin punt was much more accurate than the official one. That ball just about landed where the refs spotted it, and since it landed many yards out of bounds... well, you do the math.
MISCELLANEOUS
Harbaugh gear checklist expands. Gloves:
[Upchurch]
One day if we are blessed he will coach a game in full pads.
Don't talk to me or my son ever again.
[Fuller]
Game theory. A few events of note this week after four games in which game theory discussions were limited to when to lift the starters:
Michigan did not play any of their third downs as if they were intending to go for it on fourth down. This is one of those six of one, half dozen of the other kind of things where there are too many moving parts to say something definitive either way. I'm just saying that Michigan could have approached some of those third and mediums with a run or a screen of some sort with the intention of going for it.
They played their penultimate drive as conservatively as you can, running three times into the teeth of a stacked defense when Wisconsin had three timeouts and could use all of them on D. If this was a Carr team trying to lock down a game in the 20s I would have been livid, and Michigan probably would have gone to overtime. But as I tend to say, when you're playing a game from 1956 you can make decisions from 1956. The chance Wisconsin was going to drive 92 yards was so slim that taking a risk on third down was unnecessary.
Jourdan Lewis intercepted that ball. Please report to processing if you believe he shouldn't have done that so we can reclaim the valuable lipids and amino acids you are currently wasting. I mean, sure, it crossed my mind, but you're asking a guy to do an unnatural thing when doing the thing he wants to do gets you a win 100% of the time. If there was an extra minute on the clock maybe there's a discussion here. Since Michigan didn't even have to snap it on fourth down, GTFO with that.
Dadrock update. As many on twitter noted, Michigan played "Fat Bottomed Girls" just prior to getting Khalid Hill his fifth vulture TD of the season.
HERE
The running game also felt solid even though they recorded 200 yards less on the ground than against PSU last week.  Excising sacks and end-of-game runs designed to bleed the block, UM averaged about 4.5 ypc and picked up 11(!) of their 21 first downs on the ground.  And they did so despite losing Grant Newsome for half the game (and, based on early reports, the rest of the year), conscripting Bushell-Beatty into the lineup with mixed results.  And against a Wisconsin front that loves to bring pressure, the backs kept moving forward (only 2 TFLs for 2 yards).

Isaac felt like the star of the game for the backs, consistently slicing through creases and picking up yardage, especially in that second half.  Of course, he also almost coughed up the ball deep in UM territory with barely anyone around, which brought back nightmares of his game against Maryland that basically stapled him to the bench.   But he recovered nicely and really is a solid talent when he can keep the ball secure.  Smith plowed through guys (though he missed at least 1 big cutback on the first TD drive that would have picked up a first down), while Evans had a nice early run and also caught a ball for a first down.  It was weird to not see Higdon a week after his coming out party against PSU, but otherwise everyone you sort of expected to show up did and performed consistently, which given how this running game has looked in the past is whole-heartedly welcomed.
The State of our Open Threads:
ELSEWHERE
Sap's Decals on the train:
Maybe Harbs was inspired by these cats?:
When Michigan went down the field late in the first quarter, pass, run, run, pass, pass, incompletion, pass, run, run, touchdown run, it felt like Michigan had found a rhythm and a way to befuddle the stout Wisconsin defense just enough to keep ahead of the chains and find paydirt.  Except that is not what was meant to be.  Despite getting excellent field position from Wisconsin, a horror show broke out, complete with a pair of missed field goals, a flurry of penalty flags, and a plethora of punts.  In a game that Michigan should have been up 13-0 headed into the locker room, it was a very disquieting 7-0 lead and one that provided more questions than answers.  Should have has yet to win a football game.
Jourdan Lewis has the best interceptions. Lewis made a highlight-reel interception to seal the game that might end up on the ESPYs or at least on the end-of-season montages of great plays from the season. Covering a slightly underthrown vertical route, he jumped (late) and seemed to hover in the air for a couple yards, eventually coming down with a one-handed interception. It was reminiscent of the way the guy on the Jumpman logo used to hang in the air while switching the ball from hand to hand, checking his watch, punching Will Perdue in the head, and then dunking. That was Lewis's fifth career interception, and let's go through the other four:

Maryland 2015: Lewis makes a one-handed stab of a pass thrown behind him while covering a crossing route
Northwestern 2015: Lewis goes up to contest a jump ball on the sideline, somehow yoinks it from the Northwestern WR, and then tiptoes down the sideline for a 37-yard touchdown
Penn State 2014: Lewis makes a pretty ho-hum interception on a ball Christian Hackenberg throws late across the middle
Miami (Ohio) 2014: Lewis turns around in time to make a leaping interception near the right sideline, the first of his career

Saturday evening's pick was the best of them all, but he's got a pretty good highlight reel going.
He's not perfect; no one up front was Saturday, as Wisconsin's pressure either confused or just flat out destroyed Michigan's pass protection way too many times. But he's a thumper. When he hits someone, you see it -- and sometimes you hear it.

He looks like he's dropped a lot of weight over the last two years. He was listed at 319 pounds as a true freshman in 2014, but he looked much bigger than that. And if he wasn't bigger, then he certainly wasn't carrying a lot of good weight.

He looks stronger and more compact now. He's still long at 6-foot-6 and he's still huge (310 pounds), but he's got good feet and he has enough power to deliver a shot.
Michigan opens –26.5 against Rutgers. Everyone Michigan's already played won this weekend. UCF's already 3-2. Scott Frost may be a cold-blooded killer with a weird face but he is also a good coach. Dan Murphy's recap of the game. Brian Bennett on the Lewis INT. Maize and Blue Nation. More numbers. TTB MVPs.