10/22/2016 – Michigan 41, Illinois 8 – 7-0, 4-0 Big Ten
viscera cleanup crews are on overtime [Eric Upchurch]
Dear reader, it turns out there is a downside to Michigan hog-walloping every team they play. You see, when every game resembles Brock Lesnar versus a toddler the emotional import is rather muted. Michigan was always going to put it on Illinois and their third-string quarterback. They scored four straight touchdowns to open the game and cruised home; I spent three quarters of the game wincing when Michigan players required attention from the medical staff, very much ready to hit the fast-forward button.
This is a difficult column-writing environment. Sometimes you get a gift like Jabrill Peppers annihilating some poor staffer on the sideline. Sometimes there's a 41-8 game that doesn't even cover the spread and Peppers has the temerity to fair catch punts in the third quarter as Michigan Stadium groans because we haven't seen nearly enough comical explosions to sate our greedy little hearts.
So I must confess, dear reader, that I do not have a grand overarching theme to offer you. We're past the point when we can say "boy, it is nice to blow out a team you are supposed to blow out"; I already wrote that one. I already wrote the one about how this looks like a historically good defense. I already wrote the one that looked back at the Brady Hoke and Dave Brandon mess, which was two years ago and feels like two hundred. I already wrote the one about how Michigan broke the opposition's spirit, and the one about how we're crabby crabs looking for any flaw because of the roadblock at the end of the season. I submit to you that I have mined all available angles when Michigan lives up to expectations, especially when those expectations are of the steamroller-versus-bag-of-Cheetos variety.
So here we are, looking at each other, waiting for me to say something.
--------------------
this column must wait [Bryan Fuller]
There is a column I have yet to write, but cannot write yet: Wilton Speight as Jake Rudock. Like Rudock, Speight scuffled through much of the first half of the season. Like Rudock, Speight had a eye-catching game featuring many daggers against a bad defense. I want to point at Rudock's exponential improvement and say yes that for Speight right now we all saw it, but one game against Illinois is insufficient evidence. One game against Michigan State, a team currently ranked worse than EMU by various fancy stats, is also probably insufficient evidence.
But two weeks is better than one, and three better still, and I was struck by Speight's comments after the game on what he did on the bye week:
"I watched all of the six games, every snap, and just took a lot of notes on what glaringly needed to be better and also little things. So being able to throw with guys like Grant [Perry], Jehu [Chesson], in our time off—you know, we didn't have the couple hour practice with pads on and everything but we were still able to go out there like we did this summer and throw certain routes. I just wanted to focus on—I can make every throw, in my opinion, but sometimes I was short on passes or when a guy was open I'd miss him. That's what I wanted to focus on the second half of the season was eliminating that."
Speight is a guy who almost transferred because he thought Harbaugh would go with a guy he recruited, but stuck it out; he beat out everyone's fave-rave this offseason, and he's held the job without challenge since. Because he works. They all work—this offseason saw a spate of hilarious articles about the QBs trying to slip in work with the WRs without the other guy knowing. Speight works like the rest of Michigan works.
And maybe he is getting there. You can see the war between Jim Harbaugh and Al Borges in his performances: early on, Speight was creepily accurate. Then he got annihilated by Chidobe Awuzie and regressed to old habits. This happened to Devin Gardner early on, as well. He'd start out throwing it like his coaches wanted him to and regress to a high-school pushing motion once he started thinking about guys trying to hit him. Speight was rattled against CU and seemed to have lost the refinements from the offseason; given an opportunity on the bye week he set to regaining them.
So far, so good. More important than the performance against Illinois is the reaction when the coaching staff is jetting around the country trying to lock up recruits. When the cat's away, the mice watch film and run routes.
HIGHLIGHTS
Parkinggod:
A more extensive selection at MGoVideo.
AWARDS
[Upchurch]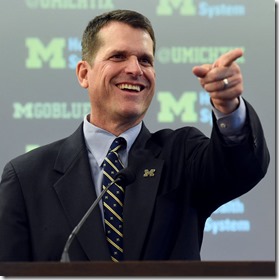 Known Friends And Trusted Agents Of The Week
you're the man now, dog
#1 Wilton Speight opened with his traditional terrible first pass. I grumbled to my wife. He was lights out after that, averaging 11 yards an attempt. His performance was even more impressive than the numbers since he suffered a couple drops and Amara Darboh was interfered with on a bomb to the endzone that was dead on. Speight didn't benefit from anything super-long, either. Michigan's longest completion was 33 yards. This is a version of Speight you can win many things with.
#2 Karan Higdon had a 45-yard touchdown late on which he burst past a guy with an angle and then cut back to get the last ten, carrying a DB into the endzone. Consider that even before that he'd gained 61 yards on 7 carries. He slalomed through various blockers and opponents on a trap play on which it looked like the hole wasn't exactly where it was supposed to be and generally looked fast, powerful, and way better than Mike Weber.
#3 Ben Braden had a shockingly smooth transition to left tackle. He led the way on various offset draws and his pass protection was close to impeccable against some tough customers (when they're rushing, at least). The one sack he was charged with was PA on which he didn't have a traditional pass drop; I thought that was more on Speight than Braden. If he can maintain this level of performance Michigan's Newsome issue seems far less daunting.
Honorable mention: The entire defense. They spent so little time on the field and split what stats were available that no individual was able to do as much as the various offensive players. They remain rather good.
KFaTAotW Standings.
7: Jabrill Peppers(T2, Hawaii; #3 UCF, #1 Colorado, #2 Rutgers)
6: Wilton Speight (#1 UCF, #1 Illinois)
5: Ryan Glasgow(#2 UCF, #1 UW).
3: Mike McCray(#1, Hawaii), Ben Gedeon(#3 Colorado, #3 PSU, three-way T1 Rutgers).
2.5: Karan Higdon(four-way T2, PSU, #2 Illinois).
2: Jake Butt(#2 Colorado), Kyle Kalis (#2 UW), Chris Wormley (three-way T1, PSU, same vs Rutgers), Taco Charlton(three-way T1, PSU, same vs Rutgers).
1: Delano Hill (T2, Hawaii), Chris Evans (T3, Hawaii, four-way T2, PSU),  Maurice Hurst (three-way T1, PSU), Jourdan Lewis (#3 UW), Devin Asiasi(#3 Rutgers), Ben Braden (#3 Illinois).
0.5: Mason Cole(T3, Hawaii), De'Veon Smith (four-way T2, PSU), Ty Isaac (four-way T2, PSU).
Who's Got It Better Than Us Of The Week
This week's best thing ever.
This is kind of a dumb best thing ever, but TRAIN.
It was more hearing the stadium respond to TRAIN than the actual three-yard touchdown. The vibe around the program now is so fun, and TRAIN is a part of this.
Honorable mention: Most of the rest of the game.
WGIBTUs Past.
Hawaii: Laughter-inducing Peppers punt return.
UCF: Speight opens his Rex Grossman account.
Colorado: Peppers cashes it in.
PSU: Wormley's sack establishes a theme.
UW: Darboh puts Michigan ahead for good.
Rutgers: Peppers presses "on".
Illinois: TRAIN 2.0.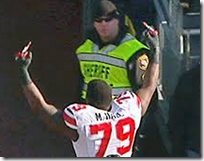 MARCUS HALL EPIC DOUBLE BIRD OF THE WEEK.
This week's worst thing ever.
Michigan gives up a touchdown on a downfield prayer that Delano Hill misreads.
Honorable mention: Two other big plays by Illinois, many worrying injury moments. .
PREVIOUS EPIC DOUBLE BIRDs
Hawaii: Not Mone again.
UCF: Uh, Dymonte, you may want to either tackle or at least lightly brush that guy.
Colorado: Speight blindsided.
PSU: Clark's noncontact ACL injury.
UW: Newsome joins the ranks of the injured.
Rutgers: you can't call back the Mona Lisa of punt returns, man.
Illinois: They scored a what now? On Michigan? A touchdown?
[After THE JUMP: eh, the usual]