Man Versus Printer
10/8/2016 – Michigan 78, Rutgers 0 – 6-0, 3-0 Big Ten
A first down is gained [Patrick Barron]
Like many a mysterious drifter who's spent the past seven years wondering whether to drink whiskey or bleach, I don't really want to linger on the past. But when Michigan plays at Rutgers and a play by play guy desperate to inject any intrigue into a man-versus-printer situation keeps bringing up the 2014 game, it's hard to get away. And when you're already inclined to think about the radical shift in Michigan's fortunes, running across an article titled "Brady Hoke discusses monumental loss" is game over, man. There's nothing for it.
So let's talk about it.
Entering week six in 2016, Michigan was 5-0, favored by 30, coached by Jim Harbaugh and athletically directed by Warde Manuel. Manuel has probably been about as visible as your average athletic director; in the aftermath of Dave Brandon he feels like a ninja with an invisibility cloak since I haven't thought about him much outside of a few interviews and the resumption of the Notre Dame series.
Exiting week six Michigan is a top five team that just beat Rutgers so badly that they're causing existential crises amongst Cable Subscribers fans. The Daily's Jacob Gase caught up with the stragglers in the student section and got a quote for the ages:
"I like these kinds of games where we're losing by a lot," Kasia said, "because if we get a touchdown in the last four minutes, everyone is so happy to have anything that it's really exciting."
Rutgers only got a touchdown briefly. When the referees took it away it was a sign that the cosmos itself had decided that they were emphasizing the "win with cruelty" bit of Jim Harbaugh's favorite dichotomy. Everything about a blowout so epic it broke records set just before the University of Chicago decided football wasn't for them was expected.
Two years ago Michigan left for Rutgers after a week of incompetence so sheer that there was a well-attended rally on the Diag demanding Dave Brandon's ouster. Shane Morris had just been probably mildly concussed, the coverup was worse than the crime, and Brandon's "my personality is to the best of my ability" media blitz ended with this:
A phalanx of athletic department staffers dragooned into wishing the team well as they departed. Brandon was front and center, naturally.
Upon arriving in Piscataway a person named Gary Nova bombed a secondary featuring Jourdan Lewis and NFL draft pick Blake Countess, a reigning first-team All Big Ten corner, for 404 passing yards. Michigan's featured pass rushers were current NFL stalwarts Jake Ryan and Frank Clark.
Brady Hoke had his cornerbacks coach install a press man system before the 2014 season. The minor flaw with this plan is that the cornerbacks coach was a linebacker who had never coached corners. This is how you lose to Rutgers.
-------------------------
I no longer know how you lose to Rutgers. There was no combination of parlous events that sees this game end up competitive, even vaguely so. The first time Rutgers crossed the first down line their quarterback was immediately crushed by Delano Hill, fumbling back behind the line to gain. The second time Rutgers crossed the first down line, deep into the fourth quarter, a Rutgers fan hugged it out with a Michigan fan. Various people on twitter bemusedly reported that ESPN's live win percentage tracker was stuck on 99.9%. My "harbaugh class" search started garnering hits early in the second quarter.
This was a blowout so comprehensive it went from boring to notable. And, yes, since two years ago this week I was posting The Kids In The Hall "Each Day We Work" sketch with the "there is no time off until I am crushed by the black hand" line and generally mooning about, it's worth noting that this is not that and that these are the rewards of finally getting some people in charge of things for a reason.
there is no time off until Rutgers scores [Barron]
Michigan's cornerbacks coach is now a guy who played safety in the NFL for a decade, their athletic director has athletically directed at two other schools prior to this stop, and Jim Harbaugh is the head coach. Reasons veritably abound.
College programs can be steady for decades at a time as long as the core remains, and then lurch wildly about when that thing no longer suffices. See post-Bear 'Bama, the current situation at Texas,—which is playing out exactly like Lloyd Carr/RichRod—the last 20 years of Notre Dame football, etc. Michigan is no different. (Ohio State was incredibly lucky that when Jim Tressel got himself fired, Urban Meyer just happened to be waiting around.)
Today is a fine time to reflect on the bad old days, as we stand amidst a fine red mist that used to be the Rutgers football program, and appreciate that they got fixed. "Each day we work" has a different meaning now. So too does having an average weekend. It means the other team averages 18 inches a play.
HIGHLIGHTS
WD:
parkinggod:
More at MGoVideo.
AWARDS
[Barron]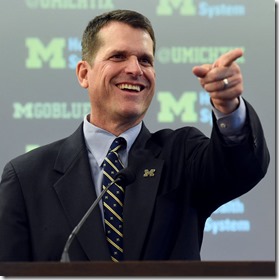 Known Friends And Trusted Agents Of The Week
you're the man now, dog
#1 (tie) Taco Charlton, Ben Gedeon, and Chris Wormley were first amongst equals on defense. Charlton had two insta-sacks. Gedeon ran over a running back for a sack of his own and had a Don Brown special TFL on which he crushed a guy five yards in the backfield. Wormley continues to crush all tight ends and had a sack that should not be possible.
#2 Jabrill Peppers did some defense things. He also should have had a punt return touchdown. He did have a 63-yard run on a broken play and two very easy wildcat touchdowns, one of which was supposed to be a throw. 
#3 Devin Asiasi popped out on a cursory rewatch as an absolutely mauling blocker; virtually very big run Evans had was facilitated by Asiasi blowing one or two dudes out.
Honorable mention: everybody!
KFaTAotW Standings.
7: Jabrill Peppers(T2, Hawaii; #3 UCF, #1 Colorado, #2 Rutgers)
5: Ryan Glasgow(#2 UCF, #1 UW).
3: Mike McCray(#1, Hawaii), Wilton Speight (#1 UCF), Ben Gedeon(#3 Colorado, #3 PSU, three-way T1 Rutgers).
2: Jake Butt(#2 Colorado), Kyle Kalis (#2 UW), Chris Wormley (three-way T1, PSU, same vs Rutgers), Taco Charlton(three-way T1, PSU, same vs Rutgers).
1: Delano Hill (T2, Hawaii), Chris Evans (T3, Hawaii, four-way T2, PSU),  Maurice Hurst (three-way T1, PSU), Jourdan Lewis (#3 UW), Devin Asiasi(#3 Rutgers).
0.5: Mason Cole(T3, Hawaii), De'Veon Smith (four-way T2, PSU), Ty Isaac (four-way T2, PSU), Karan Higdon(four-way T2, PSU).
Who's Got It Better Than Us Of The Week
This week's best thing ever.
Peppers takes off for the huge run that opened the floodgates.
Honorable mention: Everything that happened after the first seven minutes.
WGIBTUs Past.
Hawaii: Laughter-inducing Peppers punt return.
UCF: Speight opens his Rex Grossman account.
Colorado: Peppers cashes it in.
PSU: Wormley's sack establishes a theme.
UW: Darboh puts Michigan ahead for good.
Rutgers: Peppers presses "on".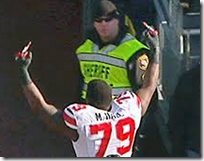 MARCUS HALL EPIC DOUBLE BIRD OF THE WEEK.
This week's worst thing ever.
A bonkers Jabrill Peppers punt return is called back for an extremely dubious block in the back penalty. I mean, for real. They never give a number because in their great shame they forget everything including the name, but the only thing that seems even slightly plausible is Delano Hill putting one hand (one hand!) on a punt returner who falls over in sheer awe of Peppers:
The only appropriate statement in that situation is "sorry sorry I'm trying to delete it."
Honorable mention: N/A.
PREVIOUS EPIC DOUBLE BIRDs
Hawaii: Not Mone again.
UCF: Uh, Dymonte, you may want to either tackle or at least lightly brush that guy.
Colorado: Speight blindsided.
PSU: Clark's noncontact ACL injury.
UW: Newsome joins the ranks of the injured.
Rutgers: you can't call back the Mona Lisa of punt returns, man.
[After THE JUMP: winning with cruelty]
OFFENSE
[Paul Sherman]
A mauling ground game. Michigan farted around for half of the first quarter and then unleashed hell on Rutgers. De'Veon Smith saw his playing time limited after a fumble, so the main guys until quittin' time were Isaac and Evans. Isaac again impressed with his ability to cut through traffic and stiffarm a DB to pick up chunks. I had literally just complained to the friends I was watching the game with that Evans never broke any tackles when he burst through the line and broke three on a 40-yard run that ended up just short of the goal line.
Things continued from there, and continued continuing, until Karan Higdon was again taking one of those offset draws that ends up with an insultingly easy touchdown. Higdon jogged the last ten yards and barely bothered to celebrate. It was that kind of game.
As mentioned above, the guy who stuck out on a cursory rewatch was Devin Asiasi. When he made contact with someone they found themselves blown yards from where they wanted to be. Two of Evans's runs were mainly his blocks: on one double iso he clobbered the NT, and on a cutback run he hit a DE slanting away from him and then had the wherewithal and power to redirect to the second level and get yards of push on a DB.
Does this mean anything? Eh, probably not. I mean, it's better than the alternative. I think the main backs averaging 5.1 YPC* last week is a much more encouraging sign than this romp.
*[clock-killing time excluded]
Speight issues. There were only two players who turned in worrying performances. One was the quarterback, and that's a downer. While Speight did hit a very tough wheel route to Chesson while moving up in the pocket, every other throw was somewhere between routine and WTF. The farting around period early was almost entirely due to Speight airmailing a ton of throws. (A bad cut or two from the RBs and one Darboh drop were the rest.)
It was raining pretty hard during the portion of the contest where Michigan bothered to throw, so that may be a mitigating factor. Still, I'm getting the impression that the UCF game is the outlier and this is closer to the guy Michigan is going to roll with.
That's fine, I guess. Speight's numbers are still good, and he's far from the worst new starter that I've seen. I still must admit that I was hoping the second half would be an extended John O'Korn demo tape, just in case. I feel much better about the OSU game after the resurgent IU defense was able to put some clamps on their offense (under 400 yards!), but I still think Michigan's going to need QB play better than they've been getting so far to beat the Buckeyes.
The other dodgy spot. That would be left tackle, where Juwann Bushell-Beatty had some early struggles in pass protection. While we mentioned before the game that Rutgers actually has a decent defensive line per PFF, almost all of the positives are run-based. They don't have any quality pass rushers on the edge. JBB giving up a couple of pressures is not a great sign as we add to our slim collection of information on him.
FWIW, Bruce Feldman has an article in which former Notre Dame OL Aaron Taylor talks about the Michigan OL. Taylor apparently still watches a ton of tape, and his take on JBB is considerably more optimistic than mine:
"Watching the game tape, I thought they were rotating left tackles because he came in and there was no noticeable drop off," Taylor said. "I liked that he was aggressive and it was clear that he knew what he was supposed to do. One of the first things I saw was a high level of play for a backup. He came in and dug out a defensive lineman who had an advantageous inside alignment in a short-yardage situation, meaning the D-lineman was already where he needed to be pre-snap ... so Bushell-Beatty had to cut the guy off. In football jargon, it's a 'backside cutoff versus a 4i technique.' That's not easy to do, and if he hadn't, they likely wouldn't have converted. I call those situations, 'Gotta Have Its,' and he did. That really speaks to coaching, technique and 'want to.'"
That's Taylor looking at a play from Wisconsin, not Rutgers. Whole thing's worth a read. Taylor never came off that well as an analyst but after reading this article my assumption is that the producers were dumbing him down.
[Barron]
Helping their dude out. Amara Darboh had the aforementioned drop. He also had an excellent downfield adjustment on a post route that Speight wasn't entirely precise on. That's just fine—it's hard to throw deep. I'd been hoping that Michigan's WRs could help their QB out and in this game they did. In addition to that post route, Chesson hauled in that improvised wheel by laying out, as above.
We didn't get to see much of either guy for Rutgers reasons; they do seem to be more efficient than they were early in the season.
Peppers, the nightmare. Michigan expanded their Pepcat formation with a bonafide rollout throw that Peppers turned into a touchdown and a counter pin-and-pull that Peppers also turned into a touchdown.
The broken play that kicked off Michigan's route was also a new item: Poggi arc blocked. "Arc blocking" means that the fullback heads to the backside DE and then avoids him so he can go get a guy on the second level; Peppers's pull was by design. The running back not even entering the mesh point was not so much by design, but Poggi got enough of the edge guy for Peppers to make it work anyway.
But wait, there's more than just vulturing touchdowns. Khalid Hill impresses again as both a receiver and a blocker. Like Asiasi, guys he contacted got thunked back. He's turning into an impact fullback, which is so Harbaugh.
it was cool that he scored though [Barron]
I have to have a complaint and this is it. The Henderson fullback trap was not something Michigan had put on film this year; ditto the second Peppers touchdown, which was a pin and pull counter to the usually zone stuff. I'd prefer they kept those things in the barn until they're facing MSU.
DEFENSE
The numbers are now bonkers. A piquant selection:
The management would like to apologize for the editing oversight that let that last one slip in there. That last one is not about the Michigan defense at all and should have been removed during one of the multiple copy-editing processes MGoBlog posts undergo before publishing in an effort to keep quality up. This does not meet our standards, and we will strive to do better, just as Michigan State strives to make the Motor City Bowl.
Anyway. Bruce Feldman offers some perspective on the third down numbers:
The Wolverines are holding opponents to a nation-leading 12.2 percent on third down tries (10-for-82), which is far and away No. 1. Of course, it's still relatively early in the season and the Wolverines' toughest opponents remain ahead on the schedule. But keep in mind that no defense in the past decade has been under 20 percent on this stat. Boston College's 24.1 percent last year ranked No. 1 in the country and was the best in five years. That BC defense was also coached by Don Brown, who's now running the defensive show in Ann Arbor.
Michigan's on pace to be historically good. And they have not played all meatballs so far. Colorado's around 30th in fancystats, with UCF and PSU average-ish.
I don't have that much else to say. I struggled to write the defensive sections of the game preview because this was going to be an obvious blowout because Rutgers simply could not block the Michigan front. Check.
[Paul Sherman]
Jourdan Lewis is still good. Via PFF:
Michigan CB Jourdan Lewis has now been targeted 10 times on the season, allowing two catches for seven yards (0.7 yards/attempt).
Dan Murphy had an excellent shade tweet at halftime:
Laviano isn't scared of throwing at Jourdan Lewis, looked his way 3 times so far. Hasn't worked at all, of course, but fearless nonetheless.

— Dan Murphy (@DanMurphyESPN) October 8, 2016
Skillfully done.
Lewis also made another couple of excellent plays on edge runs where he read run and came off receivers to cut off the runs Michigan had so much trouble against late last year.
Revisiting Gedeon. Gedeon's now got three Known Friend And Trusted Agent Points; in this game he had an impressive sack where he turned Rutgers's running back into Fitz Toussaint (senior edition) and another TFL that, while mostly Don Brown conjuring up an evil response to an inverted veer, featured him zipping upfield like he was Jake Ryan. These linebackers seem like an upgrade.
While we're on the topic, you'd better believe that seeing Michigan crush an Ohio State staple play with a schemed run blitz has my attention.
Hello Mr. Metellus. Six tackles in mop-up time for Metellus, a couple of them of the violent-yet-legal sort. Metellus was credited with a sack when he came up on a scrambling QB and blasted him out of bounds, and gave an early indication that Devin Bush Sr.'s insistence that Metellus was super underrated is correct.
Mo Hurst: technically second-string [Sherman]
Other second string impressions: scanty. It was difficult for any of the other second-stringers to stand out because the second string DL still has Mo Hurst, Bryan Mone, and Rashan Gary on it. Which 1) hahahahaha and 2) that rather makes it difficult for the back seven to get involved.
Michigan threw Michael Onwenu and David Dawson out there as DTs late because why not. If JBB does work out land Michigan's 2017 OL haul is as epic as it projects to be I wouldn't be surprised to see Onwenu end up at NT long term.
SPECIAL TEAMS
[Barron]
A shoutout to the other Glasgow. Jordan Glasgow has been everywhere on kick coverage this year, with six tackles and a fumble recovery on 27 returns. Never count out a Glasgow.
Why did they go for two? They must have seen it on film and put it in. Rutgers had a massive overload to the left of their line:
Dollars to donuts that conversation went something like:
"Uh... are we going to run this?"
"I mean, sure, we practiced it."
"Okay, it has to be now because if we do it up a gorillion people are really going to lose their minds."
On the one hand, totally unnecessary. On the other, Michigan is detailed enough to see an issue with the Rutgers XP block and has something to exploit it.
Orin Incandenza punt of the week. I'd like to believe this is repeatable:
had to wait until after midnight to post this punt porn. pic.twitter.com/tvbQ8gF0UG

— Ace Anbender (@AceAnbender) October 10, 2016
I'm dubious. But that was still pretty awesome.
Still angry about the Peppers return. How do you throw that flag? Do you run around smashing Ming vases? How many times have you watched that "I felt like destroying something beautiful" scene from Fight Club? I hope the ref who threw that flag is thinking very hard about what he's done.
Field goals! Ask again later.
MISCELLANEOUS
MULTIBALL [Barron]
The perpetually entertaining Peppers. Two items:
Peppers hat to visor switch pic.twitter.com/A05qTkd0yY

— Thorin Sprandel (@t_sprandel) October 9, 2016
He also decided to terrify the Rutgers punt cover team for no reason:
He's like Norfleet if Norfleet was the best player in the country.
This guy! Lot to unpack here.
[Barron]
HERE
Best:  No Mercy

I know I just listed a bunch of stats about the dominance on both sides of the ball by Michigan, but this probably takes the cake:  Rutgers punted for 609 yards on 16 punts.  That's longer than the height of the Sears Tower, the Empire State Building, and the Eiffel Tower.  It's 6 football fields worth of surrender.

Michigan had 13 TFLs, including 4 sacks, on only 54 plays by Rutgers, meaning they lost yards a good quarter of the time they ran a play.  Remember 2013 against MSUwhen the Wolverines rushed for –48 yards and everyone felt terrible about themselves?  MSU recorded 11 TFLs on 59 plays by UM in that game.  This was a terrifying display by a defensive unit that chewed up other decent offenses in Colorado and Penn State, and one that will probably replicate similar performances against the mediocre offenses that are coming up on the schedule.
The State of Our Open Threads:
It is important to note that "f---" was not the most used word among the tracked words this time around - it was "Harbaugh". We were excited that Harbaugh laid a Harbaugh on a team that would dare marginalize the accomplishments of Harbaugh. Indeed, there was some talk about Chris Ash maybe even weeping a little bit at the realization that he gets to experience this Harbaugh for several years now. He may not have really, but it is fun to think of it that way.
ELSEWHERE
The Big House Report has the most Jersey Shore focused recap of the game that you will find. MGoGirl is meanwhile RECOVERING FROM A DAY OF BLOODLUST.
In the post-game presser, Harbaugh had a hard time holding back his thoughts on #5.
Gosh, if there's a better player in the country, I don't know who it is. I know there's a lot of great players out there, but this guy, to be able to coach a guy like Jabrill Peppers is a real joy. There's so much more. There's nothing he can't do. It's the darndest thing I've ever seen. My humble opinion is we are looking for a Heisman trophy winner, candidate."
He's not going to get any disagreement from this blogger.
TTB:
The broadcast was atrocious. There were numerous shots of Chris Ash on the Rutgers sideline for virtually no reason at all. He hasn't done anything as a head coach, and the more interesting things are happening on the field, where 11 football players actively dominated 11 other football players, down after down after down. Early in the game, the announcers were talking up Chris Ash, the new attitude he brought to Piscataway, the strength and conditioning staff, the Ohio State connection, the talent they've been bringing in, the playmaking two-sport star Jawuan Harris, etc. The talent level doesn't look any different, and Harris was averaging over 17 yards/catch . . . with most of his yards coming against Howard and New Mexico. He had 4 touches for -3 yards against Michigan, and he averaged 11 yards/catch against Ohio State. I guess that's what happens when you play a night game in New Jersey on ESPN2.
Let's see more of this guy on defense . . . Josh Metellus. I've heard good things about Metellus coming out of practice, and he came out to lead the team in tackles with 6. He also got credit for a sack. That's not bad for a freshman that nobody was fond of except ESPN. Granted, he was playing with the backups and against Rutgers late in a blowout, but he came up strong in run support and had a couple good hits. Saturday's performance should earn him a few more reps going forward, even if only in certain game situations.
In the fourth quarter, not counting the two end of game kneel downs, Michigan averaged, averaged 10.64 yards per carry from that point, and scored three touchdowns, all from backups.  Michigan did not so much call off the dogs as told the dogs to go out and have fun and don't get hurt and still put up 21 points.  There can be one conclusion from this: Rutgers 2016 is not a good football team.  I suspect one day in the near future they may be; especially if (and this is a big if) they can keep some of that local talent at home, but for now, Michigan honored the 100th anniversary the infamous Georgia Tech 222, Cumberland 0 shutout, by burning down a divisional foe.
COACHING CHAMPION – Whenever you drop the third highest point total in program history on your hapless opponent, you know there is some good coaching going on for the Maize and Blue. Gonna give one helmet sticker to the ENTIRE COACHING STAFF because that was the most impressive, thorough and dominant victory I have witnessed in a long, long time – maybe even better than the Gator Bowl whupping Michigan laid on Ole Miss back in 1990.
The Bo Store.  The latest UGP/Moe's venture is killing it – with stuff like The Nap, The Nap, The Nap and this Bo retro sideline jacket:

Baumgardner. Wenzel explores where the game ranks in Michigan and Big Ten blowout history.
Upwards of 200 recruits attended the game, but there's a silver lining for Rutgers: statistically at least a few of them are masochists. Or history buffs: this was the worst Rutgers loss since 1888. Michigan-Rutgers features rather heavily in Bill Connelly's box score superlatives.