Slanted And Faceplanted
11/4/2017 – Michigan 33, Minnesota 10 – 7-2, 4-2 Big Ten
FACE TO FACE [Bryan Fuller]
Michigan has a new starting quarterback, a highly touted redshirt freshman who flashed potential a week ago. This week he got his first-ever start, completed some simple throws early, and then went home to have a cheese sandwich. Probably? Maybe? I don't recall if he continued playing after the first drive.
He probably did. Starting quarterbacks leaving the stadium during a game tend to make the news. I think I remember a hitch on third down in there somewhere, now that you mention it. But if Brandon Peters hadn't stayed around the result would have been little different, because Michigan's rushing game can optimistically be termed a Ground Assault now. Michigan assaulted a large number of Gophers on Saturday night. They did not battle or fight or contest Minnesota, because all those terms imply a certain evenness. They assaulted Minnesota, like a gang of Hell's Angels descending on a gaming convention. "Aaaaaargh, why are you still playing Settlers of Catan instead of something fun," screamed Michigan's running game, metaphorically. Also, I hope, literally because Catan is trash dot emoji.
I don't even have to subtract sacks to bring you a stat that's absurd: 10 yards per carry. Ten. One first down of yardage per carry. Also this:
I'm genuinely not sure which is more impressive: that they averaged 6.9 ypc after contact, or that they averaged 6.6 ypc BEFORE contact. https://t.co/X5DxY06RSG

— Bryan Mac (@Bry_Mac) November 6, 2017
In three weeks there will be a ripped from the headlines Law & Order episode in which Michigan is convicted of murder in the zeroth degree, because of this game. Ice T will accuse Michigan of being hopped up on Zebra Glitter and only be half-wrong. Michigan is hopped up on life, Ice T. Life and 60+ yard rushing touchdowns. And murder.
ANKLE TO FACE [Fuller]
Touchdown murder.
-------------------------------------------
And now for the lame bit: hoping this sticks. Falling apart at the end has been the fate of all excellent Michigan football things over the past decade or so. The 2006 defense. Denard Robinson's elbow. Chad Henne's shoulder. Last year's top 5 team. Michigan's pursuit of David Cutcliffe. All of these things ended poorly.
Also some less than excellent ones like Brady Hoke. And last year's passing offense. You probably don't remember this but this was the state of Michigan's passing attack after nine games last year:
Speight's 8.9 YPA leads the Big Ten by almost a half yard and is 11th nationally.
His 15-3 TD/INT ratio is second in the Big Ten to JT Barrett (21-4).
His passer rating is now five points clear of Perry Hills for best in the league and is 14th nationally.
He's fifth nationally in ESPN's QBR metric, which accounts for rushing yards and SOS.
S&P+ now has Michigan's passing attack third(!) in the country.
I wrote that and can barely remember it in the soup that followed. Michigan got ambushed in Iowa City the next week—though not as ambushed as Ohio State did on Saturday, amirite—and Speight got hurt at the end of that game. Since it's been somewhere between coping and total disaster against teams not named Purdue.
So it must be mentioned that the parking lots that were once Rutgers and Minnesota are very likely to be terrible run defenses, and Minnesota's was badly hurt by their injury issues in the secondary. Back when Harbaugh was hired I talked about his Stanford offenses, which went against the prevailing trends in college football by putting very big guys on little guys; here Michigan put no guys on the littlest guys. They ignored the Minnesota cornerbacks and saw that decision pay off with a series of comically bad attempts to execute a run fit. This kind of hamblasting is always equal parts you, the opponent, and luck.
DESPAIR TO FACE [Fuller]
If you're still waiting for the other shoe to drop, that is a well-learned tendency. I sort of am as well. The last two opponents did not have sufficient confidence in their secondaries to jam everyone forward, and they were probably correct to do so. Michigan's passing game is still almost totally nonexistent, and the two heavies at the back end of the schedule are going to make Michigan suffer for that deficiency.
Probably, anyway. Michigan has been steadily building to this for half a season and will continue refining now that they've put their foot down and become a thing. That thing is a semi truck careening wildly towards the end of the season. Maybe it will flip over in a ditch. Maybe it will careen right through a series of animals and trees until the thick paste on the grill is an unspeakable mélange of the defeated.
HIGHLIGHTS
AWARDS

no no no no no no no no no[Eric Upchurch]
Known Friends And Trusted Agents Of The Week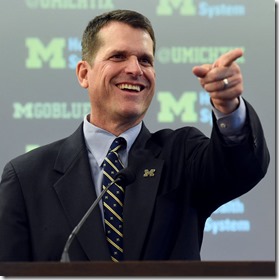 you're the man now, dog
#1 Khaleke Hudson. Michigan appears to have noticed what we did while taping the podcast on Sunday: Chase Winovich got credit for the sack on the intentional grounding call. They've fixed that and are now claiming 3 sacks and 8 TFLs for Hudson. The former is a solo Don Brown Hat Trick; the latter is a school record. So, yeah, that's good enough.
Gotta block that punt, though.
#2(t) Karan Higdon and Chris Evans. The backs edge ahead of their top blockers this week because they made a lot for themselves. Higdon ran through Cesar Ruiz on his first big run and set a number of others up with hard cuts after initial feints that bought him a second level block. For his part, Evans ripped off two 60+ yard TDs, the second one featuring a broken tackle near the line of scrimmage on an unblocked linebacker.
#3(t) Mason Cole and Ben Bredeson. Two gentlemen that did work on the opposition defense, consistently and ruthlessly. JBB and Ruiz narrowly miss because their pass protection was alarming.
Honorable mention: Mo Hurst did his usual Mo Hurst things. The rest of the front seven was impregnable on anything but a jet sweep. JBB and Ruiz and Kugler do deserve some recognition for their ground efforts.
KFaTAotW Standings.
8: Devin Bush (#1 Florida, T2 Cincinnati, T2 Air Force, #1 Purdue)
7: Karan Higdon (#1 Indiana, #2 PSU, T2 Minnesota).
6: Mason Cole (#1 Cincinnati, T2 Rutgers, T3 Minnesota).
5: Chase Winovich(#1 Air Force, #2a Purdue), Mo Hurst (#1 MSU, #2(T), Indiana), Rashan Gary(T2 Indiana, #1 Rutgers), Khaleke Hudson (T2 Cincinnati, #3 PSU, #1 Minnesota).
4: David Long (T3 Indiana, #1 PSU)
3: Ty Isaac (#2, Florida, #3 Cincinnati), Lavert Hill(#2 MSU, T3 Indiana))
2: Quinn Nordin (#3 Florida, #3 Air Force), John O'Korn (#2 Purdue), Sean McKeon(T3 Purdue, #3 Rutgers), Mike Onwenu(T2 Rutgers), Chris Evans(T2 Minnesota).   
1: Tyree Kinnel (T2 Cincinnati), Mike McCray(T2 Air Force), Zach Gentry (T3 Purdue), Brad Robbins(#3 MSU), Brandon Watson (T3 Indiana), Ben Bredeson(T3 Minnesota).
Who's Got It Better Than Us Of The Week
Uh... let's pick the first Evans touchdown, on which he broke a linebacker tackle and then glided into the endzone.
Chris Evans breaks a tackle and goes 60 yards to the house for a Michigan Wolverine touchdown #GoBlue pic.twitter.com/GDbE8PyHcL

— Michigan Sports News (@SportsGuyMI) November 5, 2017
Fun fact: I always think "glode" is the right past tense of "glide" for one point six seconds.
Honorable mention: Higdon's enormous touchdown. The other enormous Evans touchdown. Enormous Higdon run that doesn't reach the endzone. Khaleke Hudson tomahawks the ball out from Demry Croft; Hudson tackles for loss like seven more times.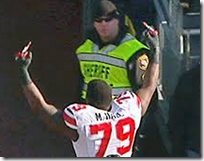 MARCUS HALL EPIC DOUBLE BIRD OF THE WEEK.
Quinn Nordin misses another extra point. What's the deal man? #collegekickers? Let's not #collegekickers. Let's not do that at all.
Honorable mention: Nordin pushes a 49 yarder just wide; Peters is thundersacked on third down on consecutive third quarter drives; Minnesota has a legitimate touchdown drive; rush is stopped for three yards. Hudson doesn't block that punt.
[After THE JUMP: oh also a defense]
OFFENSE
hello nice to see you nice to meet you hello [Upchurch]
Ruiz starts but does not finish. With Mike Onwenu out, Cesar Ruiz got his first start at Michigan. This was filled with promise and peril, as touted freshman OL's first starts always are. Ruiz and JBB did their share of hammering on the right side of the line; Ruiz was at fault for Brandon Peters getting squashed flat by Minnesota's meatball defensive tackle.
Despite Ruiz getting yoinked after that it says something that Michigan went with him instead of Runyan, who's seen a fair number of meaningful snaps this year and was in contention for the right tackle job. If he's pressing for a job already hopefully he'll be ready to step in at center next year.
The other episodes of very bad pressure. First sack was a long-developing PA that saw nobody pick up an edge blitz; either Cole or Poggi was probably responsible. Then: JBB can't hold up, JBB can't hold up, JBB can't hold up, etc. Kugler blew a stunt on one thundersack; Ruiz thought he was getting a stunt and let a guy through on the other thundersack. Three sacks on 16 dropbacks is deeply alarming, except it's just how it goes.
Right, the quarterback. Brandon Peters had a few routine, efficient throws early and then Michigan's ground game obviated any need for passing. He did have a nice sidearm throw on a heavily pressured waggle, and then there were a couple misses that were pressure-affected. After the chop block call at the end of the first half he had Schoenle for most of second and 23 but couldn't fully step into the throw and put it wide.
Then he took the two thundersacks to open the third quarter; his next throw was a duck to the fullback in the flat. Michigan then ran until they were in third and six; he converted with a hitch to DPJ. A play later it was 27-7, and two plays later it was 33-7, and at that point both teams decided to grind it out and go home.
A man who does not do both. JBB features in the previous bullet point as a major problem with the Michigan offense, but it's not a coincidence that the rushing offense took off when he was inserted. He has been crushing people. He more than anyone else was responsible for Michigan's first long touchdown, as his ability to move the relevant DT about four yards gives Higdon enough space to run away from the cornerback:
He is an intimidating thumper of a run blocker. As a pass blocker he's an intimidating thumper of a run blocker.
One cut. Earlier in the year I complained about Michigan backs' tendency to be "zero cut runners." They've mostly shed this tendency; Higdon in particular made a series of sharp cuts to set up a block and ruin second-level guys. FOX's director (Rick again?) got a number of very useful endzone replays of Michigan's long runs that will feature in UFR. Upshot is: Higdon is now running on paths that take him outside of a block he has no intention of going outside of; then he plants and fires upfield, leaving guys in the dust.
nobody to block [Patrick Barron]
Gotcha. Michigan's first touchdown was an RPS play on which they went tackle over; with McKeon at "left tackle" Minnesota didn't account for him as a receiver, and the throwback screen was an easy six. The play before this was another new play, a fake pitch with McDoom running an intermediate route on a waggle type substance; that got called back on an irrelevant and fairly silly illegal man downfield call on JBB.
Chop block. Michigan was cruising towards another TD at the end of the first half when Patrick Kugler was hit with an illegal chop block call. He pulled, left the tackle box, and went low on a linebacker. That looked entirely typical to me so I asked twitter if anyone knew if or why this was a penalty. The responses: yes, no, yes, no, yes, no. Jake Long was rather peeved about the call:
That is a TERRIBLE call by that official. That was not an illegal chop block!!!

— Jake Long (@JakeLong77) November 5, 2017
If it is a penalty it's because you have to cut someone from the front—from 10 to 2 on a clock, they often say. This one's tough because Kugler is indeed cutting a guy in that zone if he's square to the LOS and it looks like the guy turns outside after Kugler makes his decision. It's the offensive equivalent of getting a targeting call because the quarterback slid his head into the strike zone.
DEFENSE

like a bag of dirt [Fuller]
A year in a day. Well then: Khaleke Hudson. Hudson got a 99.9 from PFF after his record-setting day. This is good. It's probably not a trend. While Hudson was maximally effective in his role it didn't ask him to beat many blocks, at least not right away. All of his sacks saw him effectively forced way upfield, but good coverage and a lack of awareness from Croft gave him time to run around the edge of the track and still get there. A number of his other TFLs were corner blitzes where he got to go clobber the running back instead of contain the QB.
He executed all this to a tee; one particular TFL on Rodney Smith looked like it was going to be a missed tackle until Smith went down like a brick. He's established himself as a top-notch blitzer. Don Brown loves Hudson's blitzing so much that he was willing to put linebackers on the outside to keep him in the box. That is no longer possible, but if Michigan upgrades its athleticism at that WLB spot next year it may be again.
Gotta block that punt though.
Script and then done. Minnesota had some early success, moving the ball on their first two drives and getting a touchdown on the second. Once Michigan adjusted to Minnesota's new stuff—a couple edge pitches vaguely similar to the speed option that got Michigan against PSU and some slants were early successes—it was over for the Gopher offense. Michigan did take a bit longer to get the various jet sweeps defensed, but this is another game where the drama in the fourth quarter is whether or not the opponent will get to 200 yards. (Answer: no.)
Second start for Solomon. Michigan again spent most of the day in a 4-2-5 with Aubrey Solomon getting most of the playing time that had previously gone to Mone and Furbush. Solomon got blown out from time to time but also had a number of impressive moments where he won and discarded his guy productively.
Hurst's NFL draft reel is going to be 15 minutes long. He added another couple of candidates in this game, one a bull rush sack where he almost literally threw his blocker into the QB.
.@mohurstjr sacked the guard and the QB with a single tackle: pic.twitter.com/Mkwq0fXg70

— Alejandro Zúñiga (@ByAZuniga) November 5, 2017
JFC.
More like WHY-ldcat, amirite? I have no earthly idea why Minnesota thought that appropriating the Penn State wildcat thing would bring anything except pain. Save for one cutback lane that was coached out of the Michigan defense as soon as it occurred, it did not work for Penn State, and PSU actually had a real mesh point. Minnesota did not, and by the second half Hudson was ignoring the outside runner with impunity, because at no point was the handoff actually made.
Poor damn Tyree Kinnel. Minnesota tried the corner route to the slot receiver that everyone's been trying this year. Kinnel broke it up smoothly; Kinnel got a ridiculous flag. He's had some issues in other aspects of his role but the corner route stuff is a straight up curse. Kinnel did get a measure of revenge later by jarring the ball loose on third and goal and forcing a sad field goal.
Hill has been knitting a sweater the past month [Eric Upchurch]
Meanwhile, the corners. Someone asked me on twitter when the last time a corner was targeted and I could not remember. This is sort of my fault—the CBs gave up a couple of completions in this game—and sort of not, because other than that and like one pass against Rutgers they've barely been a factor the past couple weeks. Before that they wrecked Simmie Cobbs* and observed the rest of the defense getting immolated vs Penn State.
*[If you doubt he is good you should watch the UW-Indiana game, which I saw most of. Wisconsin's hoodie-bearing cornerback interfered almost constantly and got called 3-4-5 times; he should have gotten another couple calls. I have an irrational hatred for football players in hoodies, by the way. But I'm totally right about this.]
SPECIAL TEAMS
Seriously though. How?
FFS [Barron]
I guess that's why he got a 99.9.
Wither my dear sweet kicker. A missed extra point and a missed 49-yarder that just pushed wide at the last minute. What has happened to my perfect precious freshman kicker? Oh, the travails of the world. Fie!
Punt exchanges went poorly. Minnesota's Ryan Santoso spent most of the game hammering 50 yarders; DPJ got a couple of return opportunities but nothing huge resulted. Michigan got a chintzy hold call on a big DPJ return that cost them some 30 yards of field position, too.
Michigan's punting was not up to snuff. Brad Robbins just squeezed over 40 yards a kick. No returns, but the punts were so short you don't expect them.
MISCELLANEOUS
PJ Fleck says things! So... uh... what?
A chip is a physical object that is a smaller bit of a larger physical object. You can put it on your shoulder. A crack, like a hole, is defined by the lack of physical object, and cannot be put on your shoulder. Also I don't even want to get into the difficult conversations for breakfast thing. Have a sausage!
Ejected for yellin'. Tyree Kinnel's innocuous, fairly dainty shove got a frustrated Minnesota OL to take a swing at him. Josh Metellus ran in like he was playing hockey and someone had whispered at his goalie... but he didn't actually do anything other than get in that guy's grill and inform him that he'd disappointed his mother. The ejection there was unwarranted, surely. Can you get kicked out of a game for saying bad words? Surely not, right?
Minnesota's Donnell Greene and Michigan's Josh Metellus have been ejected from tonight's football game. pic.twitter.com/3dqQvkc5RE

— Evan Petzold (@EvanPetzold) November 5, 2017
Not that Metellus was saying bad words. I imagine he was telling the guy that punching someone wearing a helmet doesn't work. Because of the helmet, you see.
I would do this if I was a student manager. I would make a bunch of play boards and hold them up during the game. They would have nothing to do with anything, but 1) they would be awesome and 2) maybe someone would waste time trying to figure out the significance of the nonsense we're running out there. Related:
THIS MEANS NOTHING [Barron]
My version of this would just be stills from The Big Lebowksi, but that probably went without saying.
Jug security. Chase what are you doing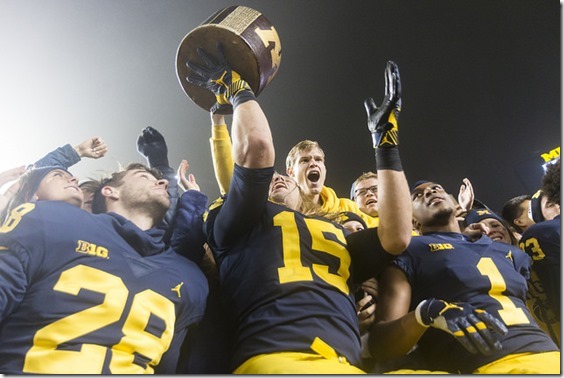 BAD NO BAD [Barron]
oh god Chase is the worst person to give the jug to
[Barron]
okay that's better, but still i mean it has a handle
HERE
Best: Rock

I swear I've written this analogy before, but I guess if it rings true there's no reason to deny it. Some football games feature a pitched battle between two teams trying to out-flank each other, to employ misdirection, counterplays, and true creative playcalling to attack their opponent's weaknesses and adapt to their counters. It's like when you open up the full Madden playbook and realize the hundreds of different formations and wrinkles to said formations that most teams possess. Brian has the RPS metric for a reason, and oftentimes you can determine who won or lost a game based on who got the upper hand in these sideline matchups.

And other times, you can just keep throwing Rock because the other guy either doesn't understand Paper exists or knows Scissors is all he's got. This game was a classic Rock fight.
Satisfaction index. Some penalty stats. RIP to AKGOBLUE97.
ELSEWHERE
Baumgardner on the grind:
Here, Juwann Bushell-Beatty completely punishes a defensive tackle. Ben Bredeson has an easy kick out and an inside linebacker thinks better of challenging Khalid Hill head-on. The safety helps out with a bad angle and that's how you score a 77-yard touchdown power run without being touched.
Also with more quotes. Karan Higdon has a chance to be Michigan's first 1000 yard back since Fitz Toussaint. Jeez.
They held an open competition.

Three players took reps at the position, including true freshman Cesar Ruiz, redshirt freshman Stephen Spanellis and junior Jon Runyan, Jr, graded by Harbaugh and offensive coordinator Tim Drevno after every practice.

"Cesar won it," Harbaugh said. "And I thought he played really well."
Snap counts from PFF have a couple interesting bits: Lavert Hill is basically a full time starter with Watson and Long splitting time, and Solomon had a 2 to 1 snap edge on Mone. Maize and Blue Nation. We're #21. Jug photos from MVictors. Sap's Decals:
COACHING CHAMPION – Offensive coordinator and interior o-ine Coach Tim Drevno gets kudos for a couple of things: 1) Calling a good mix of runs and passes that were executed with little or no negative plays early when the game was close. (2) Having a short leash with some of the O-Linemen when Missed Assignments caused plays to break down. Playing Time is the biggest factor a coach has over his players. MA's will greatly hamper your PT in a hurry. Hopefully the short leash will get their attention and reduce the numbers of MA's going forward.
Congratulations: now you're a Rutgers fan. Hudson stuff. Evans and Higdon stuff.