The Joe Flacco Question
11/5/2016 – Michigan 59, Maryland 3 – 9-0, 6-0 Big Ten
[Bryan Fuller]
It actually wasn't any of the deep shots that really caught my attention. It was a slant to Darboh. Play action, linebackers suck up and recover, too late. Wilton Speight fired a rifle shot into Darboh's hands that allowed him to continue without breaking stride. I thought oh no, I have to say this is happening, because that was approximately the sixth eyebrow-cocking throw of the afternoon.
So. This is happening. Here is that column I couldn't write earlier this year. I am writing it now, after three games in which Speight has averaged 12 yards an attempt, after various stats have rejiggered themselves into eye-popping arrangements three-quarters of the way through the college football regular season, after Jim Harbaugh asserted that Jabrill Peppers wasn't the only Michigan player who deserved your Heisman consideration and was met with thoughtful recalibration instead of laughter.
You've seen it with your own eyes on spins out of the pocket and inch-perfect deep balls as Speight continues to refine the high school version of himself into a cross between John Navarre, Ben Roethlisberger, and a production of Swan Lake staffed entirely by bears. At one point Speight scrambled for a touchdown and did some sort of insane flying ballerina move as he crossed the goal line.
wheeeeeee this is fun I didn't know I could move faster than a koala
Your eyes are like "did I just see that" and your spleen is like
I DON'T KNOW!
YOU'RE THE LOOKING PART!
I JUST SIT HERE AND GET NERVOUS SOMEONE'S GOING TO PICKLE ME!
because spleens are like that man. Just venting, like Jim Harbaugh failing to get an extra yard on review after picking up second and thirty-four.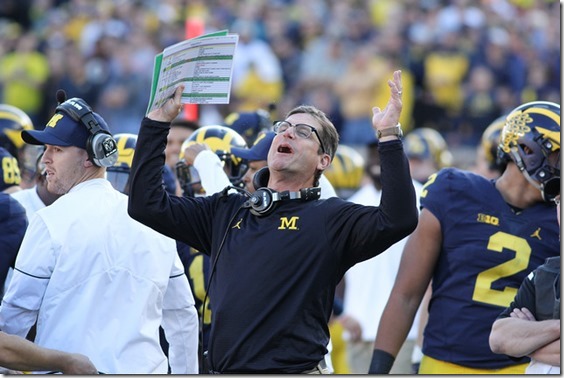 BALDERDASH [Eric Upchurch]
Since your eyes are clearly not up to the task of confirming or disconfirming what the hell is happening at the most important position in football, here are some numbers. They are rather optimistic given that said eyes spent half the season worrying Speight was going to sink Michigan when crunch time came around:
Speight's 8.9 YPA leads the Big Ten by almost a half yard and is 11th nationally.
His 15-3 TD/INT ratio is second in the Big Ten to JT Barrett (21-4).
His passer rating is now five points clear of Perry Hills for best in the league and is 14th nationally.
He's fifth nationally in ESPN's QBR metric, which accounts for rushing yards and SOS.
S&P+ now has Michigan's passing attack third(!) in the country.
That latter measure filters out garbage time and attempts to adjust for schedule strength. For that to be an improvement on the raw numbers is rather something. A major reason is that they've played S&P+'s #3 (Wisconsin), #8 (Colorado), and #15 (Penn State) defenses. They got lucky with Penn State's linebacker issues, but Michigan kept Garrett Sickels in check just fine during that game and he was rampant against OSU.
Speight was again mostly clean in this game but hardly noticed pressure except to spin out of it and make something productive of it, whether it was a bomb to Chesson or a seven-yard scramble that is probably still ongoing or finding the guy who blew the protection for a first down. His receivers certainly help. But this was a game where he lost a fifty-yard completion to an offensive pass interference call and still posted ludicrous numbers.
-------------------------------------------
Is Wilton Speight elite? I don't know, man. This is a considerable improvement from "lol no" before the bye week and is trending in a spectacular direction. His last 72 attempts are elite, and with every game he moves towards a simple "yes." This is the second straight year a Michigan quarterback has muddled around for half a year before an exponential explosion in competence.
In addition to all the other ways Jim Harbaugh is a difference maker as a head coach he has this. There is no better quarterback coach in football. Every one of his charges exceeds expectations.  Often when he or they move on the player in question never recaptures his form. Is Wilton Speight elite? Ask again later. Is Jim Harbaugh elite? Cumong man, that's not even worth asking.
This team no longer feels like an elite defense with an offense scraping by, a la 1997. With Speight dropping bombs on all comers, it feels like... I have no idea. No Michigan team in my experience has spent an entire season bombing everyone they come across. Michigan has three top fifteen wins and the only reason any of those was within three scores was Kenny Allen having a miserable day against Wisconsin. You'd have to go back to the 70s to find a Michigan team that can end almost every game it plays in the first half.
Bo never managed to complete his task, because his quarterbacks were never state of the art. Jim Harbaugh emphatically does not have this problem. Ohio State? Bring 'em on.
HIGHLIGHTS
parkinggod:
AWARDS
[Fuller]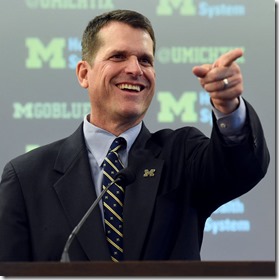 Known Friends And Trusted Agents Of The Week
you're the man now, dog
#1 Wilton Speight had the greatest first half in the history of Michigan football quarterbacking, per statistics and Jim Harbaugh. He finished with an absurd 15 yards an attempt and is now the Big Ten's clear leader in passer rating and YPA; he also ran(!) for a touchdown that he finished with weird ballerina flair(!!!).
#2 Jourdan Lewis never gets on these lists anymore because for the most part nobody is trifling with him. A hat tip to Maryland for multiple shots down the sideline resulting in 3 PBUs, zero completions, and one uncalled OPI.
#3 Taco Charlton almost literally does not show up in the box score. He got a half sack and no other tackles. Do not let this color your opinion of his game: dude was on fire, repeatedly hammering into the backfield when Maryland ran inside and getting pressure on just about every dropback only for his friends to clean up most of it.
Honorable mention: Jehu Chesson had a breakout game with 112 yards; Jake Butt is now Michigan's all-time leader in receiving yards from a tight end; Deveon Smith managed 6 YPC with a long of 14, which is super hard to do; Maurice Hurst was a constantly disruptive presence; Ben Gedeon had three TFLs and did an excellent job on the edge.
KFaTAotW Standings.
10: Wilton Speight (#1 UCF, #1 Illinois, #3 MSU, #1 Maryland)
9: Jabrill Peppers(T2, Hawaii; #3 UCF, #1 Colorado, #2 Rutgers, #2 MSU)
5: Ryan Glasgow(#2 UCF, #1 UW).
3: Mike McCray(#1, Hawaii), Ben Gedeon(#3 Colorado, #3 PSU, three-way T1 Rutgers), Amara Darboh(#1 MSU), Jourdan Lewis (#3 UW, #2 Maryland), Taco Charlton (three-way T1, PSU, same vs Rutgers, #3 Maryland).
2.5: Karan Higdon(four-way T2, PSU, #2 Illinois).
2: Jake Butt(#2 Colorado), Kyle Kalis (#2 UW), Chris Wormley (three-way T1, PSU, same vs Rutgers),
1: Delano Hill (T2, Hawaii), Chris Evans (T3, Hawaii, four-way T2, PSU),  Maurice Hurst (three-way T1, PSU),  Devin Asiasi(#3 Rutgers), Ben Braden (#3 Illinois).
0.5: Mason Cole(T3, Hawaii), De'Veon Smith (four-way T2, PSU), Ty Isaac (four-way T2, PSU).
Who's Got It Better Than Us Of The Week
This week's best thing ever.
The throwback bomb from Peppers to Speight to Chesson was entirely unnecessary, entirely awesome, and caused a purported journalist to descend into a hissy fit.
Also a great throw on a route that's not as open as it could have been on a trick play.
Honorable mention:
WGIBTUs Past.
Hawaii: Laughter-inducing Peppers punt return.
UCF: Speight opens his Rex Grossman account.
Colorado: Peppers cashes it in.
PSU: Wormley's sack establishes a theme.
UW: Darboh puts Michigan ahead for good.
Rutgers: Peppers presses "on".
Illinois: TRAIN 2.0.
MSU: lol, two points.
Maryland: very complicated bomb.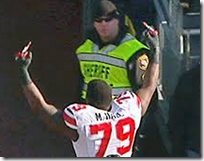 MARCUS HALL EPIC DOUBLE BIRD OF THE WEEK.
This week's worst thing ever.
Either Channing Stribling whiffing on a reverse he'd put himself in great position on or Mike McCray getting juked and edged by Lorenzo Harrison, because both of those incidents confirmed issues from the Michigan State game and indicated a weakness in this defense.
Honorable mention: Maryland breaks the shutout with a field goal; Speight turfs a bubble screen to Peppers that would probably have scored; Michigan gets stuffed on fourth and short; that one time they almost punted.
PREVIOUS EPIC DOUBLE BIRDs
Hawaii: Not Mone again.
UCF: Uh, Dymonte, you may want to either tackle or at least lightly brush that guy.
Colorado: Speight blindsided.
PSU: Clark's noncontact ACL injury.
UW: Newsome joins the ranks of the injured.
Rutgers: you can't call back the Mona Lisa of punt returns, man.
Illinois: They scored a what now? On Michigan? A touchdown?
Michigan State: a terrifying first drive momentarily makes you think you're in the mirror universe.
Maryland: Edge defense is a confirmed issue.
[After THE JUMP: Happy Maryland fans.]
OFFENSE
SPEIGHT. See above.
[Upchurch]
Smith gets his grind on. An unusually heavy workload for De'Veon Smith in this one. These days a Michigan tailback who approaches 20 carries is a rare bird; he had 19. Michigan almost didn't involve the rest of their quartet until garbage time.
With that increased workload Smith averaged 6 YPC with a long of 14, which is hard to do. He was himself: he ran through a zillion arm tackles and gained yards after contact. He had a number of backside cuts for profit that I don't think last year's Smith makes. Wheatley FTW.
Darboh's real good route. The opening TD was a beauty of a route from Darboh on which he redirected outside before cutting to the post:
McShay says* he sells the corner route but what he really does is run the corner route through the CB. When he cuts back to the middle the CB's momentum takes him away from Darboh for a couple steps, and form there it's academic.
If you remember the route from Chesson last week that drew a lot of critiques, what Darboh does here is more or less what I wanted to see there: get your body into the guy. Even if he doesn't buy the move he's essentially forced to bite on it because of the way solids interact.
*[Not intended to be a criticism of a pretty good on-the-fly evaluation of the situation. McShay and Luginbill are excellent sideline announcers.]
Jehu Chesson, welcome back. There was an unusual amount of consternation last week about basically one crappy route from Chesson. It felt like everyone's concern about his lack of production found a foothold on that play and it was open season.
This weekend he got so open that Speight could avoid a rusher and re-set in the pocket and still find Chesson by himself:
Dunno what was with the DB's decision to stop running but it was ultimately irrelevant.
Chesson's impact has been limited by Speight's earlier inconsistency, Darboh's emergence, and huge blowouts. I still think he'll have something to say when Michigan meets Ohio State, and hopefully beyond.
Get your shit together. Always interesting when a coach gets on a hot mic during a game. Harbaugh right after the Kalis personal foul:
Jim Harbaugh tells Kyle Kalis to "Get your shit together". pic.twitter.com/V1GPHrqn7a

— ™ (@dirk2020) November 5, 2016
Like the Speight interaction caught by HBO, this is tough but not denigrating. Harbaugh's combustible but he's not Brian Kelly. He saves his real outbursts for referees, like a true American.
Speaking of. We need a list of Harbaugh explosions, I think. This is definitely on it.
"I am so angry I am going to strip naked" from the Citrus Bowl is still probably #1.
Coming attractions [Upchurch]
Asiasi blowing people out. Devin Asiasi continues to jump out as a mauling blocker; he had two excellent blocks early in this game that reminded me of some assertions I made when I first broke down the Harbaugh offense based on Stanford tape. One of them was that defensive mismatches could go the other way than Lloyd Carr's traditional "linebacker on a slot receiver": get a tight end on a defensive back and you can blow him into the sideline.
Check. Here is the point in the week where I tell you he's a true freshman and I can't wait to see how he develops.
How you convert second and 34. It goes like this:
Call a screen.
Opposition calls a man coverage with one deep safety, aka "man free."
In addition, they zone blitz such that the LBs run at the QB and a DE is supposed to check Chris Evans.
Almost drop the ball for no reason.
Get blocks on the DE and free safety.
Third OL releasing downfield can read a book.
The end.
Since this is DJ Durkin we're talking about #2 was close to certain and it was all over but the shouting and impressive hat toss after a replay didn't go your way.
In all likelihood, Durkin will be a successful coach for Maryland. He's already recruiting better than most of the league and his OC hire looks great. I'm still much happier with Don Brown as Michigan's DC, and this playcall reinforced that bigly.
Khalid Hill, impact fullback. In addition to his usual thunks in the run game, Hill had a thumping blitz pickup, vultured another touchdown, had a juggling circus catch that was just short of a first down, and had an improvised route to pick up a third and seven. That latter came immediately after he blew a pass protection, so it wasn't a perfect day. (He also got stuffed on fourth and one but that wasn't really his fault). It was an excellent one.
Hopefully he doesn't start screwing up pass pro on purpose to pad his receiving stats.
The crazy thing. Michigan didn't really trap these guys at all until the fourth quarter, and as Seth mentioned in FFFF, this is a defense that is super-vulnerable to traps. Por ejemplo:
Bobby Henderson got another trap as well deep into garbage time.
On the one hand, this is weird. On the other, it's Muhammad Ali, the offense. Michigan spent most of last year re-introducing traps, particularly to the fullback, to the Big Ten. This year they've just about fallen out of the offense. Why? Because Harbaugh never wants to present you with a static target. Instead Michigan's added the Pepcat and a varied and diverse jet sweep package.
DEFENSE
[Fuller]
Edge edge edge edge edge. Welp: we might have an issue on defense. Maryland repeatedly tested Michigan's edge and had reasonable success doing so.
On the one hand, I asserted that this was a very good rush offense that would serve as an OSU proxy, and Michigan throttled them. 93 yards on 35 carries after you remove sacks is 2.7 YPC against an offense that had been tearing people apart. If Michigan replicates that against OSU they win.
On the other, OSU is a tiny bit more talented than Maryland and Michigan cannot expect to stone every single inside run. (Every time I watch OSU I get frustrated at JT Barrett's ability to weasel his way to three or five extra yards on plays where he should be tackled by multiple players.) Mike McCray and Channing Stribling each had ugly missed tackles that confirmed issues from the MSU game.
[Fuller]
There was a clear difference between McCray and Gedeon on a couple of edge carries. McCray got turned to the sideline and bit on an inside feint by Harrison; he got edged for a big gain. Gedeon mirrored Harrison to the sideline, square, and Michigan rallied for a TFL. Meanwhile Stribling got beat to the outside on a reverse that he was in excellent position on, and he almost missed another tackle—he still turned a situation that could have been a TFL into a three-yard gain.
Gedeon did get beat down the sideline on a wheel route; like other downfield completions on him this year I put that on RPS. On a rewatch I noticed Hill flying up to cover a guy in the flat; hopefully Michigan can put in some sort of pattern match that switches Hill onto the back and lets Gedeon stick relatively close to the LOS. Michigan does not want to see a Gedeon/Samuels matchup in coverage.
As far as the McCray and Stribling problems, there's not much Michigan can do about it except rep and rep and hope to get it fixed by OSU. At least they've been alerted to the issue.
Alright, what the hell is up with these tunnel screens? They frickin killed us. pic.twitter.com/89cn2aiZQz

— Due (@JDue51) November 6, 2016
The other problem. Three first half tunnel screens netted 99 yards for Maryland, which was more than half of their yards before halftime. McCray was apparently on the receiver for the first two but I'm not sure what he could have done. On both Michigan had vacated the area so completely that two OL went after him since there was nobody else to block. Counterpoint: Devin Bush did impressively snuff one out later in the game in a similar-seeming situation.
Despite the play from Bush it felt like that was more of an RPS issue than anything as Maryland caught Michigan in heavy blitzes. I'd imagine Michigan will adapt.
Kudos to Dymonte Thomas for managing to slow the receiver down just before the half. He had a lineman in his face the whole play—another indicator of a major RPS gotcha is when the last man has a blocker—but changed directions several times to force the WR to do the same and allowed his help to get the receiver down at the one.
[Upchurch]
Taco again beastly. As mentioned in the awards above, Charlton's impact was far greater than it would seem from just looking at the box score. Seemingly every interior run was disrupted by him; pass protectors had no shot at preventing him from getting around the corner at eight yards. I expect he'll come out with another big UFR grade.
Ditto Mo Hurst, who had a number of opportunities to rub his belly. I thought he might emerge into the starting lineup in this one, but with Michigan out to a big lead early they were content to rotate the entire DL wholesale. One dollar says he gets the lion's share of PT against Ohio State. He's performing too well to get just half the snaps.
Thank you for participating in Jourdan Lewis's NFL highlight reel, Maryland. Fade route, PBU. Fade route, PBU. Fade route, PBU. He got pushed off of once and almost gave up a completion, but Thomas came over and belted the ball out. (My one refereeing complaint from this game is this: if you call the OPI on Drake Harris you have to call the push-off on Lewis.)
Dropping back to the pack, and by "pack" we mean "Alabama." Michigan's now expected to give up 4.1 points to an average D-I team; Bama is closing in at 6.8. Nobody else is even close. On the other hand, Michigan is #1 in Line yards allowed at 1.8(!) and #1 in power success rate. Teams are converting short yardage on them at a 46% clip. Average is around 67%.
[Upchurch]
A Kovacsian impact. The above shot was in the aftermath of a five-yard TFL Kinnel acquired after Gedeon strung a play out to the sideline; Kinnel shot to the backfield and secured a tackle reminiscent of the guy who used to wear those numbers in the other order. Kinnel's been on the field a fair amount this year without doing much obviously good or bad; the above was a hopeful sign Michigan's 3-3-5 will be effective on the edge as long as they keep figuring things out.
FWIW, Gedeon got a TFL from that 3-3-5 as he blitzed around the backside on an inverted veer. Michigan induced a keep that blitz was designed to clobber.
Lavert Hill emerging as a nickel corner? He got a number of snaps with the first team defense for the first time this year. He actually had more snaps than any other backup DB with 17. Watson got a fair share as well; I wouldn't be surprised to see those snaps continue to slide towards Hill as he gets more experience.
[Upchurch]
A good matchup for Winovich. Winovich saw a fair amount of time and had an impressive sack; this OL was always going to be a good matchup for him because they can't protect the edge. He has the look of a guy who could emerge into an impact pass rusher. Michigan will have to protect him more than they do Taco since he's 20-30 pounds lighter, but even if he's the iffy bit of a Gary-Mone-Hurst-Winovich line next year that's pretty damn good.
SPECIAL TEAMS
404. Michigan didn't punt, return a punt, block a punt, or do anything of note in the kicking game. Kenny Allen hit another chip shot down the middle so that's nice; Chris Evans had a dangerous kick return. That is all.
MISCELLANEOUS
[Upchurch]
We did it! We did a gimmicky top five of our favorite B-plots from the season for the podcast this week. "Opposing fans sarcastically happy their team accomplished something" did not make the list but definitely could have. The above shot from Eric was immediately after their field goal to cut it to 42. He reports that the guy in black was high-fiving Michigan fans around him, sort of like the Rutgers guy hugging it out with a Michigan fan after they got a first down.
Injury redshirts: unburning the ashes. In a mailbag a couple weeks ago I mentioned that there were a number of players who had played some early but had not seen the field after the first four games and were therefore hypothetically eligible for medical redshirts. Nine games in that list has only shrunk by one—Nate Johnson.
With Michigan getting a bunch of deep bench time in this game without going to several freshmen they've already played I think we can assume that Michigan will try to get a number of redshirts back. Those players: Nick Eubanks, David Long, Kingston Davis, Josh Uche, Devin Gil, and Michael Dwumfour. IIRC, Dwumfour already made a social media post to that effect. With Hill emerging into a contributor I have to assume the absence of Long is mostly strategic since he seemed to be ahead of Hill on the depth chart to begin the year.
I still don't get a number of the permanently burned redshirts but whateva, Harbaugh does what he wants. If they do get the above guys an extra year most of my complaints from earlier are null and void. (I'm still grumbly about McKeon.)
Cumong man. Jake Butt passed Jim Mandich for most receiving yards for a TE in Michigan history. Michigan announced that he'd moved into second behind Jack Clancy, who was a wide receiver. Sports Information corrected themselves on twitter, but nobody told Grapentine the real deal so he could announce it. I am disappoint.
AAAARGH. I saw this too, as it was just a section over. Here's your weekly nightmare fuel:
Spotted a 3D-printed bust of Jim Harbaugh on the Michigan sidelines.

See more: https://t.co/qVJ2Eb1lMI pic.twitter.com/mhJbPsmmIU

— Melanie Maxwell (@MelanieMaxwell) November 5, 2016
Just sayin'. Michigan State picked up four holding calls early against Illinois and after they had to stop hugging people, this is what Dawuane Smoot did:
Illinois DE Dawuane Smoot racked up 11 pressures in today's victory of Michigan State, almost double his previous season high. pic.twitter.com/huNnRqtwYZ

— PFF College Football (@PFF_College) November 6, 2016
Better late than never, I guess. Hopefully Michigan can point out some of the egregious missed holds in the OSU-Wisconsin game and get a better whistle in the game.
HERE
Best:  Great Speight Marty!

Okay, I'll admit it:  Jim Harbaugh might have made the right decision at QB this offseason.  Or he's a hell of a coach.  It's probably both.  Wilton Speight has gone from a guy who nobody expected to be better than "another Al Borges recruit who never started at QB" to maybe the best QB in the Big 10.  Following up a really solid outing against MSU last week, Speight didn't miss a beat.  He set a team record with 292 yards in the first half, systematically walking his team down the field for TDs on all 5 drives.  He reads the field like a seasoned pro, even if he still holds onto the ball a step too much, and you can tell Harbaugh is comfortable with his command of the offense because the playbook continues to expand.  Now, that 2nd-and-34 pass for 56 yards to Evans was a bit of luck, but he also fired a couple of bullets to Darboh and Butt in coverage, including on a cross-field pass from Peppers, that required a high degree of concentration and arm strength.

I know the refrain is always "Speight needs to play like X to beat OSU" this year, but I'm fairly confident that the Wilton Speight we've seen since the bye week shows up at a game, UM would be favored to win against anyone in the country save Alabama.  And even that might be even money.
The State of our Open Threads:
Three of the words that I track for positive vibes - "awesome", "great" and "nice" - made up for about 25% of all the tracked words in the open thread. Even our "fucks" were born from positive feelings about beating turtles into submission.

Here is what the totals on some of the major words look like season-to-date:
While "fuck" is still the overall go-to word for the blog, positive "fuck" accounts for about 70% of all "fucks", which is about 10% above last year and over double the context of 2014. Similar numbers for "shit" and "damn" indicate that we're simply having fun but deploying the same words with the same sort of gusto that we have in the past. A subtle but refreshing shift indeed.
This Week In Schadenfreude from UMProud checks out the MSU-Illinois game:
I'm disappointed this game is on tv and in hi def

A throw on first down! I think I just saw a pig fly.

This game is so boring that it's making me feel like a prisoner in solitary.

this trash team is unwatchable. there is no way in hell a casual football fan has watched more than 5 minutes of this garbage game.

We don't like having leads. We don't like winning.
FPI efficiencies updated.
ELSEWHERE
59-3 over Maryland. There's really no reason to watch Michigan games after they send fullback Khalid Hill — aka "The Hammering Panda" — in to announce to the opponent that, yes, this game is over. He's their finishing move, Harbaugh's Tombstone Piledriver, and after he lumbers through your cringing defensive line for a score, the game has ended. Michigan's scrimmage has begun.
On the second defensive play of the game, Taco Charlton takes the right path on a zone-read, but Mike McCray dives way too deep and he's already beaten. He's biting way too hard on the play fake and the back runs around the corner for an easy 8 yards.

McCray gets challenged on this same look two more times in the drive, and he does a much better job. On one play he makes a stop for a short gain. But on the next, he's right where he needs to be, but misses the tackle.

Move on to the next drive and a different problem shows up. Maryland runs a tunnel screen (it did this a lot) to try to catch Michigan in a blitz or being extra aggressive. It works. And it works in large part because Channing Stribling cannot get off a block, McCray hesitates and the receiver bursts through a lane for 32 yards.

Maryland ran at Stribling as much as possible early in this one and it worked far too often. He has to be able to get off blocks against receivers and, when he does, he has to be able to make a tackle.
Stock Up

Almost everyone who plays for Michigan. This was an outrageously good performance for the Wolverines, pretty much by all those involved. Scanning the postgame stats, it's hard to find a single player on Michigan's team that didn't play well. Maryland appeared to get some offense going early, but ultimately scored three whole points on the day. In a 59-3 win, it's hard to find bad things to say about the Wolverines.
MBN:
Best of the game

No question the 1st half was beautiful. In game like this, Michigan teams in recent years would've struggled. Not because Maryland is that great, but simply because this is just the classic type of game where Michigan teams would be hard-pressed to produce the type of win we saw on Saturday.

This Michigan team is not one of those teams.
It is joyful.  It may not be joyful in the future, there may be rough sledding yet to come.  Joyful does not mean perfect, there are obviously things to correct.  But it is joyful.  It is joyful to watch this team.  So well coached, executing at the highest level, running interesting and dynamic play calls, showing interesting concepts, connecting on passes in rhythm, and generally making it fun to watch Michigan football.

Yes, winning makes everything better.  But as someone who remembers the Carr years, there was not this joy.  Michigan football, for so many years, even when it was winning football, had hints of joylessness.  It felt, at times, like a thing that had to be done.  But Michigan was winning, so it was good.  Then came the Rodriguez years, which had flashes of brilliance, but more of chaos and of agony.  The early promise of the Hoke years died in the rain of Utah and the Shane Morris incident.  Happiness came in the form of gallows humor and knowing nods at the other members of the tribe.
In 2006, Michigan opened its November with a shaky 34-26 victory against Ball State, which at the time didn't mean much but in retrospect presaged defensive failings later. Of course, those failings came to pass in a 42-39 loss against No. 1 Ohio State and yet another Rose Bowl thumping at the hands of USC.

This time, it was a conference foe in Maryland, not Ball State, and Michigan left no doubt. Wilton Speight continues to improve, playing his best game since the UCF game way back in September. Like the 2006 defense, which showed its cracks in the secondary late in the season, this otherwise dominant Michigan defense has showed some vulnerability against the run the last two weeks, particularly on the edge.

How many rushing yards do you think Maryland acquired on Saturday? Without looking, your guess probably greatly exceeds the reality. The Terps carried the ball 38 times for 78 yards, a figure that includes a long of 21 yards from the speedy Lorenzo Harrison.
HONORARY CAPTAIN – Gotta give it up to my man, Rick Leach. It was great to see the Guts and Glue of the Maize and Blue back on Canham's Carpet, er, Hackett's Rug on Saturday! Nice to see some of the older players who re-built the Michigan Football Program during the Schembechler Years get recognized. Don't take what these guys did for granted – they were warriors and paid the price to build a foundation of excellence that we all enjoy to this day. Also nice to see ESPN show Leach's TD run against Duke in 1977. You know – the one where 13-year old Jimmy Harbaugh jumps on #7's back in the endzone.

I wonder where they got that clip???  :)
Chesson's big day. Speight's bigger day. Michigan's already rushed for more yards this year than in 2015. Hammer Panda. Touch The Banner. Big House Report. Michigan favored by 21 over Iowa.