11/25/2017 – Michigan 20, Ohio State 31 – 8-4, 5-4 Big Ten
[Bryan Fuller]
John O'Korn sat in a press conference on Saturday and broke down. He blamed himself, and himself alone, for Michigan's latest loss to Ohio State. And he was correct. I don't think I've ever seen a Michigan-Ohio State game so clearly decided by one guy's inability to hack it.
Previous terrible individual performances have been given in concert. The 2007 game featured Chad Henne without a throwing arm, but it also featured an offensive line that had to drag Alex Mitchell out of retirement midseason and the infamous picture that resulted. Nick Sheridan averaged 3.6 yards an attempt the year after, but nobody missed the forest for that particular tree as Michigan finished a 3-9 season with a 42-7 loss. And so forth and so on. The sad fact of the last decade of Michigan football is that when Michigan gets in a competitive game against Ohio State it's usually because someone is playing over their head.
This was different. This was Michigan feeling like the better football team except for one glaring black hole at the most important position on the field. The crowd felt the agony of this keenly with every errant pass or unnecessary sack. O'Korn was not booed, per se, but the desperate groans that issued involuntarily from the assembled masses were almost worse. There's a certain tenor of "ohhhawwww" a crowd can issue that is the pure, distilled sound of frustration. I have memorized this after Saturday, and find it replaying in my head whenever there's a spare neuron not playing Baby Signing Time songs. (This is rarely.)
Even after all those moans Michigan had not one but two shots to go ahead very late. Those ended with back-to-back throws that are burned into the retinas of every Michigan fan and will be replayed when "John O'Korn" is mentioned. Possibly even corn. Or Korn. I can't mention my Pandora station ever again on this website. Those throws were a fourth and four pass that went yards over the head of a screamingly wide open Chris Evans and an interception on which two Michigan receivers were open, and not within 20 yards of the ball.
That is O'Korn's football gravestone, chiseled, checked, and done.
O'Korn knows it, and wasn't going to offer up any bullshit platitudes afterwards. Say what you want about his play—although I can't imagine there's any excoriation in any language that hasn't already been delivered—but the guy did not shy away from the enormity of the thing that had just happened to him, a living, breathing human who has to go through the next sixty years introducing himself to people and hoping they've never heard of the most popular sport in America.
------------------------------------------------------------------------------------
At about the same time O'Korn was breaking down in public, someone logged on to this website and typed "fuck John O'Korn," into it, posted it, and then got a bunch of upvotes. A guy who started arguing with the various toxic manbabies in this thread that O'Korn was a virtually unpaid person thrust into a position he should never have been in was consistently downvoted.
After taking down several threads and banning a dozen people I yanked commenting for about a day. Naturally, this resulted in these same people fleeing to twitter to tell me it was PATHETIC that I COULDN'T HANDLE NEGATIVITY, because I didn't want them throwing their poop in a place I feel responsible for. And I didn't want to wonder what they were saying while I was doing anything other than commenting on Michigan football. Also, I hate them.
If you're one of these people reading this column I'd like to make it clear that there is something wrong with you. The vast majority of people who come to this site don't post on it, because it is like every other website in the world. Those that do are split between normal people with something to say, and you, the person too dumb to know you shouldn't say anything. You are a tiny minority of this fanbase that gets outsized attention because you're dumb and loud, and most people are willing to throw away the good parts of the comments because of you:
when should i bring the comments back

— mgoblog (@mgoblog) November 26, 2017
Next football season will not be like this, because you will be gone from this website. If you have any doubt in your mind whether I'm talking about you, yes, I am talking about you. If you're mad at Ace for saying the fanbase is the worst part of his job, I'm talking about you. Because he's not talking about 90% of the fanbase, he's talking about you.
No one needs to yell at John O'Korn, who clearly understands the implications of what just occurred in ways you do not. Nobody needs to say anything to John O'Korn ever again. Dude needs a hug and a Malaysian passport. And even though O'Korn just set a winnable Ohio State game on fire in a way that has probably never happened before or will happen again, I care a lot more about his feelings than some jabroni on the internet who doesn't have to introduce himself under his screen name.
That's it. There's no big sweeping theme here, nothing about the direction of this program or where this fits in the historical firmament. Just an incredibly obvious black hole...
Speight's transfer means that Al Borges *never* recruited a quarterback who finished his career as the starting QB at his original school

— mgoblog (@mgoblog) November 26, 2017
...and a bunch of people who are incapable of seeing it.
AWARDS
Known Friends And Trusted Agents Of The Week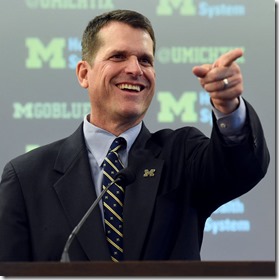 you're the man now, dog
#1 Rashan Gary. Finally got a little sack luck, as Devin Bush flushed Barrett to him on one of his two sacks. He added a third TFL amongst ten tackles, which is a very large number for a DE, especially because he missed a big chunk of OSU's first TD drive with a recurrence of the shoulder stinger (or similar injury) that he's been battling all season.
#2 Mike McCray. Eight solo tackles and two TFLs as McCray was a major factor in Michigan's ability to keep OSU to under 200 yards of offense until a late fade, none of which was on him. He didn't get edged, and managed to survive the return of Oh No Mike McCray On A Flanked Out Running Back without getting targeted.
#3(T) Chris Evans and Karan Higdon. Michigan's tailback duo had 165 yards on 28 touches, 5.9 yards a pop. Evans caught five passes as Michigan finally paid off on that preseason hype; Higdon was able to get the corner a couple times as well. If the offensive line can come together next year one or both are candidates to have All Big Ten season... or at least they would be if they weren't going to cannibalize each others' carries.
Honorable mention: Mo Hurst and Devin Bush turned in excellent performances; Michigan's cornerbacks again almost pitched a shutout, albeit with the aid of a couple drops. DPJ set up Michigan's second touchdown. Mason Cole had an edge two for one that sprung Crawford early in the third to get Michigan's third TD.
KFaTAotW Standings.
9: Rashan Gary(T2 Indiana, #1 Rutgers, T2 Wisconsin, #1 OSU).   
8: Devin Bush (#1 Florida, T2 Cincinnati, T2 Air Force, #1 Purdue), Mo Hurst (#1 MSU, #2(T), Indiana, #1 Wisconsin),  Karan Higdon (#1 Indiana, #2 PSU, T2 Minnesota, T3 OSU).
6: Mason Cole (#1 Cincinnati, T2 Rutgers, T3 Minnesota), Chase Winovich(#1 Air Force, #2a Purdue, T2 Wisconsin),
5: Khaleke Hudson (T2 Cincinnati, #3 PSU, #1 Minnesota), David Long (T3 Indiana, #1 PSU, #3 Maryland)    
4: Chris Evans(T2 Minnesota, #2 Maryland).   
3: Ty Isaac (#2, Florida, #3 Cincinnati), Lavert Hill(#2 MSU, T3 Indiana)), Josh Metellus (#1 Maryland), Mike McCray(T2 Air Force, #2 OSU).
2: Quinn Nordin (#3 Florida, #3 Air Force), John O'Korn (#2 Purdue), Sean McKeon(T3 Purdue, #3 Rutgers), Mike Onwenu(T2 Rutgers),
1: Tyree Kinnel (T2 Cincinnati),  Zach Gentry (T3 Purdue), Brad Robbins(#3 MSU), Brandon Watson (T3 Indiana), Ben Bredeson(T3 Minnesota), Donovan Peoples-Jones (#3 Wisconsin).
Who's Got It Better Than Us Of The Week
The entire first quarter? Yes, that.
Honorable mention: Oh man I should not have used up the whole first quarter before the honorable mention section. That was a real good first quarter. Oh: Kekoa Crawford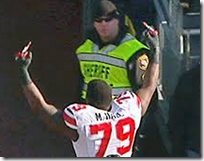 MARCUS HALL EPIC DOUBLE BIRD OF THE WEEK.
Of the two chiseled, checked, and done plays the Evans miss stands out since it was a wide open guy less than ten yards downfield.
Honorable mention: Various other things that happened when Michigan dropped back to pass. I could tell you about them, but you know. Metellus gets lost on two late drag routes. Watson misses a third and thirteen PBU. Nordin misses an XP.
[After THE JUMP: less than usual, i tellya]