Unverified Voracity Is Waiting For The Package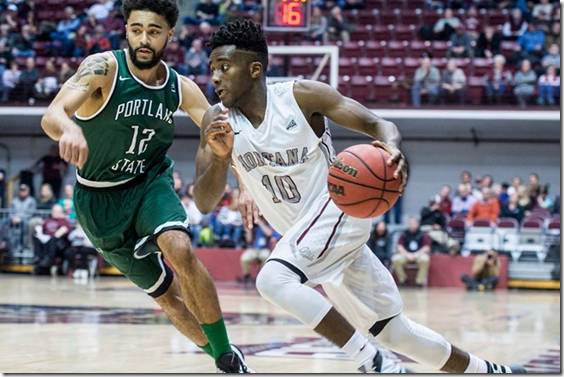 Oguine is excellent both ways
Montana scouted. Andrew Kahn interviews the Eastern Washington head coach a couple days after EWU went down in the Big Sky title game:
The Grizzlies won the league with a 16-2 record not just because they're well coached but because of their athleticism, according to Legans. Michael Oguine, a 6-foot-2 guard, was the Defensive Player of the Year in the conference. "He's quick, athletic, and can guard anybody on the perimeter." …

"If you can pull their bigs away from the basket a little bit, then you make them play small and beat them up inside. I see those problems occurring with this game because Michigan's size and skill could hurt them bad."
Oguine combines that DPOY status with excellent offensive efficiency and will be the main guy to watch for the Griz.
Final pre-tourney shot volume. Michigan finishes 13th amongst P5 teams, and coupled with Michigan's stellar transition D this rather validates the approach:
For example, you'll hear during the tournament that Duke is a swaggering beast of offensive rebounding might, and, sure enough, the Blue Devils do fit that description perfectly. But did you know that, with all those spectacular offensive boards, Mike Krzyzewski is merely equaling what a certain Big Ten coach is already doing with his less eye-catching yet highly effective low-turnover ways?

                         TO%     OR%     SVI
12. Duke                18.3    36.4     98.0
13. Michigan            13.6    24.5     98.0

So, yes, this can be a nifty item at times.
Potential S16 opponent North Carolina, unfortunately, finishes first.
Find me a single-atom violin. Ted Valentine will not be theatrically incorrect on your television sets this weekend:
Well-known NCAA referee Ted Valentine, who officiated the Final Four last season, will not be working NCAA tournament games this year -- and he told ESPN it's because of fallout from the incident in which he turned his back on North Carolina's Joel Berry II during a game in January.

"This is not right, it's just not fair," Valentine told ESPN. "It hit me like a ton of bricks. I'm being punished unjustly."
It is absolutely right, and absolutely fair, for the NCAA to make an example of Valentine after he did the Joel Berry thing. That was the worst breach of ref impartiality I can remember, and it came from a guy who fills out the rest of the top ten personally.
He'll no doubt be back next year unless his repeated public bitching sours the powers-that-be permanently. Any coach who talked about Valentine like Valentine has twice talked about his employers would be fined. Here he is complaining that the Big Ten is not professional enough for Ted Valentine:
Valentine, who had considered retirement after the Berry incident, said he was pulled off a pair of Big Ten games earlier this year because of the episode. Valentine had officiated primarily Big Ten games for 34 years, but said he began doing more ACC games two years ago because he lives in South Carolina and the travel was easier as he approached his 60s.

"It had nothing to do with the Big Ten," Valentine said. "The ACC handled it in the utmost professional manner. It was overblown, and no big deal."
Fire that guy into the sun and never have him work a Big Ten game again.
When the FBI can inject sensibility into your enterprise… The divers alarums and excursions you've been hearing from the direction of NCAA boardrooms has finally resolved itself into that greatest of problem solvers: the Task Force. The Pac-12 put one together; it put together a 51-page PDF that's actually kind of interesting* in that it acknowledges the relative helplessness of the NCAA and then puts forth a collection of proposals that sort of acknowledge this. Large themes:
Restrictions on coach-prospect contact should be significantly loosened. This includes allowing prospects to take an additional five official visits as a junior and
Agents should be more tolerated. Hockey and baseball have allowed formal contractual relationships with agents recently; the report suggests basketball should do the same. This is vastly overdue for a thousand reasons.
Eligibility should be less fragile. The reports specifically reference baseball as a sport where players retain eligibility "after being drafted," and later directly calls for the NBA to adopt the baseball model where you can go pro immediately out of high school but if you don't you're in college for at least three years. Chance NBA adopts this: zero. Maybe draft and follow would be a compromise?
The report also calls for an NCAA enforcement arm separate from the NCAA, which sounds like rearranging deck chairs to me.
The Task Force doesn't go anywhere near something radical but it is a baby step.
*[A sports car races by. I am pelted in the head with a snowball. A bro in a white baseball cap screams "NEEEEEEEEERD" as the car peels out, careening wildly.]
Shea in limbo. Shea Patterson's lawyer is also spearheading five other applications for immediately eligibility and tells CBS that Ole Miss is being rather petulant about all this:
Ole Miss actually received that [waiver-request] package as a courtesy from Michigan. Because it didn't officially come from the NCAA, the 10-day clock did not start ticking.

"So, from a technical rules perspective, despite having all the information for the past two weeks, Old Miss could continue to keep its position on the Shea Patterson waiver request to itself for at least another two weeks," Mars said.

"In the meantime, as everyone knows, the process is at a standstill."
For whatever reason the NCAA has not sent the package to Ole Miss, so it will be at least another two weeks before a determination is made, and probably longer than that.
This is not a Dave Brandon story. Toys R Us is going to liquidate. Whenever there's a Toys R Us story several people send it to me. Please stop doing this. I am aware of goings on at Toys R Us that reach the media. The thing about Toys R Us is that it's not a story about one man's over-arching incompetence setting everything on fire. It's a story about a patsy being installed at a doomed company so he can leech millions of dollars out of it for doing nothing:
In 2005, the Toys R Us board of directors sold the company for $6.6 billion to the private equity firms Bain Capital and KKR and the real estate investment firm Vornado. The firms put up about 20 percent of the total and borrowed the rest.

Toys R Us became a private company with more than $5 billion in debt. And then things went off the rails.

"The beginning of the problems for Toys was that Amazon.com exploded," said Charlie O'Shea, lead retail analyst at Moody's.

During the next five years, sales at Amazon quadrupled to $34 billion.

"Amazon went into the toy sector in a big way," O'Shea said, and it "added one more big competitor for Toys R Us."

To compete, Toys R Us would have had to invest significantly in its website and stores. But the retailer was using most of its available cash to pay back its debt. …

The private equity firms' investors haven't made money off this deal. But the firms themselves have. It's unclear where Vornado ended up. But after collecting fees from Toys R Us, Bain and KKR each took home at least $15 million.
Brandon, the chump installed on this sinking ship in 2015, was compensated ridiculously:
Toys 'R' Us is seeking bankruptcy court permission to pay Dave Brandon, the company's chief executive officer since 2015, a cash bonus of as much as $12 million for 2017, on top of a $2.8 million "retention" bonus he received just before the company filed for bankruptcy in September, according to court filings.

Moreover, Mr. Brandon would be entitled to receive 40% of that bonus, or $4.8 million, within the first quarter of 2018.

A Toys "R" Us spokeswoman said that the company's plan to pay millions of dollars to Mr. Brandon is in line with common practice in restructurings. "This type of plan is standard practice for a company involved in a restructuring and in this case rewards team members at all levels of the company," she said.
You know this guy is an idiot, and it is crystal clear that nothing he did at a doomed company helped it an iota. But because he's bros with Mitt Romney he gets an eight-digit payday. That is one of many reasons income inequality has skyrocketed. Because it doesn't matter if you'd lose a spelling contest to a mop once you've got cronies high up.
Etc.: Fergus Connolly makes an entrance, also an exit. Shooting talent and FTs. The story of how the FBI got on the trail of college basketball is a typically bizarre one. Daily profiles Cooper Marody. Scrimmage observations.