Preview: Miami (Not That Miami) 2014
Essentials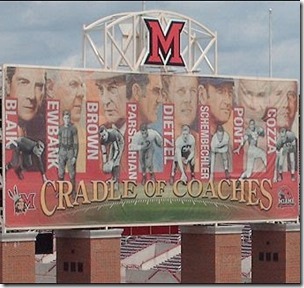 WHAT
Michigan vs Miami
(Not That Miami)
WHERE
Michigan Stadium
Ann Arbor MI
WHEN
3:30 Eastern
September 13th, 2014
THE LINE
M –33.5
TELEVISION
BTN
TICKETS
Slightly cheaper than last week: 20 bucks
WEATHER
Partly cloudy, 60
0% chance of rain
light winds
Tip of the hat there.
Overview
This is not a good scoreline.
This isn't Bo's Miami. The EDSBS commentariat's preferred term to distinguish this Miami from the other one is "puntin' Miami," and it's not like the other Miami has been Oregon this last little bit. Miami is bad. Miami is coming off losses to Marshall and Eastern Kentucky. They've already suffered 21 penalties. Miami is probably about as good as Appalachian State (not THAT Appalachian State).
So this is a good opponent for right now.
Run Offense vs Miami (Not That Miami)
guys chasing guys
Marshall was a very good run offense a year ago and picked up where they left off in their opener, with Devon Johnson ripping off a 55-yarder and acquiring 151 on just 19 carries. This continues a theme for the Redhawks from last year, when Miami was gashed for a whopping 5.1 yards a carry en route to a rush defense that was statistically worse than Michigan's rush offense last year. Think about that.
Miami ceded 223 rushing yards in an average outing last year; they were a MAC version of Purdue. While they did choke out I-AA EKU, if Michigan has any intention to prevent people on ledges across the Michigan diaspora from jumping they will have to mash this defense.
Survey says… probably! Both DEs check in at 245 and neither DT hits 290; their "OLB" is ND (sigh) transfer Lo Wood, who you may remember is a cornerback. They were very bad last year and seem pretty bad this year. Possibly the most interesting matchup will be DE Bryson Albright, who hit double digit TFLs a year ago, against either of Michigan's noob tackles.
This will be a test of what Michigan wants to do for the rest of the year.  This is a game where you'd think they might be able to manball up and manball it down the opponent's throat with a series of 1970s formations. And they may well do that: Appalachian State featured a lot more under center stuff than the ND game did.
Is the rest of the year going to be a passing spread-ish lineup? If it is against Miami, yes. If it's not… well probably yes. Something to keep an eye on.
Key Matchup: Michigan tailbacks versus their blocking allergy. Blocking allergies affect millions of Americans. Stop blocking allergies.
[Hit THE JUMP for Not That Notre Dame Quarterback.]
Pass Offense vs Miami (Not That Miami)
As bad as Miami was at defending the ground game last year, they were equally bad at the other stuff. They issued 8.1 YPA and allowed a 29/10 TD ratio. MAC Illinois, basically. They've started little better. Rakeem Cato ripped them for 8.2 YPA, 3 TD, and no INTs. EKU even managed to get to 7.1 with two QBs and one WR, who threw the winning TD(!). So that's bad.
Miami's number one corner, meanwhile, started for the last four years... at point guard. On the basketball team. It's his first year on the football team. Their defensive backfield is pretty large—the former hoopster is actually the smaller of the two corners—but Miami isn't comfortable sticking them in press man. Here's a fun screenshot:

Marshall hit the slot receiver to the far side on a bubble screen that netted an easy eight yards on first down because look at all that grass.
This does not seem like a good thing.
For Michigan it's about pass protection, picking up blitzes, and hitting the copious open wideouts everywhere.
Key matchup: Devin Gardner versus Evil Devin. Bad Evil Devin!
Run Defense vs Miami (Not That Miami)
don't expect much of this. expect this, but not much of it.
Miami runs a MAC-standard passing spread and has tried to avoid the ground as much as possible in their first two games, so this is not likely to be something they suddenly adopt against a Big Ten opponent. The Redhawks went for 100 and 86 yards in their first two games; if they exceed that number against Michigan it'll be a surprise.
Evidence of this: Miami leans heavily on Hendrix in this department. Yes, that guy you saw play for Notre Dame a couple years back who seemed about as mobile as Shane Morris. He has 29 non-sack carries, which is about half the team's total. Those have gone for 2.3 yards an attempt, so this is going about as well as you might expect. I imagine a lot of these carries are oh-pants scrambles like the one Ace captured for FFFF:
Meanwhile, Dawan Scott is listed at wide receiver but is second on the team in carries with 13, which have averaged a comparatively peppy 2.8 YPC.
So: this is a team whose tailbacks are averaging ten carries a game between them. They appear to be averaging decent yardage out of sheer shock. That is the kind of team we are talking about here. One that can't block a housecat. That's a bad example. Housecats are terrific at avoiding blocks. Housecat NT would be amazing. I digress.
IMPORTANT NOTE: Both tailbacks are named Spencer.
Michigan's DTs overwhelmed ND's interior line in the running game, this will be an opportunity to replicate that improvement. Focus on staying in your lanes, tackling when the tackles are there, and get solid linebacker play and this will be what it's been for Miami in the first two games: occasionally effective because the opponent is not expecting it, incapable of being relied upon.
Key Matchup: Ryan Glasgow versus Ryan Glasgow might be good? I thought he had a very good game against ND and will be looking to see if he can replicate that, insofar as you can against a team that is almost never running. I'm just trying to confirm hopes that he can really play.
Pass Defense vs Miami (Not That Miami)
Notre Dame (sigh) transfer Andrew Hendrix pilots a spread to pass offense that is in fact an exact replica of Notre Dame's—minus that kind of talent. HC Chuck Martin used to be Brian Kelly's right hand man and he's imported the ND system in whole, or at least as much of it as you can when you're Miami.
Hendrix already has 101 attempts on the season, is averaging 6.4 yards an attempt, and has 4 TD to 4 INT. Don't mistake this for a pure dink and dunk, though: Hendrix's completion rate is about 50% and he's hit at least five passes of over 30 yards so far. Miami was competitive with Marshall in yardage and actually whipped up on EKU despite the loss, largely because the passing game was effective enough to keep the Redhawks on the field.
The twin issues: protection and Hendrix. He's already been sacked nine times and a goodly number of those rushes are scrambles that squeak across the line of scrimmage. And then there's a reason Hendrix couldn't ever beat out Tommy Rees. He was guiding Miami to what would have been its first win in over a year when a 55-yard pick six tied the score and eventually set up the defeat.
After getting torched by Notre Dame, Michigan looks to get closer to wide receivers in this game. Will they double down on the man stuff and try to get better, or will they junk it for more of a zone focus? I don't know. I don't expect to see either Peppers or Taylor this week since there seems to be no reason to risk ankle tweaks, so it'll be the same crew—do they improve?
Key Matchup: Michigan CBs versus man coverage. Obviously.
Special Teams
If this has any impact on the outcome of this game I'm going to be dead so I'm not looking up Miami's special teams units. For Michigan, it's about seeing if Matt Wile can put a ball between the uprights from outside 30 yards and maybe seeing if Will Hagerup can outpunt his coverage so spectacularly that the guy trying to catch it can't do so.
Key Matchup: YOU PUT THE BALL THROUGH THE UPRIGHTS
Intangibles
are you there go-
NO
but you just said
YEAH SORRY I MEAN I AM HERE BUT WHATEVER YOU WANT THE ANSWER IS NO
oh okay thanks then
Cheap Thrills
Worry if...
MNTM's offensive line appears to be getting in the way.
Hendrix is shredding Michigan corners in man coverage.
Anything seems vaguely Akron-y.
Cackle with knowing glee if...
You find a time machine and go back to this spring and show Greg Mattison the paper from right after the ND game and convince him to play zone.
Also you play the lotto when you do this.
And discover you're your own father!
Fear/Paranoia Level: 1 (Baseline 5; –1 for SO SO BAD, –1 for Eastern Kentucky's Mascot Is The KFC Guy And You Still Lost To Them, –1 for 14 Game Losing Streaks Don't Usually End In Michigan Stadium, +1 for Oh Shit Did That Guy Coach At ND Recently?, –1 for Yeah But I Mean Cumong Man, –1 30-Point Spread)
Desperate need to win level: 8 (Baseline 5; +1 Not Again, Like Akron, +1 for Not Again, Like Toledo, +1 for Not Again, Like Pretty Much All Of Last Year, +1 for Bad Feels Man, –1 for At Least This Would Be Absolutely Clarifying In Event Of Loss)
Loss will cause me to... start drafting Profiles In Heroism about potential new coaches.
Win will cause me to... IMMEDIATELY FORGET ABOUT THE NOTRE DAME GAME FOREVER! YEAH! LET'S GO TEAM!
The strictures and conventions of sportswriting compel me to predict:
Michigan wins.
Finally, three opportunities for me to look stupid Sunday:
OL paves Miami into a smooth glass-like substance that both backs use to cruise to big days, nobody is satisfied by their performance anyway.
Michigan plays a lot more zone with Countess out there.
The stadium looks a lot emptier than it did for the opener.
Michigan, 53-12