Picture Pages: Learning As You Go
Michigan's run game started out with a thud, with a series of short gains and even the occasional Dread Pirate TFL rearing its ugly head. As with the Notre Dame game, the problems due to were a mélange of errors from lots of people. And as you might expect against Miami, most of them were mental issues.
People have asserted that Miami was dropping an eighth guy in the box and that guy was blowing up the Michigan run game. That's simplistic; these days spread-oriented offenses are looking at one or zero deep safeties on every play. The eight man box is something you have to deal with as a coach, and anyway when you're playing Miami it shouldn't matter.
Michigan's issues were largely assignment-based, with the occasional bad block thrown in; the tailbacks were better but still had issues. The nice thing is that as the game went along we saw Michigan correct some of those those problems and start moving forward. Mason Cole in particular was evolving right on the field, hampering two plays with errors and then executing in near-identical situations just a few minutes later. One was mostly executing a block; this one was about IDing the guy he needs to address.
Which Guy Needs Help? Not That One.
This is actually the first play of the game. It comes from the 50 after the least interesting successful Dennis Norfleet kick return ever (run to the right until the kicker stops you), and Michigan comes out in an ace set. Miami has a 4-3 under on the field (sort of; their SAM is 190-pound Lo Wood) and will roll a safety down for guy #8.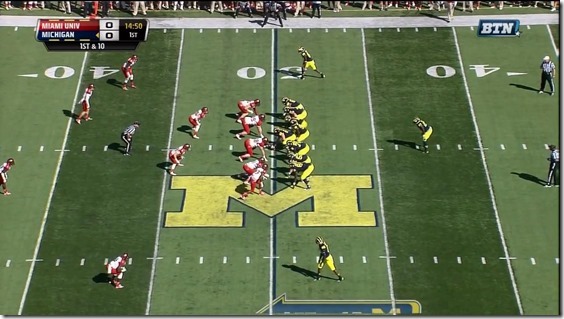 Michigan's going to run inside zone and things are going to go pretty well all over the field with the exception of Mason Cole and AJ Williams trying to handle the backside DE.
This is your presnap setup: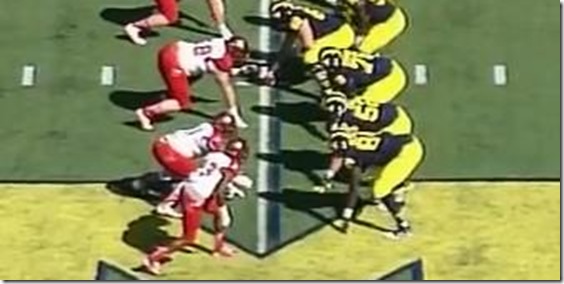 There's a one-technique NT and a five-tech SDE. The SDE is splitting Cole and Williams down the middle, and the play is going to the top of the screen. It is very hard for backside blockers to do anything with a guy who is 1) lined up playside of him when 2) they get no help. This is about to happen to Williams.
I'm not entirely sure why this guy is free to fly down the line and blow this play up. The other DL are handled by Michigan's OL driving guys lined up a half-step to the playside of them. It seems like he figures that the OLB is going to be there to clean up anything that breaks behind him, so gap integrity is for suckers. (Michigan will get a bunch of waggles off this tendency, as Miami isn't using that OLB to contain hard upfield.)
On the snap Magnuson hops over a half-gap to get the nose; Cole goes to his zone a gap over without touching anyone and then starts helping on Magnuson's block. Williams is going for this DE:
Williams does not get the DE even a little bit, and with Miami DL set up to the outside on the frontside of the play Green is correctly going right up the gut, something that looks promising as Michigan gets movement on the DL.
The problem:
Williams was put in a tough spot here; even so this feels substandard. Annoying the guy, pushing him so that he's on the correct side of the LOS, maybe cutting him: all of these things are better than escorting him to the RB.
A yard later it's clear that Michigan has cleaned out the DL; one linebacker shot a gap and is going to help tackle here but without the space constriction provided by the Williams block-type substance shooting that gap is a dangerous game to play that is 50/50 to put the tailback one on one with the safety for all the yards.
Green falls forward for two as Magnuson finishes pancaking the NT. Cole ended up not really doing much of anything on the play.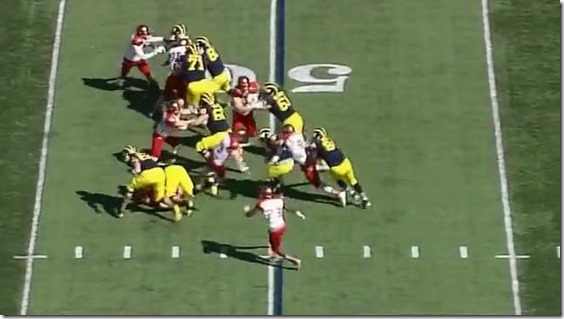 Video
And the slow version:
[After THE JUMP: something that goes better]
Backside combo
Michigan converts a third and five, waggles themselves another first down, and ends up just outside the ten, knocking on the door. They come out with the first of their Tiny Tight Ends formations when Chesson motions into this spot presnap:
Michigan now has an extensively overloaded wing here with Williams, Kerridge, and Chesson all to the field. Miami lines up the same way they did on the first play, with two guys rotated down to the overloaded area to compensate.
Again, the DE is splitting Cole and Williams:
This time Cole fires off into that DE along with Williams; everything else is similar; you can see Magnuson and Glasgow taking second level blocks as Miller moves to the second level; Michigan hands the ball to the back to the backside of this play, so maybe this is a semi-designed cutback.
But the thing about zone is that things only get semi-designed; if the DE goes one way you do one thing; if he goes the other way you do the other thing. Here he goes inside again as the initial action looks like inside zone to the left. Williams bashes him, Cole seals him, and there's your crease:
This is actually similar to what happens to the DE on the previous play except Michigan's moved the decision point for the back and given him an angle to go around. They've also fixed their unblocked  backside guy problem by moving him another couple of gaps outside with Kerridge and Chesson.
Green sees it and hits it; by the time he arrives he's got a straight shot to the secondary, with Kerridge and Chesson fending off DB types.
Zip!
And then Green gets submarined by a safety and flips over.
Video:
And the slow version:
Things and stuff
This is the same numbers setup; one has success, the other does not. Michigan had enough guys to execute blocks and get a chunk on the first play; they just didn't execute those blocks. I might be irritated by running at an eight-man box against a real team; against Miami I'm just looking to see them hit their marks.
That goes double when the eighth guy is not facilitating hard-to-deal-with blitzes. On the first play he stands around on the frontside of the play and a wide receiver gives him the business; in the second it's hard to tell who he is but he doesn't prevent the play from getting to the safety.
There wasn't really anything Miami was doing to hurt the Michigan ground game, and throwing around on waggles didn't open anything up. It was there; Michigan just took some time to get their assignments right. Not a surprise when Michigan goes from a game in which they're looking at a bunch of over fronts in a spread to a 4-3 under they haven't seen a lot of since last year.
Zone is malleable and it's hard to look at and be certain about things. I think that Cole needed to chip that guy on the first play to help Williams out. That play is likely to go vertical since it's inside zone, Williams doesn't have much of a chance if his guy does what he does, and Cole has the time to give that guy a shoulder and then go for the linebacker.
But I also think that the second play is something of a variant and may not be just Cole figuring it out. For one, tiniest tight end seems there to facilitate this cutback. For two, Michigan hands Green the ball to the backside of this play. This may be a version of the RR belly play where the design is to go in that hole, though Green's cut to it implies otherwise.
So, like, I don't know yet man.
I will get better at this as I see more reps and get a feel for what Michigan wants to do. Right now I'm data deficient when it comes to deciphering exactly how Michigan wants to run things. I've found that when I ask about this I get a blizzard of conflicting opinions.
Michigan was mashing these guys off the ball. Not a major accomplishment, I know, but even when the run game was not working it was because of blocking errors and some goofy decisions from the backs; by in large Michigan was getting plenty of the proverbial push. There are pancakes on both these plays.
It only takes one error to blow that up and make it feel like defensive tackles are holding up; they were not.
Derrick Green was better; I still am a bit skeptical. He cuts to both these holes; on other plays he's been hesitant when guys are upfield and he needs to make a decision. And on the second play here he lowers his head into the safety only to find that the safety's gotten even lower. Any one play you can get tackled by a guy and it's just a good play by that guy. Green doesn't seem to make anyone miss, or even make them make a glancing tackle. Activating the truck stick is good for gifs; I prefer not getting tackled for yards.