Unverified Voracity Was Bonkers Yesterday
HELLO LADIES (not like that). If you took in yesterday's softball double-header you got 14 innings of tension, home runs, and dugout gibbering capped by what has to be the nuttiest final inning I've seen in the sport: Michigan, down one, clubs back-to-back first-pitch homers off one of the best pitchers in the country to go up one, then puts someone on base for the final batter, who hits a rocket that…
NOPE
…NOPE. Michigan had just blasted a ball over the centerfield fence that none of the outfielders bothered to move on, and this particular ball seemed harder-hit than that. It must have been on more of a line or really temporarily heavy or something. CF Lindsay Doyle was given an opportunity for the walk-off rob of a potential walk-off homer, which she took.
Even Carol Hutchins, an outpost of Red-like reserve in a sport that has a lot of jumping up and down, was momentarily baffled into GIF-worthiness.
You and me both. The catch was Sportcenter's #1 play, which is pretty remarkable on a day that had plenty of baseball and NBA action.
Michigan advances to their ninth super regional in ten years of the current format; they'll travel to Tallahassee to take on the #8 overall seed Florida State. FSU is hosting their first super ever at an impressive 53-6. The best two of three series kicks off Thursday at 7 on ESPN.
Victory. The Michigan money cannon remains undefeated:
EDSBS Bowl 2K14 closed at midnight last night, and the total for the week's fundraising is staggering and very much awesome: $33,250.85 raised for Refugee Resettlement and Immigration Services of Atlanta, all from your contributions. …

University of Michigan $10,183.68

University of Georgia $4,024.20

Notre Dame $2,249.32

University of Alabama $1,977.55

Georgia Institute of Technology $1,969.72

Auburn University $1,716.40
Well done, gentlemen. I have excellent news: in honor of the cannon, RRISA is naming their conference room something Michigan themed. Orson has asked us for suggestions, so I throw it open to the MGoPeanutGallery. Please keep in mind that we are trying to retain people's goodwill, so something like "Leaders and Best (unlike all non grads)" would not be good.
Also,
[11:27 AM] Spencer Hall: If there's a huge Michigan painting, they'll put it up there
[11:27 AM] Spencer Hall: seriously
Anyone that wants to provide a candidate shoot me an email.
Stauskas time. Nik Stauskas didn't shoot at the NBA combine but that's not to say he didn't shoot at all in the past week. A few gents put on a workout beforehand, and Stauskas proved that he is the unstoppable workout freak($) that you may have seen on youtube:
None of them disappointed Monday. During early shooting drills, Stauskas had the lead early, hitting 47 of his first 50 attempts. At the end of the workout, it was McDermott who couldn't miss, beating everyone with 13 3-pointers in 35 seconds. … Each player takes roughly 100 3-point attempts during a workout. On most days, Stauskas and McDermott are shooting about 85 percent. That's really remarkable.
That is nuts.
Chad Ford also notes that Stauskas looked "terrific" in the various ballhandling drills at this workout and is… wait for it… also grab a beer… "making a play to be more than just a shooter." While Stauskas isn't likely to be an NBA PG unless his team wants him to gently escort opposing points to the basket, his ability to get his own shot and excellent P&R skills will see him be more than just a shooter. Ford has Stauskas #12 now and thought he was upwardly mobile even before he put up impressive combine numbers:
Michigan's Nik Stauskas and Creighton's Doug McDermott really shined, as well. Stauskas was especially impressive. He measured with a 35.5-inch max vert, a 10.79 lane agility score, a 2.92 shuttle run and a 3.27 sprint. Those were all very good numbers and should boost his draft stock.
I know you are thinking about what I am thinking: what about the Pistons? Detroit needs shooting, and they need someone who can run a pick and roll with Andre Drummond without resorting to miserable off-balance jumpers. DX's latest mock has them taking McDermott. While that makes sense, as currently constituted Detroit could use a guy who can play 1-3 with bad defense a lot more than a guy who can play 3-4 with bad defense. Also, McDermott seems constitutionally incapable of being an okay defender because he's such a tweener; a hypothetical NBA Stauskas coached by Stan Van Gundy could be all right down the road, especially if Caldwell-Pope can be the 3-and-D guy.
If Detroit stays at eight I'd say there's a pretty good chance Stauskas ends up being the player who makes the most sense. Other than McDermott, guards/wings available at eight are likely to include Tyler Ennis, James Young, Rodney Hood, Gary Harris, and Zach LaVine. Only Hood and McDermott are in Stauskas's universe as a shooter, and Gary Harris being more 6'2" than 6'4" probably eliminates him.
Also in Michigan draftee news, DX's post-combine mock has Robinson and McGary as the last two picks of the first round.
All right, all right. Eighty-seven people have emailed or tweeted me about the latest indicator that things aren't going well on the season ticket front, so I am compelled to reproduce it: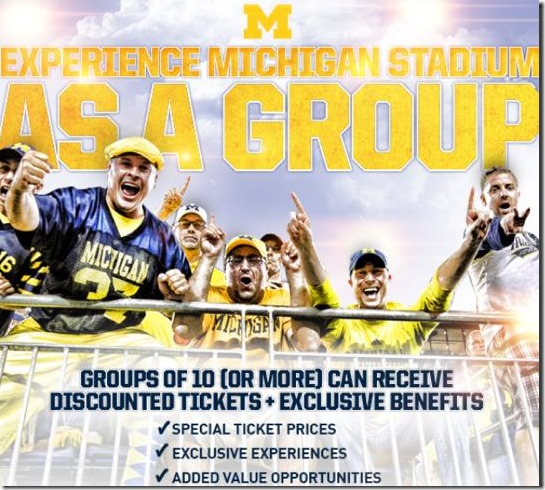 The existence of such a thing isn't much of a surprise… except you'd think they'd translate "Added Value Opportunities" into English before releasing it to the world. The outstanding quality of the athletic department is how remarkably ham-handed they are at being marketers. This is supposedly Brandon's expertise and he's throwing powerpoint slides at the public.
The lord's work. Deadspin continues its excellent series demolishing bad arguments the NCAA tries to muster in its favor. The latest to meet the guillotine: competitive balance.
…my own research in 2011 showed that of the 1,000 top recruited athletes over a decade, 99.3 percent went to power conference schools. … the truth is that the current rules seem to lock in imbalance, and prevent would-be upstarts from building recruiting momentum.
That makes intuitive sense. A team can't put its money where its mouth is if it really really wants a guy that another school wants. When compensation is fixed* all choices are about things other than compensation.
And since it's currently impossible to make the system more unbalanced…
*[I guess it does technically move based on the value of a degree from school X. That is not going to be a huge consideration for many football players. See: every player ever citing academics as a reason he went to school Y, no matter what that school is. "I have chosen Wyoming School Of Finger Twiddling for its excellent academics," etc.]
Pyrrhic press conferences for 1000. When the press gets the temerity to ask a question that leads to this answer…
"No buyer's remorse at all," Delany said Wednesday after the Big Ten administrators' meetings. "When I go to Jersey, I go to New York, I go to support, not to judge."
…things are not going well in the PR realm. Jim Delany just described visiting his sister in rehab.
No surrender. O'Bannon plaintiffs have asked the court to ditch the individual damages in their lawsuit and, as a side effect, ditch the jury.
The plaintiffs' lead attorney, Michael Hausfeld, told ESPN that forgoing the effort to seek damages for the individuals who are named in the lawsuit streamlines the case, making it all about stopping the NCAA from continuing to prevent athletes from sharing in the media revenues they help generate. …

The filing by the plaintiffs aims to focus all of the attention on whether the NCAA's economic model should be changed. It's an attempt to avoid the messiness of sorting out who may have been harmed for past wrongs, and to what degree.
That would be the NCAA's worst nightmare, as judge Claudia Wilken is the person issuing statements like "I don't think amateurism is going to be a useful word here." It seems like the NCAA's best shot is to bamboozle a jury with the arguments Deadspin is currently blowing up.
As with any story about the O'Bannon lawsuit, we have a new opportunity to point and laugh at the NCAA's beleaguered lawyers.
The NCAA objected to the new move by Hausfeld to drop the damages claim. The association's lawyers wrote Wednesday night that they were "surprised and troubled by the Plaintiffs' last minute and abrupt decision to attempt to avoid having a jury decide" the case, calling it a "last ditch effort to change course in this litigation."
…Hausfeld dismissed the NCAA's argument.

"There's always been a damages claim and an injunctive claim," he said. "If they haven't been paying attention to the injunctive claim, it's inexplicable."
Well, they are very busy these days.
It'll be a while. Brian Kelly said something about playing Michigan, so everyone gets asked about it again. Dave Brandon has had "zero talks" with Notre Dame about resuming the series. It would take a lot of pride-swallowing for Brandon to do such a thing. The chances of that seem… low.
The earliest Michigan and ND will talk about playing again will be after both places have new athletic directors, and even then they'll be scheduling ten years out. This year's game is the last for probably 20 years. Well done, college football.
Old mascots are always the best. If you could guarantee me that Michigan's hypothetical mascot would look like it was put together at the local insane asylum's arts and crafts night, I would be on board. Hellmascot part 4,210 is MSU, 1966:
No, no money for athletes. Somehow all of this manages to get sucked up despite MSU not adding sports:
"I think it was about 2000, our budget was right around $25 million and today it's $94 million," Michigan State athletic director Mark Hollis said. "And it's real easy to take a quick look on where the allocation of those funds have gone, and so much of it — there is the coaching salary component that kind of stands out."
Wait, save that!
"But there's a much larger chunk that has gone to escalation of scholarships and services provided."
All right. What might these things be?
"It used to be a coach and a trainer kind of handled everything. Well now there's somebody to teach you how to cook, there's somebody on some campuses that do the cooking, that show you how to shop."
They have to invent ways to burn this money. That is the situation. They are so far up their own butts that they think they should be taught to cook and shop like they're in finishing school with Betty Draper. How about you give them the money and they decide whether they should spend it on a guy teaching them how to shop* or, like, anything else.
Meanwhile, Michigan made a profit of 90 million dollars from 2007-08 to 12-13, an average profit of $15 million per year. That's going to be great when I get my dividend check.
*["So this green stuff I have… I hand it to the man behind the counter. You don't get any green stuff. But if you had some green stuff, you could give it to the man behind the counter"]
Etc.: I still can't believe Gordon F. Gee was paid like 12 times what an average university president makes. GRIII did well at the combine. No beer at Michigan, because I would do anything for money but I won't do that. Good on Mark Schissel for making Michigan's compensation structure more transparent. Maryland previewed. TJ Leaf has a top four and is visiting soon.