What Is: A Reach Block
This is a new series I've begun to serve as an ad hoc glossary of specific football concepts/terminology that get thrown around in our articles. The plan is to discuss as they come up and then (probably forget to) link them when we're talking about this stuff down the road.
REACH BLOCK DEFINED
When an offensive lineman blocks a defensive player who's lined up playside of him. For example on this play Mason Cole is going to block this guy: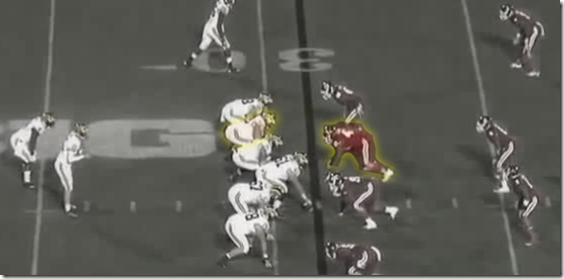 …on a play going to the right of him.  In other words this play is going to the defender's left, and it's Mason Cole's job is to be in the way of that defender going left.
HOW DO YOU DO THAT?
There are lots of O-line technique videos out there but here's the simplest:
The reaching blocker takes a short (that's key) step at an angle toward the defender's opposite shoulder. That puts him in a stance sort of like that of an Olympic sprinter, so his next step can launch him across that defender and get your helmet across the defender's torso. Lock in that victory by putting the inside arm into the defender's outside number, and pivot around to seal. The key is quick feet and a wide stance to not get off-balance—remember the defender is also fighting.
IS THAT HARD?
Yuh huh. The lineman has a fraction of a second between when the ball is snapped and the defense starts to read the blocking to get around that guy, get leverage, and seal the dude being blocked before dude can put a stop to this. It is the hardest of blocks.
Coaches emphasize different talking points but the basics are a short first step toward the outside shoulder, get your arms into him and your head across to seal, all the while keeping your feet apart so don't get knocked off.
Back when (IU OL coach) Greg Frey was at Michigan under Rich Rod, Michigan would try this a handful of times a game, and Molk was better at this than just about anyone I've watched closely. In fact Brian had a Picture Pages in 2008 to show Molk getting a guy lined up outside the guard.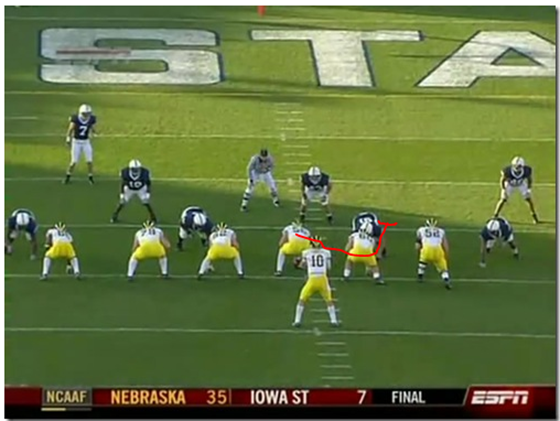 Michigan tried a bunch in 2007, when they were a zone stretch team. This had varying results: Jake Long and (former tight end) Adam Kraus could pull it off occasionally; Justin Boren, Jeremy Ciulla, Alex Mitchell and Reuben Riley were comically bad at it. Against FBS competition it takes a very agile player.
[After THE JUMP: running it, and defending it]
SO WHY ATTEMPT IT?
Because if it works you've got the defense flanked. Michigan is going to make this look from the snap like a zone read (with Rudock reading the backside defender) but Cole's reach block is for the handoff-dive all the way.
Watch what happens to Indiana's DT here.
At the snap:
The tight splits will cut down on the amount of space Cole has to cover, but also restricts the space Smith will have to run. This is going to be a challenging execution.
At the handoff:
Cole is two steps in at this point and has his arm across as Braden releases—Braden's hip gives the defender a little bump to assist Cole, but the DT has fired upfield so that doesn't help much. Cole can give up some ground and even slide into the hole if he needs to but ideally his next step takes him playside of this DT, who by now knows what's happening to him. The sooner the roomier.
At the point of attack:
That DT is now walled off from the play by Mason Cole, and the DE who lined up facing Mason Cole is now walled off by both of them, meaning the offense has erased two players with one block. If Smith sees that hole he's got a long hike over level ground to the end zone with very little nature. But there's one more thing Cole has to do. It's crucial. And even guys in the NFL forget to do it sometimes.
Finish the block.
It's natural once you've got that seal of win to "hit save" or lock it in by planting both feet. That's an invitation for the DT to escape. Here you can see Cole kept moving those feet, keeping his stance wide, and that allowed him to seal the DT behind the runner. There will be no diving attempt as the RB hits the hole.
Except Smith saw the cut lane too late and Braden kind of fell at the knees of the linebacker he released into, so this is stopped for a minimal gain.
Note too that this block took place a yard in the backfield (the black line is the line of scrimmage). This is fine—in fact it's helpful, since defensive linemen are not going to stay in one place off the snap. If the reach target goes upfield, there's room to playside to get around him. If he shuffles down the line that's bad. If he slants, that means there's someone else coming to fill this gap.
SLOW MOTION
SO WHY NOT DO THIS ALL THE TIME?
Hard things are hard, and harder if they're expected, and sometimes the dude you're reaching is an NFL-bound monster who can chuck you aside, out-leverage you, or shove your sealing ass into the hole. Watch Indiana center Jake Reed trying to reach Ryan Glasgow in 2014:
Trying to reach block Ryan Glasgow is like stealing porridge from a bear then taking a nap in his house: not remotely worth the risk.