What Is: A Reach Block
This is a new series I've begun to serve as an ad hoc glossary of specific football concepts/terminology that get thrown around in our articles. The plan is to discuss as they come up and then (probably forget to) link them when we're talking about this stuff down the road.
REACH BLOCK DEFINED
When an offensive lineman blocks a defensive player who's lined up playside of him. For example on this play Mason Cole is going to block this guy: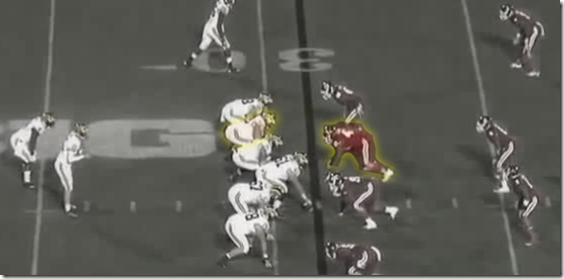 …on a play going to the right of him.  In other words this play is going to the defender's left, and it's Mason Cole's job is to be in the way of that defender going left.
HOW DO YOU DO THAT?
There are lots of O-line technique videos out there but here's the simplest:
The reaching blocker takes a short (that's key) step at an angle toward the defender's opposite shoulder. That puts him in a stance sort of like that of an Olympic sprinter, so his next step can launch him across that defender and get your helmet across the defender's torso. Lock in that victory by putting the inside arm into the defender's outside number, and pivot around to seal. The key is quick feet and a wide stance to not get off-balance—remember the defender is also fighting.
IS THAT HARD?
Yuh huh. The lineman has a fraction of a second between when the ball is snapped and the defense starts to read the blocking to get around that guy, get leverage, and seal the dude being blocked before dude can put a stop to this. It is the hardest of blocks.
Coaches emphasize different talking points but the basics are a short first step toward the outside shoulder, get your arms into him and your head across to seal, all the while keeping your feet apart so don't get knocked off.
Back when (IU OL coach) Greg Frey was at Michigan under Rich Rod, Michigan would try this a handful of times a game, and Molk was better at this than just about anyone I've watched closely. In fact Brian had a Picture Pages in 2008 to show Molk getting a guy lined up outside the guard.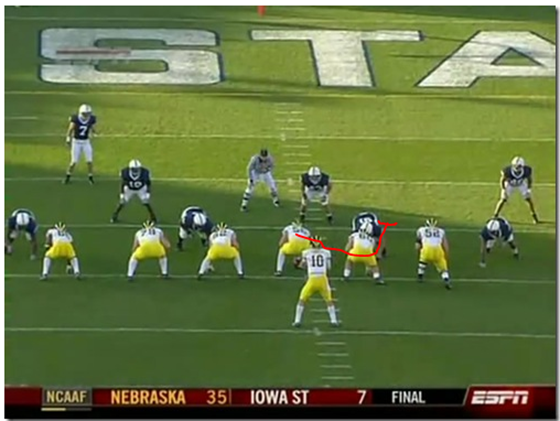 Michigan tried a bunch in 2007, when they were a zone stretch team. This had varying results: Jake Long and (former tight end) Adam Kraus could pull it off occasionally; Justin Boren, Jeremy Ciulla, Alex Mitchell and Reuben Riley were comically bad at it. Against FBS competition it takes a very agile player.
[After THE JUMP: running it, and defending it]