Michigan applying for trademark on "Wolverbear"
The University has applied for a trademark on the vintage wolverine logo or Wolverbear as I have learned from the comments.  According to the application it is to be used for "Caps; Sweatshirts; T-shirts".  I could have swore I saw this during the telecast of the Utah Game?  I've also seen the shirts and hats with it as I'm sure most of you have already. 

What makes this interesting is they just recently applied for it two weeks ago and it's the first time I have seen any official mention of this logo by the University.  It could be they are just protecting the logo or Adidas and/or Nike have further plans for it.  If this were just a graphic for T-Shirts, Im not sure they would go through all of the trouble of trademarking it when a simple copyright would be just fine.


http://tsdr.uspto.gov/#caseNumber=86772195&caseType=SERIAL_NO&searchType=statusSearch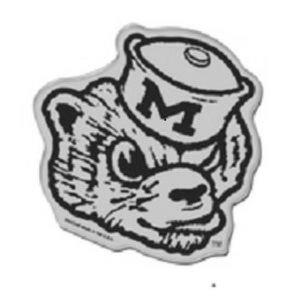 The sailor hat (at least that's what I think it's supposed to be) seemed to be a very popular design concept at some point.  EDIT:  It appears these style logos were created by a man named Arthur Evans.  He designed a lot of mascots/logos and was a former artist for Disney.  Not sure if he created the original design or not.

Here are a few others I found at https://www.behance.net/Ren1969


NOTE: These designs are actually redone using a more modern approach but the logos themselves are very close to the originals.  I actually like the Michigan version better than the one being trademarked.