This Week's Obsession: Why Watch?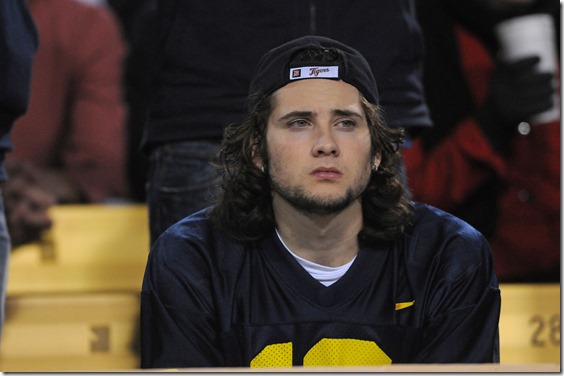 Glanzman, from the not-Copper Bowl.
[Ed-S: change of format; Ace is asking the questions]
Ace: It's sad that this needs to be asked, but here we are: If not for the fact that you're contributing to this blog, would you watch any more Michigan football this year, and why/why not? If you have tickets, what are you doing with them?
---------------------------------
Brian: I dunno man, I just go. At this point it's a habit so ingrained that changing that is a legit scary thing. That's one of the most frustrating things about all of this: you can't just walk away. If this was anything other than sports you'd just go "this is dumb" and quit it. Like R.E.M. releasing Up. That was all, R.E.M., we are now done, thanks for Life's Rich Pageant.
I'm now in uncharted territory, though. Michigan's losing to Utah and I'm not feeling much of anything; against Minnesota I'm just laughing like a guy walking to the gallows. I don't even mind them losing very much because I'm not going into any games with hope something will happen, and every L is another nail in Brandon's coffin. I have no idea how close to complete that coffin is, what with reports ranging from nonexistent to juuuust about done, and at this point I really need that guy to not be in charge of our program anymore.
So... I would probably be going and sitting in mute sadness interspersed with outbursts of yelling at the coach when an obviously bad strategic decision is made. That's already what I'm doing.
I'm planning on going to the next two games and then seeing what happens before Maryland.
---------------------------------
[After the jump, Butt.]
My favorite part of the week.
Seth: Yes, because Butt.
I prefer wide open, 'QB Oh Noes' seams, but I get genuinely inspired when a true sophomore who had an ACL recently reattached runs a route into regions with flying safeties. I get inspired by a guy like Peppers when he's not 19 yet and gets angry at his coaches for sitting him when he's injured. I get inspired by Gardner standing in the end zone amidst the greatest shit show in 135 teams, by Gardner standing up despite a Bullough-shaped hole in his sternum, by Gardner standing at all when a far better and better coached Ohio State team thought to snag an easy one over his should-be-dead body.
It was incompetence, not villainy, that caused Hoke to commit his instant-fire sin, and I put most of the blame for the circus afterwards on the maestro, and the lawyers who won't let them say anything of substance. They'll fire Brady for not taking responsibility sooner or for not winning football games later; I don't despise him. As for Dave Brandon, if a million phone calls and another national embarrassment won't convince Schlissel, what will another empty stadium do? If we gotta sacrifice another game for anti-Dave solidarity, fine; I wish it didn't have to be senior day because Gardner.
I'll come to the rest. I have free tickets lined up for all but PSU. I look forward all week to going back to college, sitting with friends and cousins, and watching highly imperfect players muck about with wings on their helmets. Highly leveraged, badly coached college football clown shows >>>>>>>> NFL. If Funchess thinks a win over Penn State is worth another 30 sharp routes on that ankle, what's a few more uppercuts of incompetence to my soul dong? Whatever damage they've done by slapping this on a cereal box, the fact remains it's Michigan, Ferbuttsakes.
---------------------------------
BiSB: Like Brian, I've been struggling with this for a long time, but as a bottom line: I don't want to watch Michigan football right now. So I'm not going to. For quite a while now, I've only watched because I've always watched. It is what a Michigan fan does. Like most of the people reading this, my Saturdays have been structured around Michigan football for most of my adult life. Until recently, the fact that it was Michigan football has always been enough. Even when Michigan was bad, there were moments that reminded me of why I fell in love with the thing so long ago. Waking up early and putting on the lucky faded maize shirt. The team running out of the tunnel to The Victors. Denard doing a thing that defies logic. Just sitting quietly during a TV time out on a sunny day listening to the MMB.
But more than anything, there was always the kind of hope that surrounds Irrational Fandom. I witnessed Braylonfest. I lost my voice and bowels at UTL 1. Hell, I saw Nick Sheridan destroy a decent Minnesota team. There was always that feeling deep down that My Team will overcome adversity and defeat Your Team because of our inherent righteousness and karmic superiority. But that hope is incumbent on at least a colorable belief in the competence of those leading things. And I have lost that belief. The veil has been lifted, and now I'm just watching a football team. And it is a bad and thoroughly unenjoyable football team playing in a thoroughly unenjoyable environment. The games don't even ruin my weekend anymore. They just eat three hours of my life that I could spend doing literally anything else, because I can't make myself care.
So, I'm not watching the Rutgers game on Saturday. I'll DVR it, because it contains information I need. But for the first time in a couple of decades, I'm actively making plans to do something else when Michigan is playing football. Some will call me a fair weather fan for this, which is fine. I've been told that true fans will support a team regardless of how many reasons that team (and more specifically its coaches and administrators) gives you to want to walk away. But I will compare fandom credentials with anyone, and those who know me probably know how incredibly sad this rant makes me. I'm the easiest customer in the world to retain, and somehow they've lost me. I love to hate the team I love, but more than that I hate to not care about the team I love.
---------------------------------
Ace: I am, of course, obligated to attend these games due to my job, but even if I wasn't, I have my reasons for at the very least wanting to watch these guys. Even after seeing the Morris fiasco play out in front of my eyes on Saturday, filling me with an unholy combination of anger and disgust and sadness and concern, every fiber of my being went "f*** yeah, Devin Gardner" at this, just moments later:
Like Seth, I find this stuff inspiring, and I deeply want to see these players get to enjoy themselves on the football field like they expected to when they signed up to play here. While I no longer do the whole interviewing recruits beat, there are a bunch of guys on the team I kept in touch with throughout their recruitments and/or watched play in high school, and it's really incredible to see them progress and begin to excel.
It makes me happy to see Taco Charlton, who once let me conduct a phone interview with him while he was getting a haircut, rip past an O-lineman and wreak havoc in the backfield. Seeing Jourdan Lewis on the fast track to all-conference cornerback is especially cool after watching him play about a dozen times either at Cass Tech or in camp settings. Part of what made the Morris incident particularly gut-churning was that I knew just how much he's dreamed of starting at quarterback in the Big House; when he's ready to get back out there, I'll get a thrill seeing the ball explode out of his hand like it did at De La Salle.
One of the things that made me happiest about yesterday's rally was that the students made it clear their full support was behind their fellow students. "Protect Our Players" ended up being one of the loudest, most sustained chants on Schlissel's front lawn. It's not contradictory or impossible to stand behind the players and still voice disgust with the people charged with running their program, and these are players very much worth standing behind.
---------------------------------
[UPDATE 2:24 PM: now with 100% more Schnep]
Adam: I'll keep watching. As almost everyone else has mentioned, most of the losing this season has left me feeling nothing. I wasn't mad. I wasn't depressed. Just..nothing. It was like getting coffee in the morning. I go to the coffee machine with the expectation that it will provide me with coffee; nothing more and nothing less. That's Michigan football right now. It's football; nothing more and nothing less.
There is still, however, a part of me that doesn't want to miss out. What if something happens that reminds me why I started watching in the first place? I don't want to miss it, and I don't even know what "it" is. The more I write about this the more I think this is just a litmus test for stupidity that I'm failing, and yet I'll still continue watching.