This Week's Obsession: Why Watch?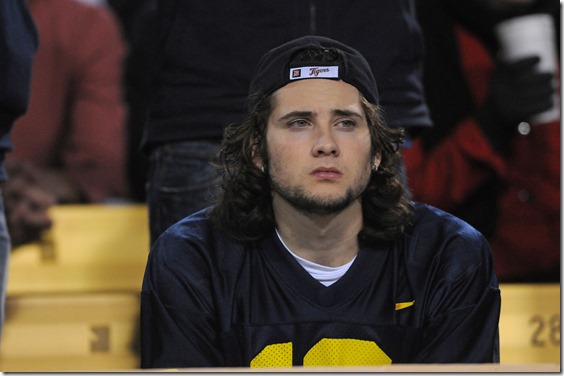 Glanzman, from the not-Copper Bowl.
[Ed-S: change of format; Ace is asking the questions]
Ace: It's sad that this needs to be asked, but here we are: If not for the fact that you're contributing to this blog, would you watch any more Michigan football this year, and why/why not? If you have tickets, what are you doing with them?
---------------------------------
Brian: I dunno man, I just go. At this point it's a habit so ingrained that changing that is a legit scary thing. That's one of the most frustrating things about all of this: you can't just walk away. If this was anything other than sports you'd just go "this is dumb" and quit it. Like R.E.M. releasing Up. That was all, R.E.M., we are now done, thanks for Life's Rich Pageant.
I'm now in uncharted territory, though. Michigan's losing to Utah and I'm not feeling much of anything; against Minnesota I'm just laughing like a guy walking to the gallows. I don't even mind them losing very much because I'm not going into any games with hope something will happen, and every L is another nail in Brandon's coffin. I have no idea how close to complete that coffin is, what with reports ranging from nonexistent to juuuust about done, and at this point I really need that guy to not be in charge of our program anymore.
So... I would probably be going and sitting in mute sadness interspersed with outbursts of yelling at the coach when an obviously bad strategic decision is made. That's already what I'm doing.
I'm planning on going to the next two games and then seeing what happens before Maryland.
---------------------------------
[After the jump, Butt.]