This Week's Obsession: Ridikuhlis
A man in my position cannot afford to be made to look ridikuhlis.
Ace: Brian and I did a segment on this week's podcast in which we each listed our top five most ridiculous games of the Hoke era. Not only were our bottom three picks entirely different, but between Twitter and the comments at least a dozen games that didn't make the cut were suggested as meriting inclusion, and... it was really hard to argue with a lot of them.
So let's try this again. List and explain your top five, perhaps mention a few dishonorable mentions, and feel free to explain your methodology—I'm intentionally leaving "ridiculous" open to interpretation.
-------------------------------
BiSB: I just drew up a quick list of candidates. There are 16 games on that list. I HATE ALL THE THINGS.
-------------------------------
Ace: Now remember that the very first game Hoke coached featured two Brandon Herron touchdowns and was called due to a biblical storm before the third quarter ended...
Even the wins, man. Even the wins.
-------------------------------
[After the jump: we discuss 60% of the games under Hoke]
1,000 words, all of which are "ridiculous."
Seth: Five? Just FIVE? Hell we had five immortal-ish games before Hoke had coached half a season: The Herron Game, UTL 1, Eastern Michigan Be Runnin' Yo, Fritz, and Trash Tornado. If you've blocked out EMU for being EMU, Week 8 was Crimes Against Manpanda. Ah, you remember that one.
Here's a much shorter list of games under Hoke that were NOT ridiculous:
2011: SD State, Northwestern, Purdue, Illinois, Nebraska, Ohio State.
2012: Alabama, UMass, Purdue, Illinois, Iowa, Outback Bowl.
2013: CMU, UTL II, Copper Bowl.
2014: Appalachian State, Miami (NTM), MSU, Indiana.
By my reckoning, 31/49 games Brady has coached at Michigan have been some form of ludicrous. One of those was happy ludicrous: a flurry of trick plays and formations (e.g. Fritz) they dumped on a terrible Minnesota team, then shelved again forever. One was thanks to the opponent's derp: when OSU's secondary went kaboom last year. There was the one time they were totally unprepared for Indiana's tempo, and Indiana was totally unprepared for the concept of Jeremy Gallon as an eligible receiver.
The remainder were variations on the kind of absurd where the defense played inspired while the offense kept trying to throw more blockers who couldn't block at the chronic problem of no blocking. Or ran an I-form Power-O offense with Denard Robinson. Or only ran when they put in Denard Robinson. Or wouldn't run with Denard. Or refused to run a bubble screen. Or ran the clock 28 seconds between plays on a two minute drill. Or left their starters in to get injured while burning down clock in blowouts so it would look like we're still trying.
College football does happen to bring the crazy out—no program goes so much as a season without committing some form of crime against humanity/game theory/physics/pandas. The reason 60% of the Hoke games have been ridiculous is because letting Brady Hoke near your offense is 100% batshit insanity.
If I must pick five, stipulated that entirely ridiculous games are favored over crazy finishes: 1. 27 for 27, 2. M00N, 3. Manpanda, 4. Trash Tornado, and 5. Tempo'd.
-------------------------------
Adam Schnepp: If you're reading this site then you probably already know what happened in all of the games I think were ridiculous. Instead of rehashing what happened, I've come up with a sort of comparison system to further illustrate the silliness of Michigan football in the Hoke era. I ranked the games based purely on how ludicrous I felt they were, regardless of result.
1) M00N
As crazy as: Crazy Quilt
​
(via comics101)
I mean, just look at him. He's supposed to be a supervillain, but he's about as intimidating as...a crazy quilt, actually. That is the human form of what you watched on Saturday. It's a little sad, mostly fun, and not at all what it should be.
2) 2013 Penn State
As crazy as: having to admonish your team to move in the proper direction
Anything that indirectly results in this shirt speaks for itself.
3) UTL
As crazy as: Cesar Romero's painted-over mustache
(via fsu.ca)
Refusing to shave could have ended disastrously, but the result is instead looked upon with reverence. Describes the events of the 2011 ND game perfectly.
4) 2014 Minnesota
As crazy as: trying to create your own secret weapon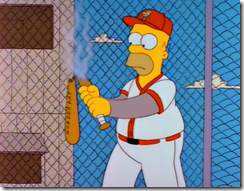 (via Simpsons wikia)
Michigan starts Shane Morris and the offense still clunks along. Seems a lot like Homer thinking Wonderbat is his key to success.
5) 2013 Ohio State
As crazy as: putting up 41 points against a non-tomato can team when your offensive coordinator runs into eight man fronts out of habit
How can a team that consistently ran things like the play Seth has pictured above stay competitive against OSU? And how can said team put up 41 points? I mean in any game, not just against Ohio State. Add in Devin Gardner's injury and you've got a regular theater of the absurd. Also, this photo was too perfect to pass up. I stub my toe and hobble around like Isiah Thomas in the 88 Finals, and yet there's Devin Gardner galloping around on some broken bones.
-------------------------------
Alex Cook: For being a staunchly traditionalist coach without much imagination, Brady Hoke has had some absurd, surreal games at Michigan. For my methodology, I'll try to adopt the perspective of a neutral fan watching the game on TV: which games had the most ridiculous plays, sequences, and outcomes -- which were the games that weren't necessarily quality, but sheer stupidity and fun. I guess that's all pretty much subjective and it essentially eliminates the M00N game (which was sort of fun in its own right, if you can appreciate the abstract beauty of utterly shitty football (which I can and do, but enjoy more when Michigan isn't involved)). Whatever -- here goes nothing:
5. Akron (2013)
This game was decidedly not very fun for Michigan fans -- my seats were about ten rows up from where Akron's last two-point conversion failed and I've never had a feeling of relief while my heart was thumping my ribcage like that before. Remember: Devin Gardner looked like a future pro and dissected Notre Dame the week before, Michigan was ranked eighth, Akron had gone 3-33 in its previous three seasons (and two of those wins were over FCS teams). Michigan should have lost this game and it would have been objectively, if still not affectively, worse than the Horror. I don't say that lightly; I was there for both.
4. Penn State (2013)
U of M was still somehow undefeated at this point and had like a 98-99% chance of winning when a true freshman led Penn State eighty yards in less than a minute to tie the game up. Overtime was a masterclass in conservative bullshit from Hoke: Michigan had scored 24 points in the second half, but apparently wasn't trusted to put the ball into the endzone from the 25 yard-line. Gibbons missed a 52-yarder at the end of regulation, whatever, but Michigan turtled after Penn State came up empty on their first possession of OT -- three uninspiring runs and a blocked FG. PSU again didn't score to start the third OT -- Michigan again didn't get a first down and screwed up a field goal. Oh, and Fitz Toussaint rushed 27 times for exactly 27 yards in that game.
This was all part of the plan [Upchurch]
3. Ohio State (2013)
I'm convinced that Ohio State played this game perfectly. It's in their best interest to have Brady Hoke as Michigan's coach as long as they possibly can, and it was even better to have Al Borges and his brand of perfectly inane play-structuring (and apparent inability to recognize that the offensive line needed to be schemed around). So Ohio State does its damnedest to single-handedly rehabilitate Borges's job security without -- you know -- actually losing. So Michigan puts up the most inexplicable offensive explosion I've ever seen and still loses. At least Borges was actually fired. (And, I guess it's comforting to know that he knew what constraint plays are, but frustrating to know that he just decided to save them all for the OSU game).
2. Sugar Bowl (2011)
Was this the weirdest BCS Bowl ever? I'm partial to the fun 2000 Orange Bowl win over Alabama, Oregon State laying an ass-kicking on Notre Dame that one time, let's see... Ohio State over Miami in 2003 was a pretty dumb game, as an Oklahoma fan, some of those BCS losses hurt (that Boise State game especially), Kansas actually winning a BCS game was bizarre... I guess it boils down to this: I have never seen a completion to a long-snapper in my entire life, except for when Michigan ran the worst fake field goal ever and the holder -- a receiver - decided to throw the ball across the middle of the field. It bounced of a safety's facemask into the long-snapper's hands. No other BCS game had that - plus, Michigan and Virginia Tech were really not that good that year.
1. Notre Dame (2011)
It was the best of Denard, it was the worst of Denard. Tommy Rees just had the ball slip out of his hands on a pass attempt in the red zone? Foreshadowing the Sugar Bowl with "hey, Denard, just throw it up to Junior." A night game at the Big House was in and of itself an absurd novelty. It was the first alternate uniform that Michigan wore (and portended awful, awful things in that regard). Gary Gray was flambéd over and over as badly as any corner I've ever seen. Michigan's offense: 7 points through three quarters, 28 in the last stanza. Not to be reductive, but the insanity of this game is reflected in old Shoelace's stat line: 11-24 passing for 338 yards (that's 30 yards per completion), 4 touchdowns, 3 interceptions. 29% of Denard's pass attempts were touchdowns or interceptions. Oh and Jeremy Gallon is wide open. You might want to cover him.
Apologies to Western Michigan (2011), Air Force (2012), Notre Dame (2012, 2013), Michigan State (2012), Nebraska (2012), Northwestern (2012, 2013, 2014), the Outback Bowl (2012), UConn (2013), Indiana (2013), Minnesota (2014), Penn State (2014). (Dang, that's a lot of apologies).
-------------------------------
(yes we're still going!)
-------------------------------
Ace: My top five were explained in detail on the podcast, so I'll just do a quick GIF summary:
5. 2013 Akron:
The officials initially ruled this play a touchdown, only for Michigan to get bailed out upon review. It's beyond fitting for a game that the Wolverines won, yet still left fans with the distinct aftertaste of ass.
4. 2013 Indiana:
If you're wondering how a 5'8" dude, no matter how talented, manages to record 369 receiving yards in one game... well, it certainly helps if the other team pretends he doesn't exist.
3. UTL I:
Don Criqui couldn't be reached for comment.
2. M00N:
A game so stupid it became disturbingly fun.
1. 27 For 27:
I'm sure it would've worked the 28th time.
And now, five mostly dishonorable mentions.
10. 2012 Ohio State.
"They were a little bit predictable in the first half," said Ohio State co-defensive coordinator Everett Withers. "You know, they put 16 (Robinson) back there, he was gonna run it. And they put 12 (Gardner) back there, they were gonna throw it. And after a while that became something that we keyed on."
Everett Withers is basically Ohio State Defense Al Borges. He's responsible for their safety play of the last couple years. He's no longer at Ohio State as a result.
Yup, he figured it out.
9. 2012 Northwestern. Thanks, Daniel Jones. While Roy Roundtree's catch was truly ludicrous, Pat Fitzgerald's reaction to that Michigan personal foul remains the most ridiculous moment from this game.
8. 2011 Western Michigan. Lest we forget, Brady Hoke's very first game featured little-used senior linebacker Brandon Herron, in the only start of his career, scoring two defensive touchdowns to earn national defensive player of the week honors. I'm not bothering to look this up, but I'd wager a guess that he's the only player to earn national anything of the week, stay healthy, and never earn another start. Oh, and the game was called in the third quarter because of a biblical storm.
7. 2012 Notre Dame. Five interceptions on five consecutive pass attempts, beginning with a goal-line halfback pass on first-and-goal despite having a Denard Robinson with two very functional legs. Personal experience also plays a role in this game's placement; I covered this game in South Bend, drove the MGoCaravan, and will never forget passing the Arborland sign at precisely 4:00 am before getting home and having to pass out on the couch because my roommate at the time brought his ex home that night—our adjacent rooms shared a remarkably thin wall. I've never questioned my choice of profession more than that night-turned-morning.
6. The Sugar Bowl. Everyone will mention the Glanda catch so here's a future NFL draft pick running backwards 22 yards on a first-and-goal carry. Virginia Tech outgained Michigan 377-184 and lost. Junior Hemingway recorded over a third of M's yards—and both of their touchdowns—on two touches. Denard had 13 carries for 13 yards. Danny Coale's overtime touchdown was overturned by a fraction of an inch. This game had a lot of ridiculous and not a lot of competence; a Brady Hoke game through and through.
-------------------------------
Seth: How is trash tornado not making these lists?
Is this not ridiculous?
The uniforms. The jumping of the snaps (again). The TEN(!!!) double-A gap blitzes that we couldn't ever spot (again). Gholston twisting Denard's head off. Lewan holding Gholston's facemask to the ground and getting punched in reply. Gholston's arm bar. The obvious backwards pass they blew dead that Michigan was about to run back, on what turned out to be an MSU TD drive. Baker randomly fumbling next to T.Gordon when just about to break loose. The run where Baker stepped OOB then got another 15 yards and they reviewed it and still got it wrong. The constant cut blocking of RVB and Martin with some obvious intent to knock out either. The CB blitz on our waggle on 4th and 1. The fact that it shouldn't have been 4th and 1 (M's going left to right). Gardner's Benny Hill odyssey. Marcus Rush body-slamming Denard out of the game about 3 seconds after the pass was away.
It was the worst-officiated, worst-coached, worst-played, worst-behaved, worst-conditions game of the last four years. Everything about that game, including the fact that both Hoke and Dantonio were allowed to coach ever again, was garbage. If all involved had been banned from football, I would have been sad for Denard, but I'd have understood.
-------------------------------
Brian: I also delineated my top 5 on the podcast but now have a difficult time defending those decisions because of all... that. Above. That stuff. For the record, my top five:
5. Northwestern 2013: the Dileo power slide game. I was at this, for some reason, and the flabbergasting nature of the finish was the first tinge of not knowing how to feel that we've become accustomed to this year. Also let us not forget that this game featured a ton of fake bubble screens to Funchess and a ground game that lurched forward seemingly as a result. It felt like Borges had finally listened to the internet and the internet was right. That is ridiculous.
4. Northwestern 2012: I got this wrong on the podcast, saying that the Roundtree-Ibraheim Campbell miracle was in 2011. No, the Roundtree-Ibraheim Campbell miracle prevented Michigan from going 7-6 last year. This game also featured one of those measurements where an atom's thickness determines success or failure and the debuts both of Unstoppable Throw-God Trevor Siemian and CUMONG MAN. In the aftermath the game column was titled "Stripped To The Metal, We Root For The Abstract." I sat directly in front of the Git R Done racists. I will go to bat for this game big time.
3. Sugar Bowl. Michigan's best play of the first half is a blown field goal attempt on which Jareth Glanda, the snapper, catches a deflected ball for a first down. A Virginia Tech touchdown is overturned by a fraction of an inch. Michigan's lone offense consists of two hurls to Junior Hemingway that could be intercepted. VT RB David Wilson loses something like 20 yards on one very bad field reversal. Michigan gains 174 yards, and wins.
2. 2013 Penn State. 27 for 27. Tackle over. This picture with four DTs and Anthony Zettel on the field:
Michigan runs a play with no left tackle. With ten men on the field. They take a delay of game penalty to push themselves out of sealing field-goal range. They give up a game-tying touchdown with Channing Stribling phasing out of reality. And that guy got maced.

1. #M00N. I mean, obviously.