Endzone: The Minnesota Aftermath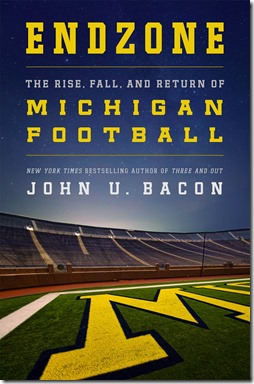 Hello. This is an excerpt from "ENDZONE: The Rise, Fall, And Return of Michigan Football" that John Bacon allowed us to run if I would once more refer to the book by its actual name instead of "Brandon's Lasting Lessons." I have now discharged that obligation.
We pick up the story the day after the Minnesota game. Shane Morris has been hit on the head, Devin Gardner lost his helmet and Morris re-entered, and the world waits for an explanation of what's going on…
---------------------------------------------
At 11 a.m. Sunday, after every football game, the medical staff completes its routine postgame interactions with the coaching staff, including Brady Hoke, to apprise them of the status of all the players—something I've witnessed dozens of times. In addition, head trainer Paul Schmidt talked with Hoke once on Saturday, three times on Sunday, and once on Monday, giving him the complete information Dr. Kutcher and the staff had gathered on Shane Morris's condition at each stage.
In short, there was no lack of communication between the medical staff and the coaching staff—nor within the medical staff itself, a group I've seen exhibit mutual respect, personally and professionally.
The Big Ten also called Michigan Sunday morning to let the coaching staff know the referee who had told Hoke, after Devin Gardner's helmet had popped off, that calling a time-out would not allow him to put Gardner back on the field was, in fact, incorrect, and Hoke was right. It's not that often the Big Ten office admits it was wrong, but they told the staff, not the media, so no one outside Schembechler Hall knew about it.
Finally sensing that a national story was rising around them, the department sent out a press release from Brady Hoke Sunday evening. It said, in part, ". . . Shane Morris was removed from yesterday's game against Minnesota after further aggravating an injury to his leg that he sustained earlier in the contest . . . The University of Michigan has a distinguished group of Certified Athletic Trainers and team physicians who are responsible for determining whether or not a player is physically able to play. Our coaches have no influence or authority to make determinations if or when an injured player returns to competition . . ."
The release addressed some important points—that Morris had been pulled for his ankle, not the hit to his helmet, and that the coaches have no authority over the medical staff—but failed to answer the most pressing question: Did Morris have a concussion or not? If he did, why did he go back in the game?
Needless to say, instead of bringing closure to the story, this half-baked attempt would only raise more questions.
Marathon Monday
To withstand these slings and arrows, Brandon needed the Michigan family to band together like never before: the students, the alumni, the fans, faculty and lettermen, not to mention his own staff. But when he looked up, he found the family had already scattered. They had resigned, they'd been fired, they'd been angered, they'd been estranged. Some had simply become fed up with the whole thing, and walked away from something they thought they would love their whole lives.
Brandon would be on his own.
When the athletic director, his leadership team, his coaches, and the players woke up Monday morning, they found a pile of bad news on their doorstep. The football team was off to a disastrous 2–3 start. The department was still getting lambasted for the Cokes-for-tickets "retail activation," and the stadium was showing large bands of empty seats—and that was all topped by the op-ed headline in the Michigan Daily: "Brady Hoke Must Be Fired."
[After THE JUMP: nothing good happens in a 17 hour meeting]