Unverified Voracity Is A Pretty Bear Indeed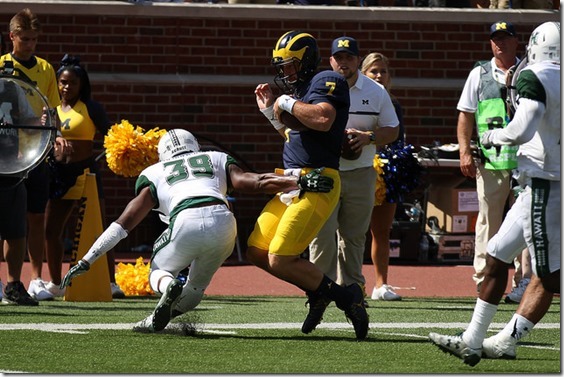 WOOP [Eric Upchurch]
Exit Shane Morris. Per Tom Van Haaren, Shane Morris will pursue a graduate transfer. CMU is the most likely destination.
Morris never lived up to the titanic hype that his arm strength generated when he was a high school junior. First, a bout of mono his senior year put him behind the development curve; second, Al Borges finished the job. An inexplicable start against Minnesota in 2014 resulted in a probable mild concussion, setting off a firestorm of controversy Dave Brandon's incompetence stoked until it resulted in both his and Brady Hoke's firing.
Morris will, but shouldn't be, remembered mostly for that. He was a Michigan kid through and through, to the point where he played slot receiver in the spring and was happily a lead blocker on sweeps. It didn't work out at M; here's hoping he goes Thomas Rawls at CMU.
We were already banking on Morris's departure in our recruiting calculations, so that won't affect the size of the class.
PFF's All Big Ten team. Michigan folks:
Offense: Amara Darboh ("highest-graded run blocker among Big Ten receivers ... 2.65 yards per route run average ranks second in the conference"), Khalid Hill, Erik Magnuson (2nd), Mason Cole (2nd).
Defense: Taco Charlton ("absolutely dominant force in Big Ten play"), Ryan Glasgow("posted four sacks and 14 total pressures to go with nine total defensive stops" in final four games), Maurice Hurst(2nd), Mike McCray("24 total pressures on just 77 reps"), Jourdan Lewis, Channing Stribling (2nd), Jabrill Peppers (as a slot corner), Delano Hill(2nd).
Peppers was obviously the punt returner; Jordan Glasgow was their All Big Ten special-teamer. Entertainingly, OSU punter Cameron Johnston was the ABT punter and was graded out at –13.8 before the Michigan game. PFF hates specialists, like any red-blooded American.
You'll notice a few omissions: Mackey winner Jake Butt, Chris Wormley, and Ben Gedeon. Wormley scored around +31(!), basically level with Charlton and Hurst and a hair behind Glasgow. He got left out because of Jake Replogle's existence and some guy named Steven Richardson from Minnesota. Butt got a bunch of pass blocking minuses(?!) and didn't have the same kind of receiving impact he did a year ago. (If we're being honest, he should have won the Mackey last year; getting it this year is a bit of a lifetime achievement award.) Gedeon was +12, so he was on the verge. There were a ton of good linebackers in the league. 
So you're saying there's a chance. Jabrill Peppers made an appearance on the Dan Patrick show ("THAT'S RIDICULOUS," exclaim Ohio State fans, "MALIK HOOKER SHOULD HAVE MADE AN APPEARANCE ON THE DAN PATRICK SHOW"), and on that show he denied that he'd made an NFL decision:
During an appearance on the Dan Patrick Show, Patrick asked Peppers -- who is eligible for the NFL Draft this year -- why he would stay at Michigan?

His answer?

"To get a degree, to try to finish some unfinished things here, to keep getting better at my craft," Peppers said. "I don't know, man. I've got a tough decision to make."
I... no. I am not taking this seriously, but I appreciate Peppers making it sound like a hard choice. FWIW, Peppers also said he'd vote for Deshaun Watson for Heisman.
This is probably fine. Buried at the end of an Ole Miss press release about Hugh Freeze dumping his offensive coordinator:
Ole Miss announces OC/QB coach Dan Werner will not return. Also, at the end of the release, Asst. AD Barney Farrar no longer part of staff.

— Ralph D. Russo (@ralphDrussoAP) December 8, 2016
No word about the "assistant athletic director for football operations," John Miller, who directed Tunsil to talk to Farrar about getting some more money.
I throw many shades at uniformz so only fair to acknowledge the flipside. These are gorgeous.
Ladies and Gents, here's your first look. This weekend, the Nanooks will wear throwbacks to 1938 for the #GovCup series against UAA. pic.twitter.com/PyODTUUpA3

— Nanooks Hockey Blog (@NanookHockey) December 7, 2016
I miss playing Alaska-Fairbanks, for the 8-0 wins Friday and inexplicable 2-1 losses Saturday, and for the two free games Michigan got whenever they went up there. Also I cannot figure out how to buy this jersey.
Knives out for Butch Jones. 247's Travis Haney has a feature article featuring an absolute ton of people slamming Butch Jones as not up for it:
"You talk about the time and place to say something like that - and that is not what our fans wanted to hear," one Tennessee administrative source told 247Sports, referring to the "champions of life" comment. "That will never go away. That soundbite will never go away." ...

"It's like he doesn't think he should be there," [another] source said. "It's like he doesn't think he belongs. And that permeates through the program. Everyone feels that." ...

"The culture is a disaster," said someone who works in the football building.
There are many more quotes from different people; even the supportive folk on the record are mostly talking about how Jones's accomplishments, such as they are, have not been fully appreciated. Add in Jalen Hurd's highly unusual midseason transfer and it looks grim for the future of the Jones regime. Regardless of the veracity of the claims in the article the number of people saying those things, even anonymously, for publication gives off a strong Rich Rodriguez vibe. He has problems of his own making, and now that he's down in a hole the rest of the program is digging for him.
This is of tangential interest to Michigan fans because of two things: Marcus Ray's bizarre insistence that Jones should have been the man instead of Harbaugh and Jones topping that hot take by hiring Michigan Olympic sports administrator Mike DeBord as his offensive coordinator. The parallels between Tennessee's breakdown of culture and discipline and those of the late Carr era are obvious.
More Butch Jones. Tennessee just got a commit from Trey Smith. Depending on who you listen to Smith is the top OL and possibly the top player in the country. Tennessee's sales pitch?
Trey Smith said a critical factor for choosing #Vols was branding. Smith said Butch Jones told him #Vols could help build his brand.

— Rhiannon Potkey (@TennesseeBeat) December 6, 2016
wut
As Get The Picture points out, their real sales pitch was "we will give your sister money to be executive assistant to the head coach." At least Michigan hires actual football coaches.
Also knives out for someone you may know. Also in bad-idea coordinator hires:
Wow. The Oregon president is out here taking shots, says the only advice he can give is to "Go out and find a great defensive coordinator."

— Chantel Jennings (@ChantelJennings) December 8, 2016
I confess that I thought hiring Brady Hoke might not have been the worst idea in the world—look at his track record with under-recruited Michigan DL. It turned out to be... unhelpful. At least. It's possible that he took over a unit so far away from competence that he was doomed either way; it is extremely unlikely anyone will take that chance. Tell you what, though, whoever hires him as a DL coach is not wrong.
The Counterfactual. The #1 alternate universe of the past ten years in college football: what if RichRod takes the Alabama job? Nick Saban goes... somewhere. Michigan hires... somebody. He probably still fails extensively. John Talty looks back at one of the most fascinating coaching searches in CFB history.
Etc.: Excellent scouting report on Will Lockwood, one of the bright spots on the hockey team. A major reason Willie Taggart got the Oregon job: Jim Harbaugh. Lane Kiffin still the frontrunner for the Houston job. Me, I'd just hire their DC. Assistant salaries skyrocket, they have the money to pay players, etc.