Mailbag: Heartbaugh, Super Bowl Game Theory, Demoralization List(!), Beilein Recruiting
Okay
Good Morning (Afternoon in Ann Arbor) MGoBlog Team,

In the spirit of the upcoming holiday, the attached picture was being passed around by the 49ers fans here in my office.  One had the insight to share with me.

Go Blue.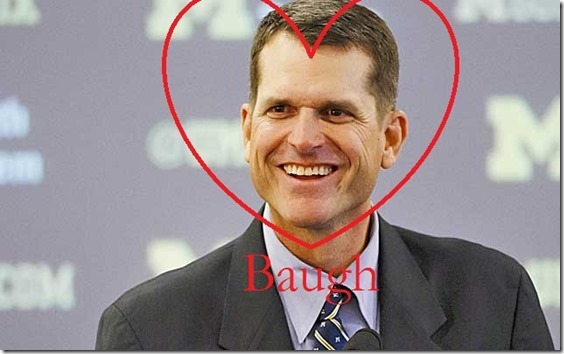 I want to see a version of this with the MVictors glare photo.
Not at all timely response to Super Bowl question.
Brian,

You briefly mentioned how you believe Belichick not using a timeout at the end of the Super Bowl was a colossal overlooked mistake, and that the ends don't justify the means.  In almost all cases I agree with you on coaches' inability to properly use timeouts (e.g. Hoke giving up a free hail mary).  However, in this particular case, I disagree and I think the statistics and "feels" may bear out that Belichick didn't necessarily just get lucky.

Everyone knew that, at some point, Lynch was going to get the ball.  With only one timeout left, Belichick knew that Seattle couldn't run it three straight times. In addition, Lynch had not been very good, going only 45% successful in short yardage situations all season, and 1/5(!) at goal to go from the 1.  Belichick had to know that, and was potentially making a statistical gamble on being able to stop the run there.  There is also something to be said in the "feels" category with putting pressure on the other
team to make a decision they may not otherwise make.  It was also made clear by Butler that they were ready for that exact situation.  Belichick knew they could defend it.  I think even though it may appear that Belichick got lucky, he in fact knew exactly what he was doing.  It may look like high risk, but in fact the season statistics and his preparation tell me that he knew the odds were in his favor by letting the clock run and limiting Seattle's choices.

Thanks, and I love the blog as well as discussions like this.
-Kyle (Carolina Blue)
I think that's dubious at best. Seattle snapped the ball on second down with a timeout and 26 seconds after having run the clock down from just under a minute. Seattle has the option to run on either second or third down. By not calling timeout you get to impose that constraint on their playcalling.
But that's all, and that's not much. You cite some stats that have been floating around; those are not serious. (Five attempts? Cumong man.) Football Outsiders' OL rankings have Seattle the #2 team in the league in their "power success" stat, which is defined like so:
Percentage of runs on third or fourth down, two yards or less to go, that achieved a first down or touchdown. Also includes runs on first-and-goal or second-and-goal from the two-yard line or closer.
Lynch and Seattle had in fact been excellent at punching the ball in, and forcing a pass is a good idea. You give up some expectation when you throw on the doorstep of the end zone.
Meanwhile, the Patriots were dead last with an identical rate: 81% of the time Seattle tried a short conversion they got it; 81% of the time the Patriots tried to stop one they failed. Even leaving aside the passing down, 19% squared is about 4%. Without a miracle—the first goal-line interception thrown by an NFL team all year—the Patriots go home losers. How likely is that miracle? Not likely. Russell Wilson had seven interceptions on 495 throws this year.
Your win percentage is unbelievably grim in the situations the Pats put themselves in. But how grim is it
down three with a minute left with a TO
on your 20
with a unanimous first-ballot HOF QB
Not nearly as grim, I think.
[After the JUMP: demoralizing: we're experts]
Demoralizing has so many more options.
Hi MGoBlog team,

What was a more demoralizing event;  
a)  the 2012 Michigan / Alabama game
b)  OSU winning the championship this past year
c)   Something you think that was even worse than these two things  

Thanks!
Kalamablue
Well, B is just out unless you were under the impression that Urban Meyer wasn't a good coach and OSU was going to be excellent for the duration of his tenure. It's not like Michigan wasn't already staring up at the branches of a pretty tall tree. The whole winning a title with your third string QB is a downer, but many things that have actually happened to Michigan are worse.
The Alabama game was totally demoralizing but to go grab that from all the recent humiliations as the one that stands above the rest is a bit odd. I mean, Alabama does that to a lot of teams and many of them go on to live healthy productive lives afterwards. Hell, Michigan was in the midst of having one of those when Denard's elbow smacked harmlessly to the turf at Nebraska.
No, that Alabama game was terrible, but the recent Hoke era has far more demoralizing experiences. Here is one man's attempt to parse humilation:
Rushing for –48 and –21 yards in consecutive games
The Shane Morris Incident
The Bellomy portion of that Nebraska game
Getting shut out 31-0 by Notre Dame
Alabama pounding our face
Allowing Gary Nova to throw for 400 yards
That two point conversion attempt at the end of the Kansas State game after losing the OSU game on a two point conversion
#m00n
OSU national championship, I guess.
Many programs could claim that their rival winning a title in hilariously unlikely circumstances (Cardale Jones versus Bama and Oregon!) would be the most demoralizing thing that had happened to them in a while. Michigan has emphatically not been that program.
Harbaugh, though.
Basketball recruiting.
Brian -

This has been rattling around in my head for a while... Apologies if this has been covered before, but here's a thought about basketball recruiting. Does the current state of our team simply stem from the fact that Beilein hasn't gone after / doesn't want the guys who are one-and-done? Rather he has gotten good players who he turns into guys the NBA wants after a couple of years. The solid players who follow aren't then ready to fill the shoes of those who departed early. The UKs, KUs, and Dukes of the college basketball world, however, pull in class after class of guys who leave after a year. In other words, they have another one-and-done (or something close) to come in and fill the shoes of the guy who just left.

In a way Beilein is a victim of his own success. His staff develops the heck out of guys and makes them coveted players and then has to do it all over again rather than relying just on the raw ability of guys who come in and can play at a high level already.

If this is the case, is it also simply a matter of Beilein not getting the 5* kids?

Thanks.

Dave
I don't think it would have done much good to go after the one and dones that seemed vaguely acquirable. That was Tom Izzo's strategy, and he has a 5'9" point guard who can't shoot and some guys Michigan had on the back burner to show for it. They got really burned by pursuing the Cliff Alexanders of the world. Michigan is fighting uphill for those guys. It takes a weirdo like Mitch McGary to be that level of hyped recruit and show up.
Michigan got unlucky that their early targets blew up into Kentucky-level recruits. If Kentucky gets Emanuel Mudiay and passes on Booker, he's probably in Ann Arbor and we feel better. That's just life. Michigan is not competing with UK and other schools on certain things, like Kentucky and Kansas's "dorms" that are essentially luxury hotels that host 14 normal students and the basketball team.
I do agree with you that if you're going to have the kind of attrition that Michigan's had over the last few years, you need to be bringing in that UK and Kansas level talent to prevent a hiccup—and even then Kentucky has been an 8-seed and missed the tourney entirely in recent years.
I maintain that a potential solution to this is the NBA moving to the NHL style of drafting:
everyone is automatically eligible after high school
draftees remain eligible because they're not opting in
teams and colleges can work together to determine when the appropriate time to go is
More information is always good, and that provides it.
Walk-ons in anti-signing day regime?
Hey Brian,

You suggested this in today's UV, and have written something similar many times before.

"(Optional but highly desirable) NCAA does away with 85-player cap and allows everyone to sign up to 22-25 players a year, no exceptions. Transfers and JUCOs count.

Changing the cap from a roster limit to a yearly limit instantly does away with any oversigning mutterings since your motivation is to keep players instead of cut them."

I like this idea for the reasons you state, but have been thinking about a potential unintended consequence. This approach seems to all but eliminate the opportunity for a Jordan Kovacs, Graham or Ryan Glasgow, JJ Watt or any walk-on to earn a scholarship.

Theoretically, the coach would have to forgo giving a scholarship to a freshman to give it to a walk-on. The walk-on is already on the team, why "waste" your scholarship on him? I thought perhaps have a 1 or 2 scholarship walk-on exception each year or two, but you know that would get abused immediately by certain coaches.

Maybe Michigan has had an unusual rash of worthy contributions from walk-ons in recent years, but I like the idea that someone can earn their scholarship.

Best,
Daniel
Yeah, that is a problem.
I still think that under the 25-a-year-no-exceptions-no-limit system guys like the Glasgows would end up on scholarship for team purposes. It's a cost to Michigan to have them fill a slot of 85; it would be proportionally less to be one "signee" of 25. The situation gets murkier with long-snappers and fullbacks in a spread era.
I don't really have a good solution here. I guess you could set a reasonable number (100?) under which guys who haven't signed can get a scholarship for that year without counting against the cap. Or maybe you could use a couple scholarships per year that people have vacated for your walk-ons. They can figure something out, I think.
And the upside of having a retention-focused scholarship policy outweighs that cost by an order of magnitude.