Superficial Spring Bullets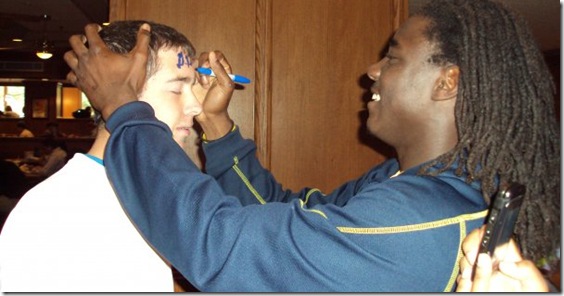 Get used to it, Denard?
I'll try to figure out some more stuff after the replay at 8 but for now, things I noticed. They are mostly about offensive skill position players, because I'm a person.
Denard! Denard! Denard! Disclaimer: It was all ones versus twos and whatnot, so Denard took the starting offense against a motley collection of walk-ons and Tate took a bunch of freshmen up against the first team defense. The playing field was far from level.
That said, holy crap. Robinson looks like a quarterback now. A running quarterback with rudimentary passing abilities, but a quarterback. There were zone reads and screens and rollout passes and a number of zippy seams that hit players between the numbers. When the offense broke down, Robinson made the concept of "pursuit angles" humorous. Putting him on the edge, as suggested by the coaches' clinic tea leaves, puts the defense in a bind. His throws were all on a line but they were accurate aside from a couple mediocre bubble screens. There were multiple times where I was thinking "just run why don't youuuu runnnnn" and he zipped a pass in for a first down or touchdown.
How close to Forcier's passing does Robinson have to get if he's going to start? If Forcier can't set up in the pocket and throw on rhythm, how far apart are they now? It'll be an interesting summer for both guys. Right now it looks like edge Denard.
As for Forcier: Hemingway's absence and the sparing use of Stokes saddled Tate with a couple of true freshmen at wideout, so it's hard to tell whether or not the helter-skelter offense Tate was running was just Tate doing what he does or the receivers screwing up the rhythm of the offense. Wild guess: some of both. Tate also fumbled (again) and chucked a pass that Mike Jones should have picked off. Robinson didn't have anything close to a turnover.
Meanwhile, Devin Gardner looked raw as hell, fumbling snaps, scrambling into trouble, and reverting to that ugly shotput motion whenever he was forced to throw on the run. He looked like a freshman, which is okay because he is a freshman. However, the torrent of spring hype that suggested Gardner would probably not redshirt because he would be Michigan's best quarterback by UConn… eh, not so much. Maybe it was just a bad day. Even if it was an off day, Robinson showed enough to relegate Gardner to the bench for the first couple games and hopefully his whole freshman year.
Gardner did show the his deep touch on a third and long seam to Odoms that was laid in perfectly. Odoms dropped it.
Flipside of all those seams. The concerns about things like four verticals expressed in the Coaches' Clinic Tea Leaves were amply demonstrated. Virtually all of Michigan's big yardage plays that weren't Robinson teleporting from place to place came on seams right up the hashes. Michigan's got to get that fixed.
Vlad… em? Vlad Emilien was wearing a knee brace of some sort so it's likely he's not 100%, but he got dusted by Roy Roundtree (who we last saw getting tracked down on a similar play) on Robinson's 97-yard touchdown. Roundtree tacked on five yards by the time they hit the endzone. Meanwhile, Teric Jones made up most of the ground. Thankfully, not all of it. Roundtree getting tackled at the one on that would have been a dark omen.
Further adventures in Justin Turner worry. It's one thing to be behind JT Floyd, who did look considerably more confident on the short stuff Michigan was trying to his side, but with Woolfolk out with a minor injury it was James Rogers who moved up to the ones. A position move beckons.
Tailback clarity. Nil. There weren't a whole lot of big plays from the tailbacks. Mike Cox had a nice touchdown and Stephen Hopkins lived up to his rep as a thunderous runner who should find himself staring down third and short most of the  year. Austin White is headed for a redshirt. Cox, Toussaint, and Shaw are all in a blender.
Defense thoughts. I did what everyone does and watched the ball more than anything, so I don't have a ton of useful stuff on the D yet. I thought Van Bergen looked like he'll be a pretty good defensive end, maybe all conference level. When Floyd came up on the short stuff he tackled solidly. Most of the stuff in the middle happened against the second team defense.
I did notice the bandit playing deep off the LOS frequently when Michigan went to the spread; Kovacs in deep coverage is going to be a scary issue all year.
We have field goal problems? I expected the placekicking to be a circus given the grim reports from spring, but other than a couple of misfires off of poor snaps from the backup longsnapper the two guys at the top of the depth chart looked solid.
Punter, meanwhile… it's Hagerup's job. If Hagerup tears an ACL it might be Tate Forcier's job. Spring started with speculation of a Robinson position move, but now it seems that Forcier moving (or, rather, pulling double duty) is a more realistic possibility. Not that either are particularly realistic.