Picture Pages: Who Are You Optioning?
The option has always been about making a defender wrong about who has the ball, thus effectively blocking him. Since you don't have to actually block him this means you can take out a slavering rage-beast with even the daintiest of skill position players.
Rich Rodriguez's innovation was taking the hazard-laden option and turning it into a simple yes-or-no handoff. The read option makes a guy wrong without requiring a pitch, and without getting your quarterback lit up time and again. Pairing that with plays that stretch the defense across the field horizontally opens up the box, forces safeties down, and creates the kind of environments that see his teams run for nearly six yards a clip.
Borges and Hoke have a different outlook on football. Last year when the inverted veer was running riot over Ohio State, they were consistently blocking the guy a Rodriguez-style offense would consider optioned off.
This worked, but I wondered if it was working because Ryan Shazier was an injured freshman who was pretty horrible in that game. It's hard not to look at what's going on with Michael Schofield in this clip and not pine for the guy to move past the OSU DE and take on Ohrian Johnson, thus likely springing Denard for another huge gain.
Last year both myself and fellow guy who does the picture paging Chris Gaerig thought that this was an execution issue that would be hammered out given enough time, but Tyler Sellhorn, a high school OL coach who frequently emails me tips and corrections, thought this was a philosophical thing:
Dear Brian,

I think Schofield and Omameh were coached to block the DE. Hoke/Borges do not like leaving unblocked defensive linemen out there. A famous unattributed coaching axiom that I am sure that Hoke/Borges believe in is: "First level defenders cause fumbles, second level defenders make tackles." To me, this is the "MANBALL" component of M's "option" game.  True power running game people think like that.  I think that is the reason there have been fewer really long runs (the second level has been blocked less consistently this season). 

This is one philosophical difference: RR's first thought always was, "How can we mess with the safeties to get big yards when we break through the line",  Hoke/Borges first thought is "How can we mess with the DL so they are less aggro (in run and pass situations) and we don't ever have a negative play." Both work well as we have seen.

Tyler Sellhorn
The consistency with which Michigan guys were blocking the supposedly option DL was a point in his favor. At first I thought the Alabama game was the point at which this was undeniable, but now I think Alabama was blocking Michigan, not the other way around.
Optioning Nobody #1
It's Michigan's first drive. They've picked up a first down with a (horribly spotted) flare to Smith and a third down conversion from same. They come out in a two-back, three-wide set. Alabama responds with its base 3-4 set, half-rolling a safety into the box.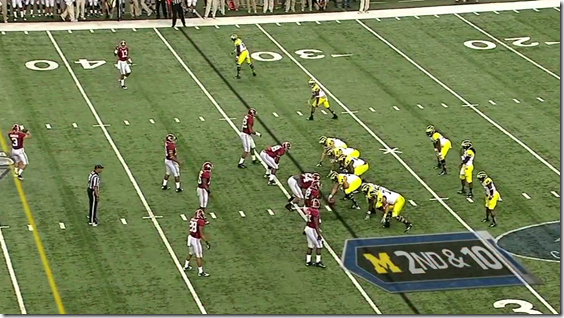 Michigan will run the veer. They pull Barnum (1), use Hopkins(2) as a lead blocker, and block down on the front side. This leaves the Alabama defender (3) there unblocked… for now, anyway.
Hopkins. You are not flaring out, my man. You are  doing something that isn't that.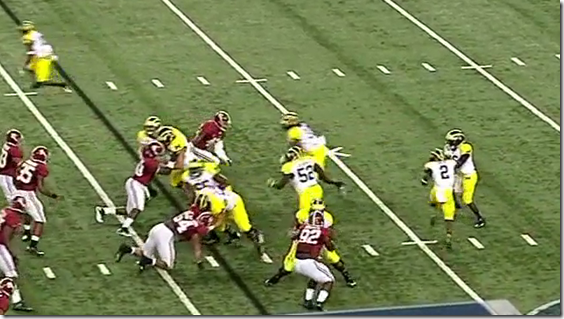 At the mesh point, Hopkins (1) has contacted the "unblocked" Alabama defensive end. This means he is now blocked. (Science!) Hopkins is also blocked. They are mutually blocking each other. Neither can go forward very easily.
This happens really fast. The DE is doing this on purpose. His goal here is two-fold: one, to force the handoff, and two to pick off one of the lead blockers.
Barnum(2) is still pulling for the front side; since the guys blocking down have actually done a pretty good job of getting push he's got a lane. Denard(3) sees the DE underneath Hopkins and gives.
And now it's over. Hopkins has indeed eliminated the Alabama DE, and Barnum reaches the hole as Smith sprints outside. Also sprinting outside: the totally unblocked Alabama LB.
Michigan's got some other problems, too, as the playside DE came through the double on the playside when Kwiatkowski released—you can see Schofield hunched over in an "oops" way right at the LOS behind Barnum. Given Smith's angle and Barnum's this is only a further indicator that Schofield got hammered on Saturday, not an actual reason the play doesn't work.
And that's all she wrote.
Who did Michigan block with Denard's legs on this play? Nobody.
Video:
[After THE JUMP: oops they did it again :( ]
Optioning Nobody #2
A bit later in the first quarter Michigan has a first and ten on its own 29 and again runs the veer. Alabama is in a standard 4-man front nickel, which they had not done on a standard down before. Something's up the ol' sleeve.
They're going to the boundary this time, so Omameh pulls on the snap. Alabama reveals its trick: a corner blitz from the boundary.
So, again this is what happens: the unblocked defensive end comes down(1) as the G pulls around. This time it's Omameh. Barnum can be seen crushing the other DT to the ground—there will be no help from the interior on this one. Denard sees the dive(2) and gives.
That corner(3) is coming, though, and Hopkins only has eyes for the playside LB.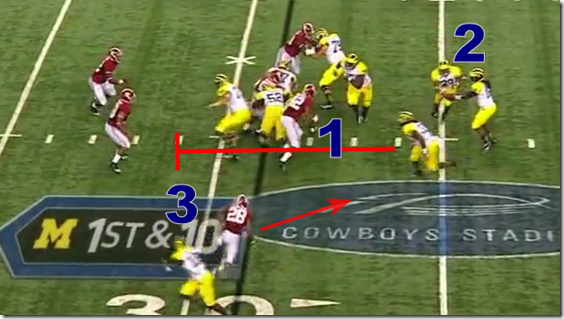 Omameh, like Barnum, blocks the DE. Why block the DE? He has no choice. The DE is blocking him. He's not trying to do anything except crunch Omameh near the LOS and force the give.
Denard(2) sees the DE inside and gives. The corner is hanging out. Being uncool.
And that's all she wrote. DEPRESSION PROTIP: look at all the space here!
Oh well. Back to the salt mines.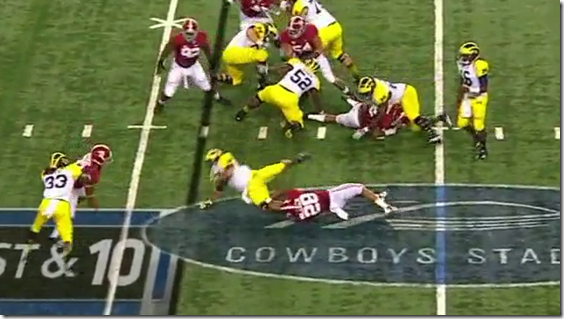 Nice pancake on a totally irrelevant guy. Who'd you option again?
Things And Stuff
This is Exhibit A for We Don't Know How To Use Denard Enough. Nick Saban's pretty smart, you guys, and devised a defense that would get the ball out of Denard's hands without that costing his defense a guy. On the first one it's possible a more outward route by Hopkins gets him past the attacking DE, but then that DE flattens out and flattens Barnum; same result. On the second one Omameh would have to orbit around the DE so elaborately that he'd be useless anyway.
So who are you optioning? You're not optioning anyone. The defense is preventing Denard from getting the ball by openly declaring they will not use their end to contain, and you block him despite handing it off to a guy going in the opposite direction. So now you're just trying to out-execute Alabama. Good luck.
This was a response to what Michigan showed in the OSU game. (Also I assume Saban's night terrors starring a xenomorph Cam Newton played a role.) That game was great but often required Denard to juke and unblocked guy in a tight space and get Shazier plowed for the first touchdown. When the structure of the defense is getting you to give to Smith and Rawls, that is not happening.
You could still get big gains out of it by outsmarting the opposition, but when Borges goes to coaching clinics he talks about passing routes. When I was breaking down Rodriguez's offense, he would switch little things up almost weekly. They'd run belly, then they'd run belly a gap over, then they'd slide a tight end, then they'd break outside the guy shuffling down to prevent belly from going 80 yards. By the time that was done the three chords Denard knew in the passing game were sufficient.
Borges probably taught his route tree most of the summer with the read stuff thrown in as a sidelight. That'll work just fine against a lot of teams, but when Michigan starts going up against the elite they don't do any one thing well enough to move the ball. They don't have a staple because their main weapon and the man deploying it are ill-suited to each other.
Is keeping any good? If Denard keeps here what happens? The LB flares out to contain on the first one, but then probably can come back since Denard has to go outside of the FB. Still a better alternative since he's moving upfield faster and is Denard. On the second one that CB may read that Rawls doesn't have the ball and collapse down to tackle from the side, but that's still better than what happened.
So, yeah, if Michigan recognizes this is happening and changes their keep rules, but then we're just back to the jack-of-all-trades stuff. Is this Denard's fault or Borges's fault or Rodriguez's fault, etc. Doesn't matter now; this is what we're stuck with.
Schofield had a rough, rough day. I didn't even notice the blown block in the first play until doing this post; BWS has a couple other examples. Alabama disclaimers apply. He was not regularly beaten up like that last year despite playing against DTs a lot more often. Still, worrying.
Maybe Fitz does something with one of these. Smith is Smith. Whatever Rawls's assets are they do not include making cornerbacks miss in space. It's possible Toussaint can create something by making a guy miss, cutting hard upfield, and jetting. When he's out, the only way you make yards is by… I don't know.