Picture Pages: Inverted Veer FTW
This will not be a surprise to BWS readers, but dangit I also have my veer package and I'm going to run it. Because so there.
NOMENCLATURE NOTE. This from Chris Brown on nomenclature complaints:
Also I saw your note on whether the play should be labeled an "inverted veer." Others may disagree, but to me the fact that there's a guard pull doesn't make it not a "veer" -- you can have a veer play with all kinds of block schemes ("down" schemes, inside zone schemes but leaving a guy unblocked). The regular veer is just where the RB and QB go to the same side and you leave a defender unblocked. I may be responsible for the "inverted veer" name from naming it that a couple of years ago but I hear coaches call it that all the time now. "Dash read" is the other way to call it but that's not all that descriptive.

I put up a post on the scheme from this year. I note in there that you can run the play with either power blocking and a guard pull or zone blocking; I know teams that do both. Just depends how you want to deal with the second level.
I've been calling it inverted veer for a long time and it's not wrong-wrong—"veer" generally means leaving a playside DE unblocked, which the play does. I'll keep calling it that and note when it does not feature a pulling G.
/nomenclature
Show show. Michigan finally—finally—made the inverted veer a primary part of their offense, fulfilling a desire I've had ever since Smart Football posted on the thing way back when. It worked really well, from Denard's 41 yard touchdown to open the scoring to Denard's six yard touchdown to continue the scoring, to… yeah. You get it.
The veer was perhaps the core play of an offense that did this to Ohio State:
three and out
47-yard touchdown drive
52-yard touchdown drive
three and out
Michigan gets a first down, whereupon Denard fumbles
80-yard touchdown drive
80-yard touchdown drive
40-yard drive from own nine followed by punt disaster
75-yard touchdown drive
80-yard touchdown drive that morphs into 54-yard field goal drive thanks to replay incompetence and penaltyfest
Without looking it up I guarantee you that is Michigan's best-ever offensive performance against the Great Satan in the modern era. That is a short game and 38 legitimately acquired points. Ten real drives, six touchdowns, four of them 75 yards or longer, two three and outs. An average of 46 yards a drive. As weird and disappointing as Michigan's defensive performance was, the offense made up for it in spades.
And the thing is, I'm not sure Michigan is even running the veer that well. You know how Denard had to juke that guy on his 41-yard touchdown? He shouldn't have had to. Omameh blocked the guy the play options off:
With a lead blocker taking the corner you can see the read is Shazier here. Shazier indicates he's flaring out (or Denard just pulls because that seems to be the default on the veer). The pull is a good default since Shazier has a nasty tendency to have no idea where the ball is on plays like this, a major reason Penn State tore up the Buckeye run D. (It's worth noting that for all the panting about Shazier once Sweat went out OSU opponents ran for 6.1 (PSU) and 6.2 YPC (Michigan).)
Here the mesh has already transpired, Denard has pulled, Shazier is still charging at Toussaint, and Denard is going to get a bunch of yards once Omameh blocks MLB Sabino.
SPOILER ALERT: Omameh is not going to block Sabino.
WOOP WOOP WOOP
Now, Omameh does latch on to Shazier. And Shazier has no momentum since he held up and started going backwards; Omameh Te'o's the dude back into a safety with a little help from an improvising Toussaint. I'm a ol' softie so I gave him a plus one despite a missed assignment.
Denard sees grass. Denard runs. Some dude waves a pompom in front of his kneel, which is frustrating but apropos.
This is what pom poms are for: to block vision.
Video
The replay:
Items of Interest
That is not how they draw it up. They draw it up with Omameh blocking Sabino and Denard jetting past Shazier directly upfield. Here it works out well, but the other play I hate BWS for beating me to had a sadface outcome: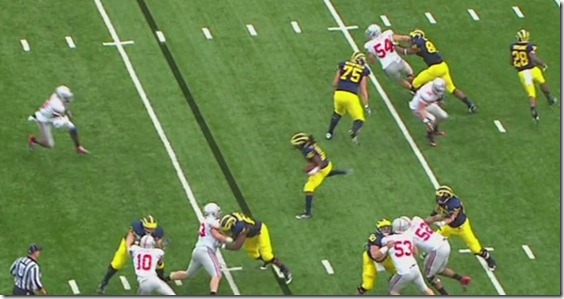 Schofield did the exact same thing Omameh did on this play, blocking the guy who the play options off. The guy way behind the LOS who isn't John Simon? Dude ran himself there because he had no idea who had the ball. Schofield should be moving to the second level to pick off S Orhian Johnson.
This time Denard makes the wrong cut and gets two yards.
As BWS says:
For me, this isn't quite as frustrating as when Michigan fails to run from under center. This seems like a repetition issue. Neither Omameh or Schofield have practiced this blocking scheme as much as they probably should, and pulling across the formation and finding the right defender to block is probably one of those things that just takes getting used to.

That said ARGHHH. Block the right guy. I wonder what goes through Denard's mind during a play like this. "Yes, yes, got'em. Remember, take a knee. Troll Tebow. Chest bump. Hoke Point." Tackled.
This wasn't an issue on the six-yard Denard TD, on which the optioned guy was the way-upfield DE and Hopkins ran outside, taking Shazier with him before blocking him. Denard ended up cutting behind Huyge, who released downfield; Schofield pulled and got a block on Johnson.
BTW, the above-picture play was part of Michigan's second (and last!) three and out. Borges uber alles.
Even with that! Okay, the above is frustrating, but, God, look at all that space. How many times do you think Denard gets corralled there? And what is the payoff when he isn't?
Borges's wonky little adjustment from earlier in the season here is using a lead blocker for the sweep action, which pulls a second defender outside—one evidently unprepared to make this read since nobody ever thinks Denard has it—and makes the pull even more dangerous because of hockey power play analogy*. The veer forces that safety into the box and still works.
[You have a bigger advantage 4 on 3 than 5 on 4; here equal numbers with Denard in space is basically a power play.]
ACHIEVEMENT UNLOCKED: MOUNTAIN GOAT. Where is the safety? Jeremy Gallon turned him into a smoking heap of scrap metal.
And he knows it.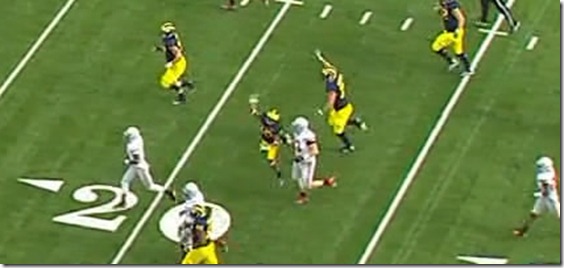 BAM BAM BAM BAM
I don't know what it is about five-eight guys from Florida. Their agility helps them in open space, for one, and their height means they are unusually able to get into the chests of opposing defensive backs. And there's some mountain goat in those boys somewhere.
Rep that, rep that, rep that. There are things other than "pulling guard doesn't block the optioned guy" that seemed like they could be coached up: on one play that ended up a give John Simon split the difference between the two potential ballcarriers and managed to spin Toussaint around at the LOS.
Denard could/should be riding the mesh point a little longer to force that DE to commit when it's not obvious. Maybe not; that is a great play by a great player and sometimes that's just going to happen. I just remember Juice Williams holding that thing forever, until the DE freaked out and took off for the tailback, and then being a 500-foot-tall robot.
Play action lack frustrating. Michigan went to a play action look off of this that turned into a five yard scramble instead of a potentially huge play because there were two unblocked guys on the edge and one blocker (who didn't block anyone). This has been a consistent frustration going back to the last couple years of the Rodriguez era: Michigan struggles to effectively run deep play action because the nature of their shotgun run game often leaves players unblocked and forces quick throws.
Rodriguez avoided this with QB Oh Noes pop passes on which Denard faked his iso and then dropped to pass. No pulling linemen, no edge issues, no guys who must be left alone for the play to seem convincing. I'm hoping Borges works something out to get big plays off counters to this over the offseason.