Sponsor Note: This was in response to another reader begging Lantana to "get into the guac game":
You clearly haven't tried Lantana black bean hummus - it's spicy, it's sweet, basically it's the best thing you can put on a pita. And as others have pointed out, yes, you can get it here on the left coast.

Also it's not made of cats!
---------------------------------
Over the last few weeks, I have been going back and forth on which recipe to use for this game. Obviously, it's a HUGE rivalry game and deserves something a little special. More importantly, its a night game. This means more tailgate time for everyone. More tailgate time equals more barley pop time and longer cook times. Should we go with a 14 hours brisket? Already done last year. How about a 12 hour pork butt? Crap, did that a few seasons back.
I seriously lost sleep last week worrying about this weeks cook. That was until I visited my buddy Matt, AKA….Meat Church at his BBQ palace in Waxahachie TX. He was preparing for a BBQ demo in Dallas the next day and asked us if we wanted to try some Chuck Eye Roll. Duh, of course we did. We needed to add some protein to the barley and hops that were going down so smooth. After devouring a few chunks of this BBQ perfection, I knew this was it. This cut is known as a "cheap mans ribeye". When cut into steaks, it's very similar. When left whole, I would be happy to smoke and slice just like a prime rib. It's that good.
Ingredients:
Chuck Eye Roll - 2 to 3 lbs
Salt and Pepper or your favorite rub
[After THE JUMP: A Michigan Man only slums it in style]
Directions:
Fire your smoker up and shoot for a temperature of 250 - 275 degrees. Add a few chunks of pecan or hickory wood for flavor. As the smoker is heating up, season your Chuck Eye Roll with your favorite salty rub. If you want to go salt, pepper and garlic, that works as well. I actually prefer it most of the time.
I went with a combination of Meat Church Holy Cow and an Espresso rub I made up. I love the espresso rub on all beef.
Once the smoker is at temp, place your Chuck Roll on the grates and set your timer for about 45 minutes. Let the smoke roll!!!!
After 45 minutes, check the internal temperature with your trusty instant read thermometer. We are looking for something in the neighborhood of 120 degrees. Once the roll hits 120, remove from the heat and tent loosely with foil. Open all of the vents on your smoker and get it as hot as can be. We are going from indirect cooking to direct. We are using the reverse sear method on this one.  Once the flames are hot, place the roll over direct heat and sear for 1 minute a side. This will give us a charred exterior and help bring the final temp to the 130 degree range. Burn baby Burn!!!!! From start to finish, this took about 75 minutes to reach 120 degrees.
Remove from the heat and tent again. The chuck eye roll internal temp will continue to rise and finish around 135 degrees, or medium rare.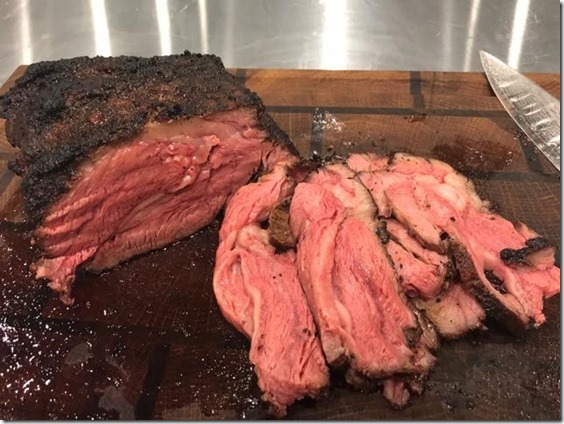 After getting it rest for 5 minutes (although not necessary) slice and enjoy. We ate it on tortillas with some slaw as well as with some horseradish sauce.
If you have some left over, throw it in the fridge and let chill overnight. Slice it thin and make a few sammich's. Don't forget the horsey sauce.
Don't forget your chips and dip as well. How about some pretzel thins and your favorite LANTANA HUMMUS as a side? I really love this combo!
This sandwich was ridiculous. The chances of there being any leftovers is extremely thin, but stranger things have happened.
Enjoy the game and have a blast!!!! GO BLUE.