Mailbag: Air Force Scheduling Dispute, Why Freshman WRs Are Bad, 2013 Feels, Vanilla, Hummus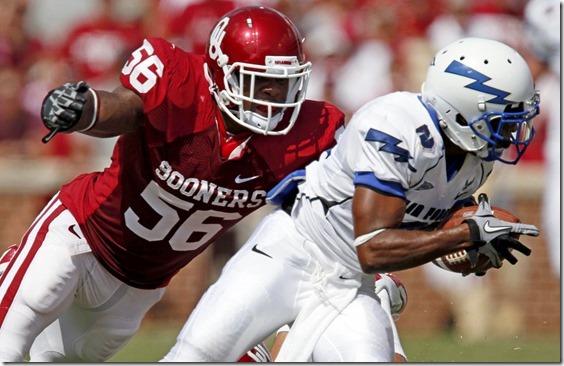 27-24 man, it's tight against the Falcons
AIR FORCE SCHEDULING DISPUTE
Q: Isn't this why you DO schedule Air Force?

- The service-academy factor at least makes it more of an "event" game than, say, UNLV or Bowling Green.

- Gives both offense and defense experience reacting on the fly in a real game to unusual scheming.

- You're still probably going to win—and if you don't, is there really a situation in which a team is good enough to make the Playoff but for having lost to Air Force?

BML
The first point is almost certainly why Brandon scheduled this game. There were parachutists and a flyover and some military band guys at halftime, which is fine as far as it goes.
The second point is where I have an objection. Michigan installed an option-specific defense for this game and repped it hundreds of times. All of that effort is now mostly wasted. I'm sure there's some salutary effect from having triple option burned into your head, but it's probably minor compared to getting that many reps in against the kind of things Michigan will see from Wisconsin, PSU, and OSU.
And while a loss to Air Force is not particularly likely for a top-level team, college football programs do gain and lose recruiting momentum based on wins and losses even when you're in the kind of down year that could lead to an upset. And Air Force is consistently dangerous. Since 2010, they've has beaten Boise twice. They scared the pants off a 12-2 Big 12 Champ Oklahoma. They outgained MSU's playoff team by over 100 yards but lost because they were –3 in TOs. And they nearly upset Michigan.
Is anyone going to give Michigan credit for beating Air Force? No. Are they way more dangerous and less applicable to the rest of the schedule than any other G5 buy game you can imagine? Yes. This is why the scheduling of Air Force is unwise.
Michigan did put Army on the schedule a couple years down the road, which comes with some of the same problems. Unless the Black Knights sustain this recent blip, though, it doesn't come with the biggest one: a disproportionate shot at being upset. Army occasionally puts a scare into a 7-6 PSU team. They have not beaten a legitimately good team in recent memory.
[After THE JUMP: this is not like that other season]
Why do Freshman Wide Receivers Suck(tm)
Brian,

I read somewhere once that a team's success is very dependent on the number of experienced receivers they have, and I have read many times how difficult it is for freshman WR to do well. I can understand why certain positions require experience like QB, OL and safeties, but why WR?

Peter
Horsham,PA
Precision, mostly. A future P5 high school receivers spend their time running past overmatched defensive backs and attempting to field often-misthrown balls from quarterbacks who are not P5 QBs. When windows are large or you're trying to field an armpunt the details don't matter. Run fast and catch the ball.
Details matter in college. Suddenly you have to run a whole route tree; before it was just screens and go routes and maybe some slants. You have to run your routes with the right steps and to the right depth because the quarterback will often be throwing to a spot, not you. Maybe you're expected to alter your route based on pre- or post-snap reads, which you definitely didn't do in high school. And if you screw something up the consequences can be brutal, as anyone who remembers Grant Perry's first game can attest. Running backs might screw up but if they do you're looking at second and long, not a potential turnover.
All freshmen are overloaded; WRs are maybe a hair below QBs and OL but there's a reason even most five-star types are bit players early.
Bad 2013 feels man.
Is it just me, or does this season feel eerily similar to 2013? Start with a sound beating of a traditional power (unbeknown at the time, a traditional power that actually sucks), followed by to lackluster, scary performances against overmatched opponents.

Clearly the talent on this team is far better and the coaching staff is light years ahead solely based on the fact that Borges is not present. Still, I can't escape the ghosts of 2013. (Not to be confused with the ghosts of 05, 08, 09, 12, or 14)

Michael
For those that need a refresher: 2013 was the Heisman-worthy Devin Gardner performance against ND followed by near upsets against Akron and UConn and a 3-5 conference record featuring the 27 for 27 PSU game and –48 rushing yards against MSU. It was a bad time, man.
So. There are certain similarities, yes. Michigan's offensive line is letting rushers through at an alarming rate, and one QB has already suffered for it. There have been certain difficulties against lesser opponents.
But there are difficulties and near-escapes against teams that are basically your equal. Michigan needed a goal line stand to fend off Akron and a fourth-quarter comeback to pip UConn. Both of those games were near coin-flips, with total yardage in the same ballpark. Akron had 419 yards of offense to Michigan's 425, and Michigan only broke a dismal parity with UConn late.
Michigan's early season difficulties are not on the same planet. S&P+ has win expectancies of 100%, 99%, 98%, and 99% for Michigan's first four games, all of which were relatively comfortable two-score margins before M tacked on bonus touchdowns in each. "Lackluster" is right; "scary" not so much, at least not by the fourth quarter.
While Michigan's offense is only slightly better than that 2013 outfit right now (45th versus 61st in S&P+) they have a lot more room to work with since their defense is 2nd. In 2013 they were fine-to-good at 27th. You'd be hard pressed to make a case for Michigan as a playoff team at this juncture, but Michigan is far more likely to have 9 or 10 wins than any other outcome.
Vanilla: not just for rum cakes anymore
Brian,

Maybe you will address this in UFR. But, is the offense (maybe due to competition and the performance of the defense so far) just running very vanilla right now, especially in the red-zone?

Go Blue,

Brewandbluesaturdays
Overall, yes. There were a few games last year when I had ~18 different run plays listed, and I was probably missing a few subtle tweaks. To date the run game has been simpler than that: crack sweeps, inside zone, the occasional power, iso, and some counters. No traps or double iso or outside zone yet. A young, struggling offensive line is no doubt the cause.
Pass game concepts are harder to judge since many of them take place off the screen. There has been a notable reduction in screens that require the OL to participate; hard to tell much else.
Michigan has not been more or less vanilla in the redzone. When they have struggled it has been because they're not executing plays that are there to make, or Air Force was blitzing their buns off.
DL rotation: where is it?
Why are we seeing so little D-line rotation to this point? I really expected to see a lot more Dwumfour and some of the other young linemen. Is it due to 3 3 5 usage? Because even still those guys are getting a lot of snaps.

-Nate
Seth was included on this and answered already, so:
------------------------------------------
I imagine the mailbag answer will be something like this:
1. All the 3-3-5 means you have 20% of DL snaps going to SAMs. Mone is getting the same usage he got last year, Solomon they have to find snaps for.
2. The starters are WAY better than their backups. Reuben Jones was on the field for like 4 plays and had an almost game-ruining bust on one of them. How often would you take Winovich off the field? Paye, who is making the jump from New England high school competition, seems to be next guy in. To a lesser degree ditto DT, where Lawrence Marshall seems to be the #2 guy and would be a huge downgrade from Hurst if he's the same okay we've seen so far. Kemp has been getting a fair amount of play because he's the only DL backup who is even on Guy level, while all three starters are pure Dude.  
3. Opponents have rarely sustained drives. You saw one of the few backup situations last week when Michigan turned it over after the punt. The attacking nature of this defense means there are a lot of 3-and-outs with spattered big play drives. We've hardly yet seen an opponent string as many as 7-8 plays together on a drive.
-----------------------------------------
I'd add that Michigan's struggles on offense have prevented the defense from getting many garbage time snaps, which impacts not only those late-game snaps but Michigan's comfort with the backups when they consider inserting them during the competitive portions of games. Those guys haven't seen the field much and Michigan has less room for error than you might otherwise expect with a defense this clobberin'.
Mr. Worldwide Hummus

Thanks to your advertisements, I specifically sought out and purchased Lantana Hummus.  White Bean.  So good.  And, two for one at Sprout's in Burbank, CA.

Did Lantana know they were purchasing a national spot?

Joel

formerly, very formerly, known as "The Unofficial Mgoblog Cartoonist"
It is deeply bizarre to me that people keep telling us this. I've gotten like a dozen tweets about Lantana Hummus and its lack of ground-up kittens.
I never knew how good kitten-free hummus was until I tried @lantanafoods. Lantana hummus: definitely not made with kittens! (cc: @mgoblog) pic.twitter.com/zuuC50Al4W

— Mike Millhaem (@MMillhaem) September 11, 2017
While I think this is a very important thing for a hummus to lack, we have never struck a chord like this with an advertisement before. Soon all MGoAdvertisers will be striving to remind you that their products and/or services also do not require the painstaking grinding of baby cats to reach you. Because we don't do that. That's strictly off limits, bub.