MGoBBQ: Smoked Beef and Booze
[Sponsor Note (via Seth): Lantana buys all of Joe's ingredients so he can make these awesome recipes for us.

We haven't gone two weeks since starting their sponsorship without someone telling us they finally tried their hummus and found it amazing. Also it's not made of kitens!]
------------------------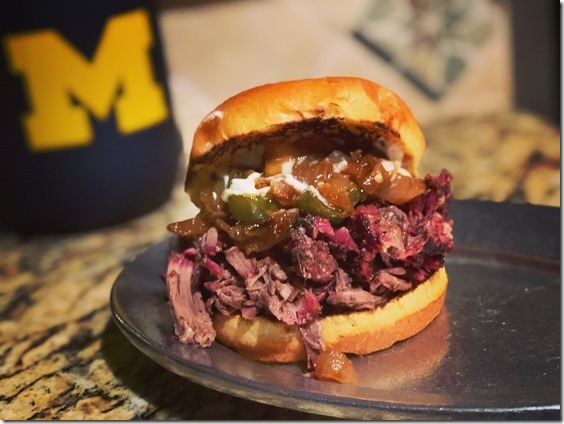 With the holiday season winding down and family members pushing every last button, I find myself hiding out on the back patio with cigars, booze and bbq.  It's one of the only things that completely relaxes me as of late. Fortunately for me, my back patio is covered with grills, smokers and pizza ovens. Over the last month, I have had some fun with beef and booze and want to pass some of it along. This pulled beef recipe couldn't be any easier and the booze it simple too.  Give them a try and let me know what you think.
Ingredients:
Chuck Roast - 3 to 5 lbs
Your favorite Beef Rub
Sweet Onion
Jalapeños - OPTIONAL
Beef Broth
Buns
[Hit THE JUMP for melted meat]